10 Advantages of Attendance Management System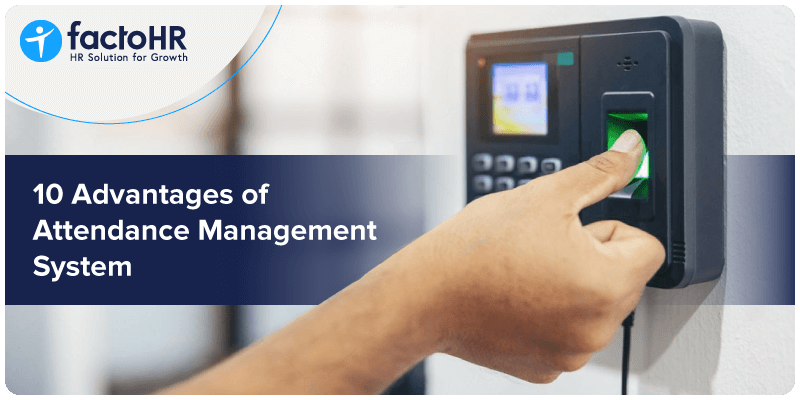 Employees are the biggest asset and pillars of strength for any organization. An essential part of overseeing the workforce is managing employee attendance. Of all the Human Resource (HR) management operations and tasks performed on a regular basis in any organization, time and attendance recording is considered one of the most tedious tasks. When done manually, it can be time consuming, repetitive, with a higher scope for errors considering the large volumes. The advantages of an attendance management system include maintaining accurate records on employee shifts, leave and attendance and improving the efficiency of the organization efficiently.
Need for Managing Attendance Efficiently
The main reason to have accurate attendance data is for calculating salary payouts and bonuses. Since salary payout happens every month, attendance records need to be updated and accessible to HR teams and payout systems at all times. Further, companies have a vital need to understand how the employees function, what motivates them and what affects their execution. This understanding comes from analysing attendance patterns and how it impacts productivity of the individual and organization at large. The benefits of having a system to track attendance is to be able to collect this data for analysis.
An attendance management system is a software that helps track, monitor and manage company attendance. Such a system helps to boost productivity and plug attendance related leakages if any. It can help HR professionals/business owners:
Manage time in and time out of employees
Automate shift scheduling
Track leaves and absences
Integrate with Payroll systems
Carry out Analytics and reporting
Automate attendance and compliance requirements
Boost workforce morality.
What to Look Out For
Having an online attendance tracking tool can bring several advantages for the company. However it is important to choose a system that is most suitable to the company in question. There are 3 main factors to be considered when opting for such a system:
1. Automation
It is important to consider the level of automation the system can provide. The goal is to automate several mundane and repetitive tasks so that employees can use their time more fruitfully.
2. Features
Look out for features that are necessary for the smooth functioning of the organization. Not all systems are built equally nor do all companies have the same needs.
3. Ease of Use
Above all, the software should be easy to access and use for both the HR team and employees. It is important to select a system that has a user experience which best suits that of the organization.
To understand the complete employee attendance cycle check out the attendance management guide by factoHR.
Advantages of Attendance Management System
1. Paperless Work Environment
The paper trail comes down drastically once the entire attendance system goes digital. A paperless environment is a crucial aspect of corporate responsibility. A cloud based attendance system also helps in cutting down the overall cost of resources.
2. Accuracy and Efficiency
Traditionally, HR team members had to spend several hours a week manually creating shift rosters, tracking absence and leave and managing attendance. The manual system led to erroneous and/or compromised entries and a fair amount of time and cost was involved in rectifying those errors. An automated tracking system ensures accurate time records and minimises the cost of rectifying errors.
Efficiency also improves for employees since they can update, view and seek clarifications in any issues related to attendance. This kind of automated system also helps employees who are working remotely and in different locations to clock in their attendance.
3. Align Attendance Practices with Company Policy
An automated system can flag cases and also prevent further transactions where employee time off or lack thereof approaches or exceeds policy limit f. System reports give an idea about absences about the workforce in real time so that specific individuals who are exceeding their limit can be identified. Absence patterns can be studied in order to revisit policies and decisions from time to time.
4. Enhancing Productivity
Attendance tracking software can help in correlating attendance with productivity. The right attendance system enables the organization to institute changes that will help employees become more productive without hampering their freedom.
5. Insights
With just a few clicks, it is possible to generate accurate reports on hours worked on specific projects, absences, overtime and so on. Any sort of customised report can be generated with centralised data which improves visibility and transparency within the organization. Graphical representation of these reports make understanding easier. Existing policies on leave, work hours, work culture, compensation and performance can be revisited regularly and fine tuned to make it a more employee friendly organization.
6. Hassle Free Workflow Management
One of the biggest benefits of such a software is the ease of workflow management. The automated system provides good visibility of all the data and can ease workflow of payrolls, leaves and performance reviews. Notifications and alerts are all automated due to which approvals for leave, early departure, overtime can happen online instead of additional need to communicate the same separately. Time consuming activities such as assigning certain tasks, tracking shift changes can be monitored/assigned by the software.
7. Security
Organizations that deploy the automated attendance tracking software enjoy a high degree of security and reliability. This is because the software is built around highly secure systems and architecture. The biometric systems are extremely secure and reliable and can help to prevent time theft, buddy punching and reduces administrative costs stemming from forgotten pins and lost ID cards. It also prevents any tampering of saved data with regard to attendance details of employees.
8. Compliance
Inaccurate records can cost the organization a lot of money by way of overtime payment and can violate labour laws which may result in expensive legal suits. Regulations require that employers maintain accurate attendance records and provide compensation to employees for any extra hours worked.
9. Maintain Company Culture
Building a strong company culture is another benefit of an attendance management system. Employees appreciate having access to their records without the interference of a third person. Several features such as polls, salary slips, leave balance and so on can be accessed by employees themselves which will help them plan their schedules and holidays. This gives them a sense of empowerment, boosts their morale and in turn contributes towards a successful and happy workplace.
10. Maintain Fully Staffed WorkShifts
The system can send real time notifications about employees' absence or late arrival such that the workforce can be redeployed in a manner which will not disrupt the workflow. This kind of arrangement is particularly useful in a manufacturing setup wherein work needs to happen continuously and the absence of a few employees can shut down the entire production line. It also helps in instances of swapping of shifts wherein employees swap shifts amongst themselves and on several occasions either both turn up or neither one turns up. There is no room for such errors in an automated system since all the biometrics are captured accurately based on the shift indicated in the system only.
What started out with punching card sheets and spreadsheets has now moved digital due to the growing workforce. Automating the tracking of attendance greatly helps to optimise the workflow of the organization and helps you manage your greatest asset – your employees efficiently. This helps to focus on the vision of the organization and work towards making it a reality.