Benefits of HR Software in Organization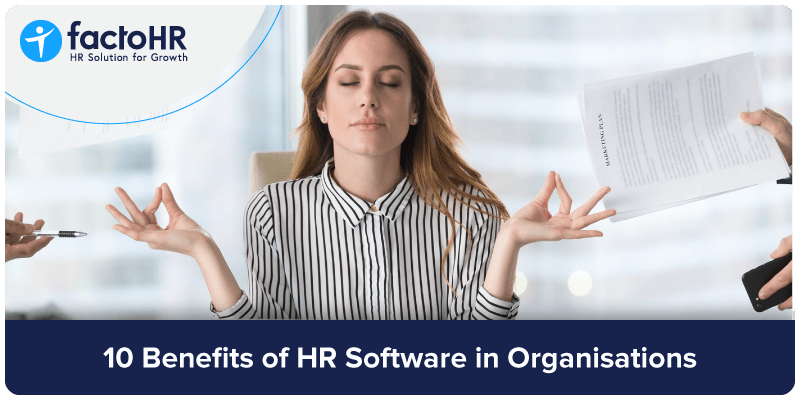 The most important resource of any company is its people and taking care of them goes a long way in the success of the organization. However, as organizations grow there will come a point wherein it becomes extremely hard to successfully manage people-related data and processes without the help of Cloud-Based HR software. The key benefits of HR software lie in reducing routine actions which can be automated. This also allows the Human Resource (HR) team to focus on delivering excellent experiences to keep employees motivated and happy.
HR is one team which is responsible for smooth functioning of all the units of an organization. By investing in technology, organizations can ensure improved productivity across teams.
Challenges Faced by HR Teams
There are several common challenges faced by HR teams whatever maybe the industry. Besides recruiting and retaining the best talent, keeping the employees satisfied is also a significant challenge. Some other challenges are:
Serving as an efficient point of first contact for employee grievances, complaints, and redressals
Improving productivity levels by keeping employees motivated
Resolving amicably any employer-employee disputes which may arise
Meeting training and compliance needs
Maintaining payroll system accurately and ensuring payouts are done in a timely manner
Managing performance evaluation process in a fair and transparent manner.
Why Use HR Software
No matter how large or small an organization is, managing employees and their records is a lot of hard work. If the personnel of an organization is managed well, the organization is sure to meet its objectives. With the help of technology, the HR team is able to:
Save time as compared to doing everything manually
Declutter the office by reducing the paperwork since all the data is stored in the system
Secure confidential documents
Manage leave records of employees
Grow business and staff by keeping track of employee reviews, training sessions, and performance of the business.
Some key tasks that can be managed with the help of the HRM software are:
HR document storage
Maintenance of employee progress
Attendance records
Leave records
Training schedules for employees
Shift monitoring
Employee recognition programs
Performance evaluation standardisation
Record of complaints and redressals carried out.
Check out our Complete HRMS Guide to know more.
Follwing are Benefits of HR Software in Organization
Let's take a look at ten areas where HR management software helps HR teams to manage the workforce in an efficient and satisfactory manner.
1. Easy Onboarding and Recruiting
The software makes understanding of the rules and regulations clear and serves as a reference point in cases of dispute/doubt. It helps the HR team shortlist applications quickly and recruit the right person for any given post in a timely manner. Automated onboarding helps new employees walk through the process seamlessly and gives them a sense of control and security. The workplace values and culture can also be conveyed clearly to the employee to ensure compliance.
2. Instant Access to Information
Everything one needs to know is available in one place and accessible to all who require the information. Readily available data makes it easier to make informed decisions. Collecting and accessing all employee-related data is made extremely simple through an HRM system.
3. Employee Information is Secure
Employee data is personal and sensitive. Managing employee information on the HR software system is far more secure than maintaining physical records of the same. There is the additional benefit of being able to archive older data such as policies, handbooks, training manuals, and so on for future use. All the information is accessible from anywhere at any time by authorized personnel.
4. Feedback and Employee Engagement
Employee engagement is most critical to the productivity of an organization. Better engaged workers are more productive and happier. The much-dreaded attrition comes down to when the employees are content.
Collecting feedback is another crucial aspect of sound HR practices. Having an HRM system in place makes it easy for the HR team to conduct surveys, and polls, and seek opinions and feedback. Moreover, all this information can be stored for future reference and/or action.
5. Cross Organization Communication
Many times in large organizations, it becomes difficult to track an employee in another department or at another location. Working on projects which requires collaboration amongst people from many departments becomes time-consuming if not for the HR systems. Contact details of all employees from an organization are listed which makes the work on hand easier and faster.
6. Employee Growth and Retention
Talent management is an important aspect of HR. The most desired functions revolve around recruitment, onboarding, and performance management. While getting onboard the best talent available is important, retaining them is even more critical. The employee experience in the organization at various levels plays an extremely important role in inviting and retaining the best talent. Well thought out and executed HR plans can help transform the perception that HR is an outdated department and present it as a forward-thinking and strategically relevant department.
7. Monitoring Leave and Vacations
Having several absences coupled with vacation dates of other staff members at the same time affects the functioning of the company. HR software can help set up an efficient leave tracking system. Such a system helps to calculate pro rata entitlements of employees by keeping track of remaining leave and helping to manage vacation/holiday needs of employees while factoring in any emergency situations.
8. Handling Disputes and Resolving Conflicts
Conflicts and disputes are a part of any organization. These conflicts and disputes need to be handled with due diligence and sensitivity and as laid down by the rules of the organization. It is up to HR to resolve all such issues in a fair manner following the laid down protocol. All the protocols can be configured in the software which can be readily pulled up at the time of resolution.
9. Metrics
Access to analytics metrics is very important for several aspects of HR which include HR cost management, compliance risk management, and increased employee engagement. HR departments can analyze data to make future personnel strategies and forecast attrition rates. Data so gathered through the HRM system is accurate and in real-time which assists businesses to make informed decisions and check to see if the results match up to corporate goals.
10. Improves Efficiency of HR Team
Repetitive admin-intensive tasks such as leave approvals, processing payroll, follow-up for completion of reviews, certifying absence, and so on can be handled by the system. This frees up much of the HR time which allows them to utilize their time more productively in aligning teams towards organizational goals and focusing on employee satisfaction, engagement and productivity.
The success and growth of any organization depend on how well its employees are managed. This is the reason why several organizations are trying different ways to enhance employee experience and management strategies. This is where HR software takes over many mundane activities and frees up the HR personnel to deliver excellent experiences. This will keep employees happy and motivated.