5 Best HR Software in India 2022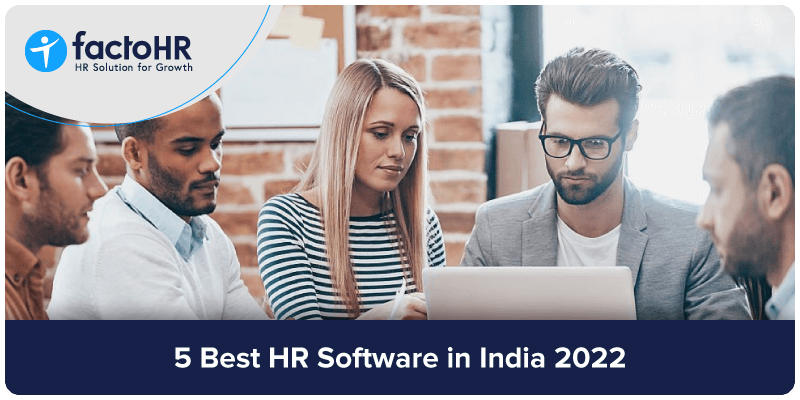 The HR management of an organization involves numerous aspects; it highly influences the business's success and is the backbone of any firm. So, it is essential to ensure its process efficiency is maintained and expected outputs are obtained. From onboarding to retirement, the HR process involves tedious tasks and requires much observation. Usually, HR teams carry on these processes, but now organizations are adopting HR software to facilitate process efficiency. Therefore a combination of a competent HR team and the right technology can highly impact organizational success.
Innovation and invention are the most common things we are witnessing in every field today. Technology has revolutionized most business practices, and the scenarios in human resource management have also changed. As a result, technology adoption in the HR sector has increased as it brings advantages and resolves daily challenges the organization faces. Irrespective of the type and size of the organization, they are taking the benefits of tech tools.
We understand the need of every HR department for technology that resolves the possible bottlenecks of the company and makes the workflow easier. So this article mentions the benefits of using software and a list of the best HR software you can choose from.
In what ways HR Software Benefits the Organization
The adoption of technology tools in managing human resources is increasing as organizations witness and leverage its benefit. Automating the major HR functions with advanced software has reduced the burdens on HR managers and improved employee experiences. By embracing HRM software, these are the benefits you can get:
Automates Repetitive Task
The daily tasks of HR managers are primarily repetitive in nature, consuming a lot of time and manual efforts. Completing the formalities, paperwork, filtering resumes, and many more tasks can be performed through the software resulting in faster processes and aiding managers in focusing on other core functions.
Security of Data
Employees' data and their credentials need security, and the management must be sure about it. Unfortunately, the traditional methods of managing the data do not assure safety. We have encountered many cases of data breaches of employee details in companies, which cost them a lot. But, modern software can easily store large files digitally, mostly on clouds which have fewer chances of its breach.
Decreased Inaccuracy
The salary processes that have to be carried out monthly can have errors when calculated manually. Not only the payroll but other processes like tracking the daily attendance and leaves can be tiresome. Using such platforms is the best option for any organization to reduce inaccuracy in everyday operations and managers' workload.
Growing Employee Productivity & Engagement
Offering a great employee experience is the need for any organization now. With the advancement in tech, most of our routine work can be carried through mobile phones. Similarly, mobile applications and ESS portals can facilitate employees. As a result, the interaction gets simple and fast, leading to better productivity and engagement.
Listing: 5 Best HR Software in India
As per the statistics provided by finances online, HR tech is continuously experiencing growth, from $47.4 billion currently to $90 billion by 2025. As the human resource market is growing day by day, the options to choose the best platform in India is increasing. But, it is not easy for an organization to select one of them initially. Take it easy; this blog provides a solution for it. Here are the top HR software in 2022 that are ideal for organizations. Analyze and weigh up the features and suitability of all 5 options and select one that best suits your organization.
factoHR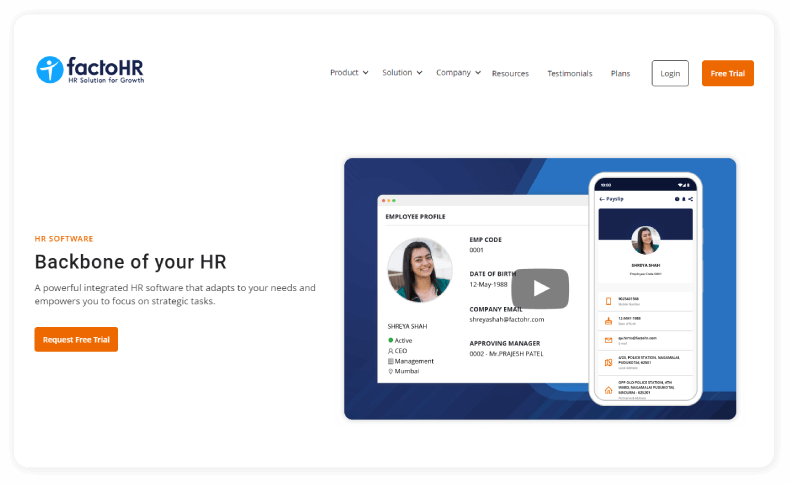 factoHR is a modern age cloud-based software evolving HR activities of organizations. It has won the "Best HR Software" award for 3 consecutive years by the World HRD Congress. The HR management software facilitates managers to make better and smarter decisions with the analytics of HR data in a visually appealing manner.
Extensive modules of the software help managers track employees in real-time, record the employees' data in a centralized database, simplify the onboarding process, and automate salary generation. Also, a mobile app is available on Android and IOS with various features that facilitate both employers and employees.
Features:
Resume Parsing
Pre and Post Onboarding activities
Configurable Payroll Processing
Survey & Real-time feedback
Geo-Fencing and Tagging
OKR-based Performance Management
Employee Mood Analysis
Suitability:
factoHR is best for small, mid to large-sized businesses.
Oracle PeopleSoft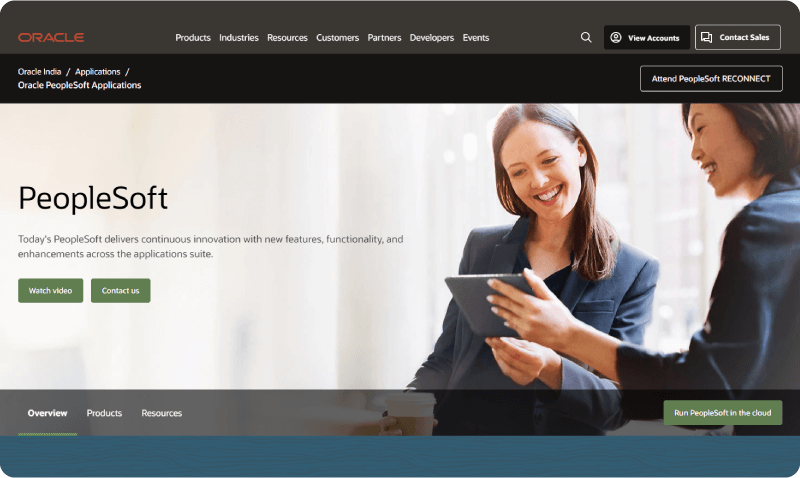 Oracle PeopleSoft is natively a cloud platform that provides a complete solution for handling HR processes. The platform offers a tailored experience and unifies the workforce with one common data source. It is one of the HR market leaders as they bring innovation to their products as per the customer feedback.
The core HR module offers Hiring, onboarding, workforce planning, and performance management. Another interesting module they offer is an HR help desk, where queries can be sent through multiple channels and employee issues can be solved in a timely manner. Additionally, the AI-driven algorithm identifies the errors for an accurate payroll process, along with keeping the data secured.
Features:
Recruiting, Hiring, and Onboarding
Talent Management and Career Mobility
Payroll and Compliance
Workforce Management
HCM Analytics
Digital Assistance
Workforce Modeling and Predictions
Suitability:
Oracle PeopleSoft is best for startups as well as large complex businesses.
SAP SuccessFactors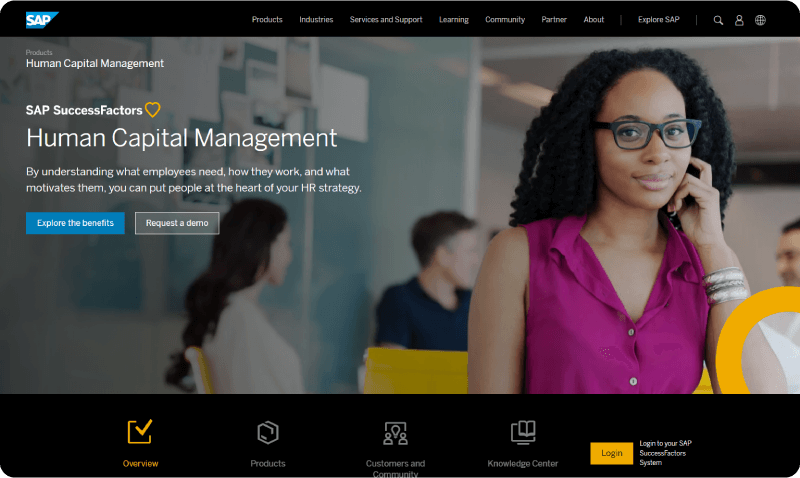 SAP SuccessFactors is a strategic and next-gen HR solution for businesses. SAP is one of the pioneers of the IT industry, serving for the last 50 years. It is another cloud-based solution with millions of users from different parts of the world. Initially, it was known as SAP ERP, which has been evolved to SAP SuccessFactors HXM suite now.
The software offers core HR and payroll solutions with employee experience management, workforce planning, and HR analytics. Along with the HR product, they also provide customer relationship management, supply chain management, and financial management solutions. They focus on improving the employee experiences and bringing positive change to the organization.
Features:
Employee Experience Management
Core HR and Payroll
Talent Management
HR analytics and workforce planning
Sales Performance Management
Incentive and Compensation Management
Suitability:
SAP SuccessFactors is best for small and mid-size companies.
NetSuite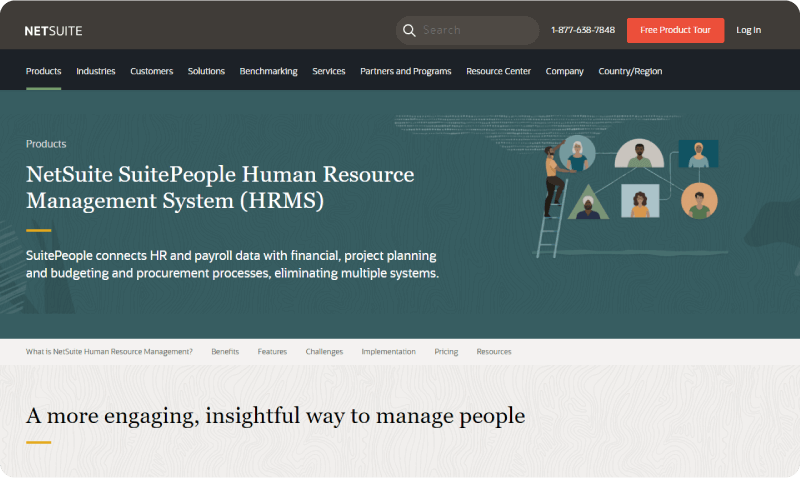 NetSuite is a human resource software that has a suite of HR capabilities. The software makes the work easier for the human resource managers as all functions can be performed through a single platform and also reduces the cost of administration. Also, the system is flexible enough to make changes as per the HR department's needs.
The suite software offers employee administration through the employee directory and access control, end-to-end payroll processing, and HR analytics based on the role with powerful visuals that are easy to understand. They also offer customer relationship management and global business management.
Features:
HR Administration
Payroll Management
Performance Management
Workforce Management and Engagement
Analytics
Suitability:
NetSuite is best for small, mid to large-sized businesses.
SumTotal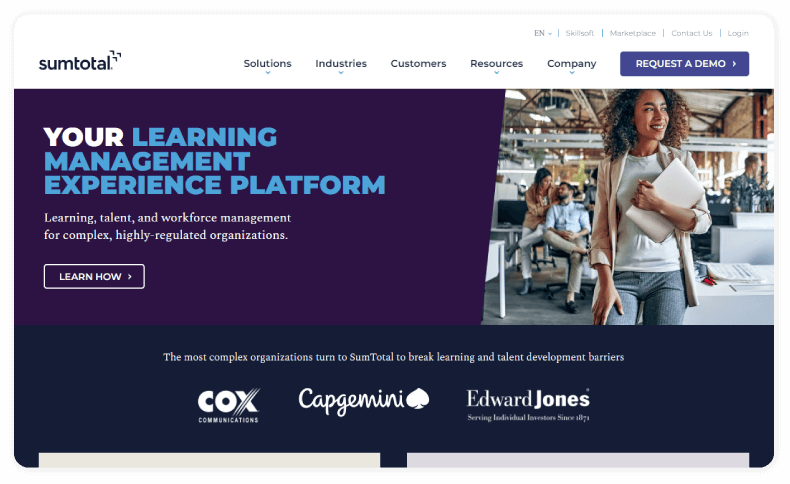 SumTotal is a solution provider that is customer centric and offers them a solution that helps them build a robust business ecosystem. The solution is effective enough to improve the performance of the employees in real-time. All the different modules are linked with each other to make the processes of managing the workforce easy.
To boost productivity and improve engagement and retention of the workforce, it offers learning and talent development with analytics and data accessibility. Decisions related to compensation can be taken based on the data and in accordance with the organization's demand.
Features:
Recruitment, onboarding
Performance Management
Compensation Planning
Time and Attendance
Absence Management
Payroll
Suitability:
SumTotal is best for medium to large-sized businesses.
To Conclude
Different competitive software available can make a valuable contribution to your organization. Some might be customizable, and others may be flexible to use. But the right fit for your organization is the one that eases your daily workflow and suits your needs.
Furthermore, the software must benefit the administration and the employees as well. Thus, remember your organization's and employees' needs while choosing the platform.
If you want to automate and transform your human resource management, try factoHR's free HR software trial and get a solution that best suits your organization's needs.