Checklist for an Ideal Performance Evaluation Process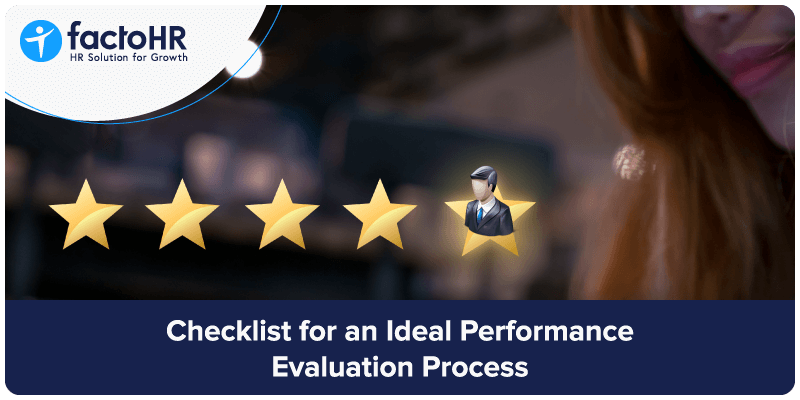 Preparing for and performing the employee performance evaluation process can be time-consuming for HR, department managers, and employees in an organization. Filling out employee appraisal forms, gathering employee feedback, deciding ratings, and dealing with meetings and write-ups, etc, can be too much to deal with for HR, that is why you need a checklist to ensure that your organization's performance evaluation process is as per benchmark and in your control.
Even if, by mistake, the organization attracts a bad hire, there are ways to lay him off without creating a massive impact on the status of an organization. Here we have listed down the ways to make layoffs more tolerable for any organization.

The Checklist
It's crucial for your organization to equip itself with powerful tools to keep the employee performance evaluation as simple as possible to reap the valuable benefits it can offer to your employees and your organization as a whole. Here are some great ideas and tips on how to improve and streamline your company's performance appraisals.
Focus on Goals
One of the most effective ways for encouraging and supporting your employees to perform better is to work with them to develop meaningful objectives that they can work towards during their performance review period. SMART objectives are generally used in this area to ensure that any goal that is set meets the criteria of being achievable, specific, measurable, time-bound, and realistic.
Objectives that are not too clear in terms of how success is measured, or even too difficult or too easy to achieve, are not good ways to motivate or improve your employees' performance.
Avoid Setting Too Many Goals
It can be appealing to improve the performance of your employees by giving them multiple performance goals to achieve throughout the year, But, sometimes it can negatively affect their productivity, as it has the risk of overwhelming your employees with too many unachievable and unrealistic goals to work for. Focusing only on a chunk of vital targets with measurable goals can be a better way of handling your employees' enthusiasm and productivity.
It is also important for employees and managers to have meetings at regular intervals to check on the progress of objectives and to make changes or give additional support wherever required. It helps to ensure that the whole process stays on track.
Be Clear About the Performance Expectations
While having the employee performance evaluation, the manager needs to be prepared to hold a two-way and honest conversation with the employee by giving both positive and constructive feedback about their performance. It is crucial for the manager to give advice and directions that are clear, so that employees have all the information they need to improve their performance.
To ensure clarity, it's good to follow up on the meetings with a written summary of what was discussed and what actions were agreed upon, which can be reviewed together in meetings.
Don't Forget to Give Positive Feedback
It can be easy for the manager to focus so much on the chances for improvement that they forget to provide their employee with enough specific and clear positive feedback. Praising and encouraging your employees is absolutely critical if you want them to achieve more in the future. They should know that their achievement has been appreciated to give them the extra motivation to drive themselves forward in their career.
Take feedback from the employees' customers, peers, and other individuals that they are involved with on a regular basis, and try to make the feedback that you provide as specific as possible.

Modernization of Employee Performance Evaluations
With so many factors to be considered and steps to be carried out in the employee performance evaluation, it's no surprise that many managers and employees don't enjoy the process, or even get the most out of it.
Automating your organization's performance appraisal process can offer you valuable benefits since it drastically reduces the amount work that your HR has to do. A performance management software offers template performance management forms that can be customized to meet your company's requirements and can be completed online and sent to all the other parties involved in the process.
It helps in gathering feedback online by allowing managers to request and analyze the feedback of their employees. It also ensures high consistency and clarity across different employees, ratings/scores, and employee performance evaluations. Moreover, its app provides reminders to employees and managers to keep the process on track. It also arranges performance meetings and tracks outcomes.

Conclusion
A Performance Evaluation process should be a crucial process in your organization, and its proper implementation ensures accountability and growth. But don't let your HR and managers get weighed down by the amount of work they have to do in this process. With this checklist, you will be on the right track for creating a team that is more motivated, better trained, and works at a highly efficient level. By using automation, your managers and HR can make sure that their performance evaluation process is focused, consistent, and fruitful.