What is Payroll? Complete Guide With Basics, Process, and Functionalities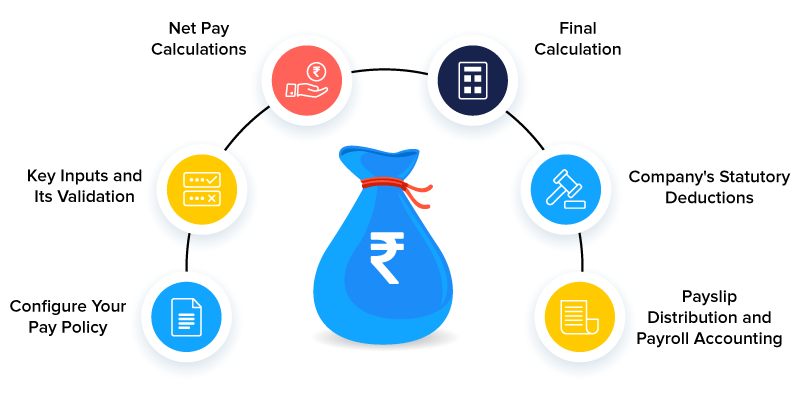 It is entirely true that the Payroll process in India is tedious and requires accuracy. And for an organization that is expanding both department-wise and employee-wise, HR persons find it even more complex to maintain their salary processing with almost zero errors. But with newer technologies, there is a platform in the market like e-payroll system, HRMS, etc. which makes payroll-related management very relaxed for HR.
The main complication here is how to choose the perfect payroll system that fits your necessity. For this, you should have a clear idea of payroll definition, what is payroll in HR, the critical requirements for its calculation, and the statutory norms. Read along to know how salary is calculated in India.
What is Payroll in HR Management?
For any organization, payroll is the list of its employees eligible to receive their regular wages against the time and efforts they have spent on projects leading to the company's growth rate. Payroll management thus proves to be an essential aspect of HR operations. But why it is essential, read along to find out.
Why is Payroll Important to Consider?
Payroll is important as it is the prior quantity that employees are interested in majorly. And processing payroll can be very prone to errors and mistakes. What if any employee lefts out during processing? What if you forgot to consider allowances and investment details during calculation? These mistakes can turn down an employee's morale and make him/her unmotivated.
Along with this, a payroll process must be entirely statutory compliant to evade any legal actions by the Government. Being lawfully compliant means it pays according to the central and state regulation, including minimum wages, overtime payment to the worthy employees, TDS deduction, PF, ESI, etc. Refraining from any of these regulations can impose legal consequences, including a threat to the company's existence too.
That is why any organization must seek a proper method and system to process its payroll in an error-free and compliant way.
What is a Payroll System?
A Payroll system is a platform that an organization uses to automate their payroll process. This system helps to build a flexible policy that benefits the employees. Such a system takes data from attendance and time management, leave, and employee self-service and combines them to calculate the accurate payroll that is also statutory compliant.
Thus, the payroll system minimizes the employer's efforts in a calculation to help him focus on more business strategic tasks.
To process a perfect and error-free payroll and choose an efficient payroll system, you first need to understand how a payroll process works.
What is Payroll Processing and How It Works
Payroll processing is an essential business function that revolves around calculating the net salary of every employee by taking in the data like attendance, leave, working hours, and many more. An authorized payroll accountant needs to take all these data with proper validation for an accurate payroll calculation.
There are always tasks that change after a specific time interval. These changes can be changes in your company's policy, tax slabs, investment schemes, and statutory laws.
To ensure a relevant payroll as per changing regulations, the authorized person must keep himself/herself updated.
This payroll process can be divided into a few stages, which are stated as under
Configure your Pay Policy
By configuring the policy, means how you want to determine your employees' gross pay.
A most flexible policy is a policy that lets your workforce avail certain benefits like overtime, leave encashment, tax exemption, etc. along with ensuring the company's interest like statutory compliant. On creating such a policy, HR doesn't have to waste time verifying it from time to time.
Moreover, integrate your pay policy configurations with the leave, performance, and attendance management platform if you are using an online solution. This will reduce the data errors from various inputs and ensure a proper payment system
Key Inputs and Its Validation
After the formulation of the pay policy, you need a better understanding of all the critical resources required for Payroll related calculations. These components vary from company to company, but here are some common ones listed below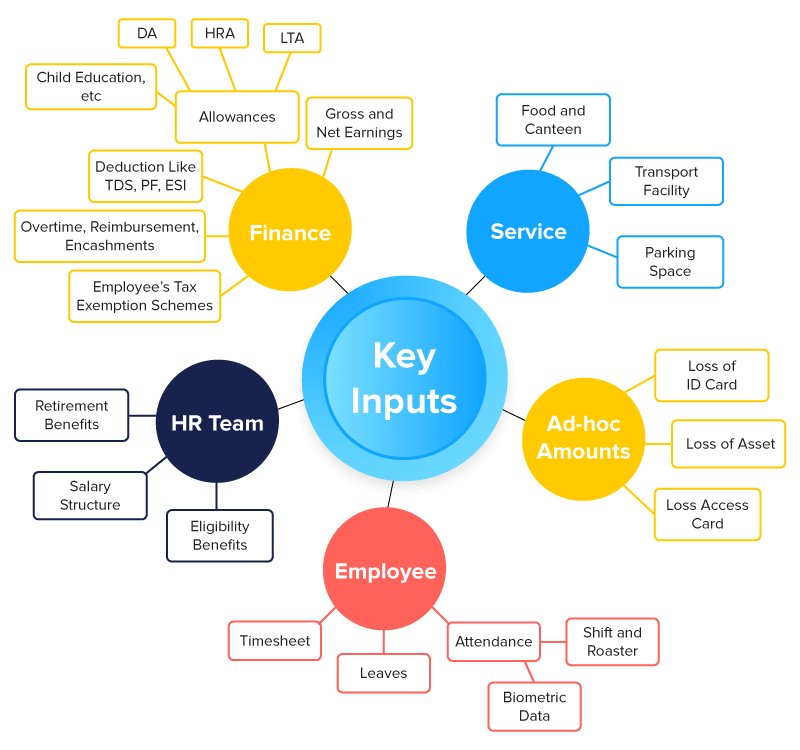 Gross and net salary calculated from employees' attendance, leave and performance data selected according to your pay policy.
Employee's additional data like overtime, reimbursements, encashment, etc.
Allowances like HRA, LTA, DA, child education, etc. which you provide.
Services provided like transportation, parking fee, food, etc.
Ad hoc amounts like loss of asset, id card, access card, etc.
Employee availed tax exemption schemes provided by the Government.
These essential resources, when combined form the total earnings giving you exact information regarding additions and deductions to the Payroll processing.
After collecting all these data, it becomes necessary to re-verify that all information is valid accompanying necessary proofs, no active employee is left out, and no inactive employee is considered for payroll procedure.
Net Pay Calculations
Gross pay is said to be the total salary of a particular Employee. At the same time, Net pay is the take-home salary. Consider the following calculations required for employee payroll procedure
Gross pay = Cost to company – Gratuity + Allowances
Net pay = Gross pay ' Gross Deductions(TDS, EPF, etc.)
Final Calculation
Once you have come up with all the required data/key inputs along with its validation, then comes the process of finalizing the payroll by addition and deduction of corresponding collected data. You need to notify your linked bank to transfer the processed salary into each Employee's bank account. And yes, don't forget to confirm your company's bank account, if it possesses the required amount to be paid to the employees.
If you are using automated HR software, well and suitable, because it minimizes the majority of your work. You need to combine all these inputs and feed them to the system, and within only one click, your finalized salary is ready to be distributed.
But if you are still using conventional methods of maintaining spreadsheets and using its in-build math and formulas, you should double-check all the data to ensure minimum mistakes.
Company's Statutory Deductions
Your payroll management process is never complete unless it is cent percent statutory compliant. Certain deductions like TDS (Tax Deduction from Source), PF (Provident Fund), ESI (Employees' State Insurance), and PT (Professional Tax) for social and medical security, must be deducted from Employee's salary during payroll processing, as per Indian Government's Rules and Regulations. Further, after deduction, these are needed to be deposited in corresponding trusts and banks.
Payslip Distribution and Payroll Accounting
You can choose how to authenticate the payment, like a check, bank transfer, or cash. The most preferred way is through bank transfer. You can then ensure this by giving payslips to your employees.
Payroll accounting refers to storing records of all financial transactions performed. It is important to keep a record of transaction history for an official inspection like an audit.
Now when it is clear about the step of the payroll process, let dig into the methods used for calculating pay-roll.
What are the Methods deployed to run Payroll
Today's market allows you three different business methods deployed to run payroll, but the best one always stands out to be cloud-based platform. With diversifying benefits, you can choose from these methods according to your business & budget requirements.
By Hand
The first and conventional method for payroll management system is through creating spreadsheets displaying all the details we discussed above. Predefined authorized personnel for payroll workflow is responsible for updating and revising the monthly data and calculating earnings and CTC with the help of in-build math functions.
You can easily estimate that this method can be highly prone to errors and human mistakes. Thus, this type of conventional method is more suitable for small business organizations due to their limited workforce.
Outsourcing
When a company hands over its payroll management to an outer body or human, or hands over payroll job to a person, such a method is defined outsourcing. You can use this method when you don't have any person to carry out financing.
Payroll Outsourcing lowers the transparency of financial transactions, which is an utmost priority for the company. However, this can cost you more but with a guarantee of error-free payroll solution.
E-Payroll
While considering both financial and error-free processes, the payroll management platform is an effective money-saving option. It helps you automate your Payroll related management and calculate monthly Payroll, along with statutory compliance within just a single click.
Indian Government's Payroll Compliance
After understanding why Payroll is essential and how payroll is processed, the next important thing is to understand the Government's statutory payroll compliance. For an adequately smooth and organized payroll statement, you must update your company's pay policy timely. These regulations include every aspect of the company's benefits and employees' benefits. Here are some of the essential statutory deductions that you must follow
Tax Deduction from Source (TDS)
TDS is the income tax deduction from an employee's earnings during the Payroll related calculation itself, on salaried and non-salaried payments like rent, interest received from fixed deposits, etc. to minimize the tax evasion later. Different amounts have different deduction rates finalized by the Government.
Employees' State Insurance (ESI)
ESI is liable for every organization and establishment that has employed ten or more persons. The main focus of ESI is to ensure healthcare to the Employee. Contributions for ESI from employee and employer are enlisted below
| | |
| --- | --- |
| Contribution | % of Gross pay |
| Employees' contribution | 0.75 |
| Employer's contribution | 3.25 |
Provident Fund (PF)
PF accounts for post-retirement income and benefits based on employees' and employer's contributions. This PF is divided into separate funds: EPF (Employees' Provident Fund) and EPS (Employees' Pension Scheme). The contribution breakup is
| | | |
| --- | --- | --- |
| | Employee | Employee |
| EPF | 12% of Gross | 3.67% |
| EPS | 0 | 8.33% |
| Total contribution | 12% | 12% |
TAX Slabs
Let us see the tax liability for employees under the new tax regime for the final year 2020-21
| | |
| --- | --- |
| Income Tax Slab | Tax Rate |
| Up to Rs 2.5 lakh | NIL |
| Rs 2.5 lakh to Rs 5 lakh | 5% |
| Rs 5 lakh to Rs 7.5 lakh | 10% |
| Rs 7.5 lakh to Rs 10 lakh | 15% |
| Rs 10 lakh to Rs 12.5 lakh | 20% |
| Rs 12.5 lakh to Rs 15 lakh | 25% |
| Rs 15 lakh and above | 30% |
What are the Major Challenges Faced in Running Payroll
There arise two major challenges to run a complete payroll
Adherence to Statutory Compliance
As discussed previously, any company's pay policy must be fully in compliance with the statutory laws formed by the Government. It avoids any penalties and fines needed to deal.
If you are still using the conventional method of processing payroll through spreadsheets, then your authorized accounting person must revise these compliances. Else you can choose an automated payroll management system that provides you with in-build accordance with these rules.
Keeping all the Data Intact
Because data like attendance, leave, and time management is essential for payroll processing, one must reverify the same time to time with proper validation. Modern platform ensures the integrated management of all these data for streamlined Payroll processing.
The Characteristics of Perfect E-Payroll System
There are many characteristics of the E-payroll system that differs from one provider to another. Thus, it is essential to outline the significant features that stick to your priority and are best suited to your organization.
Statutory Compliant
Payroll Management that is highly compliant with rules and regulations must be your priority. Specific platform available in the market streamlines a payroll that adheres to the Government's standards for tax and deductions. Choosing such platform can make you free from revising these laws timely.
Integrated Accounting
After distributing salary to employees, the financial records are stored in your company's accounting/ERP for future requirements. The platform can guarantee you a fully integrated accounting management for secure post payroll processing.
Integrated Attendance and Leave Management
A system with integrated leave and attendance helps ease the data collection process and finalize the Payroll process with almost zero human errors compared to conventional human-driven methods.
Scalability
As the size of your organization increases, your platform must provide you appropriate scalability. It must be able to serve you efficiently in any situation.
Employee Self Service Module
Imagine that if your Employee can provide information on tax exemption and investment details through his/her employee portal without any HR intervention. The payroll management platform can facilitate your employees with ESS login providing your business more flexible and streamlined payroll. Employees can also generate form-16 regarding tax deductions for the subsequent year.
About FactoHR
FactoHR is a cloud-based platform designed for efficient and streamlined Payroll Management. It comes with core HR features like HCM, Attendance, and Leave integrated with payroll, providing you a faster salary processing that is statutory compliant.
For any related queries, click the chat box in the bottom right corner to get it solved by our experts or you may contact us.