HR Software – Cloud-Based Human Resource Software In India – factoHR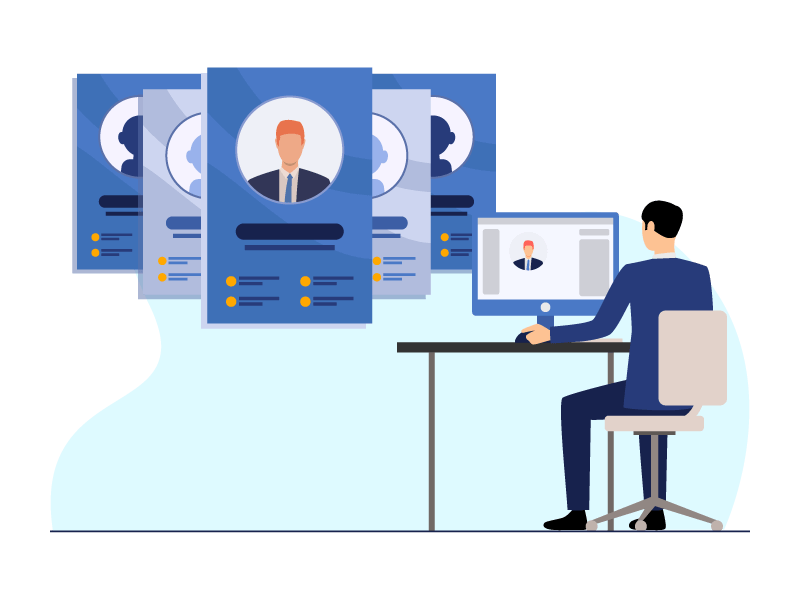 Traditionally, HR operations were handled manually. Day-by-day, with the rise in technology, a specialized platform to accomplish various employee management activities has become the need of the hour for HR personnel. With all these requirements, HR software came into the picture, and it controlled all the processes that were once very time-consuming. The solution is evolved in a way that simplifies, centralizes, and streamlines the mundane tasks, which caused many businesses to shift from their traditional approach to digitized one. Read along the article to know more about human resource software and its capabilities.
What Is HR Software?
HR software is a computer program created for an organization to enable their HR and managers to focus on their core activities by automating and streamlining their day-to-day HR tasks. Whether a large or small organization, this solution automates and integrates all the operational and strategic tasks of HR. Your HR can make perfect and efficient business decisions while the system can take care of all the functional requirements with minimum intervention.
Why Choose Cloud-based HRIS Software To Improve Organizational Productivity?
The increased use of automated HRIS Software Features of our software in HR technology has gradually reduced the human elements from the HR department. factoHR provides HR Software that is specifically designed for the modern generation workforce and SMEs. Along with automating Human Resource Activities, the software nurtures and helps the employees to develop and achieve performance goals with improved efficiency.
With an enhanced user interface and seamless integration, it supports HR to lessen the burden of the human resource software and help focus on actual decision-making and operational requirements. Leave the time-consuming inconsistencies, errors, and corrections far behind with our software and make your workplace well-organized and employees more productive.
Features Of A Human Resource Software
Human Resource Software provides you with a wide range of modules that will streamline HR's business functions. HR software comprises self-onboarding, tracking attendance and leave, process payroll, loans, expenses management, remote employee monitoring, face detection, and tracking features. This is not the end of it; the human resource platform provides a powerful AI-enabled chatbot and analytical options to manage the functions more productively.
In short, the product embraces every end-to-end process of HR to alleviate the burden of the organization's shoulders. Study all the enlisted modules that efficiently manage your end-to-end HR functions.
Recruitment And Hiring
Recruitment and Hiring are configured as one of the most challenging functions of Human resources. It calls for setting up a process till making a new hire that eventually leads towards business growth. Again it is not easy to find worthy candidates, and if you can find them, it is not guaranteed that they pass your test.
You have to understand every side of social media, job sites, and references to find a suitable candidate. Other than that, you must continuously work on designing the recruitment process and upgrade it time-to-time. Our HR software solution eases your hiring process with automated workflow. The module provides
Manpower Requisition
Raise manpower requisitions and configure the workforce requisition list that entails various details about the job profile, vacancies, status of approval, and much more to handle your recruitment process efficiently.
Job Posting
Post and manage your job postings on your various social media platforms, websites, and share the same within the internal company network to achieve multiple ways of hiring through seamless integration.
Interview Scheduling
By integrating meetings and interview schedules with the calendar, the manager can gather information about the schedules arranged on the go without any clashing of schedules.
Interview Feedback
The system helps you gather feedback from your candidates about the interview process to enhance your hiring decisions and upgrade your interview techniques for future hires.
Customized Workflow In HR Management Solution
The HR software enhances to give a customized workflow for the overall interview process, including the interview schedule, current stage, the status of approval, and the interview result. You can mark the interview based on set parameters.
Self Onboarding
Employee data is the most precious one, and any error in such data may lead to consequences. Human Resource Management encompasses many responsibilities. It might happen that in the hurry of completing tasks quickly, your HR abruptly creates a mistake. Let your new hires enter their data into the system independently and prevent any chances of errors through the automated onboarding solution. Help your newly hired candidates take with them the best class first-day experience in your office. Our hr software module provides:
Start With Minimum
To help an employee self-on-board, HR needs to enter minimal information like Name, Employee Code, and Email Id. Other data can be captured in self onboarding by the employee.
Timely Reminders
Once the employee finishes entering onboarding details, the HRIS system actively generates reminders to the manager to review, approve and complete the onboarding and start with the post onboarding processes like Induction, Policy review, and Product Training.
Letters Assignment
Design your own set of letters or use our software's inbuilt letters like joining letters, confirmation letters, resignation letters, and many more to assign them to the employees.
Asset Assignment
As soon as the employee onboards, the asset assignment section will help you out with assignments and further management of assets like Laptops, mobiles, SIM Cards, etc., to the employee. Also, store the details about various assets, their quantity, and lost assets.
Core HR
Core HR is said to be the central framework that entails various day-to-day functions of employees. The core HR module provides automated features for seamless and streamlined management of core functions. The core HR embraces modules for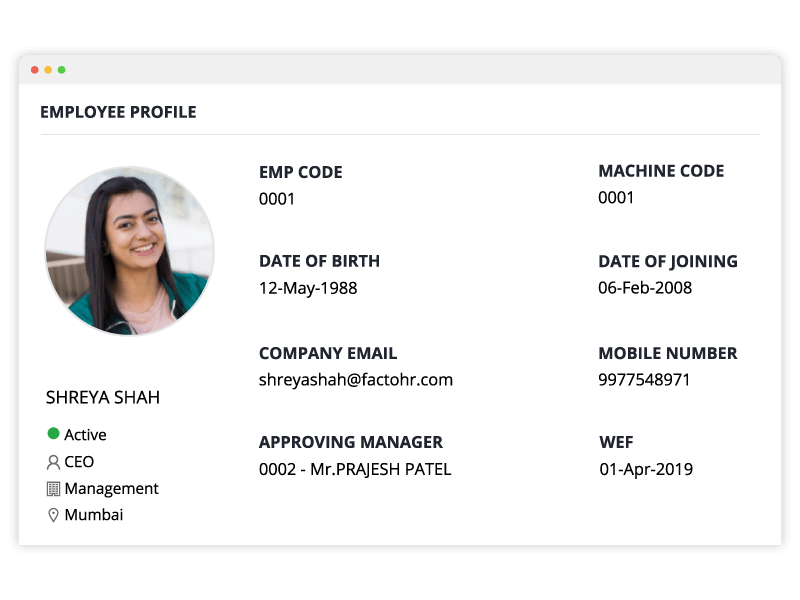 presence and absence tracking of an employee with added remote monitoring attributes to enhance the workplace environment with current and post COVID-19 scenario,
employee master to store and manage the primary and sensitive information with a fully secure environment which is popularly known as Human Capital Management.
salary processing feature for smooth transaction of salaries right from the main account to employees' accounts in a single click.
user-interactive dashboards to review necessary details quickly in a compact format plus the business analytics to boost up your business productivity.
E-resignation filing and checklist formation for quick FNF and resignation.
iOS and Android compatible mobile hr software to boost productivity along with mobility.
Human Capital Management
Management of Human Capital is as essential as other business functions. HCM encompasses details like Employee's company information like Name, ID, Branch, Category, etc., CTC and Payroll Structure, Family Details, Work-anniversary and Birthdays, and much more. To manage this data, along with improving the productivity of your workforce, is again to be kept in mind. To address this information peacefully and constructively, you need a system that helps you store the same whenever and however you need it. What our HRIS software system includes
Information At A Glance
All the information like personal details, company details, etc., entered during the self-onboarding process can be accessed centralized, at a glance through the software itself, thus there is no need to store the document in hardware.
Categorized View
A categorized view of the employee is possible to enhance viewing capability. It becomes easy to search for an employee based on the corresponding department, branch, and category.
Data History
You can access any past data history of employees with effective date and time and details of who changed them, when, and why.
Track Employee Life-cycle
With human resource software, you can track an employee's entire life cycle from hire to retire in a hassle-free way.
Document Management
This feature allows you to save, share, and manage employees and company-related documents, including joining, identity proof, and policy documents.
Multiple Salary Structure
As Job wise employees' salaries may change, the system facilitates you to store and review the remuneration and CTC structures for efficient processing of Payroll.
Organizational Chart
You and your employees can get an enhanced view of the whole organizational chart. This chart is a visual representation of associated reporting and approving manager, linked department, head of the department, CEO, etc.
Global And Intuitive Dashboards
Dashboards are a way of representing information in a compact format. When your system includes many modules, it becomes hard for you to dive in deep to find something, which is time-consuming.
Dashboards include some of the main modules neatly combined to get through your work quickly. With inbuilt charts, you can always add or remove various charts as per your requirements in HR Software. This dashboard also shows workforce analysis from every viewpoint to study your business functions.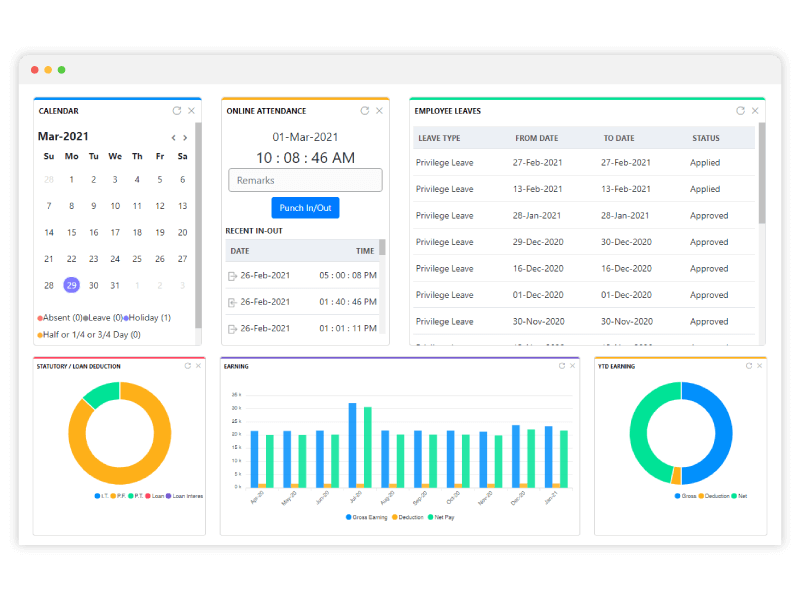 Company Calendar
The calendar chart shows the details of the month-wise list of holidays, leaves availed and status of any leave, and attendance information.
Attendance Remarks
Employees can regularize their attendance with good remarks without going deep into the system.
CTC Information
An employee can review their salary, YTD earnings, and corresponding statutory details. In comparison, an HR/CEO's dashboard provides department-wise salary information.
Event Reminders
Dashboards provide active reminders for any employee's work anniversary and birthdays to keep them updated.
E-Resignation
Same as hiring, resignation exit clearance management is also a much essential business function. No employee can wait much longer after filing for FNF, and it is HR's responsibility to initiate and complete the task as soon as possible. Filing a resignation application, creating a clearance checklist, gathering the assets and dues, clearing the reimbursements, and finalizing the resignation processes are not easy to manage physically.
Our human resource software solution guarantees online resignation from one single screen enabling your employee a smooth finishing experience. Take a look at the most promising features of this module.
Applying Resignation
Your employees don't need to write long and unnecessary emails to their managers for resignation. Instead, they can be facilitated by the software's internal resignation application feature. It also saves the manager's time rather than wasting it in searching the mail in the flooded inbox.
Efficient Checklist Creation In Workforce Software
With the help of this Workforce management Software solution, it is simple to create a checklist for the exit process for smooth processing. As the solution provides combined information management, you can efficiently gather the information needed for checklist creation.
Assigning Finishing Tasks
The remaining functions like an asset or due return, reimbursement handling, etc., can be initiated and given to the employee to get it done within a few time. The software helps you ensure that no tasks remain before your employee leaves.
ESS Portal
Does your HR get tired of entering every employee's details during onboarding, replying to every employee's queries, conveying announcements, etc.? Then, employing a cloud-based hr software that provides an inbuilt ESS option for your employee can help your HR get through this.
Employees don't need to ask HR or managers to receive any reports, payslips, providing applications, and other such works physically. Instead, they can now get all the necessary information through their employee self-service platform. See what our portal has for your employees.
Special Events
Through the ESS portal, employee engagement can be increased as it enables notifications as and when the co-employees celebrate their birthdays or anniversary.
Mood Analysis
Employee's mood is essential to know as it can affect the amount of work done on a day. The system helps the manager see each employee's mood throughout the day to make things work on that particular day. On the other hand, if the mood is dull, managers can help employees solve any queries and relieve their mood.
Online Attendance
Other than biometrics, the employee can mark their attendance online from their ESS login itself and can review attendance details. They can regularise the same in case of any missed punch or other remarks.
Generating Reports
It is easy to create various reports like employee details, payslips, income tax reports, etc., from the portal itself. An employee doesn't always have to knock their HR for the same and wait for their response.
On-the-go Modules
As we have already discussed, an employee with the ESS portal doesn't have to ask their managers every time. Like attendance, the employee can generate their leave and travel application, reimbursement claim request, performance review feedback, etc.
Announcements
The HR or manager can broadcast their announcements to the required employee with efficiency without calling out for meetings for small news or updates, increasing productivity.
Mobile App
Same as the online ESS portal, you can use the ESS mobile app for continuing your work on the go. When you are far away from the office, it becomes easy to stay updated with the mobile app. The mobile-based HR solution provides the same features but in a compact and interactive user format and helps you access your information remotely. That's not it. It enhances many more features for you, which are detailed below.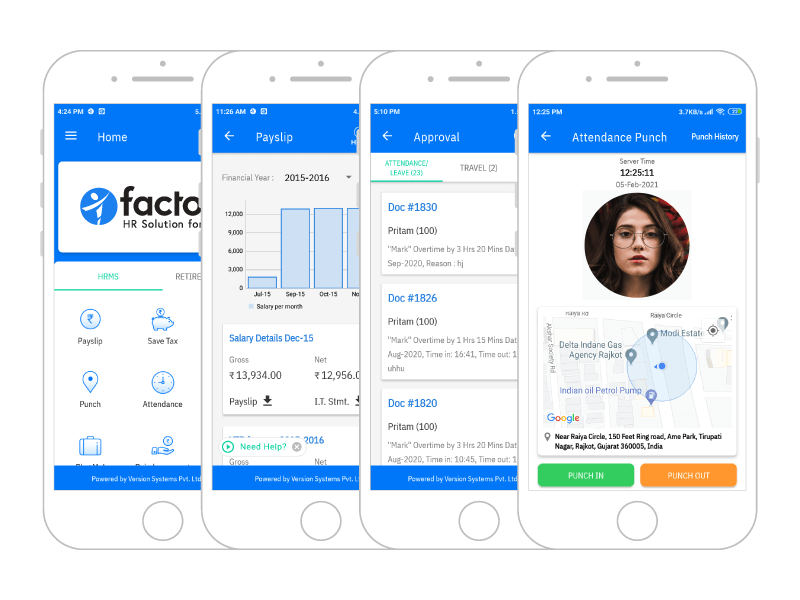 Profile
In our employee attendance application, an employee can check their entire profile in a beautiful view to ensure data correctness.
Chatbot
Our Factobot answers every query and FAQ to help you with each section of the mobile app for an ever-lasting user experience.
System Compatibility
We provide our app in both Android and iOS compatible devices and with the same features so that your work never stops just because of your device's incapability.
Document Sharing
It will now become easy for HR and managers to share files and documents amongst their employees within the application only through the Plug me feature.
Remote Punching
You can validate your employee's punch with their selfie or location tracking to be secure from any time thefts during working from any distant location. It will free you from the constant tension of work being done.
Submit Application Anytime, Anywhere
While the ESS portal can restrict you from submitting applications and generating reports from any location, the mobile app does not. An employee can now apply for leave, travel, etc., from any site and at any time. They can apply from home without disturbing their work hours. How productive!
Attendance
When you have a considerable number of employees, it becomes essential to track and store their attendance, working hours, and the amount of work completed that indirectly helps in calculating their performance. Let your employees anticipate that they have someone noticing their work and time. It doesn't look like spying; instead, it can engage and encourage them to work to their full potential.
Device Integration
Your biometric devices that take in the punches can be configured and integrated with the solution to help you store that information that is available centrally to your server. It gives you an efficient way to manage and use the data whenever required.
Configure Based On Time-zone
It is possible to change the servers' time zone as per the location to store correct details the same as when recorded. Also, if you have offices located over a range of cities, the attendance management solution can be configured easily to save your calculations of attendance.
Shift Management
You can create a range of shifts based on departments and manage the same for the bulk employee to efficiently manage your attendance tracking. Even you can create a whole roaster for more precise tracking of employee attendance.
Remote Tracking
Either on a client visit, during work from home, or inside/around an office location, it is possible to track your employees. You can locate them and let them mark attendance restrictively.
Leave
Another function to look after to manage your employee's leave is an absolute leave management platform. It is essential to provide time-off benefits against their productive output, along with managing unnecessary absenteeism. Leave your leave management calculation totally up to our online human resource software to conclude the Salary calculations in a hassle-free way. Features of our leave modules to enjoy are:
Detailed Policy Configuration
You can configure your leave policy on a wide range of parameters, including early, going, late coming, sandwich, and much more, to flexibly provide controlled benefits to the employees.
Integrated Calendar
factoHR software's calendar is integrated into employees' leaves to let them calculate how and when to apply for leave is beneficial to them. In general, they can plan leaves right from the beginning.
Hierarchical Approval
With our HR software solution, you can design a hierarchy of approval workflow. Without the consent of all the managers, the employee cannot avail of leave.
Notifications
Once any leave application is submitted into the system, the authorized manager gets a notification for the approval process. It helps them to save their time rather than swimming into the flooded inbox. And as soon as the approval status changes, the employee is notified at the same time. Thus, the online HRMS delivers on-time notifications eliminating the missed requests.
Salary Processing
Like every SME, you must be considering payroll as complicated management. What if we say there is a system that not only eliminates payroll error but also turns down and replaces the burden of calculation with just one click. Not only this, but the system can guarantee your employees a payroll with all benefits applicable that is statutory compliant and with integrated accounting, bank integration, payslip management, and much more. Here is a glimpse of cloud-based payroll solution features
Seamless Integration
With our entirely seamless integrated environment, process your payroll on time with high efficiency without calculating work hours, workdays, or other attributes. The payroll module automatically intakes the attendance and leave data and generates payroll with a single click.
Statutory Compliance
Our online human resource software solution promises to provide statutory compliant salaries to your employees with all the benefits included. You can be relaxed from the anxiety of configuring salary calculation physically or finding a payroll expert.
Accounting Reports
Our HR solution promises complete integration with accounting systems to store and manage all your company's payroll activities for well-organized and thorough reports for statutory audits.
Integrated Bank Accounts
As our HRIS software solution readily integrates with your common or different bank accounts, it provides a simple way to transfer salaries from the main account to all the employee's accounts simultaneously without system breakdown.
Reporting
You can generate various payroll reports like reconciliation reports, salary register, consolidated register, final settlement report, fixed pay report, and bank funding file.
Travel & Expense Maintain
It is easy to get caught up in travel, location, and claim amount thefts by your employees. You cannot confirm the proof of bills and receipts that the employee submits is validated with their exact location. With our expense management system that enables us to track employee location when traveling, you can validate their expense claims and visits. It also allows us to set up a flexible policy that intakes every aspect from booking tickets, eligibility criteria to reimbursements and claim settlements. Look at how the HR online system module works.
Travel Application
Employees can apply for advance requests for corresponding travel to another state/city. The HRI software also entertains Group travel, book tickets from integrated booking sites based on the eligibility matrix.
Expense Claim & Reimbursements
To claim expenses and reimbursements, the employee needs to submit a claim request and validate the same by uploading suitable bills. The system leaves you with effortless expense management by self-calculating all the reimbursements by validating all the expenses against travel as soon as applied for the same.
Expense Control
Set expense caps on claims by various parameters like traveling distance, time, destination, etc., also enforce claim limits by miscellaneous employee categories.
Performance Management
The performance of your employees is directly linked to the goals and missions of the company. The measurement of when and how an employee performs the work, along with efficiency, lets the company achieve its goals in a minimum amount of time. But the measurement is not that easy. Employees are tested on various strategic areas and performance indices, which can be set in the form of monthly, weekly, bi-weekly, or yearly (less likely) targets.
Physically it is hard to link the work amount with the targets for a considerable number of employees. You may miss out on a few employees or interchange the targets of two employees. But human resource solutions can let you get over these mistakes within a few seconds. See how factoHR's performance management solution helps you measure the targets.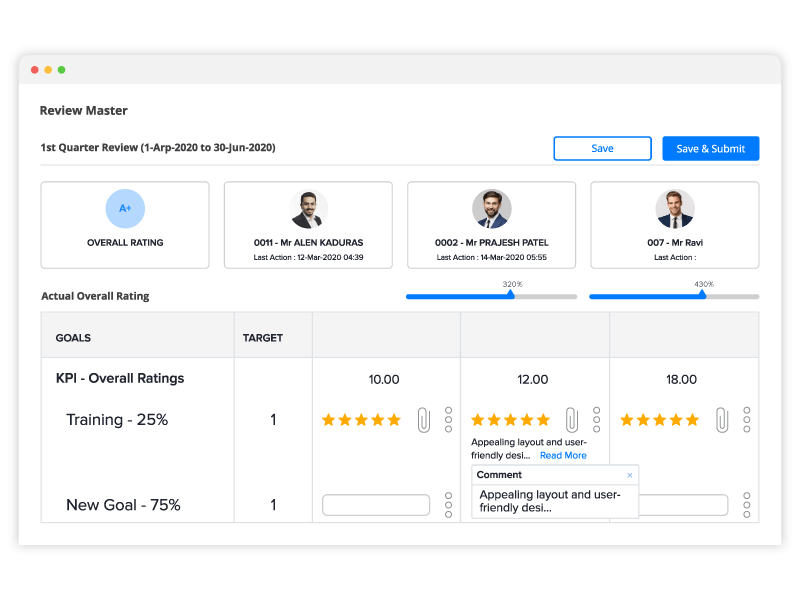 Goal Management
A single job function may have a varied number of areas over which performance should be measured. Physically analyzing these areas, discussing with the employee, and assigning them take a considerable amount of time compared to software. The system can compile each performance area's information based upon work hours and work amounts, thus generating KRA and KPIs.
Competencies
Create an atmosphere of competitiveness among employees to bring out potential performance and promote a healthy environment.
Review Cycle
The review can be taken from colleagues, managers, clients, and services. These reviews may be weekly, monthly, or at any time interval. You can also set a multi-level review cycle for an in-depth and thorough analysis of performance by every manager in a hierarchical format.
Graphical Analysis
Based on a review of the last few KRA or KPI, managers and employees can see visual representation to study the performance ratios and conclude if it decreases or increases. The manager and employee can discuss the success ratios.
HR Analytics
Powerful analytics helps you scan and study how your business functions work and what you need to accelerate the business's growth. You can explore most of your business strategies with graphical representations. With factoHR's HR analysis tool, get reports of various measurements right from the global dashboard section. Here we have included all the types of analysis that our human resource software solution can help you with.
These studies are physically challenging to calculate without software, or you might get trapped into a lot of time to calculate. And this kind of analysis helps you make your business functions work efficiently and scale up with every step.
PMS Analysis
Department-wise, you can generate an analysis of the performance of an employee over a range of periods to study the overall performance of the department, which links to the company's performance.
Salary Analysis
The salary analysis provides a comprehensive study of gross salary calculations, deductions, the final distributed salary of any employee and a department.
Employee Retention Analysis
You can see the study of joined vs. resigned employees to know the employee retention rate. You can analyze if you need to work on increasing the retention rate.
Remote Employee Monitoring
The current scenario of COVID-19 has a high impact on business productivity. Most businesses are moving towards accepting work-from-home solutions to tackle this situation. In short, the home is now becoming a new-age office environment. And to track employees' productivity, attendance, and working hours, businesses are using such HCM software solutions to track employees from distant locations.
Remote Monitoring helps to cut down the inefficient management of attendance and increase the employees' productivity while staying at home. See how such monitoring functions.
Selfie Punch In HCM Software
When working remotely, you might have permitted employees to mark attendance from a remote location. But to ensure that employees are present and working, this attendance can be validated with their selfies. When in the office, the employee can use their mobile to punch in with selfies and location authentication with lesser down the usage of biometrics to enable a safe working environment.
Contactless Attendance
It is of utmost necessity to build up a system that ensures employee safety and decreases surface contamination. Our HR management mobile app supports tracking attendance via liveliness detection (detecting live face every time when capturing attendance) and kiosk mode for more precise and correct attendance tracking that too from a remote location.
Geotracking
Geo tracking enables you to track your employee's location wherever they are present. This tracing is generally useful for on-field working employees, like at site or client meetings. Along with the exact location, you can view the location history and route.
Geofencing
Create a virtual boundary around the office or any remote location within which only the employee can mark in attendance. Thus, this feature of the attendance management eradicates location thefts.
Timesheet
Our Human resource solution provides an inbuilt timesheet option to store the records of employee working hours with every detail. You can keep an eye on the amount of work, thus helpful for analyzing the job done from a remote location.
Why Choose factoHR's HCM Software?
As factoHR is recognized as the best HR software, our trust expands to 150+ corporates in India. factoHR platform stands out as an agile, robust, scalable, and still a simple, user-friendly solution for an all-in-one business functions suite to cater to your HR needs.
Our HCM software solution provides you with unmatched and cutting-edge features that will enable you to monitor employees remotely in the current changing workplace environment. It provides you with ready-to-use restful APIs to integrate various modules and systems together. It also enables a connected banking option for your organization to transfer employees' salaries directly from the software without logging into the bank's portal.
For more information, visit sales@factohr.com or set up a demo with factoHR at https://factohr.com/schedule-demo/ or contact +91 782 000 3100.