Leave Management Guide – Know The Basics, Process, and Features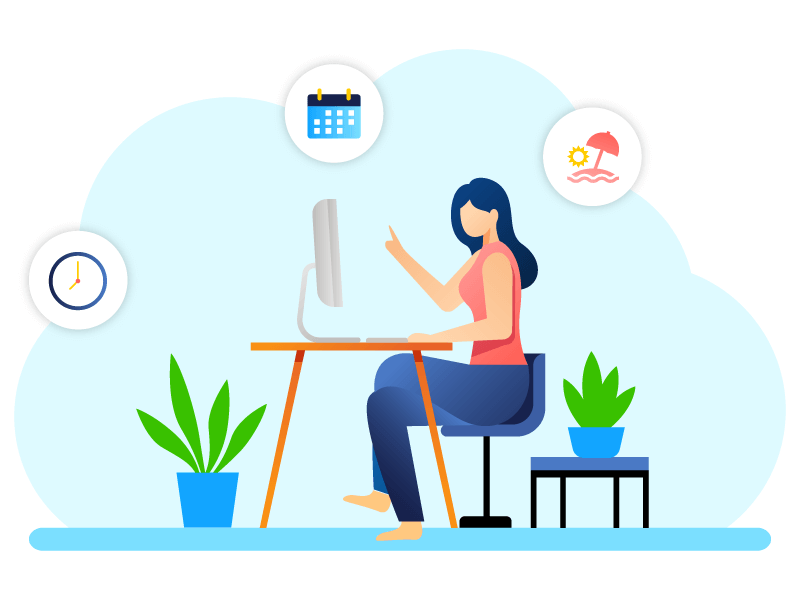 Though a part of day-to-day business activity, leave management still stands as an intricate part to handle. Even more complex, it becomes when handled manually or using excel sheets. Employee chaos is hard to handle with an increasing number of multiple requests and their approval. Whether small or large enterprise, leave management creates the same impact on a daily business. But to ease you through this process, adopting software is the only highlighted option with an automatic and analytical environment.
What is Employee Leave Management?
After working tirelessly for business projects and goals, an employee may request compensatory time off from work. Or for some personal work or family work, he/she may need time off, and the same is defined as Leave Management. Same as attendance management, leave processing also requires flexible planning and execution. Based on statistics, most employees want more days off rather than more work hours.
Leave administration for every organization includes different aspects to provide and manage leaves. Managing leave is an indispensable task that provides for creating policy, assigning it, categorizing leaves, configuring the approval process, etc.
To enjoy Software facilities, you must be well aware of the configuration and criteria for the online leave management software and the limitations of obsolete methods.
Why is Leave Management Important?
Leave is as essential as the attendance process is for an employee. Leave Management is important to calculate the leaves taken by an employee. It clearly shows the amount of time an employee invests in a particular project. Moreover, it also helps employers in calculating the payroll at the month-end. It also increases employee satisfaction indirectly helping the employee to stay motivated towards the work.
How is the Leave Process carried out?
Same as attendance management, leave management also encircles a lot of processes from creating policy and to implementing it. Here are the main steps of the leave management process.

Creating Policy
A leave policy consists of various criteria to be set for employee's and the organization's benefit. Here are in-depth categories for configuring the policy.
Creating Leave Types: Based on different factors and needs, organizations have different leave categories like casual, privilege, sick, travel purpose, and company purpose leaves.
Leave Balance: Employees are assigned precise balance according to pro-rate or encashment for each leave type created. It is the final balance from which an employee can take benefit.
Frequency of Availing leave: Employees are restricted from using a limited number of leaves per month for assigned leave types. Even restrictions are set on the simultaneous availing of leave at a time.
Leave Entitlement: Based on policy, leaves are entitled to employees from either joining date, confirmation date, gratuity start date, etc.
Sandwich Policy: According to this policy, all the days will be regarded as leave, if any employee avails leave between two off dates.
Encashment Method: At the year or month end, all pending leaves can be either encashed or carried forward.
Religion criteria: based on their religion, only a particular employee falling under that religion can avail specific leave.
Assigning Policy
With all the criteria set, managers inform the employee about the policy assignment. Based on a particular group, managers assign the appropriate policy to a specific group of employees.
Set Approval Managers
If employees are taking leaves, then there must be some authority to confirm that leave. The integrated HR software assigns this task to the authorized manager of every employee. The employee is unable to take leave for a responsible reason unless signed by the authority.
Month-end Calculation
When calculating each employee's total working hours, management needs to consider the leaves taken for a legitimate reason. Pending leaves can be either encashed, carried forwarded, or lapsed as per management's decision.

What are the Limitations of obsolete methods to Manage Workforce Leave?
If you still operate your leave management with conventional strategies like paper or excel sheets, your survival in this developing world is pretty less. It is better to avoid payroll mistakes than to endure a lot more complications to payroll. Here are the significant limitations of these obsolete methods.
Time-Consuming
From applying for leave by employees to get them approved by their managers is a time-consuming task. An employee must confirm their leave with a valid reason from their managers. With an increase in employees, this task will also consume managers' time. Furthermore, conventionally, employees need to get their applications signed by the manager, and on approval, only they can avail leave. Managers are surrounded by a lot of business-related tasks that need time, and thus employees have to wait a lot to get the application signed. Both employees and managers invest a lot of their valuable time into leave processing.
Unplanned Leave
Suppose your employee suddenly gets absent without prior notice, and on inquiring, you find out that he is unable to make it to the office. At the time, you need to update the monthly excel sheet for taken leave. At month-end, on calculating payroll, you mistakenly add this leave and finalize payment. Such a mistake. But what if the same error happens for a considerable number of employees. This mistake is common when you rely on excel or paper-based leave management.
Missed Requests
Suddenly some of the employees remain absent, and an inquiring manager finds missed leave requests in the inbox. This situation can create workload and mismanagement amongst the remaining employees when an important project is undergoing.
But adopting software-based automatic management will benefit you with all your queries.

What are the characteristics of Leave Management Solution?
Limitations of processing leave manually create lots of work disturbance and calculation errors. Leave management is simple, yet calculations at month-end can be problematic. To process a regularized control and eliminate problems that creates work disturbances, here are the excellent characteristics of leave management.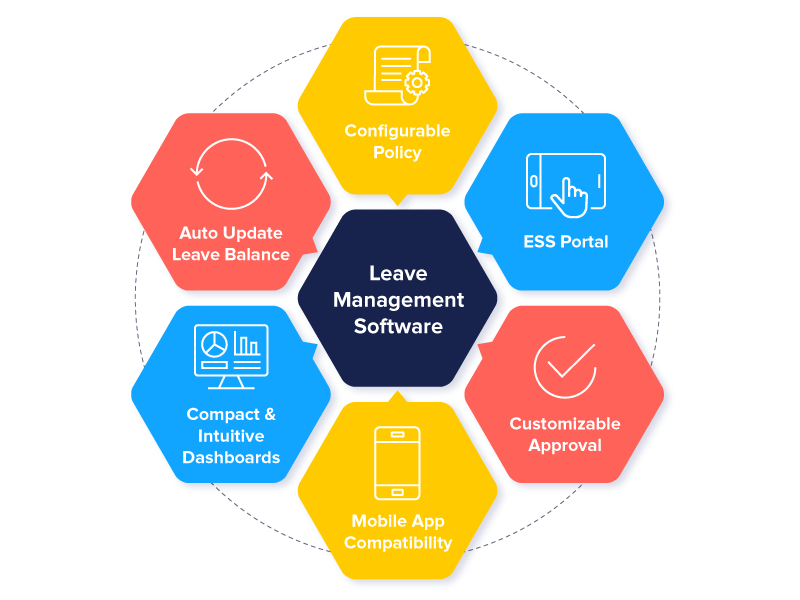 Configurable Policy
Any two organizations can never have the same policy. Even these results are false when organizations have different offices in different locations. Wherein the holiday calendar and leave types to change accordingly.
Starting from creating leave types to analyzing and automating the payroll process, everything under software is configurable & flexible. Regularized with your organization, you can manage and configure every criterion for the leave request process like holiday calendar, frequency of leave application, leave balance, gender-wise leave applicability, sandwich rule, encashment condition, and much more.
Employee Self Service Portal
With the ESS portal, employees can apply for leave and check their status from personal employee login without physically approaching for leave requests and waiting for their response from their respective managers. While employees can work productively without wasting time on leave requests, managers can also process each leave request timely without missing anything with system generated reminders on pending leaves. Managers now don't need to manage emails flooded with requests.
Customizable Approval
Within the policy itself, it is easy to distribute approving authority to your managers for corresponding employees. You can set a hierarchy of approval workflow for any department of your office.
Further, it is possible to authorize approval automatically based on particular leave types such as those taken for company purposes.
Mobile App Compatibility
Imagine your employees can file leave applications on the go, from any location, with all the ESS features in just one touch. Wouldn't that make the employment much easier and approval faster.
The software of the present era now comes with a modern and advanced mobile solution that provides you with all the features that you enjoy on software. Timely reminders for pending leaves don't let managers miss any leave requests. And it auto-generates mail as soon as they leave request status is changed.
Compact & Intuitive Dashboards
Why not have an all-in-one dashboard in HR tech, wherein you can check to leave balance, leave history, the status of applied leave, holiday calendar, and much more in a compact and easily accessible format from one single screen only.
Auto-update leave balance
During leave year-end processing, leave balance is auto-updated as per the corresponding leave type with no manual intervention. Along with this, pending leaves are automatically encashed, carry forwarded, or lapsed whichever is applicable.

How to choose your leave management solution?
With a greater number of service providers, it becomes impossible for any organization to choose a software that stands as a right choice. Thus we have clubbed here some exciting features to look for in software.
Integrated Attendance
With your leave module integrated with your attendance module, employee's leave requests can be united with daily attendance data for a smooth, fast, and automatic work hours calculation at every month's end. Imagine how simplified and streamlined your calculation would be, instead of wasting hours on excel sheets by a manual intervention that, too, with the probability of mistakes.
Real-Time Data
Real-time data generation enables faster processing of integrated modules like attendance and payroll. Imagine what a smooth, rapid, no manual intervention and zero error data processing it would be.
Augmented Decision Making with Reports
Reporting at the end of every operational function is exceptionally crucial to store data for future company and audit purposes. But a hand-built report takes a lot of effort and consumes the time of HR. With the captured and analyzed data that are integrated with attendance and payroll modules, the HR technology helps the HR manager to create in-build specific analytical reports.
Tracking Leave Pattern
It is essential to know when and how much leave an employee takes. It helps in tracking the leave pattern of employees for monitoring the amount of paid leaves and holiday patterns of your organization. Adopting a fully automated system enables you to focus on actual analytic tasks like business process client support, etc. Despite this, analytics also helps in mapping employee performance and employee growth.
Legal Compliance
Legal Compliance ensures employees for maximum safety socially and medically. The government has formulated well-defined rules that an organization must follow to ensure legal compliance. Employees must not be put in unconditional work situations like exceeding work hours without any benefits. Relaxation time off in case of medical illness for proper reasons must be provided. Non-adherence to such statutory compliance laws may result in a levy of fines and threats to the business. Leave management guarantees all this compliance within itself.
Having a cloud-based automated system lets you simplify leave administration and foster a more positive employee-employer relationship. Deploying a sound software system helps you accelerate business productivity.

About factoHR
factoHR, presents a faster and efficient method of leave request processing with automatic notification generation on leave requests to the approval managers. Moreover, the user-friendly platform by our mobile app also helps employees manage their leaves on the go.
For any related queries, click the chat box in the bottom right corner to get it solved by our experts, or you may contact us.