Major Activities Included in Human Capital Management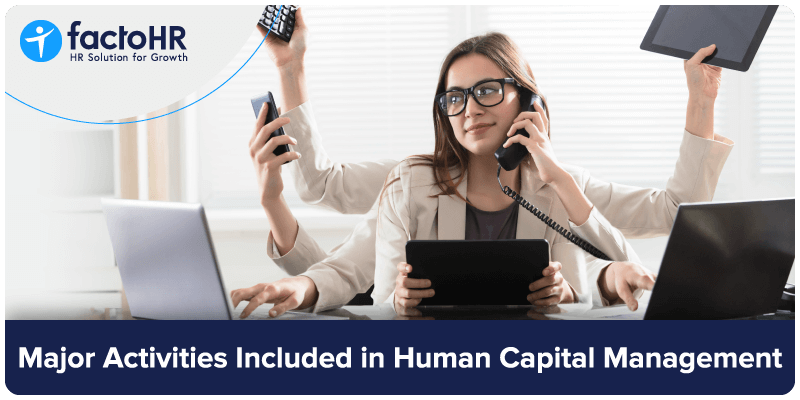 Any person would like to work for an organization who encourages their employees to bring the best out of their efforts. Most employee would give their best to be in a vital position in their organization and contribute more for the organization's success to get as far as possible in their careers. Organizations are working to adopt different ways to help their employees achieve their full potential. That is where the HCM is truly helpful, HCM enable companies to get the maximum value from each of their employees by providing them with the things they require to excel in their role. In this article, we will explain some of the major activities involved in HCM.
Recruiting Best Talent
Recruiting the right talent whose values and skills are compatible with your company's needs and environment is essential for employees to work at their full potential. Employees need to feel connected with the company and have a sense of belonging or else they will have no interest in bringing out their best for your organization's success. Companies that use HCM strategies see recruitment as an investment and give their money, effort, and time to create an organized recruiting process that presents a critical first impression on their new recruits. HR works closely with top leaders and managers to identify manpower requirements based on strategic goals to hire the right candidate. While recruiting for the vacancies, they reach out to both active and passive candidates to ensure that they don't miss out on the right talent.

Training and Developing Employees
Training employees on a regular basis is very essential to help them boost their performance. Organizations that use HCM strategies prefer to provide training resources to their employees right after their onboarding process and continue providing them until the employee resigns. HR conducts a skill gap analysis regularly to make sure that employees have both the soft and hard skills required to work at the top level. Managers or senior employees mentor other employees to help them move up their career ladder and contribute more to the organization. These training programs are made available to the employees in a way that enables them to learn at their convenience.
Strengthening Communication
Communication is seen as a foundation for great HCM strategies. To improve employees' performance, it's essential to ensure that employees are on the same page as their superiors and the organizations regarding goals and initiatives. Employees should be updated on everything that's happening within their organization to keep them engaged. This will go a long way toward encouraging them to perform their best. Companies can adopt peer-to-peer and bottom-up approaches to make sure that employees are involved in the decision-making process, so that managers make informed choices based on insights they get from their employees.

Providing Sufficient Performance Feedback
Employees need regular reviews and feedback about their work to know what their managers think of their performance and whether it aligns with the company's goals and objectives. The input they get from these reviews helps them in their ongoing career and assists them in improving their performance. Organizations can use a factoHR's HR software to give timely and constructive feedback to employees by analyzing their performance every month or quarterly through the system. Managers prefer to go through specific points in employees' performance along with brief plans and tips to tackle any problems. They don't forget to appreciate good performance and keep them informed while setting goals for the next period.
Fulfilling Employees Need and Personalizing Work Experience
Personalization has become a very essential part of our routine lives. Everything from advertisements to playlists are personalized to provide a substantial user experience. In the same way, providing your employees with a personalized working experience makes them look forward to coming to work every day and performing their responsibilities without any stress. Also, knowing that the organization cares about employees' choices, needs and preferences motivates them to work harder to achieve their goals. With the use of HCM strategies, Organizations can conduct polls, one-to-one discussions, and surveys regularly to know their employees' preferences. After knowing the employees' needs and preferences, the organization will design initiatives to change the work environment according to employees' desires.

Conclusion
Nowadays, HCM strategies are providing solutions for all HR problems. By fulfilling employees' needs on a regular basis and focusing on their development, HCM enables employees to perform better to achieve their goals and stay connected to the organization at the same time in a healthier and happier way. We hope that this blog has helped you to understand the main activities included in human capital management and implement the same in your organization.