HRMS – Complete Guide on Managing Your Human Resource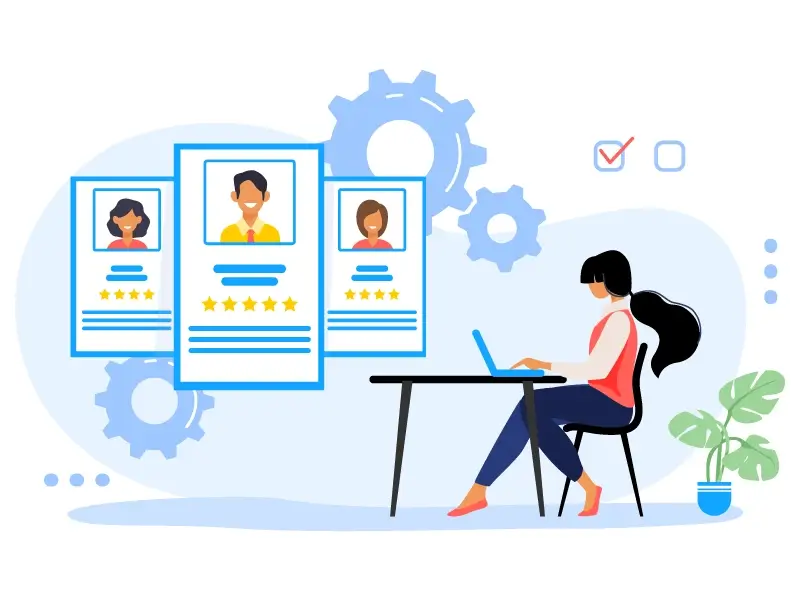 Employees may have expectations and requirements from his/her HR, and with an increase in employee amount, these expectations and requirements also increase. Moreover, there are important operational and strategic tasks from hire to retirement under an HR's shoulder. Opting for an HRMS or Human Resource application that automates every function at a reasonable cost in an atmosphere of emerging technologies, whether you are a small or large organization, is always the right choice.
Before choosing any Human resource management software, you must have in-depth knowledge about HRMS meaning, functions performed by HR, and HRMS features that you should opt for.
What is HRMS?
An HRMS is a cloud-based solution designed to help your HR to reduce specific time-consuming and unproductive functions by replacing it with an automated solution.
HRMS full form being a Human Resource Management System it connects various HR functions like employee management, payroll activities, recruiting, statutory compliance, and many more, with software technology. It ensures to ease the work of HR rather than rely on pen and paper or spread-sheet-based workflow, to increase business productivity and efficiency. It helps HR in making intelligent and fast decisions and to focus on more business strategic tasks.
Purpose Of Implementing HRMS Software
HRMS software allows companies to eliminate their manual and time-consuming HR operations with a cloud-based solution. It offers businesses a unified platform to drive all the HR functions from employee recruitment to their resignation very efficiently. With its cloud capabilities, all the employee information collected by the system can be stored at a centralized server. It helps perform all the human resource processes quickly and precisely. The implementation of HRMS software simplifies talent management, streamlines workflows, enhances employee engagement, and increases operational efficiency.
HRMS Guide : Why is it Important For Organizations?
HRMS is important for modern organizations because it is now moving towards automation and analytics. According to statistics, 80% of HR departments are likely to spend some or more money on HR technology in the upcoming years. Also with growing technology, organizations are willing to spend more on cloud-based platform rather than to spend on on-premise and installed systems.
With powered AI, this system tends to show real-time data wherever and whenever required. The HR management software not only benefits the larger organizations but also helps startups and small businesses on the track of development.
HRMS Process: From Hire to Retire
HRMS process includes all the tasks starting from Hiring to Termination. All these functions are always similar for every employee. And with an increase in the employee, the burden to process all these functions also increases. Thus it becomes an essential guide to understand how these tasks ease the HRMS Process.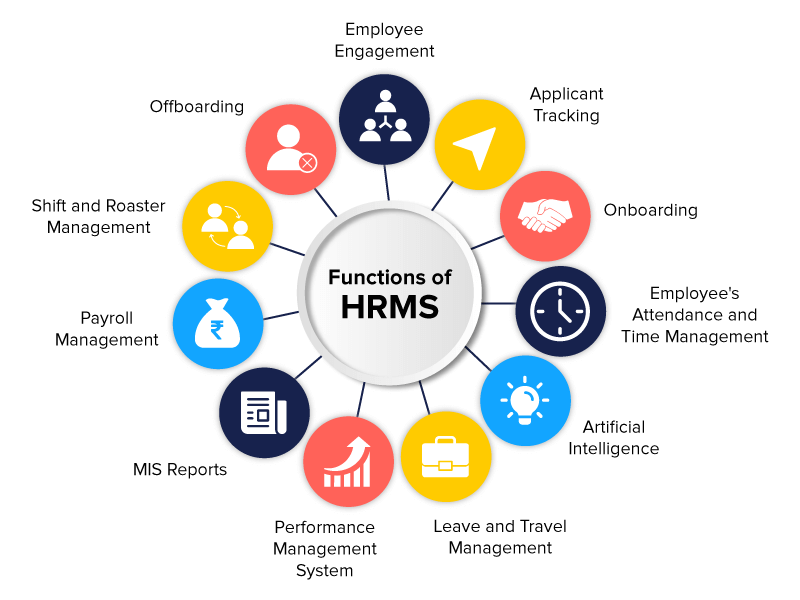 Applicant Tracking
Applicant Tracking or commonly screening and recruitment is an electronic way of recruiting, starting from receiving the candidate's resume to hiring them. It provides you the right platform to store candidates' details, lists of job openings, and interview schedules. Thus, let your HR focus on finding the right blend of skills and expertise rather than to waste their time building up and piling resumes and interview scheduling.
Onboarding
After finding the worthy candidate, HR needs to provide them with essential information like company history, culture, working environment, product information, etc. for effective employee engagement. Along with this, the HR manager can utilize the onboarding tool that includes issuing an appointment letter, confirmation letter, collecting various documents like PAN card, Aadhaar card, etc., and allocating required assets to the employees.
Employee engagement is a method to improve employee's nature for a productive workforce environment. It is the duty of HR that any employees' requirements must be fulfilled, and issues must be sought out. Employees' goals must be in alignment with the organization's goals. Various effective measures like team-building activities, appraisal and performance management, training, etc. must be adapted to improve employee engagement.
Employee's Attendance and Time Management
Tracking employees' attendance and time daily spent on a particular project is essential for all-around productivity and growth. HRMS tracking solution for attendance provides you biometric integration for storing data directly to the centralized server without any need to create muster. Further, it gives you a Timesheet option wherein your employee can enter his/her daily tasks and project work.
Further, The solutions provide certain employee monitoring features like Geo Tracking for tracking employees' location during company purpose travel, Geo-Fencing ensures employees can only punch inside the predefined boundary and Selfie Punch to authenticate employee's attendance via his/her selfie.
Shift and Roster Management
If your organization provides flexibility in working hours or a variety of shifts, then the HRMS attendance module can help you assign those to category-wise employees and further shift management. Some specific organizations deploy rotating shift policy for their employees which makes it even harder for HR to maintain and inform employees about the same. Using HRMS Software, these organizations can create a customized roaster for their employees, ensuring flexibility and a streamlined workforce.
Leave and Travel Management
HRMS tools help you formulate your company's travel and leave functions along with employees' benefits like leave encashment, reimbursements, etc. with a proper approval workflow design. Your managers can directly approve the application through their portal without any HR intervention. You can rely on this system, which makes you free from accepting piles of paper-based applications and storing them.
Performance Monitoring
Employee performance is gaining more and more attention from the company for achieving its goals and missions. The performance measurement in HR accounts for the tracking and management of the performance of employees throughout the office. HRMS Software helps you track your employees' performance through various measures like KRA, KPI, etc. which will maintain employees' goals and tasks aligned to the company's goals. HR can determine employees' growth and determine who needs proper training and who needs promotion.
Training & Development
Continuous performance tracking will help you decide if your employee needs further training for upgrading his/her skills and capability. With HRMS, it becomes easy for you to distribute and maintain schedules for training and development.
Pay (salary) Management
Payroll Management is very prone to error, and these errors may increase on human-to-human calculations. HRMS forms a platform to be an error-free and efficient method for your payment-related calculations. You need to feed all the required inputs, and with a single click, you can generate your monthly salary. In summation to this, the automated payroll platform ensures an entirely statutory compliant payroll process to avoid legal actions. Besides, HRMS calculates payroll, including all deductions, incentives, allowances, tax exemptions, etc.
MIS (Management System Information) Reports
The MIS report for the HR department regards all the strategic functions in an organization that need to be filed and stored for further planning and reporting purposes. The solution gives you system-generated reports for every function in an error-free and well-defined format. It provides you in-built report generation regarding all the modules like attendance, leaves, payroll, travel, and performance. You can also mark some schedule times before, on which you have to generate a particular report without remembering it to date.
Offboarding
When an employee is offboarding or resigning, HR needs to perform a full and final settlement process. HRMS Software helps you with this FNF and generates a resignation letter. HR must inform employees to return assets assigned to them, complete his/her payroll and earned incentives, inform them about retirement benefits and other such data. A new vacancy is generated into the platform, with every exit.
Characteristics of human resource management system that are Worth Trying
Apart from easing tasks from hire to retire, there are some distinct characteristics of a human resource management system that are worth trying and entailing with your system.

Employee Self-Service
Employee Self-service is a module prepared for employees, enhancing the organization's efficiency. With ESS employee login, the employee can access his/her details smoothly. ESS ensures HR relaxation from some general employee-related work. ESS that comes integrated with solutions ensures employees' trust for the organization and stands out as an excellent benefit for the employee. He/she can now view/edit/upload various documents, file any application, real-time attendance, punch online, tax liabilities, generate HRMS payslip, and other related activities with minimum zero HR intervention.
Data Management
Conventional methods for data management were based on paperwork and excel sheets. But these methods prove to be less reliable. HRMS leaves you with proper distributed data management of every kind for every employee within just one server. As HR data is too sensitive, there must be a well-defined storage solution, and HRMS Software stands out to be such a platform. It provides data storage for recruitment, interview, asset management, employees' documents, payroll reports, real-time data such as attendance, leave, and travel.
Data management is also an essential part of ESS, which is handled by employees. Thus for effective employee engagement, data security stands as a fundamental aspect.
Timesheet Management
Timesheet is a practice that helps employees submit their hourly work done daily. It lets HR and managers know the amount of work completed by employees. Timesheet analyzing and monitoring can be useful for performance management.
Statutory Compliance
Every country's government has its policy that ensures employees' benefits and protects organizational goals, which is called statutory compliance. This legal framework holds many different laws for employees like guaranteeing minimum wages, overtime benefits, etc. and protecting the company from unnecessary wage increments, the betterment of reputation and client engagement, etc. Non-adherence to these laws can levy dangerous actions to the company's reputation and existence.
Humans well aware of these laws can also commit some grave mistake unknowingly. Thus relying on digital solutions with pay management can provide in-built compliance with all the described laws.
How to find the perfect human resource management system that fits your needs
According to Digital Thoughts, there are over 21 different human resource management system providing a variety of functions and modules. These features might confuse you to choose from within. But we have encircled here the significant functions that will help you find perfect HRMS system according to your needs.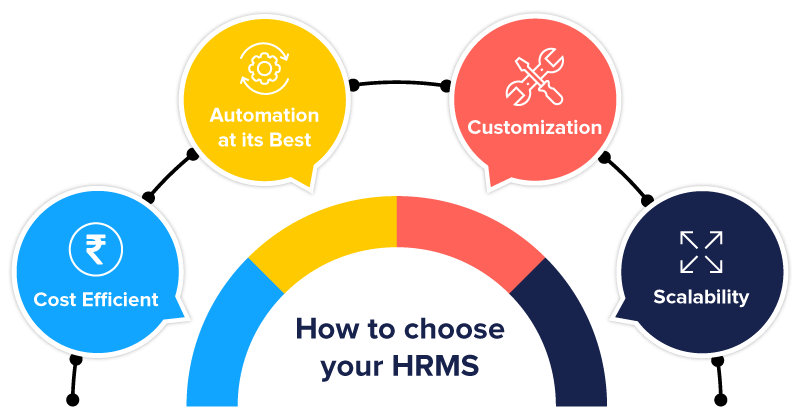 Centralized Server
There are always ongoing tasks and work distributions amongst the HR persons, which depends on the organization's size and various office locations. Thus managing all this sensitive information might become a big headache for HR. HRMS Software provides a centralized server that is flexible enough to store a variety of information related to each office location. Even you can access real-time data like attendance, leave, and time.
HRMS providers supply you with a portal login with cloud-based data storage accessible from any location.
Artificial Intelligence
Artificial Intelligence technology is speedily marking its space in our lives, even in HRMS work too. AI developments emerge as a platform assisting throughout the HR workflow. The significant challenges that AI proves to solve are reducing the time consumed during administrative works, recruiting employees', measuring KRA for performance indicators, and making operational decisions. Adopting AI in training and development ensures learning newer technologies. According to Linkedin, 35% of talent professionals and hiring managers suggest AI be the top emerging trend that impacts how they hire employees.
Cost-Efficient
Though the main work of HRMS Software is to automate the HR process, the market provides various options with different features and modules. For choosing what's right for your organization, you must be well aware of the necessary requirements. A specific system with the same elements may cost you differently due to its user interface. But you have to find out the worthy one that is cost-efficient for your organization along with automating your HR practices.
Automation at its best
When you are thinking about cost-effectiveness, you must also watch for products that automate your workflow. Your HRMS product should provide you automatic integration with real-time data tracking for attendance and time. Your payroll must process with minimum intervention, and application regarding travel and leave management should take less attempt to process and approve.
Customization
Every module you purchase must be customizable enough to let you manage it according to your requirements. Policies like attendance, leaves, payroll, performance, etc. should be flexible from the employees' perspective. They must provide enough benefits to employees, which they are capable of acquiring.
Scalability
With an increase in your workforce, your human resource management system must be competent enough to adapt your scalability. Your service provider must ensure that you don't face any issues regarding it, and provide regular HRMS updates. You may subscribe to more features within your existing plan.
About factoHR
factoHR is a cloud-based HR solution designed for efficient and streamlined workforce functions. It comes with core features like HCM, Onboarding, Attendance & Leave management, and much more along with payroll integration.
For any related queries, click the chat box in the bottom right corner to get it solved by our experts, or you may contact us.