15 Best HR Software in India of 2023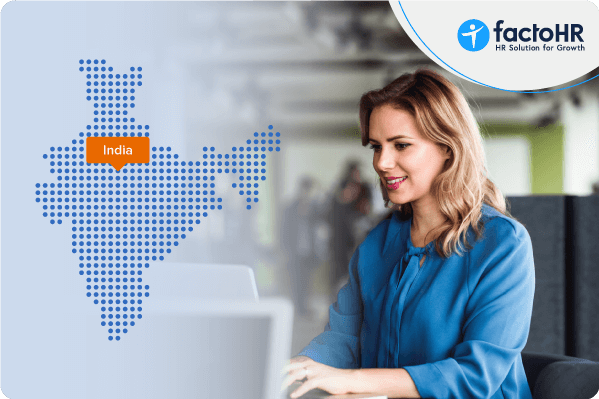 Table of Contents

As Indian Organisation Managing Human Resources has always been challenging. They are considered the backbone of any organisation and are responsible for its success. Right from hiring skilled talent to providing quality employee experience, HR tasks are deemed crucial. Carrying out these tasks manually can be complex and time-consuming, resulting in error-prone outcomes.
​Nonetheless, this modern set of challenges the HR department faces can be simplified and streamlined by embracing solutions like HR software. Over the years, there has been a significant change in HR technology. The steady flow of new digital technologies like HR software has transformed how human resources operate.
​Adopting this modern technology helps the enterprise reduce manual efforts linked with workforce management. It provides a wide range of tools that assist HR professionals in automating, organising and analysing core HR functions and ensures HR tasks function smoothly and more efficiently. It is designed to reduce the administrative burden on HR, allowing them to focus on strategic decisions that contribute to the overall success of the company. Let's take a more in-depth look at our compilation of the leading HR software that are currently accessible in the India.

Key Benefits Offered by HR Software
​Here are some of the key benefits that play a pivotal role in shaping the future of human resource management.
1. Elevated Efficiency
​HR software automates all the repetitive HR tasks, such as data entry, document management and compliance tracking, increasing efficiency and accuracy, hence, reducing the administrative burden.
2. Reduce Manual Errors
​Manual data entry, payroll processing, or various HR tasks can result in error-prone outcomes. Implementing HR software in your organisation will minimise these errors, saving time and money. HR software can also be integrated with Payroll software, helping achieve complete accuracy and easy-going payroll processing.
3. Centralized Data Management
​It provides one platform to store, manage and access employee information, enhancing data accuracy and eliminating data duplication.
4. Risk Management
​Compliance with labour laws and regulations can be easier to manage with HR software. Most software solutions are updated regularly to reflect legal changes and can generate reports that assist in compliance audits.
​5. Employee Engagement
The comprehensive capabilities of HR software fosters employee engagement through surveys, feedback collection, and recognition initiatives. Simultaneously, the software empowers organisations with data-driven decision-making by generating insightful reports and analytics.
How to Choose the Right HR Software?
​There are various parameters to check before selecting a proper HRMS for your organisation. Selecting the right HR software can help in various HR processes. Follow this stepwise procedure to choose the HRM software that will ease your entire recruitment flow and get aboard new employees flawlessly.
1. Research and Analysis
​In the initial phase, conduct an in-depth analysis of various that align with your organisation's specific requirements.
2. Identify Your Specific Needs
​Before choosing the ideal software for your organisation, you must first clarify your specific requirements. Create a detailed list of features and functionalities that align with your operational needs to ensure your chosen software will effectively meet your objectives.
3. Differentiate Options
​After evaluating the choices, focus on the key differentiators among the various HRM software options suited for your industry. Assess each software solution based on cost, features, reliability, and customer support. Gaining a comprehensive understanding of the unique offerings of each provider will empower you to make an informed decision that fits your organisation's specific needs.
4. Scheduling a Product Demonstration
​Before finalising your choice of HR software, requesting a hands-on demonstration or a trial period is crucial. This not only allows you to better grasp the software's functionality and ease of use, but it also gives you an opportunity to directly engage with the provider. You can ask targeted questions to resolve any uncertainties or concerns.
5. Check Online Reviews
​After experiencing the demo and evaluating the trial version, it's crucial to solicit references and delve into online customer reviews to gain an in-depth understanding of the software's real-world performance. Don't just skim the surface; carefully read reviews and testimonials to construct a comprehensive view of how the software performs.
​All the above steps help you get valuable insights about the HRM software that will work for your organisation according to the goals and requirements.

List of Best HR Software in India
​In the modern era of technology, making the right choice of HR software for your industry holds immense importance and aims to optimize HR operations and boost overall effectiveness. Yet, given the multitude of choices accessible, it becomes vital to ask appropriate questions or consider certain factors before purchasing the software. Opting for the appropriate HR software can hold considerable influence over your HR procedures and the entire organization, resulting in increased productivity, contentment among employees, and the ability to make strategic choices.
1. factoHR
​FactoHR is a comprehensive online HR software in India designed to streamline and enhance various aspects of human resource management. With its user-friendly interface and robust features, factoHR empowers organizations of all sizes to efficiently manage their workforce, from recruitment and onboarding to performance management and payroll processing.
​The software offers a centralized platform for storing employee data, tracking attendance, managing leave and automating payroll calculations. FactoHR's intuitive dashboard provides valuable insights and analytics, enabling HR professionals to make informed decisions and optimize their HR processes. The software's cloud-based accessibility ensures seamless collaboration among teams, regardless of location. factoHR allows businesses to focus on strategic initiatives, enhance employee engagement, and drive organizational objectives by simplifying and automating routine HR tasks.
Features
| | |
| --- | --- |
| Visually appealing dashboard and smarter analytics for better-informed decisions. | Innovative workflow-based approval system automates lower-level repetitive tasks. |
| Get HR, payroll, and attendance dashboard all in one suite for precise analysis of HR processes. | Hassle-free document management to overcome traditional document storage services. |
| Centralized employee database for secure data storage and enhanced security. | Create offer letters and appraisal letters speedily using dynamic templates. |
| Categorise employees seamlessly by managing and tracking employee data securely. | Experience frictionless off-boarding and FNF with this HRIS software. |
| Automate onboarding process and give your workforce a new experience. | Simplify organization hierarchy with cloud-based HCM software. |
| Get seamless payroll integration and effortlessly manage the salary of your employees. | Experience the quickest way of getting confirmation and acknowledgement status. |
| Collect appropriate and real-time feedback from employees using surveys. | Easily track surveys of employees through mobile applications. |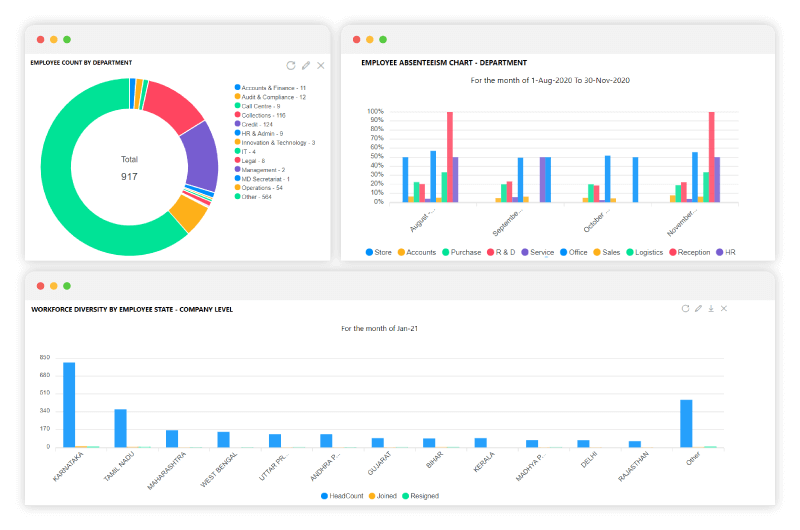 Benefits
It provides an enhanced high-level of encrypted security, giving granular-level permission to audit trials and protecting and safe the data.
It offers high scalability and flexibility, making your organization future-ready with easily accessible core HR processes.
Quick implementation of wizard-driven configuration makes it easier for employees to access the weekly information.
Built-in integration with internal and external modules makes a highly connected automated software for better employee productivity.
What People Say About Us


2. Humi
​Humi offers a top-tier HR solution at your fingertips that not only efficiently stores crucial information but also handles complex tasks like payroll processing and benefits management, all while eliminating the need for time-consuming manual efforts. Their all-in-one platform is user-friendly and ensures that essential information is readily accessible and organized, promoting efficiency. Moreover, the platform's advanced features enable streamlined payroll processing, reducing errors and saving valuable time.
​The management of employee benefits becomes effortlessly manageable through Humi's intuitive interface. From simplifying administrative tasks to providing insightful analytics, they aim to empower your organization to focus on strategic planning and employee well-being.
Features
Employee Data Management
Controlled Access with Role-Based Permissions
Traceable Approval Workflows
Digital Document Sign in
Asset Tracker
Employee Reports and Insights
3. BrightHR
​BrightHR excels in offering a comprehensive feature set that simplifies complex HR tasks, such as managing employee data, tracking staff holidays, monitoring absences, handling expenses, coordinating training initiatives, and overseeing rotational duties and shift schedules. This makes it an essential asset for HR professionals facing the intricate challenges of overseeing a varied and ever-changing workforce. With its intuitive user interface and powerful functionalities, BrightHR minimizes errors while boosting operational efficiency by making it straightforward to monitor key HR metrics.
​Additionally, the platform's adaptable architecture ensures that it can be effortlessly integrated with other software solutions, enhancing its utility as a versatile component in your existing technology infrastructure. By streamlining both team organization and broader business processes, BrightHR revolutionizes the way human capital management is conducted, offering a fluid and efficient experience.
Features
Attendance Management
Customizable Reports
Organization Management
Expense Management
Salary Structures
Compliance
Benefits Administration
Overtime Tracker
Payroll Report
4. Elite HRMS
​eliteHRMS is a Best HR software suite specifically tailored for small to medium-sized businesses. This platform offers an extensive range of modules that cover all facets of HR and payroll operations, provides a robust and versatile HRMS solution. It ensures HR professionals to have real-time access to the data they need for effective decision-making. Whether it's payroll processing, talent management, benefits administration, or time and attendance tracking, eliteHRMS provides a centralized platform where all these functions can be managed efficiently.
​Whether it's through timely software updates, training sessions, or 24/7 customer service, they ensure that your organization can fully leverage the capabilities of their platform for maximum efficiency and effectiveness.
Features
Employee profile repository
Employee self-service
Attendance tracking
Payroll processing
Compliance management
Muti-device support
Leave management
Custom report generation
5. TrickyHR
​TrickyHR stands as one of the premier HRM solutions in the global healthcare sector. Its robust suite of features is meticulously engineered to elevate the efficiency and effectiveness of your HR processes. Unlike generic HRM platforms, TrickyHR is tailor-made to meet the unique demands of the healthcare industry. The software is specifically geared to address the complex compliance requirements and ever-changing regulations that HR departments in healthcare must navigate.
​Whether you're coordinating staff schedules, managing credentialing, or ensuring compliance with regulations like HIPAA, TrickyHR acts as a unifying thread that weaves all these functions together. It's not just a software but a strategic partner that aids in creating a more streamlined, compliant, and efficient HR landscape within the healthcare sector.
Features
E-staff Portal
Time Management
E-Leave System
Improved Agility
Increased Productivity
Tax Calculator
Flexi Reimbursements

6. Mapol
​Mapol delivers cutting-edge HRMS applications in India designed to empower organizations of every scale—from small startups to large enterprises—in achieving streamlined employee and document management. As a one-stop platform, Mapol's HR solution offers integrated modules for team management, project coordination, and administrative task automation, all aimed at amplifying your organization's productivity levels. The software is meticulously engineered to simplify the multifaceted workflows typical of human resources departments, allowing your team to focus more on strategic initiatives and less on administrative chores.
​Built for reliability and flexibility, Mapol's HRM software stands as a robust tool for holistic human capital management. It goes beyond the traditional functions of HRMS by offering advanced features like real-time analytics, compliance tracking, and customizable dashboards.
Features
Attendance monitoring
Labor management
360 Degree Appraisal management
Leave management
Performance Management
Workflow Administration
Employee Database
HR Analytics
7. AddettoHR
AddettoHR stands is one of the best HRM software, offering a comprehensive suite of features designed to manage the entire HR lifecycle seamlessly. From the initial recruitment phase all the way to an employee's eventual resignation, the platform automates every step, ensuring an efficient and streamlined process. Its advanced document management system further adds value by enabling the issuance of employee-related letters and documents online, thereby eliminating the need for cumbersome physical paperwork.​
​The platform's automation capabilities extend to a wide range of HR functions. With automated workflows, HR professionals can effortlessly manage activities such as salary increments, promotions, and transfers within a unified, integrated system. This ensures that all actions are logged, tracked, and executed in a transparent and organized manner, thereby increasing both accuracy and accountability.
Features
Attendance management
Employee Lifecycle Management
Performance Management
Leave Management
Top Notch Data Security
Intelligent Analytics
8. PionHR
​PionHR distinguishes itself as a core HRIS endowed with groundbreaking features aimed at simplifying the often complex process of employee onboarding. This platform is designed for seamless integration with your existing core HR services, providing a modular approach to managing your workforce. One of the standout features is its centralized document management system, which consolidates various types of employee records—be it ledgers, payslips, or reimbursement slips—into one unified platform. This eliminates the hassle of navigating through multiple systems or physical files, thereby enhancing operational efficiency.
​Beyond document management, PionHR offers a robust attendance and leave management system that is both comprehensive and fully managed. With this system in place, HR departments can ensure accuracy and compliance more easily, allowing them to focus on strategic initiatives that contribute to organizational success.
Features
Employee Management
Employee Lifecycle
Reporting
Dashboard
360 Evaluation
Leave Management
Attendance Management
9. HRPearls
​HRPearls offers a wide range of modules specifically designed to help organizations fine-tune their human capital management, thereby enriching the work experience for their employees. One of its standout features is the advanced attendance module, which captures employee attendance data with pinpoint accuracy. By serving as a one-stop solution for the HR department, HRPearls effectively streamlines processes and reduces the likelihood of errors, ensuring that personnel can focus on more value-added tasks.
In addition, HRPearls also delivers cloud-based HR solutions that significantly enhance operational efficiency. By transitioning HR processes to the cloud, the platform allows for quicker data access, more secure storage, and real-time updates, all of which contribute to speeding up routine HR operations.​
Features
Self-Service Portal
Compliance Management
Attendance tracking
360 Degree Feedback
Shift Management
Holiday Module
Leave Management
Employee Database Management

10. HRTailor
​HRTailor serves as a comprehensive, fully integrated HR solution tailored to meet the unique needs of your organization. Right from the get-go, it assists your HR department in establishing foundational elements such as policies, salary structures, and various types of employee letters. The platform is specifically designed to standardize all facets of HR operations, including audits and other critical human resource-related activities. It emphasises on customization and flexibility, to HR professionals.
​Beyond this, the platform provides an array of advanced features designed by HR experts to seamlessly manage all human resource functions. This ensures that organizations can effortlessly adapt to evolving HR needs and compliance requirements. Its user-friendly interface and robust functionalities enable HR departments to focus on strategic tasks, rather than getting bogged down by administrative minutiae.
Features
Employee Onboarding
Attendance Management
Leave Management
Statutory Compliance
Payroll Management
Exit Management
Expense and Benefits
11. Gusto
Gusto is a highly-regarded HR platform in India that functions to meet the specific needs of the organisation. Offering a centralized hub for a wide array of HR activities, including but not limited to recruitment and candidate tracking, Gusto streamlines the HR workflow by automating tedious and repetitive tasks. Particularly notable is its ability to simplify both the onboarding and recruitment processes, making these stages virtually effortless for HR teams.
The platform allows for seamless job posting across multiple online channels, thereby expanding the reach of an organization's recruitment efforts. Further adding to its versatility, Gusto comes with a robust suite of customization options, enabling HR professionals to tailor job posts and letter templates to their specific requirements.
Features
Document Storage
Centralized applicant tracking
Employee Onboarding
Employee database
Reporting and Analytics
Compensation Management
Performance Management
Recruitment Management
12. Personio
Personio provides a suite of applications that simplify and automate the complete HR processes within a single software so that you can concentrate on important HR operations. It gives you a wide variety of tools that automate complex HR tasks like onboarding, recruitment, payroll management, performance management, attendance management, leave management, and many more. You will benefit from processes and data that are integrated with each other. Personio is specifically fully featured HR software designed to serve agencies and startups.
Personio offers comprehensive end-to-end solutions designed for web applications. This online HRMS provides the HR metrics library, self-service portal, task management, onboarding, and recruitment management, all major functionalities in one place.
Features
Organization Management
Time, Attendance, and PTO
Expense Management
Salary Structures
Compliance
Benefits Administration
Applicant tracking
13. Agendrix
Agendrix is one of the award-winning HR software solutions in India that helps human capital management in staff scheduling and workforce management. It is the best online employee scheduling software for the HR department. It provides a smarter and faster way to do staff scheduling in your organization. With the help of Agendrix, you can build great work schedules within a few minutes. In fact, this HRM software allows you to share schedules and updates regularly regarding important HR tasks with the human resources department.
Agendrix helps all business departments to improve their scheduling processes, simplify time and attendance tracking, and streamline employee communications. This online HRMS and employee scheduling software provides schedule distribution, automated scheduling, time clocks, and shift swapping, all functions in one place.
Features
Automated Scheduling
Shift Swapping
Schedule Distribution
Time Clock
Time and attendance
Employee requests management
Reporting and analytics

14. Digiclove
Digiclove offers an integrated ERP system that provides you with customized ERP solutions for HRMS in India, accounting, payroll, and education. It is a highly scalable and adaptable cloud-based HRM software solution that handles all the business-critical applications for the human resources department. It is pioneered in mastering and delivering digital solutions for human capital management. This HRMS provides a dedicated platform that understands your organization's needs and requirements and delivers the appropriate ERP products for the HR department.
Digiclove is a tech-based company that provides smart technical solutions to SMEs, which helps boost complex HR processes. However, the advanced features of digiclove HRMS enable human capital management to utilize the intuitive interface for solving complex HR tasks in less time intervals.
Features
Employee Onboarding
Leave Management
Reimbursements
Payroll Processing
Employee Self Service
Performance management
Attendance Management
Tax calculation
15. EmployeeVibes
EmployeeVibes is a fully-featured HRMS solution in India for HR departments. It is specially designed to serve SMEs, agencies, startups, and many more. It offers a web-based HRMS solution that helps organizations digitalize their entire business processes, including human capital management. This HRM software provides end-to-end solutions specifically designed for web applications of the HR department. It provides many functionalities, including leave & holiday, time & attendance, Pre Human Resources, payroll management, and others, all in one centralized place.
EmployeeVibes provides the ultimate solution for those employees who want to access important work-related activities on the go using the mobile application. It offers the ultimate payroll management and HR solution for businesses in India. The HR department can simplify their HR tasks and focus on growing their business at a large scale.
Features
Inventory management
Attendance Management
Survey Management
Recruitment Management
Payroll Management
Shift Management
Employee Database
Real-Time Reporting

Conclusion
​Choosing the right HRM is an important decision for any organization, especially in the dynamic business landscape. From automating tedious tasks to strategic talent management, the right software can be a game-changer for your HR department and, by extension, your entire company.
In this article, we have taken you through the 15 best cloud-based HR software in India for 2023. Each of them offers unique features and capabilities that cater to different business needs. Remember, the best HR software is not just an administrative tool but a strategic asset that can empower your team, increase employee satisfaction, and drive business growth. We hope this guide serves as a valuable resource in your quest for the perfect HR solution, and optimize your human resources for success.