HR Manager Job Description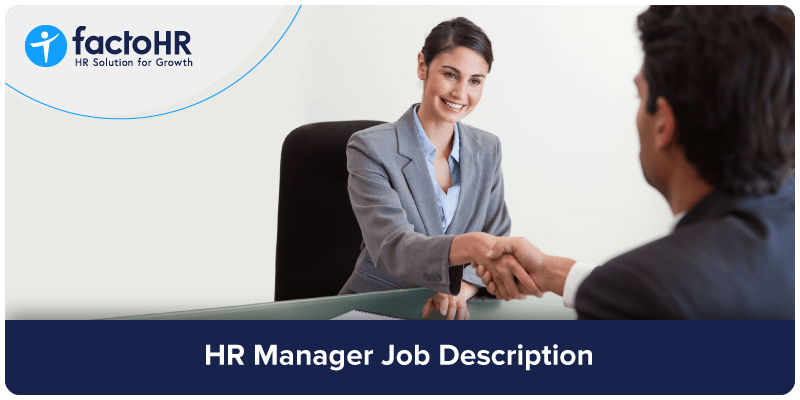 An Human Resource Manager plans for new staff, interviews, and hires them accordingly to grow a healthy work environment where all the employees can thrive. They lead the everyday operations of the HR department, like recruitment, payroll, and performance management, etc. They help connect executives with employees to improve employee engagement and build employer brands.
HR Manager Job Description Template
We are seeking an HR manager to handle all aspects of our HR processes and practices. Your duties will involve managing activities like recruitment, performance management, employee relation, and training & development of the employees. You will be the one to ensure that we have a productive and happy workplace where everyone is focused to achieve our goals and objectives.
HR Manager Responsibilities:
Creating and implementing HR strategies for the business.
Training and coaching employees.
Resolving conflicts within the organization.
Conducting performance reviews.
Developing policies and ensuring policy awareness.
Preparing and presenting helpful and engaging presentations.
Creating and maintaining reports.
Leading a team of HR executives.
Ensuring the safety of employees within the organization.
Organizing events to increase employee engagement.
Handling employees' performance management process.
HR Manager Requirements:
Bachelor's degree in human resource field.
Prior experience as an HR manager.
Result-driven and people-oriented
Ability to resolve conflicts and maintain disciplinary processes within the organization.
Knowledge of employees' safety and health laws.
Proficient in Microsoft applications.
Excellent active listening, negotiation, and presentation skills.
Ability to develop and maintain.
Strong verbal and written communication skills.

HR Manager Job Description Sample
At SZE Tech, we have a long history of recruiting productive, engaged employees, and we are looking for an HR manager to continue this process. The candidate should have experience in HR or employee recruitment, with a wide understanding of HR processes and policies. Your role will include overseeing employee orientations, administrations, benefits, compensation, rewards, and conflict resolution.
HR Manager Responsibilities:
Develop and monitor HR processes, systems, and tactics across the organization.
Manage the hiring and onboarding process.
Manage employee performance appraisal process.
Develop a positive working environment.
Ensure legal compliance throughout the HR department.
Suggest new processes, policies, and approaches.
Report to the management to help them in decision-making.
Oversee employee compensation and benefits process.
Ability to handle confidential matters with discretion.
HR Manager Requirements:
Degree in Human Resources or related field.
4+ years of experience as an HR manager.
Experience working with online HR software.
Deep understanding of national laws related to HR.
Strong conflict resolution and problem-solving skills.
Ability to delegate tasks efficiently.
Exceptional interpersonal skills.
Sufficient knowledge of Microsoft Office and SAP.

FAQs
1. Who does an HR Manager works with?
An HR manager directly works with their team and reports to the top-level management of their organization.
2. What is the difference between the HR Director and HR Manager?
An HR director is a senior executive who leads the HR functions for a large and complex organization. They set overall HR strategies and oversee the whole HR team. On the other hand, an HR manager is generally responsible for supervising the HR functions of comparatively smaller organizations. They manage day-to-day activities such as hiring and selection, employee relations, payroll, and performance management.