Why Is Human Resources Important? Things to Know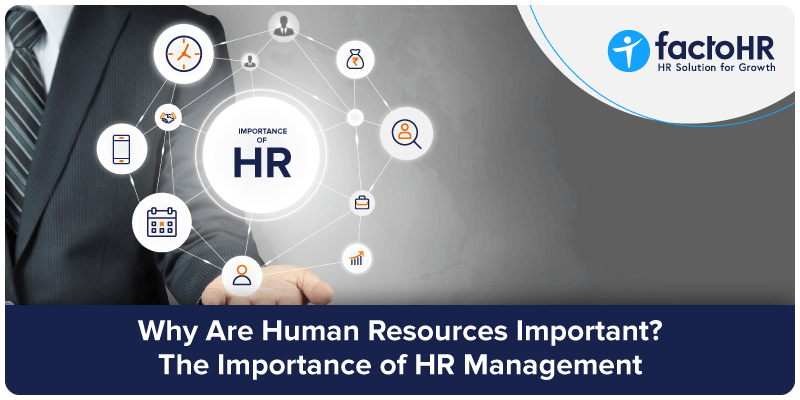 Table of Contents

Have you ever asked, "Why is human resources important?"
Despite the size and type of business, human resources play a very important role in every organization. HR professionals are accountable for different types of duties other than recruiting candidates.
They keep the organization together, manage employees as and when required, handle any conflicts, and do so much more than what most of us see.
Let us explore the importance of human resources in every organization and understand why every business should invest in the right HR professionals.

Basic Roles and Responsibilities of HR
HR dons many hats in an organization. The department caters to different requirements on an everyday basis. Here is the list of duties that HR team takes care of
Workforce Recruitment and Selection
This is the basic role of an HR. They have to source the right talent that aligns with the requirements in an organization. By identifying the required skills, qualifications and experience that is necessary for different roles, HRs make sure that the workforce will be able to achieve various organizational objectives. Having an effective recruitment and selection process in place will help in forming a skilled and diverse workforce which will enhance the organizational ability to innovate and adapt.
Workforce Planning
The HR department is responsible for planning the workforce needs of an organization. They analyze the workforce needs for the present and future by collaborating with the team leads and department heads. After that they identify the skill gaps and develop effective strategies to attract and retain top talent.
HR Metrics and Analytics
The HR department uses different data and analytics to measure the HR metrics. This includes the employee turnover, engagement levels, the training effectiveness, and other diversity metrics. This data comes in handy to identify various trends, make proper decisions and to develop strategies for continuous upskilling.
Organizational Culture and Employee Engagement
HR contributes to shaping and maintaining a strong organizational culture. By defining core values, fostering open communication, and promoting employee engagement initiatives, HR creates a positive work environment. A supportive culture improves employee morale, motivation, and teamwork, leading to increased productivity and organizational loyalty.
Compliance and Legal Obligations
HR ensures compliance with labor laws, regulations, and ethical standards. They stay updated with changing legislation, implement policies and procedures, and educate employees on legal requirements. HR also manages employee records, maintains confidentiality, and safeguards sensitive information. Compliance with legal obligations protects the organization from potential legal risks and reputational damage.
Change Management and Organizational Development
HR plays a pivotal role in managing change within the organization. During periods of growth, restructuring, or mergers and acquisitions, HR helps navigate the transition by managing communication, employee training, and cultural integration. HR professionals also provide insights and strategies for organizational development, aligning human resources with business objectives.
Employee Engagement and Retention
HR focuses on creating a positive work environment that fosters employee engagement and retention. They develop strategies to improve employee morale, implement employee feedback mechanisms, and design retention programs to attract and retain top talent.
Diversity and Inclusion
HR promotes diversity and inclusion within the organization. They develop diversity strategies, establish equal employment opportunity policies, encourage diverse hiring practices, and foster an inclusive culture that values and respects individual differences.
Health and Safety
The HR department ensures that there is a safe and healthy environment for employees. They curate different safety policies, conduct risk assessments and ensure that the organization is in compliance with occupational health and safety regulations.
HR Information Systems
HR professionals utilize HR information systems (HRIS) to manage employee data, track employee records, automate HR processes, and generate reports. They ensure data accuracy, privacy, and compliance with data protection regulations.

10 Reasons Why HR Is Important for an Organization
This section answers your question, why are Human Resources important.
1. Hire the Right Talent
With cutthroat competition in the market between companies to get the right talent on board, it becomes very tough for HR to source talented employees. On average, the hiring process takes anywhere between three to six weeks. However, chances are this time may prolong, as needed.
If you find a poor fit for your company, then that would worsen the situation. In general, the employee turnover costs between 1.5 to 2 times the employee salary, and it could get worse for people in higher positions with bigger salaries bleeding the company dry.
This is where the HR steps in. Right from sourcing the candidates to getting them onboard, the HR always strives to find the right candidate who would align with the organization's values and become the right fit. They have a streamlined onboarding process, which makes things easier.
2. Budget Control
The HR department focuses on reducing the budget and cutting costs wherever required. Every department in an organization has a set budget, and for HR, this budget revolves around recruitment, training, payroll costs, and rewards. Usually, the recruitment costs involve the cost incurred per candidate hiring or the cost of hiring agencies, etc.
HR conducts thorough market evaluations when it comes to salaries and ensures that it gets employees on board for the right price. Salary negotiations are an important part of their role, and HR puts in all the effort to cut some costs in this aspect.
3. Employee Satisfaction
The HR team has the responsibility to make sure that all the employees are satisfied. A dissatisfied employee is likely to leave sooner or later. However, satisfaction is quite ambiguous, and it is not easy to measure it for every employee. For this very reason, HR usually conducts different activities and surveys.
For instance, it conducts an exit interview strategy to understand what made employees leave an organization. HR departments try to identify the reasons behind employees leaving an organization or employees who are not satisfied and address those issues. They try to boost the morale of the employees and motivate them.
4. Conflict Resolution
No matter how satisfied employees are with their work and company culture, conflicts arise. With so many different-minded people of various ages and from diverse backgrounds working under the same roof towards the same goals, it is common to have some disagreements. Usually, there are specialists in the HR teams who will handle these discrepancies. They identify the cause of conflict between employees and managers and try to address it the best way possible.
5. Training and Development
Understanding the knowledge of existing and new employees will give the management of an organization a fair idea of what kind of training and development the employees need. In order to determine this, HR conducts assessments. These assessments help identify the skill set of an employee and what kind of training they will need to scale up and give their best.

The HR department curates the resources that employees need for their overall well-being. They also conduct different workshops in organizations to upskill the employees.
6. Handling Legal Issues
There are several labor laws in place, and HR team ensures that all of those laws are followed without any exemptions. However, there are times when a company faces legal issues with its employees, for example an employee breaking the NDA. While lawyers take care of these issues, HR keeps track of them, assesses the root cause, and tries to put different rules in motion to avoid such issues.
Legal issues can burn a hole in a business, and HR plays a vital role in reducing those issues as much as possible.
7. Employee Data Management
Be it a small or big company, it is important to have all the information related to employees in one place, and the HR department does that. It manages the agreements and documents effectively and keeps track. HR also makes sure the employees comply with the rules and regulations related to data management and do not allow misuse of data at any point in time.
8. Managing Employee Benefits
Apart from compensation, benefits play a major role for an employee when choosing an organization. The HR department administers these benefits and policies.
9. Policy Formulation
HR helps the top management with new policy formulations. With its expertise in people management, HR has a good idea of what kind of policies can impact the organization and change it for good. It assists the supervisors and management by providing insights and also giving them an idea of the legalities involved.
10. Performance Improvement
HR teams curate different plans and assessments to evaluate the performance of employees and help them improve. These plans are implemented by the respective team managers, and they will get feedback on how every employee is performing. This way, the underperformed employees will get proper training and the company will be able to save money in the process as well.

Wrapping Up
The HR department is the backbone of an organization as it holds all the employees together. When you are working with multiple people, it is important to have a person who can handle all of them and ensure that the organization works smoothly. Providing the department with required resources such as different HR tools will simplify their work and make them more efficient.
HR software from factoHR assists organizations to this end with their all-in-one, mobile-first solutions. They are highly secure, have built-in integration and are scalable. It is a centralized database of all employee data and helps them in every step in the organization.
With such tools to back the HR department, they can go ahead with their responsibilities without any hassle. This ultimately keeps the system robust, and the employees happy.