Who is an HR Professional? All you Need to Know About HR professionals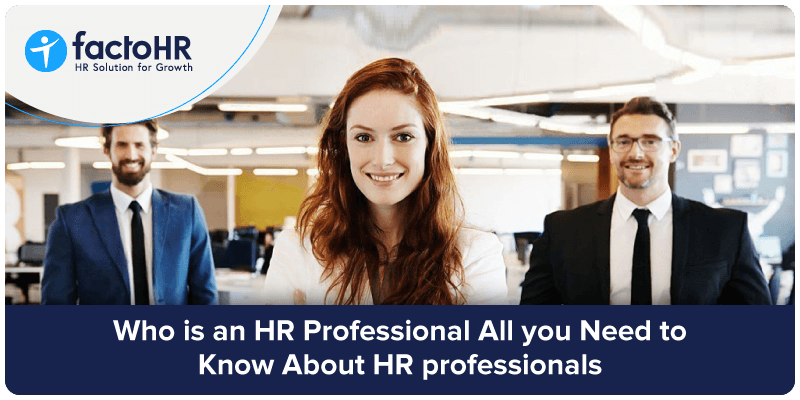 Management is considered as walking a tightrope, especially when it's about managing the whole human resource of an organization, and that is what HR professionals do on a daily basis. Human resource is not an easy career choice, it takes a lot of different skills to build a career in it. Through this blog, we will try to explain you what skills are required to build a career in HR and their roles and responsibilities.
Who are HR Professionals?
They are the people hired by the organization to manage their employees by performing different hr activities. These activities include recruiting employees, providing training, processing their payroll, ensuring that employees with their work and conducting employees' exit interview, etc.
HR Professional's Duties and Responsibilities
Following are the most common duties and responsibilities: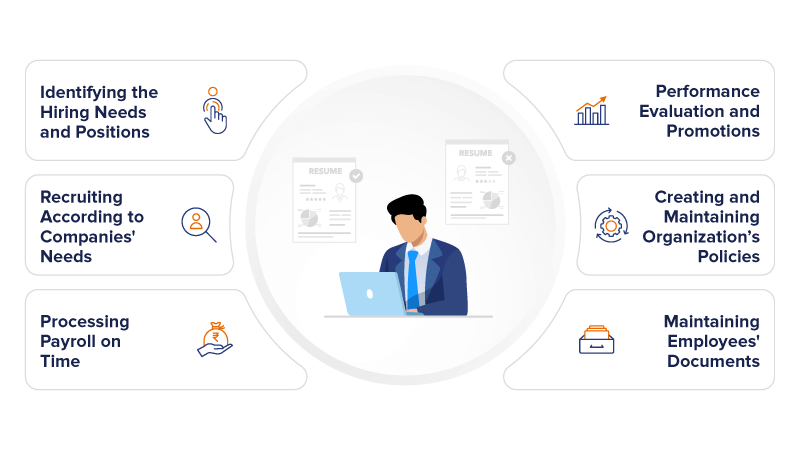 1. Identifying the Hiring Needs and Positions
The first and foremost duty is to identify the hiring needs, it is important because the other processes like hiring and training the employees depend on it. It is done through the requisition process, where the different department managers fill out a requisition form mentioning the need for a new employee with all the required details. HR department evaluate the requisition forms, make the budget, and create a vacant job position.
2. Recruiting According to Company's' Needs
After creating the job openings, HR share these openings on different social media platforms to find the candidates for the opening. When a candidate applies for the opening, then their different tests and interviews are scheduled. If the candidate clears all the interviews and is suitable for the vacant job position, then they are given the job offer, and upon accepting the job offer, the candidate is hired for that job position, and their onboarding process is done.
3. Processing Payroll on Time
Processing employees' payroll is one of the most important duties for the HR department because if there are any errors in it or not done on time, then it could lead to employees' dissatisfaction and distract them from their goals. They can use a web-based payroll software to calculate employees' salaries, deduct their taxes according to statutory compliance, process payroll without any errors, and also provide employees with their payroll payslips.
4. Performance Evaluation and Promotions
In every organization, a performance evaluation cycle or appraisal cycle is done at a predefined time period. HR's responsibility is to perform different tasks and complete all the eligible employees' performance evaluation processes according to the rules. HR department coordinate with all department managers to evaluate employees' performance and decide the amount of increment or promotion to be given to the employees. Once the employees' performance evaluation is done then, HR is responsible for informing employees about their increment or promotion formally.
5. Creating and Maintaining Organization's Policies
Policies are what keep their department busy, as they are the ones who have to create and update the policies according to the laws and needs of the company. They have to inform the employees about the policies and ensure that every employee is following the policies. If any employee is found breaching the company's laws, then the HR department has to take disciplinary actions against the employee.
6. Maintaining Employees' Documents
Maintaining documents is mandatory by law, which is why it is very important for the HR department to maintain all the HR and employee documents. Maintaining documents helps the HR and organization to know about the skill gap among the employees and the need for training or hiring.

Skills an HR Professional Must Have
Just knowing the HR terminologies is not enough, there is a number of skills one must have to become an HR professional, but we have selected some of the most important skills one need to become a successful professional in the field of HR.
1. Strong Communication
They have to communicate with others in almost every function they do in an organization. Hence it is necessary to have strong communication skills to know and solve employees' problems.
2. Administration Expert
They have to do a lot of administration activities like maintaining employees' records, preparing HR documents, calculating and processing payroll, etc. That is why a person needs to be an administration expert to grow a career in the field of HR.
3. Flexibility
It is their duty to handle both the employees and the physical workplace, they need to perform multiple tasks at the same time and be prepared whenever they are asked to do something. Hence, being flexible is a must to become an HR professional.
4. Being Trustworthy
They have to handle employees' personal documents and also knows companies' secrets & confidential documents, and if any of these two documents are leaked to someone, then the company could face severe consequences that is why they must be trustworthy towards their company.
5. Strategic Thinker
They need to plan out their activities in all of their functions, they need to come up with innovative and creative ideas to cheer up and motivate the employees, so a person needs to be a strategic thinker in order to become a professional in HR.
6. Teamwork
Generally, the HR department has a bunch of members in it, and they have to work as a team to achieve their goals. Not just that, professionals in HR work with department managers to improve the employees' experience in the organization. They must have skills to work with a team.
7. Decision Making
They need to make decisions in different kinds of tasks like selecting a candidate, deciding on how much compensation to provide, and deciding on employees increment or promotion, etc. their decision-making skills need to be highly accurate in order to improve themselves as an HR manager.

Conclusion
The demand for HR professionals is increasing in every industry, and that is not surprising at all because every organization needs them, be it a small start-up or a huge conglomerate, regardless of their size or business's nature, they will have a person to handle their human resource, and HR professionals will do it for them. Hence, the scope of professionals in HR is on the rise, and we hope that through this article, you will be able to decide your destiny in the field of HR.