5 Ways to Make your Performance Reviews More Meaningful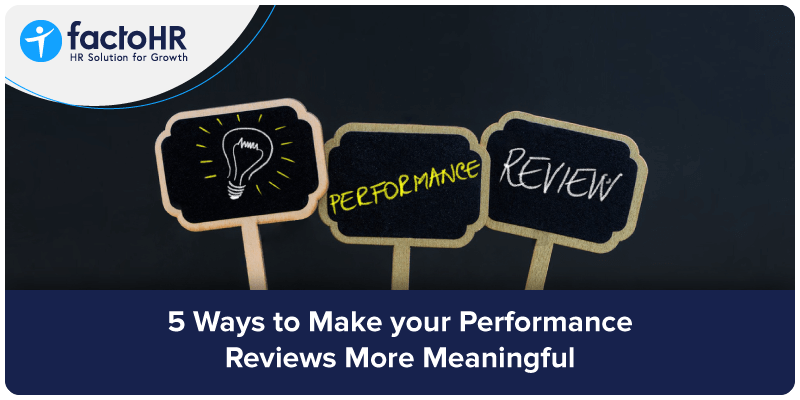 Recall the time when you received your performance review for the first time. Was that review a well-structured one? On-time? And helpful? Or was it just a yearly process that criticized minor mistakes, ignored achievements, and provided useless and vague feedback? Now compare it with the current review process going on in your organization. Maybe it will be time to reevaluate those evaluation methods, where HRs focuses on prioritizing employee experiences. In this blog, we will discuss 5 ways to make performance reviews more meaningful, but before we get into that, let's start with the importance of performance reviews.
Importance of Performance Review in an Organization
An effective performance review makes employees feel confident and gives a better understanding of areas of improvement in the upcoming time. No matter how good your review structure is, conducting them only once a year can make your team feel lost. A recent study by EY states that Gen Z needs constructive review and feedback throughout the year. This is why it becomes crucial to organize the evaluations on a regular basis. It will thus ensure that your workforce stays focused on developing strengths, building upon their weaknesses, and work towards achieving the organizational goals.
If you are looking to enhance your performance review process and wondering where to start, here are the 5 ways mentioned:

Motivate Managers to Provide Continuous Feedback
The performance evaluations can happen quarterly or once in six months, but it is important that the managers don't take a long time to help the employees align their performances. Managers should be encouraged to provide feedback to employees whenever they are stuck with a particular project or are making unintended mistakes and similarly give appreciation when they perform well.
Without these consistent efforts, employees may find it difficult to improve their work and develop within the organization, which can ultimately damage the organization's progress. Most employees prefer getting recognized on the spot, so managers should give their feedback and acknowledgement at the right time when it is most relevant. This can be enabled by regularly conducting one on one meetings and check-ins. Implementing a system that allows the managers to record all the feedback which are accessible during the performance review cycle.
Prepare for Performance Reviews in Advance
An employee's lifecycle within the organization is hugely affected by their performance reviews. The way you conduct the performance review procedure can either make or break employees' efficiency. Discuss regarding the review cycle with managers and start with it well in advance so that managers get more time to analyze employees' performances accurately, provide useful feedback, and finalize the decision-making points.
Ask managers to focus on both technical and interpersonal skills, as per their role. Analyze whether the employees have achieved the goals assigned to them and measure what impact they have made on your organization. It should include all the projects employees have worked on to date and not just their most recent ones. To guide your performance feedback, use 360-degree feedback and self-evaluation methods. Ensure that your employees are informed about what is expected from them in the review so that they can also prepare for it.

Keep Transparency and Fairness Throughout
The core aspects of your performance review should include equality and fairness. Your feedback on performance should not get influenced by any kind of discrimination or biases. Sometimes managers unknowingly resort to similarity or experience bias, and this can make your employees lose the trust they have in the organization. As a part of the preparation process, provide managers with information regarding the different types of biases that may happen unintentionally while reviewing.
Having performance management software for carrying on the performance review can ensure transparency and equality in the organization. Tracking the goals, KRAs, and various competencies in performance management can be the basis for productivity standards, but make sure you consider individual needs also. Create metrics as guidelines rather than strict rules.
Let Employees Raise Questions and Give Feedback
When the review process gets over, give your employees enough time and space to raise questions and provide their thoughts on the process and management in general. Let's take an example, some employees might think that they lack the necessary tools to enhance their productivity. Others might not have a clear understanding of the skills they need or lack the training. But when two-way communication is done all these concerns can be easily sorted. When the employees' performances are discussed, ask them about their feedback for their respective managers. Ask and discuss with employees whether they need any additional support for enhancing their performances and succeed in their roles. Open and bi-directional communication is one of the keys to organizational growth.

Setup Clear Goals and Expectations for the Future
Once the review ends, set up clear goals and expectations with the managers for the next time period. So that it is helpful to evaluate the performances of employees effectively in the next review cycle. Tell managers to give a brief of the upcoming projects and explain what they are willing to achieve and what steps they have to take in order to achieve the goals. Here comes another opportunity to ask employees for feedback about the project's execution and training needs.
In a Nutshell
Performance reviews when carried on rightly, can have a positive impact on your employees and the organization as a whole. It enables employees to fine-tune their own performances when their strengths and weaknesses are highlighted. When they will climb up their career ladders, it will ultimately make the organization successful by increasing customer satisfaction.
factoHR offers a performance management system that allows your organization to evaluate employee performance in a hassle-free manner. From setting up goals to normalising the performances, factoHR will let you simplify each step in performance management.