6 Best Practices you Should Follow While Setting KRAs and Goals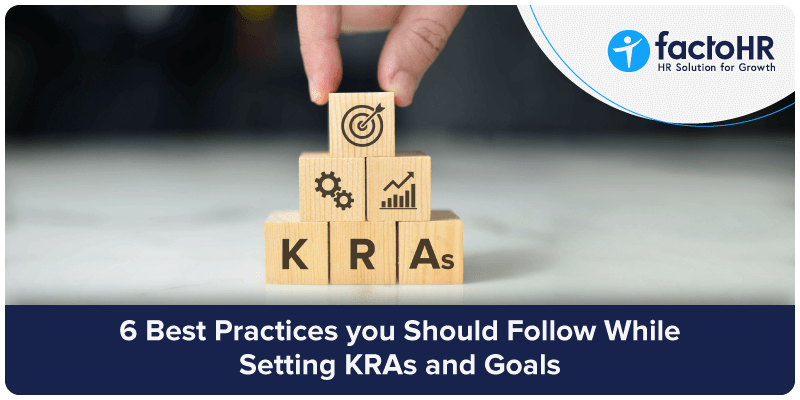 What are the ultimate objectives of any business? The most obvious answer is providing the best experiences to customers, increasing the top line, and achieving sustainable growth. But can any of these objectives be achieved without a dedicated team who knows their responsibilities, goals and are aware of how they are impacting the big picture? Now, this is far beyond talent acquisition strategies, and here's where performance management strategies come into play.
​To start with it, you need to establish a consistent approach for assessing and developing employee performance, and this is where performance measuring factors such as KRAs and goals come into the picture. This not only helps in tracking the performances of employees but more importantly, it will allow for aligning the individual goals with those of the organization.
​Let's start with what are KRAs and goals? How do they benefit the organization? and how you can start implementing them?

KRAs:
Key result areas (KRAs) frame out an employee's role and responsibility in an organization. This helps employees to align their roles with the business outcome and focuses on the end result rather than the activities. It will also allow the employees to set priority goals, which makes decision-making effective.​
Goals
​Goals refer to specific and measurable objectives an individual or team needs to achieve to fulfil their responsibilities and contribute to the organisation's overall success. These goals are aligned with the organisation's objectives and are used to evaluate performance and progress.
Specific
Goals must be specific, ambiguous goals may lead to vague outcomes. The more clearly and precisely you define the expected outcome, the more the chances of achieving better results.
Measurable
Goals should be set in such a way that they produce tangible results. Using the metrics that are quantified is more helpful.
Achievable
Objectives should be attainable in reality, by taking into account the practical barriers of time, money, and labor.
Relevant
Goals should be relevant to all the employees involved in achieving them.
Time-bound
Setting up a deadline by which the goals should be achieved can motivate employees without putting excessive pressure on them.
What are the Reasons Behind Using KRAs and Goals
​KRAs offer a framework and clear understanding of the key drivers and the outcomes of employees' performance while goals will help to design a path for employees to achieve desired key results. Both KRAs and goals work hand in hand and help determine the approach that will work better for a particular team. It also helps to analyse employees' performance and keep track of their work in progress. When this is implemented effectively, you can get great insights for each team and streamline your performance assessment.
​Here, you must have understood how KRAs and goals can boost the performance of employees. Now, probably you will be looking for how and where to start. Here we provide some tips to start with KRAs and goals:

Practices to Follow while Setting KRAs
Focus on the Big Picture
Now that you are well aware that KRAs are ultimately the end goals and outcomes of individuals, teams, and organizations that they want to achieve. To start, consider these few questions:
Where was the team standing a year ago? Where do I want my team to reach next year?
Are KRAs aligned with larger business goals and expectations?
How is this communicated with each employee on the team?
How will the individual performance be tracked?
Set up Qualitative and Quantitative KRAs
Once you have decided what results you want to achieve using Goals, now you have to determine how you are going to evaluate them through KRA and KPI. KRAs can be classified into two types quantitative and qualitative. Here let's discuss an example of a sales executive. Their qualitative KRAs will cover areas like decision-making, communication, and negotiation; this can not be measured objectively, but it is crucial and using a rating scale can be helpful. The quantitative KRAs include sales targets or any deliverables that can be measured with a numeric value. You need to make a decision, about whether your organization needs qualitative or quantitative KRAs, or wants to have a balance of both. We would suggest a combination of both, as it will help you to have a holistic approach towards employees' performance.
Establish KRAs
Establishing clear responsibilities and expectations gives a lift to employee performance and development. When creating KRAs ensure that they are:
Relevant to the team, individual employees' roles, and skills
Clearly defined along with a timeline and end goal to achieve
Practically possible, attainable, fair, and challenging enough
Taking into consideration the above points while creating key result areas will help managers in tracking the progress, measuring the outcomes, getting various insights and adjusting the responsibilities to succeed in the future.
Once the KRAs are defined, it's time to guide employees to achieve those KRAs through goals.

Practices to Follow for Effective Goal Setting
Collaborate with Team
A Gallup study says that managers who involve employees in goal setting are 3.6 times more engaged than others that are not involved. Goal setting involves much more than just setting SMART goals; it also requires continuous asstessing and coaching. A collaborative goal-setting process brings personalization to performance evaluation and builds a good bonding between managers and their subordinates. With the increased number of millennials in the workforce who seek an active part in decision-making, collaborative goal-setting gives employees a chance to be heard in setting fair and relevant goals.
Establish Goals
Unclear expectations from their manager, grow the level of frustration among employees, resulting in increased voluntary turnover. Here we have given you some tips to increase productivity and reduce turnover:
Do not just limit yourself to the annual goal-setting process. Setting up goals in frequent time intervals such as quarterly, and monthly has a positive impact on employee productivity and achievement of goals.
Ensure you set SMART goals. Assigning 5 to 10 goals per month or quarterly that are achievable can assist employees in focusing on those areas that produce more return on investment.
In order to maintain the progress ensure that monthly or weekly check-ins occur.
Communicate KRAs and Goals
Effective communication helps employees understand their roles and work. This enables managers to identify the improvement areas along with where and how they need to change their approach toward employee performance. Here are some ways in which goals and responsibilities can be communicated effectively:
Onboarding
when an employee gets selected for a role, naturally they are eager to know what the expectations are from them and how they can prove their ability. Setting up the right path along with the right expectations makes employees feel valued and better focused on achieving their performance milestones.
Meetings
Team meetings are a great and perfect way to establish the key drivers for the entire team and all departments, so everyone stays on the same page.
Using Software
Allocating KRAs and goals, recording, tracking, and then evaluating them can be quite overwhelming. Tools that are scalable with the increasing need are a requirement. Here performance management software can help managers to be aware of what their teams are working on and assess employees' performances in a personalized way. Not only the managers, but even employees using the self-service portal can mark their own KRAs and goals.
Here are some examples of KRAs and goals, which can be used by organizations.
Concluding Thoughts
As setting up KRAs and goals is important, assessing the work quality, measuring the progress, providing timely feedback, and offering proper coaching is equally important before the employee diverts and goes off track. KRAs and goals are better ways to enhance the performances of employees and prepare the workforce for the future. It will also act as a workforce engagement tool through the means of focused coaching and development opportunities and an optimization tool to use the employee's strengths in the best way possible.
How can factoHR Help You?
factoHR provides an employee performance management solution, through which you can create KRAs, goals, assign them to employees and track their progress. Making use of software to monitor and evaluate the performance makes it easier for managers, HRs, and even for employees.