Employee Performance Tracking: 5 ways to do it Effectively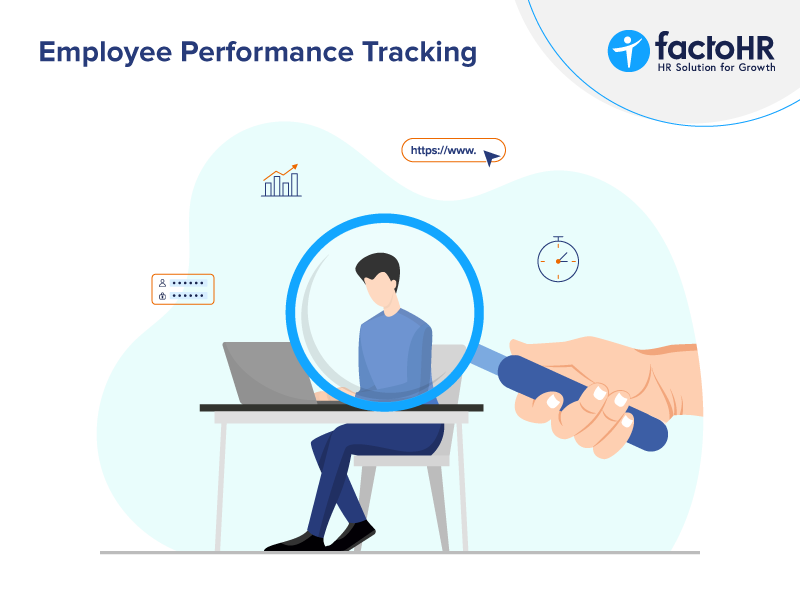 Despite having skilled employees and a performance-tracking process, managers are often stuck in situations where the employees are not able to achieve their set goals and targets. But, most of the time the reason why or what pulls them back remains a mystery. What are the causes? Are the employees underperforming, or do they have made over-commitment? The only way to know the reasons why goals are not achieved is to have effective performance tracking system.
A study shows that 98% of businesses give importance to performance management, but only 64% do it effectively. So only having a performance-tracking process is not enough; it's vital that its process is effective and constructive. If you are looking for ways to optimize performance tracking, you are on the right blog. Here we have mentioned 5 ways to make your employees' performance tracking correct.
5 ways to make Employee Performance Tracking Right
Let's dive into the ways to evaluate and monitor employee performances effectively, which will help to reach both individual and organizational goals: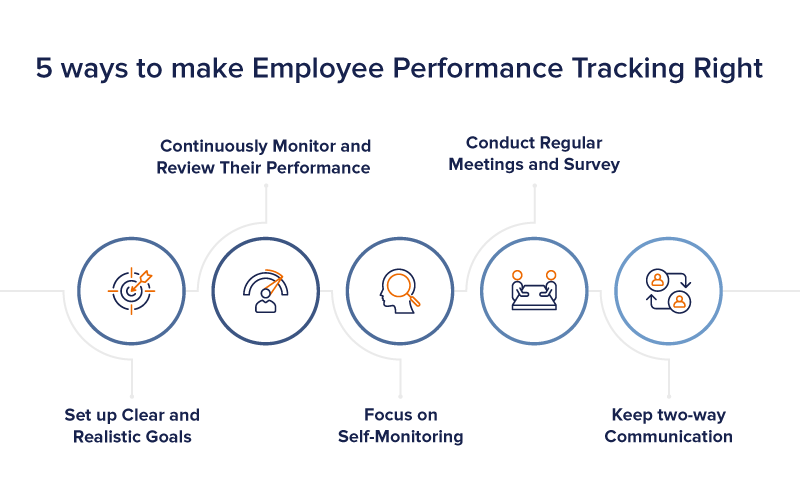 Set up Clear and Realistic Goals
The first step in a performance-tracking process is to define employees' responsibilities and individual goals because without defining individual goals, you don't have any yardstick to distinguish good, average or bad performance. Goal also helps create a finish line for employees, In other words, it helps you define and set expectations and criteria for goal completion.
There are multiple approaches and frameworks that will provide you information on how to define individual goals. One of the popular and nowadays used by many companies is objective and key results (OKRs), where objectives represent the goals, and key result is a measure of the entire goal. There is a similar framework known as KRA and KPI, where KRA is a objective and KPI is a performance indicator of the objective.
Another is a SMART goal framework, where SMART stands for Specific, Measurable, Achievable, Relevant, and Time-bound in which employees know their goals and measurement criteria explicitly. To set up a SMART goal for employees, the first step is to analyse their strengths and weaknesses.
Continuously Monitor and Review Their Performance
Many times goals are too big to track and monitor, so for ease of tracking and monitoring, you need to divide the goal into sub-goals which are interrelated and easy to follow. This is called goal cascading. If one of the sub-goal is not achieved, it will affect the completion of the overall goal and even hinder the timeline. Therefore, just setting up goals is not enough; monitoring the ongoing work and addressing the challenges employees face to achieve defined goals are equally important.
Continuous monitoring will provide the opportunity to assess the shortcomings and fill the gaps to make performances effective. Even it will provide an idea of whether the employees have truly understood their responsibility and are working in the right direction to achieve the goal. For constructive and continuous performance tracking an organization can use a performance management system that can be beneficial for setting, managing and monitoring overall performance.

Focus on Self-Monitoring
Another aspect of tracking performances is self-monitoring. For example, an employee was assigned a task by his manager and his manager just gave feedback that he has worked very slowly, but did not provide any other information then it would not be that effective and employees may have to do guesswork to improve it. In contrast, if an employee was provided with a tool to record the time he spent on each task then he was then able to know where more time was consumed and identified the area he needed to improve. As employees are the ones who actually perform the tasks, and if they themselves get feedback, then they can easily identify bottlenecks and improve their performance. Encouraging employees to self-evaluate and relearn can bring betterment in their performances in the long run.
When employees will be given ownership of their tasks, it will reduce their dependency on others and even make it easy for managers to overlook. Managers can help employees simply self-observe and keep a check on their performances by providing them with self-monitoring tools. Tools like timesheet software can help employees keep track of the time they consume for each task. This will help employees stay organized and realize where they are consuming more time, which is affecting their performance.
Conduct Regular Meetings and Survey
Clear communication between employees, managers, and the team as a whole always brings an advantage. Conducting regular meetings will bring transparency, resolve issues, and improve productivity. Meetings about the work progress will bring the challenges and issues in front, and further, its solution can be discussed. When the blockers are identified and proactively decisions are taken to overcome them, the overall performance will improve.
One more way to know what employees are feeling about their job and their responsibilities is conducting surveys. The surveys should include the right questions about their job responsibilities and performances. Responses to the survey will give insights into the actual condition, and based on that, corrective actions can be taken.
Keep two-way Communication
Only giving orders to employees and not listening to their opinions will create a one-sided performance evaluation. While working on their responsibilities, employees might face some challenges, which may slow down their performance. Listening and addressing these challenges will eventually help to accomplish their individual target, and lastly, the end goal will be achieved.
Even asking for employee feedback can add value to certain processes. Constructive feedback can highlight the changes that are much needed. It will not only improve the procedures and way of working but even make employees feel valued in the organization. It is easier for employees to work on processes they already are a part of. Ultimately the performances will have a positive impact.

5 best Performance Management Systems to Consider
With the use of a performance management system, employee performance tracking can be improved. Here, we have listed 5 performance management systems that can bring efficiency:
factoHR
factoHR is an OKR-based performance management software designed to organize and enhance the performance evaluation process. Attributes of the system are informative dashboard, goal management, multi-level review cycles, report generation, and payroll module integration. Also, it offers a mobile app that can be used for creating goals and setting approval methods.
SyncHR
SyncHR is a performance management system that offers a personalized solution to modern businesses. It's an employee-centric solution that helps businesses to drive employee engagement through communication and 360-degree feedback. Other features they offer are goal setting, 1:1 employee check-ins, and an analytics dashboard.
Namely
Namely offers a solution for midsize businesses. It's a complete solution to empower and engage employees for better performance. For performance tracking, the system provides features like goal tracking, goal alignment, performance review, continuous feedback, and appreciation.
Talentguard
Talenguard is another performance tracking system that offers a complete solution as per the organization's needs. The key features they offer are real-time feedback, multi-faceted review, and organizational-wide goal alignment.
Palyocity
Palyocity is entirely flexible and integrable performance management and review software. It's a tool that enables transparent two-way communication between employees, managers, and the whole team. Other features it provides are real-time 360-degree feedback, performance reviews, and succession planning.