Employee Lifecycle
What is Employee Lifecycle?
Employee lifecycle is the different stages an employee goes through in an organization, from recruitment till retirement or termination. Every stage may have its own challenges. However, the HR manager strives to improvise and enable a smooth process to bring out the best in the employees.
Employee Lifecycle Model
Generally, an employee goes through these 5 stages:
1. Recruitment - from applying, then interviewing, and getting selected

2. Onboarding - introduction with the team and understanding of the company culture

3. Career Development - getting better in the job and experiencing new opportunities

4. Retention & Recognition - appreciation and increments for better performance.

5. Offboarding - the process when an employee leaves the company.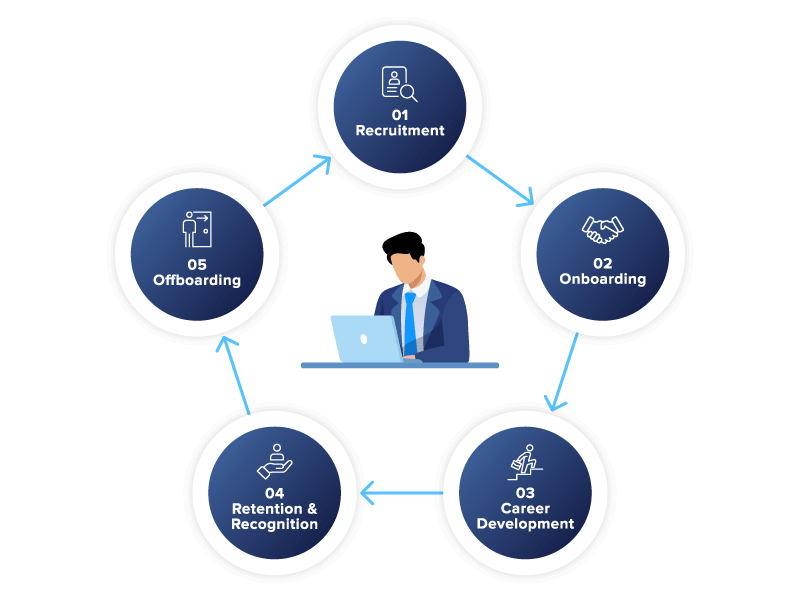 Frequently Asked Questions
How many stages of the employee lifecycle are there?
In general, an employee lifecycle can be divided into 5 major stages:
Recruitment
Recruitment in a lifecycle begins before an employee joins the company and is, in fact, the first step of the employee cycle. A recruiting team finds the right talent, conducts an interview, and then offers a joining letter.
Onboarding
Followed by recruitment, employees are assisted in understanding and getting along with the company values and culture. They are made aware of the duties and policies.
Career Development
Nowadays, every individual seeks new opportunities and skill development around themselves. Therefore, companies should give platforms by offering training to employees to fulfill their ambitions because it will eventually improve their motivations and efforts towards their roles.
Recognition
Recognizing employees' talent and skills helps a company boost its productivity. Salary increment, incentives, paid leaves, training, etc., are a few strategies that help increase employee morale, loyalty and thus act as an approach to retain them for a longer time. This stage in an employee lifecycle is directly linked to the growth of the company and its employees.
Offboarding
The concluding stage of an employee's lifecycle is when they retire or resign. Again, there may be different reasons for this, but HR should ensure a smooth offboarding process.
What is the importance of the employee lifecycle?
An employee lifecycle depicts the entire journey of an employee from hire to retire. It is divided into more than one stage where each one is connected to the other. Tracking and analyzing the complete lifecycle helps HR and managers identify talent management and areas of improvement.
How to make an employee lifecycle efficient?
Employee lifecycle processes can be improved using the following ways.
Implement transparency.
Use technology.
Track the progress regularly.
Assigning tasks.
Use information effectively and securely.
Organize stages according to requirements.
How can one track employee lifecycle?
Organizations can monitor the entire lifecycle effectively using various Talent Management platforms or HR technology. These tools have reporting and analytics features to help monitor engagement levels, identify talent-related issues, and make improvements.