360-degree Feedback
What is 360-degree Feedback?
360-degree feedback is a performance assessment method that provides collective feedback to an employee. The main reason this method differs from the other methods is that it includes feedback from more than one source. In this process, an employee receives feedback from different individuals that specifically include superiors/managers, coworkers, reporting members, and customers. Additionally, it also allows the employee itself to provide self-ratings.
A feedback survey is prepared by including questions that cover different competencies. Raters participate in this survey and share their perspective about the employee. By evaluating the feedback report, employees can understand their potential and areas of improvement.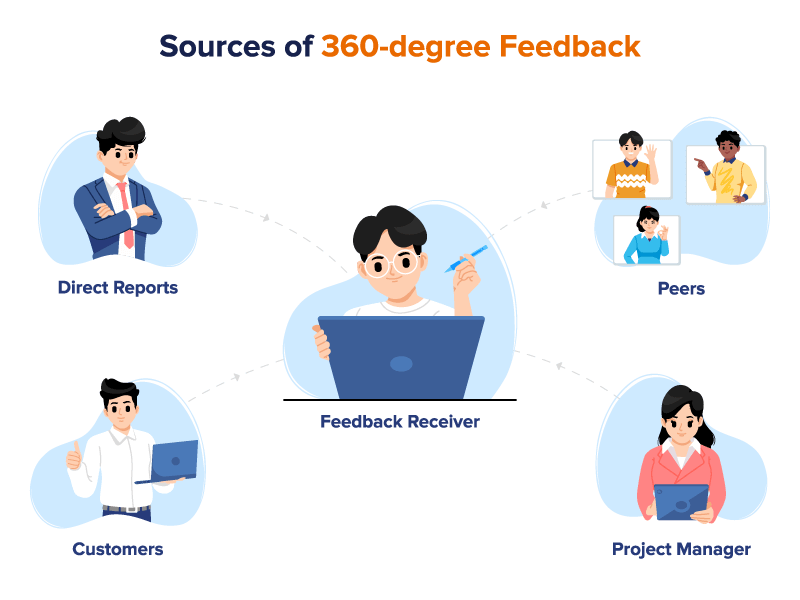 Example of Using 360-degree Feedback in the Workplace
An organization decided to introduce a 360-degree feedback evaluation in their performance management for one of their teams to understand its effectiveness. To do this, a list of questions was developed based on various competencies. A team member named John was taken as the subject. At the same time, the other members were asked to review and rate John's performance based on the prepared questionnaire. The following results were obtained after the assessment in different competencies.
Leadership Skills:
"This individual possesses a high potential for leading workgroups."
"This individual can lead smaller groups much better as compared to large ones."
"He is able to solve conflicts among team members effectively."
"He can organize, delegate and explain tasks among his team members very well."
Communication Skills:
"He lacks verbal communication but is good at writing."
"He is a little arrogant when it comes to sharing information and interacting with other team members."
"When he shares any ideas or information, it often lacks context and understanding."
"This coworker hardly listens to the ideas of other team members. "
Based on the above feedback from the teammates, John can figure out that his leadership skills are up to the mark. However, he needs to improve his communication.
Frequently Asked Questions
What is the aim of 360-degree performance evaluation?
The 360-degree performance assessment method helps employees stand out in their jobs and improve engagement in the organization. Its primary purpose is to:
Allow employees to know their abilities and improve their weak areas.
Help employees improve their behavior and skills in a way that benefits the group, department, and the organization.
Help build a continuous employee development plan.
Which features to look for in a 360-degree feedback platform?
Following are the features you should look for to find a perfect 360-degree feedback platform.
Quick and easy implementation
Seamless integration with HRMS
A user-friendly interface
Robust security
Option to keep feedback anonymous
Customizable questionnaires
Insightful data analytics
When should the 360-degree evaluation not be applicable?
Though the feedback provides better performance insights than other methods, the 360-degree review should be avoided for circumstances when:
The employee is a new hire.
No proper evaluators are present.
There is a critical transition process running in the company.
The organizational culture is prey to suspicion.
How does a 360 performance evaluation help organizations?
A 360 evaluation has many benefits for organizations which include the following.
Allows to find competencies
Promotes individual development
Enhances work relations
Improves self-awareness
Improves accountability
Strengthens organizational values
Determines gaps in performance
Improve employee accountability
Shows better opportunities
What are the drawbacks of the 360 review method?
Despite the benefits of this multi-rater performance evaluation, certain negative impacts can arise if the people and teams are not trained properly. The following are the drawbacks.
Feedback from the raters may include incorrect information because they may not have complete knowledge about the subject's performance.
The final result of the process may be tainted with illegal bias and include dishonest reviews from coworkers.
Due to collecting feedback from more than one individual, this process takes a considerable amount of time.