Business Analyst Job Description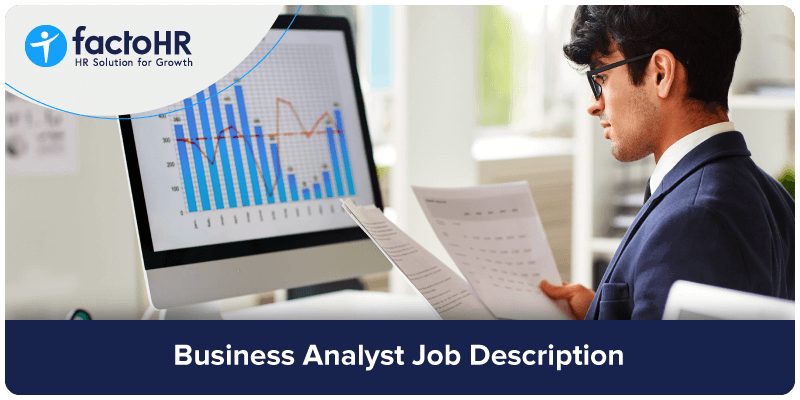 The role of a business analyst is a crucial part of any project team. By acting as a key link between the project manager and users, they gather information, document processes, and confirm the final process with the users. All this works towards exceeding and achieving business goals.
Business Analyst Job Description Template
We are looking for a business analyst to join our project team. You will work with other business analysts and will report directly to the project manager. Your main tasks will include performing user acceptance testing, documenting processes, and performing detailed required analysis. To ace this role, you should have analytical thinking and be able to explain difficult concepts to non-technical users.
Business Analyst Responsibilities:
Performing requirements analysis.
Analyzing business processes, Identifying requirements, relieving areas for improvement, and creating and implementing solutions.
Conducting meetings and presenting their findings and ideas.
Staying updated with the latest processes and IT advancements to automate systems.
Leading review of business processes and creating needed strategies.
Communicating and documenting the results of your efforts.
Collecting essential information from various stakeholder meetings and developing useful reports.
Working closely with technicians, managerial staff, and clients.
Providing training, coaching, and guidance to the juniors.
Maintaining costs and allocating resources efficiently.
Implementing, maintaining, and updating procedures.
Being a communication link between the users and stakeholders.
Monitoring, projecting and ensuring their timely completion.
Evaluating their team's performance and providing inputs to improve it.
Business Analyst Requirements:
A bachelor's degree in business or a related field or an MBA.
A minimum of 4 years of experience in business analysis.
Conceptual thinking and exceptional analytical skills.
The ability to work closely with stakeholders to determine effective solutions.
Great documentation skills.
Advanced technical skills.
Creating detailed reports and giving its presentations.
Competency in Microsoft applications like excel, outlook, and word.
A track record of being committed.
Excellent time management, planning, and organizational skills.
Experience in developing and leading top-performing teams.
A history of supporting and leading successful projects.

Business Analyst Job Description Sample
Padhaku.com is looking for a business analyst for its project team. You'll play a key role in communicating between internal departments and external parties, acting as co-ordinator where necessary to convey how information technology can support the organization's needs. You'll greatly influence Padhaku.com's renewals' effectiveness and enhance the role of data as an asset to the business.
If you are technically a master and possess a keen eye for business with a real passion for making an impact, then we'd love to talk to you!
Qualifications
BE/B.Tech from recognized institutes.
4+ years of experience in data analysis, project management, or related field.
Business Analyst Responsibilities:
Communicating with all the stakeholders.
Evaluating and analyzing business requirements on a continuous basis.
Creating and updating internal and external documents.
Developing and maintaining relationships with executives, managers, and partners.
Training and supporting people affected by new processes or systems.
Exploring different solutions, their benefits, and risks.
Translating customers' requirements into functional requirements.
Business Analyst Requirements:
A bachelor's degree in business or a related field.
4+ years of experience in business analysis, project management, or related field.
Excellent communication skills.
Proven ability to manage projects.
Time-management and organizational skills.
Strong customer service orientation.
Highly self-motivated and directed.

FAQs
1. Who is a Business Analyst?
A business analyst is a link between a project manager and the end user. The requirements for business analysts may depend on the positions, and their responsibilities may differ from company to company, but their main purpose is to develop, analyze, and maintain processes.
2. Is Business Analyst an IT Job?
A business analyst acts as a link between IT and the executive branch by understanding analyzed data to make business decisions, but it doesn't fall under IT job. On the other hand, if a business analyst is specialized in the IT field, then they are known as IT business analysts.
3. Can the Business Analyst Job Description be Customized According to the Company's Needs?
You can edit or include additional details in any section of the job description sample mentioned above according to your organization's needs, because When you do marketing for a business analyst job, your business analyst job description should include skills and qualities you would like to have in your next hire.