Business Development Executive Job Description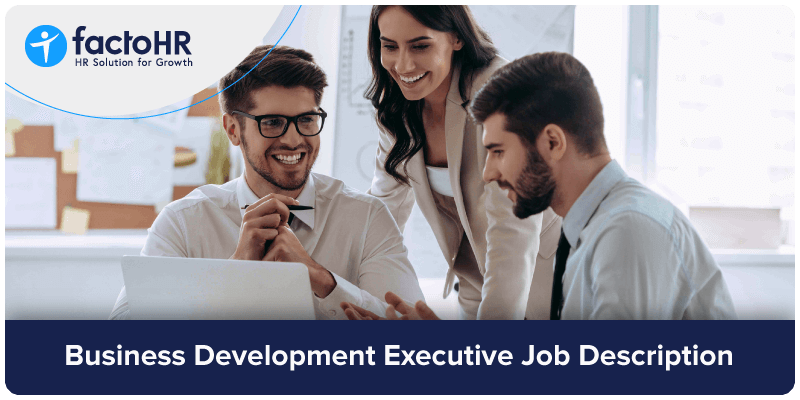 A business development executive is responsible for increasing company sales by getting new clients and convincing existing clients to buy new products. They play a vital role in a company's longevity, which is why it's important to write a clear and precise BDE job description in order to attract a business development executive that matches your needs.
Tips for Writing a Business Development Executive Job Description
Follow these tips to create a compelling job description that not only captures the attention of potential candidates but also reflects your company's values and vision.
1. Understand the Role and Responsibilities
Begin by thoroughly understanding the role of a Business Development Executive within your company. Identify the core responsibilities and functions they will be handling. This understanding will help you create a comprehensive job description that attracts candidates who fit your company's needs.
2. Highlight Qualifications and Experience
Clearly state the qualifications and experience required for the position. Mention specific educational backgrounds, certifications, and any industry-specific expertise that would be valuable for the role.
3. Emphasize Key Skills and Competencies
List the essential skills and competencies a successful BDE should possess. These may include sales and negotiation skills, excellent communication abilities, strategic thinking, relationship building, and market knowledge.
4. Include Specific Responsibilities and Deliverables
Provide detailed information about the tasks and responsibilities the BDE will be responsible for. Clearly outline the expected deliverables and targets to give candidates a clear understanding of their responsibilities.
5. Mention Growth Opportunities
Highlight the growth prospects and career advancement opportunities for the successful candidate. Demonstrating potential career growth can attract ambitious and motivated individuals.
6. Offer Insights into Company Culture
Give candidates a glimpse into your company's culture and values. Highlight any unique perks, benefits, or initiatives that make your organization an attractive place to work.
7. Keep the Tone Engaging and Conversational
Write the job description in a conversational and engaging tone. Avoid using overly formal language, as a friendly tone can help create a connection with potential candidates.
8. Provide Clear Application Instructions
Include clear instructions on how candidates can apply for the position. Specify the required documents, application process, and deadline, if applicable.
9. Use Relevant Keywords for SEO Optimization
Incorporate relevant keywords throughout the job description to enhance its visibility in online searches and attract a broader pool of candidates.
10. Proofread and Edit Carefully
Before publishing the job description, ensure it is free of grammatical errors and typos. A polished and error-free job description reflects positively on your company's professionalism.
Business Development Executive Job Description Template
We are looking for an empathic business development executive who can contribute to the growth of our business. They will be responsible for finding and retaining customers and encouraging existing clients to buy newly added products or features. You will also be required to provide regular training and mentorship to the new employees in your department.
To be successful in this role, you should attend networking events to increase your contacts and find new potential clients. You should also be able to closely monitor clients' feedback to ensure that your product or service has exceeded their expectations.
Business Development Executive Responsibilities
Becoming familiar with the company's products and services.
Attracting new clients through direct contact and collaboration with the marketing department.
Researching to find and connect with prospective clients.
Maintaining relationships with existing clients.
Identifying new business opportunities.
Developing and implementing new sales strategies to grow the business.
Maintaining and updating sales and business development reports.
Helping the marketing department with promotional projects.
Negotiating with clients to secure deals at attractive prices.
Reviewing clients' feedback and making necessary changes.
Business Development Executive Requirements
Bachelor's degree in sales, marketing, business administration, or any related field.
Prior experience as a business development executive.
Ability to generate revenue by identifying new business opportunities.
Excellent written and verbal communication.
Ability to convince potential clients.
Familiarity with CRM tools.
Ability to work well within a team.
Extensive presentation skills.

Business Development Executive Job Description Sample
BOT.NET is looking for an enthusiastic and smart business development executive to work with our sales team. You will be responsible for selling our product and services to new customers and convincing our existing customers to buy add-on services. You will play a vital role in improving our services by constantly taking feedback from our clients. To ace this role, the candidate must have solid communication and negotiating skills. If you are passionate about sales and looking to grow your career in a successful organization, then we would love to meet you.
Business Development Executive Responsibilities
Learn about the product and services of the company.
Acquire new clients by selling our products.
Meet the quarterly, monthly, and annual sales targets.
Attend conferences, meetings, and events on the company's behalf.
Maintaining strong relationships with existing clients.
Negotiate with clients and give them the best deals.
Compile and analyze data to identify trends.
Keep records of sales and revenue.
Business Development Executive Requirements
Bachelor's degree in business, sales, or marketing.
3+ years of experience in sales or business development.
Proficiency in MS Office and CRM software.
Excellent written and verbal communication skills.
Excellent multi-tasking skills.
Ability to present ideas to a variety of audiences.
Ability to maintain a high level of confidentiality and professionalism.
Ability to work under high pressure.
Strong customer service skills.

FAQs
1. What is the role of a Business Development Executive?
The business development executives generally work for the companies and contribute new ideas for the company's growth. They make the optimum use of the knowledge and look for new ways to improve product quality.
Excellent written and verbal communication
Negotiation skills
Analyzing skills
Interpersonal skills
Organizational skills
Critical thinking skills
2. What challenges do Business Development Executives face in their roles?
Business Development Executives encounter various challenges in their roles, including intense competition, market fluctuations, navigating complex sales cycles, lead generation and conversion, building strong client relationships, resistance to change, limited resources, global market expansion, data-driven decision making, balancing short-term and long-term goals, internal alignment, negotiation and closing deals, evolving technology and tools, managing rejection and uncertainty, and compliance and legal considerations. Overcoming these challenges requires adaptability, resilience, and strategic thinking.
3. Why is writing an effective BDE job description important?
Writing an effective Business Development Executive (BDE) job description is crucial as it attracts suitable candidates, aligns expectations, improves hiring efficiency, showcases company culture, competes for top talent, encourages diversity, boosts employee engagement, ensures legal compliance, sets the foundation for growth, and promotes positive employer branding, contributing to the company's overall success.
4. How can I ensure that the job description attracts a diverse pool of candidates?
To ensure that the job description attracts a diverse pool of candidates, there are several key strategies to implement. First, use inclusive language throughout the description, avoiding gendered or biased terms. Emphasize the company's commitment to diversity and equal opportunities. Clearly state that candidates from all backgrounds are encouraged to apply. Highlight the organization's inclusive culture and any diversity initiatives. Additionally, focus on the essential skills and qualifications rather than specific educational backgrounds or experience levels, as this can open the door to a broader range of candidates. Lastly, share the job description through diverse platforms and networks to reach a wider audience and attract candidates from various backgrounds and communities.
5. What is the typical salary range for a Business Development Executive?
In India, the salary range for a Business Development Executive (BDE) can vary based on factors such as the city, company size, industry, and the candidate's experience and skills. On average, entry-level BDEs can expect a salary between ₹3,00,000 to ₹5,00,000 per year. Mid-level BDEs with a few years of experience may earn between ₹5,00,000 to ₹8,00,000 annually. Senior BDEs with extensive experience and a successful track record can earn ₹8,00,000 to ₹15,00,000 or more per year. Keep in mind that these figures are approximate and can vary depending on individual circumstances and company-specific factors.