Business Development Executive Job Description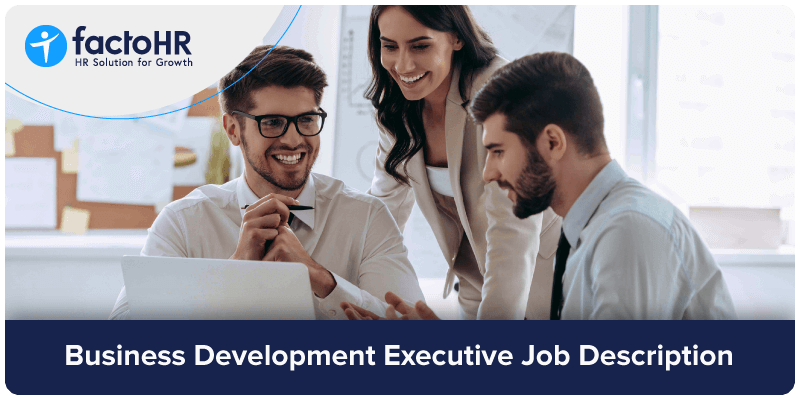 A business development executive is responsible for increasing company sales by getting new clients and convincing existing clients to buy new products. They play a vital role in a company's longevity, which is why it's important to write a clear and precise BDE job description in order to attract a business development executive that matches your needs.
Business Development Executive Job Description Template
We are looking for an empathic business development executive who can contribute to the growth of our business. They will be responsible for finding and retaining customers and encouraging existing clients to buy newly added products or features. You will also be required to provide regular training and mentorship to the new employees in your department.
To be successful in this role, you should attend networking events to increase your contacts and find new potential clients. You should also be able to closely monitor clients' feedback to ensure that your product or service has exceeded their expectations.
Business Development Executive Responsibilities:
Becoming familiar with the company's products and services.
Attracting new clients through direct contact and collaboration with the marketing department.
Researching to find and connect with prospective clients.
Maintaining relationships with existing clients.
Identifying new business opportunities.
Developing and implementing new sales strategies to grow the business.
Maintaining and updating sales and business development reports.
Helping the marketing department with promotional projects.
Negotiating with clients to secure deals at attractive prices.
Reviewing clients' feedback and making necessary changes.
Business Development Executive Responsibilities:
Bachelor's degree in sales, marketing, business administration, or any related field.
Prior experience as a business development executive.
Ability to generate revenue by identifying new business opportunities.
Excellent written and verbal communication.
Ability to convince potential clients.
Familiarity with CRM tools.
Ability to work well within a team.
Extensive presentation skills.

Business Development Executive Job Description Sample
BOT.NET is looking for an enthusiastic and smart business development executive to work with our sales team. You will be responsible for selling our product and services to new customers and convincing our existing customers to buy add-on services. You will play a vital role in improving our services by constantly taking feedback from our clients. To ace this role, the candidate must have solid communication and negotiating skills. If you are passionate about sales and looking to grow your career in a successful organization, then we would love to meet you.
Business Development Executive Responsibilities:
Learn about the product and services of the company.
Acquire new clients by selling our products.
Meet the quarterly, monthly, and annual sales targets.
Attend conferences, meetings, and events on the company's behalf.
Maintaining strong relationships with existing clients.
Negotiate with clients and give them the best deals.
Compile and analyze data to identify trends.
Keep records of sales and revenue.
Business Development Executive Requirements:
Bachelor's degree in business, sales, or marketing.
3+ years of experience in sales or business development.
Proficiency in MS Office and CRM software.
Excellent written and verbal communication skills.
Excellent multi-tasking skills.
Ability to present ideas to a variety of audiences.
Ability to maintain a high level of confidentiality and professionalism.
Ability to work under high pressure.
Strong customer service skills.

FAQs
1. What is the role of a Business Development Executive?
The business development executives generally work for the companies and contribute new ideas for the company's growth. They make the optimum use of the knowledge and look for new ways to improve product quality.
Excellent written and verbal communication
Negotiation skills
Analyzing skills
Interpersonal skills
Organizational skills
Critical thinking skills
What does an IT recruiter do?
Generally, IT recruiters have to find, screen, conduct interviews, and hire candidates for the IT role. All big to small companies have IT recruiters for hiring various IT professionals.