Business Development Manager Job Description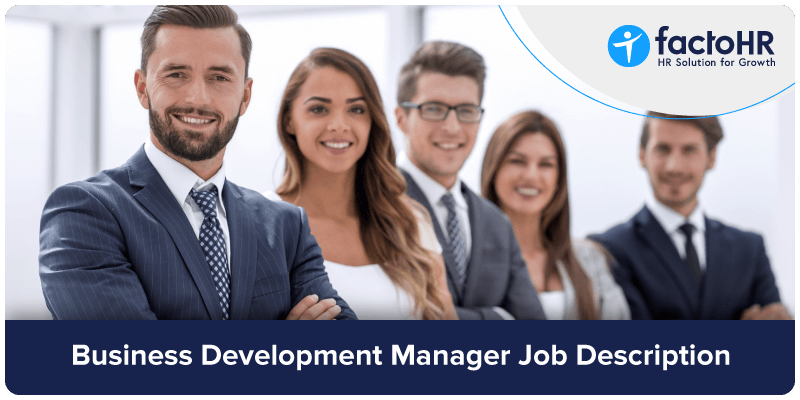 A business development manager is a professional who works for the organization's growth. They work with the sales team to find prospects, develop proposals and negotiate contract terms and communicate with various stakeholders effectively. Their core function is to drive companies' sales by convincing the prospects to buy the offerings.
Business Development Manager Job Description Template
We are looking for a motivated and ambitious business development manager to expand our clientele. You will be responsible for applying different sales strategies and work with dedication to increase sales. Your ultimate goal will be to drive sustainable financial growth by boosting sales and maintaining strong client relationships.
Business Development Manager Role and Responsibilities
Developing a strategy that focuses on customer satisfaction and monetary gains
Identifying new market trends and customer needs by conducting market research
Arranging meetings with prospective clients
Addressing clients' needs by providing solutions through the product or service
Creating sales contracts that are in accordance with the law-established rules and guidelines
Keeping records of sales and invoices
Providing continuous after-sales support and feedback
Building long term relationships with existing customers
Business Development Manager Requirements
Having proven experience working as business development manager or a similar role
Prior sales track record
Having experience in customer support is advantageous
Having proficiency in MS Office and CRM software
Having proficiency in English
Excellent communication and negotiation skills
Having knowledge and the ability to build rapport
Skilled at planning and time management
BSc/BA in business administration or a similar field

Key Metrics for Success
Revenue Generation
The primary criteria for assessing the performance of a business development manager is the amount of income produced through new business deals and sales. This indicator shows how well they are able to identify and secure profitable opportunities.
New Client Acquisition:
A record of the total new customers brought by the BDM will be monitored. This indicator shows how successful you are at growing their clientele and developing connections with future clients.
Market Expansion:
The Business Development Manager must keep track of how many new clients they have won. This indicator illustrates how well they are doing at attracting new clients and nurturing existing ones.
Relationship Building:
Long-term success depends on establishing and maintaining connections with important partners, clients, and stakeholders. Metrics like customer happiness, partnership retention, and referral rates will be utilised to evaluate the status and growth of these connections.
Business Development Manager Job Description Sample
We at NNT services are looking for an ambitious business development manager for contributing to the growth of the company. You will be responsible for prospecting clients, maintaining relationships, and encouraging them to purchase the products. You will also be responsible for providing training and mentorship to the entry-level staff.
To be successful in this role, you need to attend networking events with the motive to attract and retain clients. Ultimately, you will need to keep a close eye on the customers' feedback so that our product or services always be as per the expectations.
Role and Responsibility
Approaching potential clients to establish a rapport and organize meetings
Planning and looking for new marketing opportunities
Doing research on different organizations to grab new opportunities
Adding value to new customers and attracting new ones
Discovering and developing new market opportunities to increase sales
Being part of industry events like conferences and meetings
Preparing quotes and proposals for various clients
Developing team goals and ensuring that they are met
Providing training and help to the team members develop their skills
Requirements
Having a bachelor's degree in business, marketing, or a similar field
Having experience in sales and business development or related field
Excellent communication skills and fluency in IT
Being able to multitask and handle complex projects
Proficient at Word, PowerPoint, Excel, and Outlook
Able to grow with minimum guidance, being proactive, and handling uncertainty

Tips to Create an Effective Business Development Manager Job Description
Use Clear and Concise Language
It is crucial to utilise precise wording when writing a job description for a business development manager. Make sure that everyone understands the role's primary tasks, necessary qualifications, and expectations. Keep your writing free of industry-specific jargon and words that can be confusing to potential candidates.
Highlight Essential Skills and Qualifications
Clearly state the essential skills and qualifications needed for the role of business development manager. Specifically, this requires highlighting relevant experience, domain knowledge, sales and negotiation skills, communication ability, and strategic thinking. Focus on the exact qualities needed to succeed in the position.
Provide Specific Performance Metrics
Inform candidates on the standards and criteria used to assess their performance. List the KPIs that are important to the position, such as revenue targets, customer acquisition targets, or market expansion targets. Candidates can assess their fit for the post because of the clarity provided by this.
Tailor the Description to Your Company's Needs
Make the job description specific to your company's needs and objectives. Take into account the targeted market, industry, and corporate goals. Highlight any particular challenges or possibilities the business development manager will encounter while working for your company. This will attract applicants who share your company's goal and can make a significant contribution to its development.
FAQs
1. What makes a business development manager successful?
To be a successful business development manager, you need to have skills for building long-lasting and successful relationships with clients. You also need to have clear communication skills and be able to offer solutions to clients as per their needs.
2. What can be added to the business development manager job posting?
Adding more information regarding the manager's role and responsibility will better for candidates to understand the role. Adding more specific needs as per your company's needs will have an advantage.
3. With whom does the business development manager (BDM) work?
Generally, BDMs work with other sales executives and representatives to identify new business opportunities and close new business deals.
4. What are some challenges faced by business development managers?
Each industry and organization may have unique challenges depending on their specific market, competitive landscape, and business objectives. Some of the common challenges faced by BDMs are identifying and evaluating opportunities, maintaining customer relationships, keeping up with market competition, meeting targets and managing external stakeholders.
5. When drafting BDMs job descriptions what are the specific industry considerations to take?
It is crucial to take into account specific industry factors when creating BDM job descriptions to make sure the position is in line with the particular demands and requirements of the business sector. Some specific industry considerations to take into account are industry expertise, customer base, emerging technologies, sales cycle length and product or service complexities.