Relationship Manager Job Description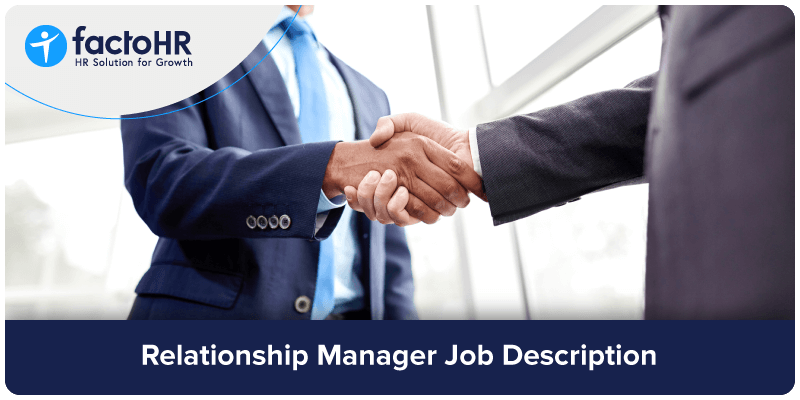 A relationship manager is a professional who helps in building and maintaining customer relationships for their company. They look out for new business opportunities and upsell to existing clients. They advise clients about the products and services that fit their requirements. They are also responsible for managing the sales cycle, conducting customer surveys and customer negotiations.
Relationship Manager Job Description Template
We are seeking a relationship manager to maintain our strong relationships with our clients. You will be responsible for seeking out new business opportunities. You should be able to give efficient advice to our prospects, help them while evaluating their options, promptly solving their problems, and ensuring client satisfaction. To be successful in this role, you should be able to build long-term, positive relationships, and support clients in their decision-making process.
Relationship Manager Responsibilities:
Possessing a deep knowledge of the company's products and services.
Developing and maintaining relationships with potential and existing customers.
Finding new business opportunities.
Guiding clients in their decision-making process.
Cross-selling and upselling products to clients.
Resolving clients' complaints and issues.
Achieving sales targets.
Ensuring client satisfaction.
Relationship Manager Requirements:
Bachelor's degree in management, communication, marketing, or a related field.
Experience as a relationship manager or in customer service.
Ability to develop and maintain strong customer relationships.
Proficiency in CRM software and Microsoft office.
Great interpersonal and communication skills.
Problem-solving and conflict-resolution skills.
Team management and leadership skills.
Customer-oriented mindset.

Relationship Manager Job Description Sample
BIRAJ is looking for a motivated, results-oriented relationship manager to create and maintain strong relationships with our customers. You will also be responsible for maintaining our company's positive image in front of customers. To be successful in this role, you should be an excellent communicator, able to work with marketing and sales teams, and should be empathetic towards the client. Ultimately, you will maintain trustful relationships with our clients to boost our profits and brand in the long term.
Relationship Manager Responsibilities:
Develop and improve relationships with clients, suppliers, and partners.
Review the company's sales to ensure customers that they are getting the best value from their purchases.
Find opportunities and inform the sales team to follow up.
Educate and inform clients about the company's products and services.
Address clients' issues and complaints.
Conduct satisfaction surveys and suggest ways to improve customer satisfaction.
Work with other departments to ensure that clients' expectations are fulfilled.
Promote and maintain a positive corporate image.
Provide financial planning and investment advice.
Study and learn marketing strategies to increase the sales of the company.
Relationship Manager Requirements:
Bachelor's degree in any management field.
2+ years of experience as a relationship manager.
Problem-solving attitude.
Ability to explain complex problems clearly.
Good negotiation and sales skills.
Ability to research and analyze information.
Proven experience in using CRM and Microsoft Office.
Strong communication and presentation skills.
Ability to work well in a team.

FAQs
1. Who does a Relationship Manager work with?
A relationship manager works with an accounts manager to understand clients' needs and wants in order to understand and maintain the relationship with them.
2. What is another title for a Relationship Manager?
Some common alternative job titles for relationship managers are client relations manager, senior relationship manager, or customer manager.
3. What is the strength of a Relationship Manager?
A good relationship manager should have all the knowledge and understanding of their company's products and services. They should also have great communication skills to understand their clients' problems and queries.