Relationship Manager Job Description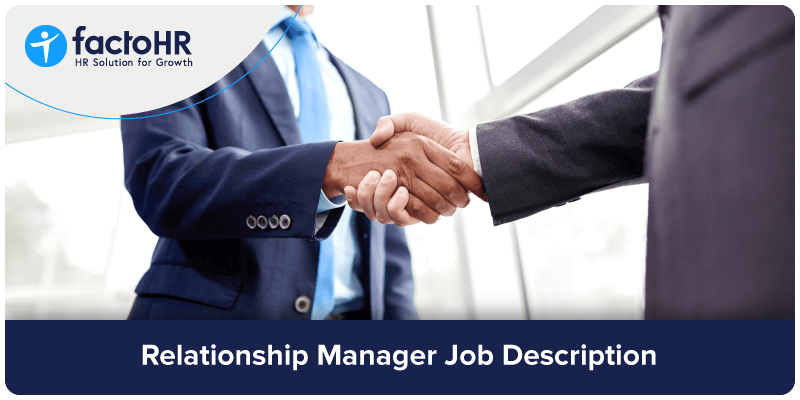 Download Relationship Job Description Word Format For Free
A relationship manager is a professional who helps in building and maintaining customer relationships for their company. They look out for new business opportunities and upsell to existing clients. They advise clients about the products and services that fit their requirements. They are also responsible for managing the sales cycle, conducting customer surveys and customer negotiations.
Before diving into the details of crafting the job description, it's crucial to have a clear understanding of the responsibilities and expectations associated with the role of a Relationship Manager. This position involves nurturing client relationships, identifying opportunities for growth, and acting as a liaison between various departments within the company.
Job Description Outline
To ensure a well-structured job description, consider including the following headings:
Job Title
Clearly state the title as "Relationship Manager."
Job Summary
Provide a concise overview of the position, emphasizing the importance of building and maintaining client relationships.
Responsibilities and Duties
Outline the core tasks the Relationship Manager will be responsible for, such as client onboarding, conducting regular check-ins, and addressing client inquiries.
Client Relationship Management
Elaborate on how the Relationship Manager will cultivate and strengthen client relationships, enhancing customer satisfaction.
Business Development
Describe how the Relationship Manager will identify new business opportunities and work towards increasing revenue.
Collaboration with Teams
Highlight the collaborative nature of the role, as Relationship Managers often work closely with sales, marketing, and customer support teams.
Communication Skills
Emphasize the importance of effective communication in this role, both with clients and internal stakeholders.
Performance Metrics
Specify the key performance indicators (KPIs) used to evaluate the success of the Relationship Manager.
Required Qualifications
List the essential educational background, experience, and skills necessary for the role.
Preferred Qualifications
Mention any additional qualifications that would be beneficial for the position.
Company Culture
Briefly describe the company's values and culture to attract candidates who align with the organization's ethos.
Benefits and Perks
Highlight the perks and benefits the company offers to employees, creating an attractive package.
Application Process
Clearly outline the steps candidates need to follow to apply for the position.
Equal Opportunity Employer
State the company's commitment to being an equal opportunity employer.
Contact Information
Provide contact details for candidates to reach out with any inquiries or to submit their applications.
Tips for Writing the Relationship Manager Job Description
When crafting the Relationship Manager job description, follow these guidelines:
Utilize a Conversational Tone
Write in a friendly and approachable manner, using the active voice and personal pronouns. This approach will engage potential candidates and make them feel welcome.
Focus on Specificity and Context
Be specific about the role's responsibilities and how it contributes to the overall success of the company. Use real-life examples to illustrate expectations and challenges.
Highlight Benefits and Opportunities
Aside from responsibilities, emphasize the growth opportunities and rewards that come with excelling in this role. This can include career advancement, professional development programs, and performance-based incentives.
Ask Rhetorical Questions
Incorporate rhetorical questions in the job description to pique candidates' interest and encourage them to consider how they could excel in the role.
Incorporate Analogies and Metaphors
Using analogies and metaphors can help candidates visualize the role and its impact, making the job description more memorable.
Relationship Manager Job Description Template
We are seeking a relationship manager to maintain our strong relationships with our clients. You will be responsible for seeking out new business opportunities. You should be able to give efficient advice to our prospects, help them while evaluating their options, promptly solving their problems, and ensuring client satisfaction. To be successful in this role, you should be able to build long-term, positive relationships, and support clients in their decision-making process.
Relationship Manager Responsibilities:
Possessing a deep knowledge of the company's products and services.
Developing and maintaining relationships with potential and existing customers.
Finding new business opportunities.
Guiding clients in their decision-making process.
Cross-selling and upselling products to clients.
Resolving clients' complaints and issues.
Achieving sales targets.
Ensuring client satisfaction.
Relationship Manager Requirements:
Bachelor's degree in management, communication, marketing, or a related field.
Experience as a relationship manager or in customer service.
Ability to develop and maintain strong customer relationships.
Proficiency in CRM software and Microsoft office.
Great interpersonal and communication skills.
Problem-solving and conflict-resolution skills.
Team management and leadership skills.
Customer-oriented mindset.

Relationship Manager Job Description Sample
BIRAJ is looking for a motivated, results-oriented relationship manager to create and maintain strong relationships with our customers. You will also be responsible for maintaining our company's positive image in front of customers. To be successful in this role, you should be an excellent communicator, able to work with marketing and sales teams, and should be empathetic towards the client. Ultimately, you will maintain trustful relationships with our clients to boost our profits and brand in the long term.
Relationship Manager Responsibilities:
Develop and improve relationships with clients, suppliers, and partners.
Review the company's sales to ensure customers that they are getting the best value from their purchases.
Find opportunities and inform the sales team to follow up.
Educate and inform clients about the company's products and services.
Address clients' issues and complaints.
Conduct satisfaction surveys and suggest ways to improve customer satisfaction.
Work with other departments to ensure that clients' expectations are fulfilled.
Promote and maintain a positive corporate image.
Provide financial planning and investment advice.
Study and learn marketing strategies to increase the sales of the company.
Relationship Manager Requirements:
Bachelor's degree in any management field.
2+ years of experience as a relationship manager.
Problem-solving attitude.
Ability to explain complex problems clearly.
Good negotiation and sales skills.
Ability to research and analyze information.
Proven experience in using CRM and Microsoft Office.
Strong communication and presentation skills.
Ability to work well in a team.

Conclusion
Crafting an effective Relationship Manager job description is essential in attracting top talent to drive business success. By focusing on clarity, engaging language, and highlighting growth opportunities, employers can find the right individual to foster valuable client relationships.
FAQs
1. Who does a Relationship Manager work with?
A Relationship Manager collaborates with various internal departments, including sales, marketing, customer support, and finance, to ensure effective communication and coordination. Externally, they engage directly with clients, understanding their needs, providing personalized support, and identifying new business opportunities, aiming to build strong and lasting relationships with clients and potential customers. Effective communication and collaboration with both internal teams and external clients are key to a Relationship Manager's success in this role.
2. What is another title for a Relationship Manager?
Another title for a Relationship Manager is "Account Manager." The roles of a Relationship Manager and an Account Manager are often similar, focusing on managing and nurturing client relationships and ensuring client satisfaction. Both titles may be used interchangeably in various industries and organizations, but the core responsibilities remain centered around building strong connections with clients and driving business growth through effective account management.
3. What is the strength of a Relationship Manager?
The strength of a Relationship Manager lies in their exceptional interpersonal and communication skills. Relationship Managers are adept at building rapport with clients, understanding their needs, and providing personalized solutions to address their concerns. Their ability to listen actively and empathize with clients allows them to foster trust and loyalty, which are essential for maintaining long-term partnerships.
4. What performance metrics are used to evaluate a Relationship Manager's success?
The performance metrics used to evaluate a Relationship Manager's success typically revolve around key indicators related to client satisfaction, revenue growth, and overall business impact. Some common performance metrics include client retention rates, customer feedback and ratings, the number of new clients acquired, the total value of new business generated, and the successful resolution of client issues.
5. Does a Relationship Manager solely focus on existing clients?
No, a Relationship Manager does not solely focus on existing clients. While nurturing and maintaining relationships with existing clients is a vital aspect of their role, Relationship Managers also play a crucial part in identifying and pursuing new business opportunities. They actively engage with potential clients, showcasing the company's products or services, and working towards acquiring new customers. By balancing their efforts between existing clients and new prospects, Relationship Managers contribute to the company's overall growth and expansion. Their ability to attract new clients while providing exceptional support to existing ones is instrumental in driving business success and building a robust client base.