Accountant Job Description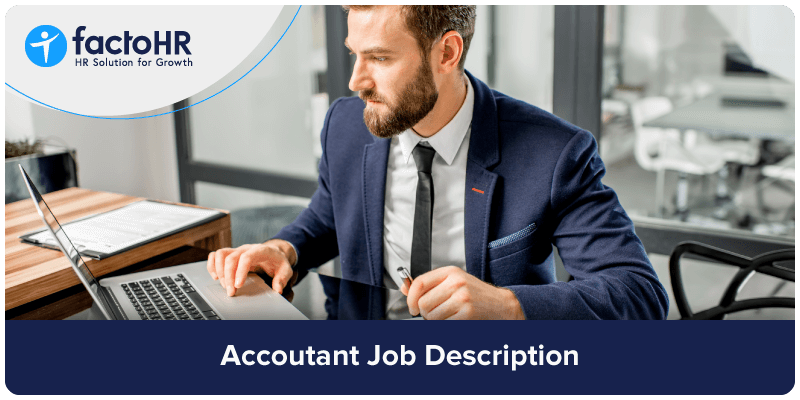 Download Accountant Job Description Word Format For Free
Table of Contents
---
Accountants help businesses make crucial financial decisions by collecting, tracking, and analyzing the financial information of the organization. They are responsible for making financial audits, reconciling bank statements, and ensuring that financial records are accurate throughout the year.
Accountant Job Description Template
We are looking for a trustworthy accountant to manage all our financial transactions, from fixed and variable expenses to budgets and bank deposits. They are expected to work with huge amounts of numerical data, manage multiple tasks with deadlines, and provide complete reports to the management. You should have a good grip on accounting, financial regulations, strong computer skills, and written communication skills.
To ensure success, Accountants should be prompt, professional, detail-oriented, and analytical. One must skill that the candidate should have is presentation skills with the ability to easily communicate complex quantitative data to the decision-makers.
Accountant Responsibilities
Complying with the company, state, and country's accounting and financial regulations.
Compiling, analyzing, and reporting financial data.
Creating financial reports like profit and loss statements and balance sheets, etc.
Presenting data to investors, managers, and other entities.
Maintaining accurate financial reports.
Performing audits and solving errors.
Computing taxes.
Being updated about changes related to finance and accounting.
Helping management in decision-making.
Accountant Requirements
Bachelor's degree in accounting or related field.
Experience in accounting.
Strong communication, analytical, and computer skills.
Understanding of maths, financial, and accounting processes.
Detail-oriented.
Ethical behavior.

Accountant Job Description Sample
About the Role
PLM is looking for a dynamic financial accountant to join its accounting and finance team.  Compensation will be decided upon candidate's skills and experience. Only qualified candidates with relevant skills and experience will be considered. The candidate will need to pass a technical test to qualify for the position. This is a full-time contract position for our main office located at west malad, Mumbai.
Account Requirements
Bachelor's or Master's in Accounting or Finance.
2+ years of experience as a professional accountant.
Experience of using accounting software.
Knowledge of Indian accounting practices and taxation laws
Proficiency with computers and MS Office ( Word, Excel, PowerPoint) 
Strong written and verbal communication skills.
High level of accuracy, efficiency, honesty, and responsibility. 
Motivation and a strong desire to take on new challenges and learn as much as possible.
Accountant Responsibilities
Preparing accounting entries and reconciling general ledgers.
Providing detailed analysis and explanation of transactions .
Working with the company's accounts payable functions – maintaining invoice payment, ensuring accuracy and timeliness of payments and managing vendor contracts.
Preparing monthly financial and various detailed reports.
Being familiar with Indian companies' laws and be able to research and interpret new laws.
Be able to communicate and work with Indian authorities (like IT department, GST Department, etc.) for company-related work
Work with company CA for compliance-related activities, including but not limited to financial documentation
Facilitate all statutory audits for the company 
Take on additional tasks or projects to learn more about accounting and office operations

FAQs
1. What does an Accountant do?
An accountant handles all financial matters of the company, like preparing and maintaining financial records. They take responsibilities for calculating payroll and reconciling bank statements to keep their company in a strong financial position.
2. Who does an Accountant work with?
Accountants mostly work with managers to ensure the quality of their financial records. Accountants may also work with individual team leaders to collect information and audit financial records throughout the year.
3. What Makes the Accountant a Good one?
A good accountant is not someone who just has the financial skills, but they are someone who also good at communication and human relations. These skills are necessary as the accountant has to present detailed information in an easy-to-understand manner.