Account Manager Job Description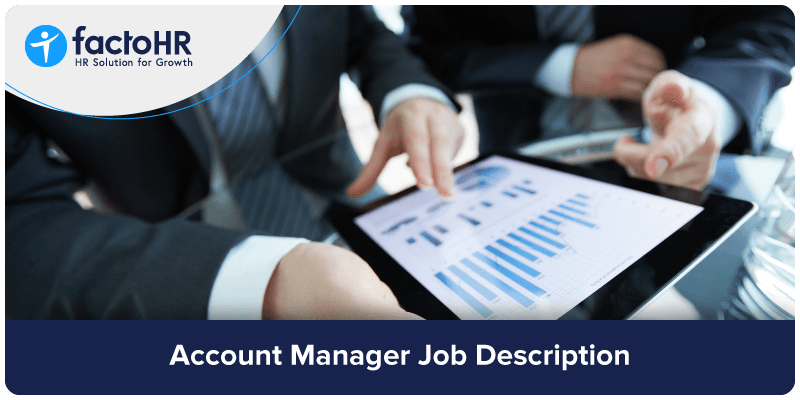 An account manager acts as the client's advocate and works with other internal departments to ensure that the client's requirements are well understood and fulfilled. They may help with gathering and analyzing data, handling client complaints, making sales, and improving the overall customer experience.
Account Manager Job Description Template
We are looking for an account manager who is passionate and proactive about our company's product and the clients they serve. They will be responsible for building mutually beneficial, long-lasting relationships with their clients, as well as finding the products that fit the client's needs. They will help internal departments by collecting essential information like testimonials or sales leads.
To be successful in this role, candidates must have exceptional problem-solving, computer, and communication skills. They should be organized, resourceful, analytical, and adaptable to work closely with clients.
Account Manager Responsibilities:
Serving as a link between our company and clients to handle their account's related work.
Communicating with the clients to understand their needs and explain product values.
Developing relations with clients based on respect and trust.
Collaborating with internal departments to fulfill clients' needs.
Possessing updated knowledge of the company's products and services.
Solving clients' complaints and improving processes to prevent additional issues.
Identifying current market trends.
Improving customer experience.
Account Manager Requirements:
Bachelor's degree in finance, sales, communication, or a similar field.
Exceptional written and verbal communication skills.
Strong problem-solving and adaptability skills.
Proven ability to juggle multiple account management projects at a time.
Excellent negotiation, listening, and presentation skills.
Accurate and extensive product knowledge.
Deep understanding of market trends and consumer behavior.
Ability to collaborate with others within the company and externally.

Account Manager Job Description Sample
At NTO Tech, client satisfaction is our top priority. We're looking for a dedicated account manager to maintain client accounts and serve as our main point of contact. The ideal candidate will have a passion for helping others and a drive to provide exceptional customer service. Candidates should also be proficient with audits, spreadsheets, and other productivity software. Apply today and help us build meaningful, long-lasting relationships that move our business forward.
Account Manager Responsibilities:
Develop long-term relationships with clients and customers to advise them throughout their customer lifecycle.
Analyze market trends, sales, and changes in the business to provide recommendations for improvement.
Maintain and increase sales by identifying new opportunities.
Coordinate with other teams to make strategic plans and campaigns for clients.
Resolve clients' queries and complaints.
Make accurate and updated notes of clients' accounts.
Collect and analyze consumer data.
Manage and guide the internal team.
Account Manager Requirements:
Bachelor's degree in sales, finance, management, or any other related field.
3+ years of experience as an account manager.
Knowledge of using CRM software and MS office.
Ability to manage multiple projects simultaneously.
Excellent verbal and written communication skills.
Strong problem-solving and adaptability skills.
Exceptional analytical and conceptual thinking skills.
Ability to work closely with stakeholders to figure out solutions.

FAQs
1. What does an Account Manager do?
An account manager works closely with clients to address their queries. Their daily tasks include managing routine issues as well as handling complicated issues on clients' behalf.
2. Who does an Account Manager work with?
An account manager mostly works with sales representatives and clients to ensure that both parties expectations are met.
3. What is the Best way to Find an Account Manager?
Online job platforms are the best place to find qualified account manager applicants. You can reach multiple applicants there without any limitation of place and time.