Sales Executive Job Description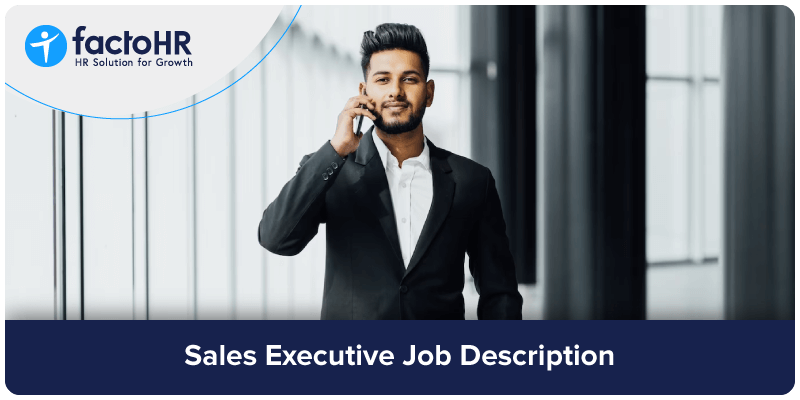 Table of Contents
---
Sales executive is a professional who drives the sales of a company's products or services as per the goals set. They work in assistance with the sales manager and sales associate. Sales executives actively seek new prospects and lead, then convert them into customers or users.
Sales Executive Job Description Template
We are looking for an enthusiastic and passionate sales executive willing to join our sales team. They will be responsible for generating leads, keeping the CRM data updated, taking sales calls, and achieving the sales target.
As a sales executive, you should be enthusiastic and self motivated, who is capable of driving sales growth. Eventually, you should be able to build a relationship with potential clients and close sales.
Sales Executive Role and Responsibilities:
Developing sales strategies and setting up goals.
Generating leads and reaching out to prospects.
Contacting customers and potential customers over calls, emails, and even in person.
Handling and resolving client queries and complaints.
Preparing, and drafting proposals and quotes.
Carrying on the sales process using the particular sales software.
Creating and maintaining customer relationship management data.
Achieving daily, weekly and monthly sales targets.
Taking part in team meetings.
Sales Executive Requirements:
Graduation / Diploma in business management or relevant field
At Least 1 year of experience in sales
Exceptional sales and customer service skills
Brilliant presentation skills
Skilled at negotiation and problem-solving
Strong communicator, both verbal and written
Experience and proficiency in CRM, Microsoft office and sales software

Sales Executive Job Description Sample
Here is an example of sales executive job description
BJB Technologies is looking for an enthusiastic sales executive. You are expected to coordinate with the marketing department to generate leads, forecast sales, and establish sales goals. You also need to prepare budgets and presentations and coordinate training programs for members of the sales team as per the need.
Growth Opportunities:
Opportunities to Senior Sales Positions
Sales executives often advance to more senior positions within our organisation. You need to adapt expertise and abilities normally needed to advance in roles like Sales Manager, Sales Director, or even Vice President of Sales.
Evolving into New Business Roles
Knowledge and abilities acquired as a sales executive can be used for positions in businesses other than those in the sales department. Positions in marketing, business development, customer success, or even operations may fall under this category.
Possibilities for continuous Learning
The chances for continual learning and professional development in the sales industry are high. A sales executive can consistently improve their abilities and keep on top of industry trends by participating in internal training programmes, outside courses, professional certifications, and networking events.
Sales Executive Responsibilities:
Establishing sales objectives and goals for the team and individual employees
Preparing monthly sales reports and presenting to managers
Managing team reviews and creating reward program
Reaching out the prospects and conducting team meetings
Achieving the monthly targets
Ensuring high-performance standards
Sales Executive Requirements:
Bachelor's degree in related field/masters in related field
Candidate must have two to three years of relevant experience
Experienced in forming sales strategies
Strong verbal and written communication skills
Excellent customer relationship management

Tips on Creating an Effective Job Description for Sales Executive
Here are some tips on creating an effective job description for a Sales Executive:
1. Clear Job Title
Start with a clear, concise job title. "Sales Executive" is straightforward title and indicates exactly what the job entails. Avoid fancy titles that might confuse applicants about the role.
2. Accurate Summary
Give a general description of the position, outlining its goals, contribution to the company's objectives, and role within the organisational structure. This offers potential employees a sense of what they are going to do and the significance of their work.
3. Detailed Responsibilities
Describe the role's responsibilities in detail. This could involve finding new business possibilities, keeping up relationships with current clients, and managing development initiatives . While providing complete information, be specific and try to keep it concise.
4. Essential Skills and Qualifications
List the necessary skills and qualifications needed for the job. This might include excellent communication and negotiation skills, a degree in business or a related field, and experience in sales. Also, include any preferred skills or qualifications that would be advantageous for the role.
5. Career Path
Describe a potential path for this role's growth as a professional. By this, applicants will get an idea of their potential for growth inside your company.
6. Salary Range
If possible, include a salary range for the position. This will ensure that the applicants have realistic expectations about compensation.
7. Application Process
Finally, explain the application process in detail. Give details about the application process, the required paperwork, and any deadlines. Make the procedure as easy to understand and straightforward as you can.
FAQs
1. What makes a sales executive better?
The traits of a good sales executive are optimism, a sense of responsibility, and empathy. The most important trait is empathy as they should identify the needs of the customers and help them out with the challenges that they are wanting to solve.
2. With whom does a sales executive work?
A sales executive has to work with various employees internally such as sales associates and sales managers. Depending on the hierarchy that the company follows they have to report to the senior sales managers or the vice president of sales.
3. What are the most common sales executive performance metrics?
The most popular KPIs, such as sales volume, conversion rates, and client acquisition costs are used to assess the performance of a sales executive.
4. Do a Sales Executive need to have an understanding of a particular industry?
It is crucial for sales executives to be familiar with the industry they are selling to in order to succeed in a sales role.
5. What interpersonal skills are most important for a sales executive?
This covers non-technical, interpersonal abilities like empathy, active listening, and persuasive communication that are crucial in a sales career.