Technical Recruiter Job Description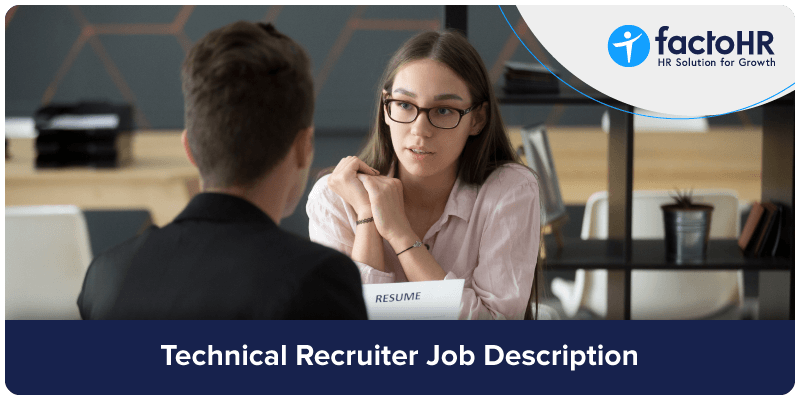 A technical recruiter is a professional who is responsible for sourcing and hiring IT professionals and filling out technical positions. They have to work to fill out open positions, conduct interviews, and keep all records of the applicant.
Technical Recruiter Job Description Template
We are looking for a technical recruiter who is capable of meeting deadlines. They will be responsible for gathering sources, screening, interviewing, and hiring IT professionals. From writing job descriptions and offering job roles to the most suitable candidate, you will be responsible for all aspects of hiring. To be successful at technical recruitment, you need to have extensive knowledge of technical roles and skills
Technical Recruiter's Role and Responsibility
Identifying the job openings by communicating with the hiring managers and understanding the technical requirements
Creating job descriptions and then posting them on various social media platforms
Screening the applicants based on competency and job requirements
Arranging and conducting telephonic or in-person interviews
Making background and reference checks
Completing all the important paperwork and offering job positions
keeping track of all applicants and informing them about the application process
Estimating the budgets for recruitment
Technical Recruiter Requirements
A bachelor's degree or masters in human resource
Good understanding of technologies and skills related to it
Prior experience in recruitment processes and platforms
Excellent interpersonal and decision-making skills

Technical Recruiter Job Description Sample
We at MNT Ltd. are looking for a technical recruiter to join our HR department and grow our IT teams. They will be responsible for sourcing, screening, and shortlisting qualified candidates for different IT roles. You also need to create a network with potential candidates to promote our employer brand and reduce the hiring time to ensure that we attract the best professionals. Eventually, you have to build a talent pipeline and help us retain skillful employees.
Responsibilities
Creating and posting job descriptions
Sourcing potential candidates through various platforms
Conducting pre-screening calls for analyzing applicants' abilities
Conducting interviews through various methods
Coordinating with team leads to forecast departments' hiring needs
Sending personalized recruiting emails for current job openings
Participating in tech conferences and meeting up for networking with IT professionals
Composing job offer letters
Onboarding new hires
Conducting job and task analyses for documenting job duties and requirements
Requirements
Having a degree in human resource management or relevant field
Having prior experience in technical recruitment
Experienced with different interview format
Technically expert that has the ability to understand and explain the job requirements
Having familiarity with applicant tracking systems
Exceptional verbal and written communication skills
Understanding of HR practices and labor laws

Frequently Asked Questions
What are the skills that a technical recruiter must have?
Some of the skills that a technical recruiter requires are:
Excellent written and verbal communication
Negotiation skills
Analyzing skills
Interpersonal skills
Organizational skills
Critical thinking skills
What does an IT recruiter do?
Generally, IT recruiters have to find, screen, conduct interviews, and hire candidates for the IT role. All big to small companies have IT recruiters for hiring various IT professionals.