Telecaller Job Description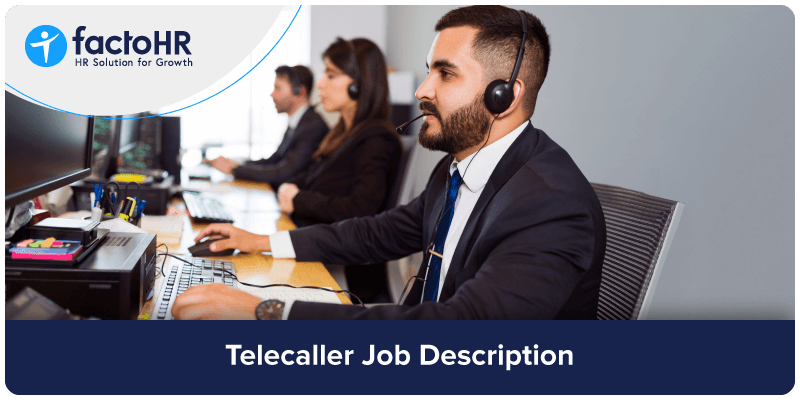 Download Telecaller Job Description Word Format For Free
Table of Contents
---
Telecallers have to initiate a telephonic connection with existing and potential clients to generate sales. They are ideally excellent at verbal communication and passionate about customer service. Job profiles may vary, but they typically have to take up inbound marketing calls and provide outstanding customer support.
Telecaller Job Description Template
​We are looking for an enthusiastic and engaged telecaller to boost our sales by reaching out to our current and potential clients. For this, you need to obtain the list of individual information and source the data for additional members from the targeted audience.
​To be a successful telecaller, you need to have the capability to convince even the toughest of individuals to purchase our offerings. Even they need to suggest ways in which client feedback can be utilized to improve the product or services.
Telecaller Role and Responsibility
Knowing all the details of the product or service offerings.
Regularly updating and obtaining the lists of individual contact details.
Meet and exceed sales target set by the organization.
Stay updated with market trends to better serve customers.
Identify customer needs and provide solutions through the company's products and services
Build and maintain positive relationships with future prospects.
Bringing clarification to the progress and performance-related expectations by conducting regular meetings.
Conducting each function with the utmost respect, regardless of the behavior of the other.
Keep record of every customer interaction and sales activities.
Telecaller Requirements
Graduation or equivalent
Priorly experience working as a telecaller or in a similar role
Having done a sales-related training program
Knowledgeable with computers
Having exposure to cultural norms and diverse viewpoints
Ability to change the communication style on unusual events
Excellent interpersonal, research, and record-keeping skills
Having the capability to receive critics without internalizing them

Telecaller Job Description Sample
We at FinoX are looking for a telecaller for contributing to the sales of our company. You will be responsible for maintaining good customer relationships and closing the sales deal over calls. A successful telecaller representative must be excellent at communication and must have superior people skills. They should also be comfortable and agreeable to represent the product or services over calls and resolve clients' complaints and queries. In this role, you have to contribute to the company's growth by bringing in customers.
Responsibilities
Contacting current and potential clients to inform them regarding the product and service.
Answering all queries and questions regarding the company and product.
Understanding customers' requirements by asking questions and closing the deal.
Keeping the customer database maintained and updated.
Taking and processing orders accurately.
Preserve the company's reputation by handling grievances.
Facilitating companies' sales by going the extra mile and meeting a sales quota.
Keeping a record of all the sales calls and notes of useful information.
Requirements
1+ years of experience as a telecaller or any similar role.
Proven track record of successfully achieving the sales quota.
Knowledge of computer programs like CRM and telephone systems.
Efficient with English.
Excellent interpersonal and communication skills.
Excellent negotiation skills and the ability to resolve issues.
Having done B.Sc/BA will be an advantage.

Frequently Asked Questions
What does a telecaller do?
A telecaller is one who makes outbound calls to inform or promote the company's product or service. They are responsible for carrying out, and handling the sales deals entirely over the phone.
What are the skills required to become a successful telecaller?
Skills a telecaller should have to become successful are excellent communication skills, typing skills, technical proficiency, problem-solving skills, persuasiveness, patience, and persistence.