Operations Manager Job Description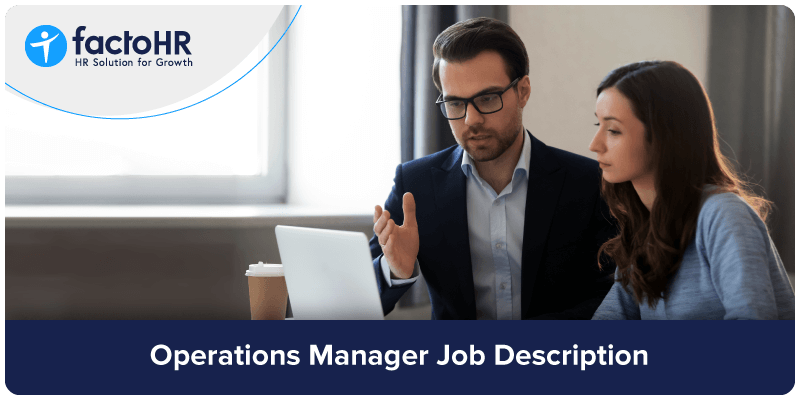 An operations manager is solely responsible for the day-to-day operations of the organization. They analyze and improve organizational processes to enhance their organization's efficiency, productivity, and quality.
Operations Manager Job Description Template
As our company is planning for an expansion, we are looking for an operations manager to join our leadership team. You will be in charge of providing leadership for the operation of one of our organization's main departments, which also includes making operational decisions. You will also be helping our HR department with recruiting and assisting them to promote a company culture that enhances employees' morale and productivity.
Operations Manager Responsibilities:
Make Important plans, policies, and strategic decisions.
Create, Implement, and review operational processes.
Provide encouraging leadership for the organization.
Help the human resource department with recruitment whenever required.
Monitor planning, budgeting, reporting, and auditing.
Work closely with senior stakeholders.
Ensure all regulated and legal documents are submitted and oversee compliance with laws and regulations.
Work with directors to determine missions and values.
Plan with directors for both short and long-term plans.
Find and resolve problems for the organization.
Identify opportunities and act to take advantage of them.
Build partnerships and alliances with other organizations.
Support the management team to increase employee communication.
Operations Manager Requirements:
Bachelor's or Master's degree in operations management, or a similar field.
Prior Experience in operations, management, and leadership.
Understanding of finance and budgeting.
Ability to build relationships among employees, managers, and partners.
Great communication skills.
Critical thinking and problem-solving skills.
Ability to do negotiations and tolerate stress.

Operations Manager Job Description Sample
Looking for a new opportunity to make the use of your organizational skills? KOIP Technologies is looking for an experienced operations manager to take charge of their daily processes, inspire productivity and improve efficiency across the business. If you're passionate about taking leadership to maximize performance, we'd love to hear from you.
Operations Manager Responsibilities:
Manage day-to-day operations of the business.
Improve the efficiency of existing processes in a cost-effective way.
Work with the leadership team to align with business direction, and objectives.
Plan, implement, and support strategic decisions and policies of the business.
Build and maintain a strong team and company culture.
Manage and enhance employee productivity and quality output.
Support HR with hiring, onboarding, and catering employee satisfaction.
Effectively communicate with employees on operational updates.
Reach customers to streamline communication and processes.
Improve the efficiency of support services.
Ensure legal protocols and business compliance.
Operations Manager Requirements:
Bachelor's degree in business, operations management, or any related field.
2+ years' experience in operations.
Excellent organizational skills.
Prior experience in finance and budgeting.
Strong leadership and delegation skills.
Great communication skills, including negotiation.
Proficient IT skills

FAQs
1. What does an Operations Manager do?
An operations manager manages operational activities at every level of the organization. Their main duties are hiring, training employees, and maintaining quality assurance programs. They also make strategies to improve the processes to ensure that everyone is completing their tasks on time.
2. What are the Different Types of Operations Managers?
There are many types of operations managers because each industry has different operational policies and processes, some of the common types of operations managers are:
Business operations manager
Finance operations manager
IT operations manager
Marketing operations manager
Hotel operations manager