Operations Executive Job Description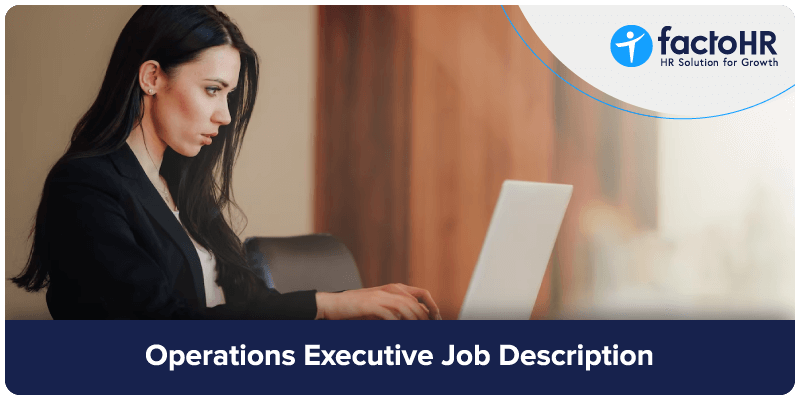 Download Operations Executive Job Description Word Format For Free
Table of Contents
---
An operations executive is a professional who looks after the day-to-day operations of an organization. They play a key role in organizations and oversee various tasks of the company. Often, operations executives are responsible for bringing betterment in productivity and efficiency by implementing effective organizational procedures.
Roles and Responsibilities of Operations Executive
Operations executive's role for the company is to ensure daily operations run smoothly. They are responsible for looking after the various aspects of operations like production, quality control, logistics and employee management. Below are some of the general responsibilities of an Operations Executive.
The primary role of an Operations Executive is reviewing existing processes, identifying inefficiencies and suggesting improvements to manage and optimize company's processes.
They must ensure the products or services meet quality standards. This may involve setting quality criteria, monitoring outputs, and conducting audits.
Operations Executives are often responsible for managing resources to ensure that they are used efficiently to meet production targets. It also includes manpower, materials, and time management.
They oversee inventory levels to ensure that there's enough stock to meet demand but not so much that resources are wasted. This often involves liaising with suppliers and managing procurement processes.
They oversee the logistics and supply chain involves coordinating with various departments and external vendors to ensure timely delivery of products or services.
Operations Executives often manage a team, which involves tasks like scheduling tasks, assigning responsibilities, and performance evaluation.
They must ensure that the company is in compliance with industry regulations and standards This involves keeping updated with laws and regulations that affect the company's operations and ensuring the staff training accordingly.
They often have a role in budget preparation and oversight, ensuring that operations are conducted within the financial constraints of the organization.
Analyzing operational data to identify trends, inefficiencies, and opportunities for improvement is often part of the role. They may also be responsible for reporting these findings to senior management.
In many organizations, Operations Executives are involved in customer services excellence to ensure that the products and services offered by the organization are customer friendly and the complaints from customers are resolved effectively.
They may also be responsible for selecting and managing relationships with external vendors and suppliers, ensuring that they meet contractual obligations and quality standards.
Operations Executive are responsible for crisis management efforts in case of the unexpected issues like global pandemic or any disruptions, thus, helping to develop and implement.
Operations Executives must enhance the productivity of the company by installing advance technologies or systems.
They often oversee the training and development of staff, ensuring that employees have the necessary skills and knowledge to perform their roles effectively.

Skills Required for Operations Executive
The skills may vary depending on the specific industry, company size, and job description, but these are generally the key skills that an Operations Executive should possess.
Technical Skills
Process Management is one of the main skills which involves assessing, developing, and implementing efficient operational processes to drive productivity and effectiveness. Coupled with this is the ability for Data Analysis where interpreting data is crucial for making informed decisions and often requires proficiency in software tools to analyze key performance metrics. Financial planning is another vital aspect, encompassing Budgeting and Financial Management skills. Understanding financial statements and budgeting techniques is critical for managing operations within set financial constraints. In sectors like manufacturing and retail, Inventory Management becomes particularly important, requiring skills in inventory control and supply chain management to ensure smooth operations. Lastly, Quality Assurance is often a significant focus, especially in industries where compliance and quality are paramount. Familiarity with quality control processes and relevant certifications can be a major advantage.
Managerial Skills
The capability to effectively lead a team is a cornerstone of managerial skill, encompassing more than just task delegation. It also involves skillfully resolving conflicts and assessing team performance, making leadership a critical competency. Creating and executing operational plans that aligns with the company's goals and objectives involves a proper strategic planning which is closely linked with managing the team. Apart from this, another essential skill set is vendor management where the executive ensures the contract with suppliers, distributors and other external parties. Given the demanding nature of the role, exceptional time management abilities are also a must-have.
Soft Skills
In the dynamic world of operations, adaptability is paramount. The operational landscape is ever-evolving, demanding an innate ability to navigate new situations and challenges with agility. Equally critical is a meticulous attention to detail; even minor oversights can lead to significant operational disruptions. An Operations Executive must also possess exemplary interpersonal skills, fostering strong relationships with both team members and external collaborators. This role often necessitates swift and decisive action, especially when under pressure, highlighting the importance of robust decision-making capabilities. Moreover, a customer-centric approach is indispensable. Recognizing and addressing customer needs is often at the heart of operational success, underscoring the multifaceted nature of the role.

Operations Executive Job Description Template
While posting a job description, it should clearly state the information like candidate's role, department, reporting structure, and location. For example, we are seeking a highly motivated and experienced Operations Executive to join our team. The Operations Executive will play a critical role in overseeing daily operations, improving performance, and driving organizational growth. This position will work closely with senior leadership to develop and implement operational policies and strategies that align with the company's overall objectives.
Operations Executive Role and Responsibility
Communicating with executives and upper management regularly
Collaborating with executives and creating operational policies and procedures
Overlooking the daily functions of the business
Creating short and long-term operational goals
Suggesting improvements needed in different operations
Maintaining a healthy relationship with suppliers and stakeholders
Making sure the compliance with laws and regulations
Operations Executive Requirements
Having a bachelor's degree in business administration or a related field
Prior experience working in a managerial role
Certification related to the role will be an advantage
Excellent communication and leadership skills
Having experience with monitoring expenses and preparing reports

Operations Executive Job Description Sample
We at ZMT Ltd. are looking for operations executives to improve the efficiency of our business. Duties of this role will include daily reporting to the CEO and making new company policies. To succeed in this role, you must have exceptional operational competency and managerial skills.
Role and Responsibility
Daily reporting to CEO regarding the company processes
Making new company policies and ensuring compliance
Upgrading business functionality by aligning the business objectives
Handling projects and making product innovation
Evaluating costs and maintaining profit margins
Increasing productivity levels by implementing improved procedures
Analyzing operational data and maintaining product inventory
Monitoring whether the policies and procedures are followed throughout the company
Overlooking HR departments policies and performance review
Making sure that the relationship with the client, suppliers, and vendors stays positive
Requirements
A bachelor's degree in operations management, project management, and strategic management
Having a master's degree in a relevant field
Prior experience in operations management or a similar role
Knowledgeable in strategic planning and project management
Excellent communication and leadership skills
Having the ability to bring efficiency to business operations
Having experience in preparing financial reports
Framing human resource policies and monitoring whether they are followed or not

Frequently Asked Questions
1. What Qualifications Should an Operations Executive Have?
An Operations Executive should ideally possess qualifications such as bachelor's degree in Business Administration, Operations Management, or a closely related field is generally considered essential. Certain organisations may look for the candidates with a master's degree in Business Administration (MBA) or a specialized master's degree in Operations or Supply Chain Management or any industry-specific certifications which can be beneficial for a detailed understanding of business intricacies. Apart from that, experience of minimum 5-10 years is highly valued.
2. What Career Growth can I Expect as an Operations Executive?
If you start your carrer as an Operations Executive, the next thing you become is an Operations Manager. This role often involves greater responsibility, including overseeing larger teams or multiple departments. Apart from this, you may also become a supply chain director or a head of operations in any company. Generally, it depends on the company's size and requirements. The highest achieved position in this career is often the job of Chief Operating Officer (COO) which involves working closely with the CEO to shape the company's overall strategy and direction.
3. Is Operations Executive Superior Than Operations Manager ?
The term Operations Executive and Operations Manager often serve distinct roles but has complementary functions. An Operations Executive mainly focuses on long-term, strategic planning aimed at enhancing overall organizational effectiveness which involves high-level decision-making that impacts the entire company. They usually works with other higher executives like the CEO, CFO, and CTO and ensure adjustment between operational and organizational objectives. On the other hand, an Operations Manager generally looks for day-to-day activities and short-term goals of the business. They are responsible for implementing the strategies set by executives and have a hands-on role in managing teams. They resolve immediate issues, and ensure smooth daily operations. Unlike Operations Executives, who may have a company-wide purview, Operations Managers usually focus on supervising specific departments or functional areas within the organization.
4. How Detailed Should the Job Description be?
Job description should be comprehensive to clearly outline employees' responsibilities, qualifications and experience but concise enough for candidates to easily understand whether they are suitable for the role.
5. Can an Operations Executive Work Remotely?
It depends on the type of the role offered by any company and what are their operational requirements. Some operations might require a physical presence which other can be managed remotely.