Operations Executive Job Description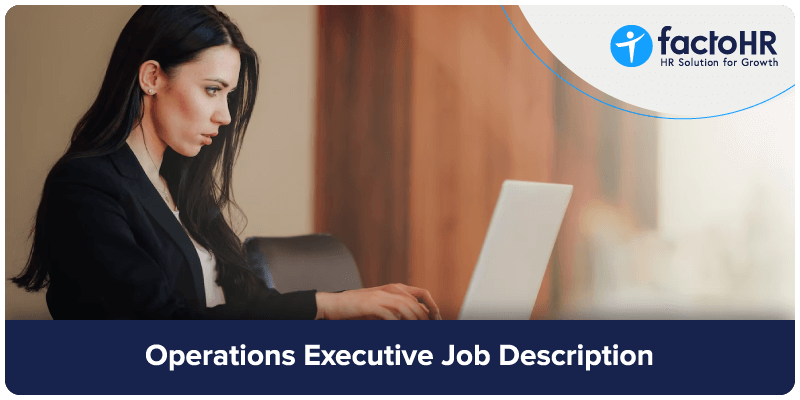 An operations executive is a professional who looks after the day-to-day operations of an organization. They play a key role in organizations and oversee various tasks of the company. Often, operations executives are responsible for bringing betterment in productivity and efficiency by implementing effective organizational procedures.
Operations Executive Job Description Template
The operations executive will be responsible for overlooking the day-to-day operations of the company. They have to work on projects related to production, sales, marketing, and all other areas in which the business operates. Their tasks also involve ensuring that the operations are carried on smoothly and efficiently to meet the organizational goals and objectives.
Operations Executive Role and Responsibility
Communicating with executives and upper management regularly
Collaborating with executives and creating operational policies and procedures
Overlooking the daily functions of the business
Creating short and long-term operational goals
Suggesting improvements needed in different operations
Maintaining a healthy relationship with suppliers and stakeholders
Making sure the compliance with laws and regulations
Operations Executive Requirements
Having a bachelor's degree in business administration or a related field
Prior experience working in a managerial role
Certification related to the role will be an advantage
Excellent communication and leadership skills
Having experience with monitoring expenses and preparing reports

Operations Executive Job Description Sample
We at ZMT Ltd. are looking for operations executives to improve the efficiency of our business. Duties of this role will include daily reporting to the CEO and making new company policies. To succeed in this role, you must have exceptional operational competency and managerial skills.
Role and Responsibility
Daily reporting to CEO regarding the company processes
Making new company policies and ensuring compliance
Upgrading business functionality by aligning the business objectives
Handling projects and making product innovation
Evaluating costs and maintaining profit margins
Increasing productivity levels by implementing improved procedures
Analyzing operational data and maintaining product inventory
Monitoring whether the policies and procedures are followed throughout the company
Overlooking HR departments policies and performance review
Making sure that the relationship with the client, suppliers, and vendors stays positive
Requirements
A bachelor's degree in operations management, project management, and strategic management
Having a master's degree in a relevant field
Prior experience in operations management or a similar role
Knowledgeable in strategic planning and project management
Excellent communication and leadership skills
Having the ability to bring efficiency to business operations
Having experience in preparing financial reports
Framing human resource policies and monitoring whether they are followed or not

Frequently Asked Questions
What does an operations executive do?
They are responsible for the day-to-day operations of the company like communicating with upper management, developing strategic goals, estimating budgets, and delegating tasks.
What are common skills required in an operations executive?
Some of the common skills that are required for operations executives are project management, flexibility, finance knowledge, and risk management.