Executive Assistant Job Description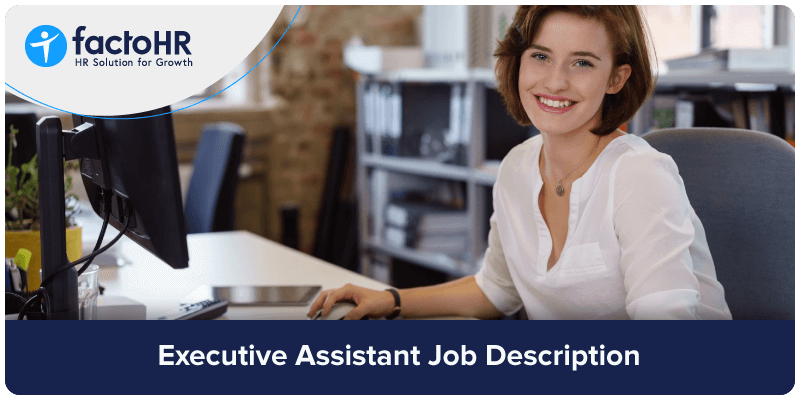 Download Executive Assistant Job Description Word Format For Free
Table of Contents
---
An executive assistant is a professional that handles and manages the communication and schedules of companies' key executives. They set priority for their phone calls, and emails, along with arranging meetings and business events. They help the executives to set their schedules for each working day, answer their calls and perform all other administrative tasks so that executives can perform their job well.
Executive Assistant Job Description Template
We are looking for an Executive Assistant to perform all the administrative tasks and assist our senior-level executives. Some of the responsibilities they have to perform are managing schedules, travel arrangements, and making expense reports. To be successful in this job, you must have excellent time management skills and should be able to take action without anyone's guidance. Eventually, you have to contribute to increase the efficiency of our business by providing personalized support to our executive members.
Executive Assistant Role and Responsibilities
Act as an executive's point of contact for employees, clients, and all external parties.
Handle the information flow in a timely and accurate manner.
Handling executive calendar and setting up meetings.
Making travel and accommodation arrangements.
Structuring daily expenses and preparing weekly, quarterly, and monthly reports.
Overlooking the performance of other clerical staff.
Acting as an office manager and keeping up with office inventory.
Creating format for emails, presentations, and reports.
Noting down the important points discussed in the meeting.
Organizing and maintaining the organization's filing system.
Executive Assistant Requirements
Prior experience working as an executive assistant, personal assistant, or any similar role.
Excellent knowledge of MS office.
Organizing and time management skills.
Having used different office applications and gadgets.
Outstanding verbal and written communication skills.
Graduate or any relevant degree.
Certification or a PG diploma is an advantage.

Executive Assistant Job Description Sample
We at MTA Tech are looking for an executive assistant to provide support to our executive team. You will be responsible for creating various reports, making travel and accommodation arrangements, taking notes, and performing other organizational tasks. To be successful in this role, you must have extensive knowledge of MS office, be a fast problem solver, and have experience as an assistant or administrator in the past.
Responsibilities
Preparing different documents, reports, financial statements, and invoices.
Receiving the calls and routing that calls and messages to the correct person.
Performing basic bookkeeping tasks.
Recording and filing documents and records.
Conducting research to make presentations for board of directors and executives.
Help executives in preparing for meetings.
Accurately recording the notes of the meeting.
Welcoming and greeting the visitors and deciding whether they will meet the executives or not.
Performing various office duties like ordering office supplies and inventory.
Arranging travel and accommodation for executives.
Requirements
Experienced as an assistant, virtual assistant, or any other similar role
In-depth knowledge of MS office suite
Graduate or diploma
Having the ability to manage work priorities
Adjustable in a fast-changing environment
Proactive enough to solve problems and make strong decisions
Professional at written and verbal communication.

Frequently Asked Questions
What does an Executive Assistant do?
An executive assistant generally works for the executive members of the company. They make their daily schedules, arrange meetings, answer calls and emails and assist them with various tasks.
What makes a good Executive Assistant?
A good executive assistant will be proactive, innovative, and resourceful enough to assist and support the executives of the organization. They must be able to make correct decisions even if under pressure, and also effectively able to communicate all the information with superiors, and clients.
Who does an Executive Assistant work with?
An executive assistant has to generally work and coordinate with people in various departments and work one-on-one with the executives and CEOs.