Admin Executive Job Description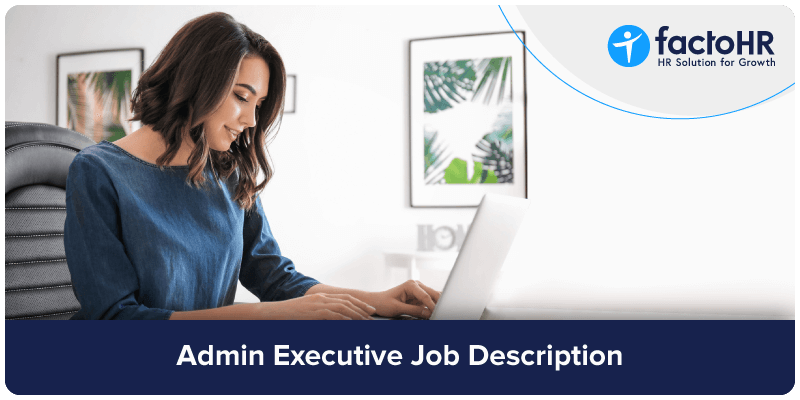 Many individuals play an important role in a successful running business, and admin executives are one of them. Admin executives are responsible for ensuring daily tasks are being planned, scheduled, and executed efficiently. Providing assistance to every department of the organization is also a part of their role. Here, we provide a detailed template for job description of an admin executive (JD). You can download it and use it as it is or customize it as per your requirement.
Admin Executive Job Description Template
We are looking for someone who can fit in the role of admin executive. The ideal candidates are the ones who can fulfill all the roles and responsibilities as well as match the eligibility criteria. Eventually, providing support in every workplace administration activity on a regular basis. They will be accountable for office management, helping improve company procedures, and ensuring the smooth running of regular activities.
Admin Executive Roles and Responsibilities
To create the perfect admin executive job description, start by making a detailed list of essential responsibilities, qualifications and all the expectations for a potential candidate. The most common responsibilities of an admin executive position include:
Providing assistance to the HR team in recruitment and onboarding.
Providing support in ABS-wide (asset-backed securities) projects.
Managing calendar as well as associated operations. Other tasks such as booking conference halls as well as audiovisual equipment, preparing documentation, etc.
Organizing and scheduling complicated monthly and annual operations, such as agendas, meetings, logistics, luncheon arrangements, and travel plans.
Handling management of major staff meetings and annual events of the organization.
Providing backup assistance to lead the executive administrative assistant team.
Serving as a lead administrator for central services.
Performing clerical and admin tasks such as receiving calls, arranging appointments and ordering workplace supplies.

Admin Executive Requirements
A relevant bachelor's degree in business, education, management, office administration, or communication
Proven experience in office management
Strong knowledge of MS Office and basic computer skills
Experience in preparing cash flow statements, budgeting and expense control
Proficient in health and safety regulations
Excellent verbal and written communication skills, and the ability to present ideas clearly
Admin Executive Job Description Sample
Sample
Our company is successfully growing, and the need for skilled employees has been increasing so far. Currently, we have an open position for an admin executive role. We are searching for a person with some necessary skills who can fit in all the role's criteria. You can review all the requirements and see whether this role is suitable for you.
Roles and Responsibilities
Organize team events
Detail-oriented and capable to prioritize various assignments
Should be able to maintain calendars for multiple executives in the organization
Coordinate with other Executive Assistants (EAs) when scheduling meetings
Manage general departmental administrative activities
Handle printing and collating work
Support and cross-train other EAs
Provide leadership support
Handle phone calls and convey important messages on time, every time.
Maintain confidentiality with crucial data of the organization
Provide support to new recruits with facilities and necessary assets
Requirements
2+ years of experience in an admin executive position
Advance level Proficiency in Microsoft Office and other common office software
Broad understanding of executive administrative practices and processes
Excellent written and verbal communication skills in Hindi and English
Independent and able to work with minimal supervision
Knowledge of HR policies and procedures can be considered as an advantage

FAQs
1. Are the roles of admin executive and HR executive the same?
No, both positions are different in nature. The HR executives are responsible for handling all the HR-related activities, while the admin executives ensure the effective functioning of the daily activities at the workplace.
2. What are the minimum qualifications and experience required for the position of Admin Executive?
It depends on an organization's requirements to set criteria for the role, such as the size of the enterprise, need for specific skills, etc. Before creating the job description, an employer should always keep crucial information regarding the position.
3. Is having admin executive job experience useful?
Having administrative skills helps keep a team or department together and ensures that every operation runs smoothly without any delay. Organizations search for candidates with good administrative skills who can help their business to perform operations efficiently.
4. Are admin executives entry-level positions?
These positions are not always entry-level jobs. Admin executive roles can also be mid-level or high-level based on the requirements of the workplace. Their salary package also differs across the industry.
5. With whom do admin executives work within the organization?
The admin executive offers good clerical support to superior executives at the workplace. Their duties may involve arranging meetings (and drafting hours), scheduling travel and accommodation as well as preparing wages reports.