HR Executive Job Description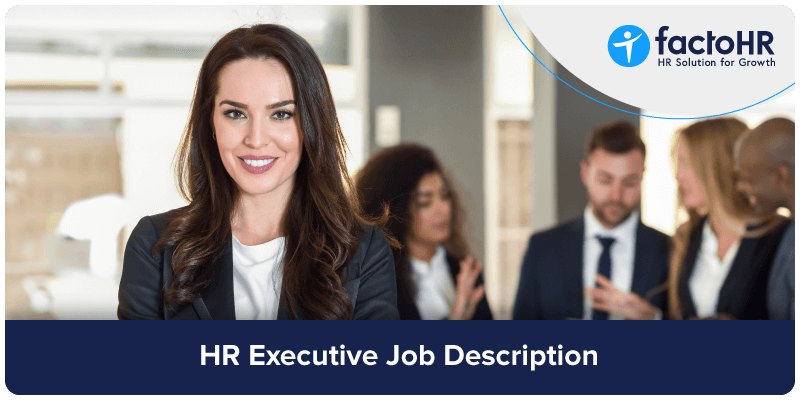 HR executives are the key members of the human resource department and have a crucial role in leading the HR staff and implementing various projects. The HR department of any organization is largely dependent on the HR executives for various tasks. They have to ensure that everyone in the organization is working with a positive attitude. As per the organization, the job description of the HR executive can differ, but here we are providing a job description that covers most of the points which you can use as per your needs.
HR Executive Job Description Template
We are looking for an HR executive that can handle our company's recruiting, development, and learning management. The other responsibilities of this role are making referral programs, overlooking the hiring processes, and updating the HR policies accordingly. To be successful in this role, you need to have considerable experience in the human resource domain and must have knowledge of labor legislation. Eventually, you will have to make decisions for the organization so that qualified employees are hired and retained.
HR Executive Role and Responsibilities
Recognizing the manpower needs and taking them to the HR manager for approval
Creating job descriptions for various roles and advertising them on various platforms
Managing HR activities like meetings, interviews, and other schedules
Assisting the recruitment process by reviewing CVs and shortlisting candidates
Managing and handling the orientation of new employees
Assessing the training needs and coordinating the training and development programs for employees
Managing the employees' data of each department
Overlooking the daily operations of the HR department.
HR Executive Requirements
Must have proven experience working as an HR executive or its equivalent.
Having familiarity with the human resource software and applicant tracking system.
Experienced with recruiting and its full cycle.
Having knowledge of labour legislation.
Having leadership qualities and abilities.
Strong communication skills.
B.Sc/M.Sc in Human Resource Management or a similar field.

HR Executive Job Description Sample
We at LMT are looking for a dynamic and smart individual to join our human resource team as an HR executive. As a human resource executive, you will be responsible for managing all the human resource tasks and responsible for supervising human resource procedures and policies.
Having prior work experience in HR or a related field can be an added advantage. You should also have the capability to manage the budget of departments, strong communication skills with the ability to handle stress efficiently.
HR Executive Role and Responsibilities
Planning and forming employee benefits package
Maintaining the employees' data
Execution of employees' performance review procedure
Managing the hiring processes of the new employees
Evaluating and monitoring the budgets of all the departments
Operating the day-to-day operations of the human resource department
Ensuring that the employees are complying with the policies of the company
Listing to employees' complaints and ensuring workplace safety
Organizing exit interviews and recognizing the reasons for resignation
HR Executive Requirements
Bachelor's degree in human resource management or relevant field
1+ years of experience as an HR executive or in any similar role
Prior experience working with HRM Softwares
Knowledge and understanding of HR cycle
Ability to coordinate and work as a part of the team
Efficiency in time management
Must have leadership skills and work ethics

Frequently Asked Questions
What should we look for in a candidate willing to join the HR department?
As a person dealing with the human resource department has to deal with different kinds of employees, the candidate should have high morale with interpersonal, counselling, problem-solving, and mentoring skills.