HR Executive Job Description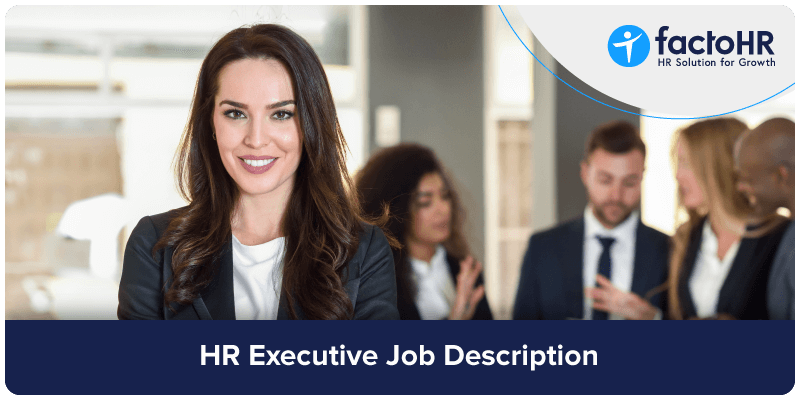 Download HR Executive Assistant Job Description Word Format For Free
Table of Contents
---
HR executives are the key members of the human resource department and have a crucial role in leading the HR staff and implementing various projects. The HR department of any organization is largely dependent on the HR executives for various tasks. They have to ensure that everyone in the organization is working with a positive attitude. As per the organization, the job description of the HR executive can differ, but here we are providing a job description that covers most of the points which you can use as per your needs.
What are the Roles and Responsibilities of an HR?
HR personnel should undertake the following responsibilities in order to enhance employees productivity, fulfil the goals of an organisation and solve any discrepancies among employees.
Human Resource Planning
The main role of HR is to develop strategic plan to recruit to fulfill company goals and objectives. To sustain the growth of the company HR must be proactive in human resource planning which helps in allocating resources in relevant projects to ensure they are completed on time. HR is also responsible in assessing the performance of the team leaders by comparing it with the company's expectation and do the course correction in strategy based on the performance results.
Job Analysis
The Human Resources are responsible to conduct job analysis and ensure the most suitable candidates are hired for the available job openings. These analysis include studying detailed job descriptions of employees within the organization and perform internal job transfers to save hiring cost. Also, HR is tasked to gather high-performing teams. To optimize talent and meet employee needs, they may reassign individuals to different roles within the company, that is they allow internal job transfer to retain top talents. Additionally, HR streamlines operations by combining tasks and reallocating responsibilities among team members to enhance performance and efficiency.
Maintaining Work Culture
The performance of an employee is directly influenced by their work environment. It is the responsibility of HR to have a sense of security while giving employees a certain amount of comfort which improves their productivity and performance. Here, the role of an HR is to create a transparent culture where employees feel free to discuss their problems without any hesitation. To maintain a positive company culture, HR often organizes events such as sports or entertainment where employees can show talents beyond their job roles. Such initiatives by HR not only uplift the company's image but also spread a positive vibe throughout the organization.

Hiring Candidates
The HR is engaged with filling open positions in the organization and supervise the complete hiring process. The HR team formulates and implements the talent acquisition strategy for the company. One of their various role involves advertising job openings on various job platforms to find suitable applicants for the organization's needs. They also utilizes social media and establishes a detailed onboarding plan to set new employees up for success. Their hiring process is systematic, ranging from the initial screening of candidates to the creation of offer letters and the development of an effective onboarding program.
Processing Payroll
Payroll processing is the critical part of HR department. They have to look out for employee's salary, bonus, deduction or promotion based on their attendance, performance, leaves and other similar components. Also they ensures timely salary and accurate pay to employees.
Constructing Work Policies
Typically, organizations review and revise their company policies on an annual basis. The HR department is responsible for formally updating these policies and suggesting modifications when they become outdated or irrelevant for either the company or its employees. While creating company's policies, HR aims to minimize conflicts, address legal concerns, and enhance efficiency of employees. Occasionally, policy updates are triggered by specific events. These policies are designed in favour of both the employer and the employees' interest, hence, HR is mainly responsible in these decision-making processes.
Maintaining Employee Records
Keeping employees records is often the main role of HR department. These records can help organisations to identify if any skills are lacking which can further help them in making recruitment strategies accordingly. Also the records helps HR to get a view of employee's demographics and helps ensure compliance with relevant laws. The records also contains critical information like personal, educational and contact details of each employee. By diligently maintaining these records, HR can gain a clearer understanding of how resources are being utilized within the company.
Performance Appraisals
A performance appraisal means the process of evaluating how well the employee has performed. Creating and implementing these evaluations is a responsibility of HR department. HR ensures smooth management of the appraisal process by acting as a connector between employer and employees. Precise performance evaluations and well-documented appraisals assist management in making informed decisions about employee promotions, role changes, and other related issues.
Managing Compensation
Managing compensation is a key responsibility of the HR department. This process involves meticulously strategizing, arranging, and looking for both direct and indirect rewards that employees earn for their contributions towards the company. Enterprises provide competitive compensation packages to attract and retain exceptional personnels. Compensating employees fairly based on their performance keeps them motivated and fosters their dedication to the job. Compensation can be in many forms including salaries, insurance, incentives, bonuses, and other benefits.
Relationships with Employees
It is very important for HR to develop a positive relationship with the employee as well as with the top management. HR is also responsible in solving any conflict that arise within the organisation. Therefore, sustaining a positive relations helps HR to achieve increased productivity, loyalty and dedication of employees. In addition to that, HR can enhanced their positive relationships with employees by providing them an open environment where they feel comfortable in discussing their concerns and encouraging social interactions like having team lunches, events, etc.

HR Executive Job Description Template
We are looking for an HR executive that can handle our company's recruiting, development, and learning management. The other responsibilities of this role are making referral programs, overlooking the hiring processes, and updating the HR policies accordingly. To be successful in this role, you need to have considerable experience in the human resource domain and must have knowledge of labor legislation. Eventually, you will have to make decisions for the organization so that qualified employees are hired and retained.
HR Executive Role and Responsibilities
Recognizing the manpower needs and taking them to the HR manager for approval
Creating job descriptions for various roles and advertising them on various platforms
Managing HR activities like meetings, interviews, and other schedules
Assisting the recruitment process by reviewing CVs and shortlisting candidates
Managing and handling the orientation of new employees
Assessing the training needs and coordinating the training and development programs for employees
Managing the employees' data of each department
Overlooking the daily operations of the HR department.
HR Executive Requirements
Must have proven experience working as an HR executive or its equivalent.
Having familiarity with the human resource software and applicant tracking system.
Experienced with recruiting and its full cycle.
Having knowledge of labour legislation.
Having leadership qualities and abilities.
Strong communication skills.
B.Sc/M.Sc in Human Resource Management or a similar field.

HR Executive Job Description Sample
We at LMT are looking for a dynamic and smart individual to join our human resource team as an HR executive. As a human resource executive, you will be responsible for managing all the human resource tasks and responsible for supervising human resource procedures and policies.
Having prior work experience in HR or a related field can be an added advantage. You should also have the capability to manage the budget of departments, strong communication skills with the ability to handle stress efficiently.
HR Executive Role and Responsibilities
Planning and forming employee benefits package
Maintaining the employees' data
Execution of employees' performance review procedure
Managing the hiring processes of the new employees
Evaluating and monitoring the budgets of all the departments
Operating the day-to-day operations of the human resource department
Ensuring that the employees are complying with the policies of the company
Listing to employees' complaints and ensuring workplace safety
Organizing exit interviews and recognizing the reasons for resignation
HR Executive Requirements
Bachelor's degree in human resource management or relevant field
1+ years of experience as an HR executive or in any similar role
Prior experience working with HRM Softwares
Knowledge and understanding of HR cycle
Ability to coordinate and work as a part of the team
Efficiency in time management
Must have leadership skills and work ethics

Frequently Asked Questions
What should we look for in a candidate willing to join the HR department?
As a person dealing with the human resource department has to deal with different kinds of employees, the candidate should have high morale with interpersonal, counselling, problem-solving, and mentoring skills.