Table of Contents

It is important to find an employee to keep balance between personal and professional life which allows them to lower their stress levels. In many industries and organizations, employees are entitled to take leaves for personal reasons. However, for an organization, it is difficult to manage leaves of employees without having a proper, biased-free leave policy in place. Having a right policy adhering to statutory norms can benefit your business in several ways, leading employees to be happy and satisfied. Manually tracking employees' leaves can be complicated, potentially biased and tedious tasks. Any mistakes in tracking leaves can complicate payroll processing, which can be time consuming. This is where the utility of an automated and leave management system steps in. It allows a company to make a comprehensive policy, offering various leave types an employee is liable for and how employees should use it. This ensures that your business runs smoothly and achieves higher productivity.

How is Leave Management carried out?
It is important to have an organized, accurate and fair leave management to ensure that your business runs smoothly when an employee is on leave. In order to achieve this, understanding these simple steps will help in streamlining the entire leave process.

List of 10 Best Leave Management System in India
1. factoHR
factoHR is best leave management system in india that offers a flexible and comprehensive platform; meticulously designed to streamline and automate the entire process of managing employees leave. It offers a range of advanced features that simplify complex leave calculations. The system offers a centralized platform that allows employees to apply for a leave and track their leave balance. Its high adaptability allows organizations to customize leave policies, types of leaves, accrual balance, etc based on their needs. Moreover, its workflow based approvals direct leave requests to assigned managers which accelerates decision making process and reduces manual tracking, minimizes errors or delays.
Apart from these, factoHR provides user accessibility through its advanced mobile application that empowers employees and managers to utilize this system with ease, thus improving user experience. Additionally, its integration approach with internal modules like payroll and attendance ensures high data accuracy and real time data. Moreover, it also provides reports and analytics that helps organizations to take more strategic and proactive decisions. Overall factoHR leave management system proves to be an advanced, user-friendly and flexible for modern businesses in India.
Features
| | |
| --- | --- |
| Configure and set up a leave policy based on leave types, accrual and policy assignment as per your needs. | Provides flexibility in setting up leave policy with advanced features like comp-off, sandwich leave and notification/alerts of leaves approved that fits your organization. |
| Allows you to create multiple holiday calendars based on locations and assigning them to employees based on their branch, shift, etc. | Provides transparency with a team view calendar which can be seen by both managers and employees. |
| Easy tracking of employees leaves with its workflow based approvals. | Flexible leave encashment module which calculates encashment at the year end using DIY front ends and formulas. |
| Its bulk report option and visually appealing analysis allows organizations to make impactful decisions. | Its powerful mobile-app performs all HR functions from anywhere and anytime. |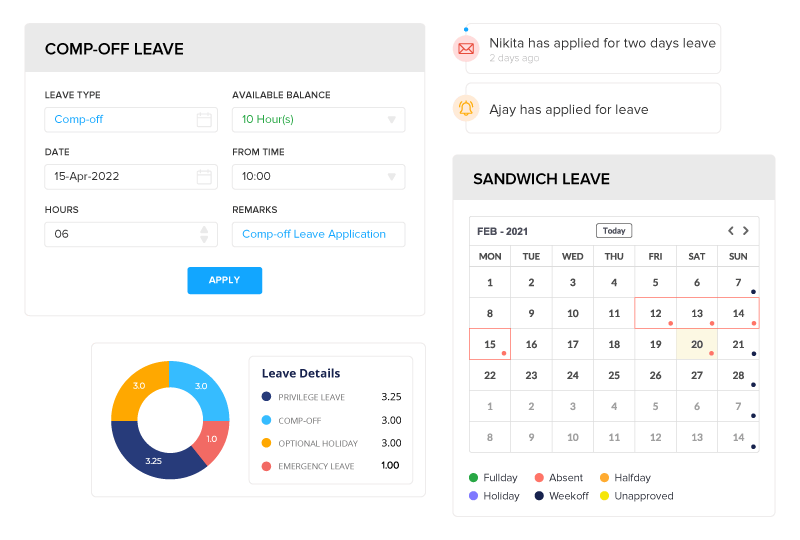 What People Say About Us

How does a factoHR's Leave Management System Benefit your Organization?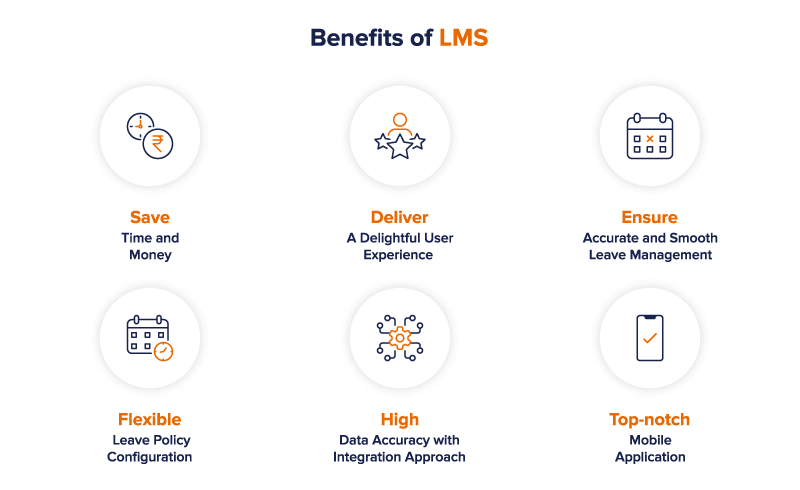 For an organization to achieve its success, it must have effective leave management that can benefit in several ways.
Manage Employees Leaves
Implementing a leave management system offers a multitude of benefits, and proves to be efficient in managing employee leaves. It allows employees to apply for a leave by making an application, making the entire leave process streamlined and automated. This reduces the burden of HR by minimizing errors and providing accuracy in tracking leave balance which is essential for payroll calculation and compliance.
Enhance Visibility and Accessibility
A leave management system provides a user-friendly interface which allows employees to easily view their leave balance, track the status of their applications and apply for a comp-off. This results in setting a transparency within the organization and makes employees satisfied. Similarly, it offers workflow based approvals where a request is approved/reviewed by the manager or HR , helping them make an informed decision and avoid any disruptions caused by the unplanned leaves.
Compliant
It allows you to formulate customizable leave policies which are compliant with laws and regulations. It ensures that leave accruals, its entitlement and usage are managed correctly, aligning organizational policies and statutory requirements. This protects organizations from legal issues and develops a fair environment for everyone.
Optimizes Productivity
Having a flexible leave policy with LMS can lead to reduction in absenteeism and increase overall productivity and efficiency of organization. Analyzing this data helps organizations identify the reason behind employee's leaves and address it anticipatorily which results in overall organization efficiency.
2. OfficeNet
OfficeNet is the best leave management system in India that streamlines and automates the entire leave process from filling out leave applications to get approvals from supervisors. It allows you to manage leave policies, customize it and set various leave types as per company's needs. It promises seamless employee leave management and offers quick and easy access to leave data,thus helping HR take informed decisions. It is also equipped with reporting and analytics and keeps the HR department updated on leave status.
Features
Online leave application
Customization of leave types
Leave management system tracker
Track all leave information
Enable leave restriction
The department leave calendar
3. AddettoHR
AddettoHR provides a real time leave management system where planning leave can be done smoothly and coordinated effectively between employees and managers. Its leave and attendance software integrates with payroll, reducing errors and providing accurate payroll calculation. It completely handles employee leaves, thus allowing them to focus on other important tasks. Its online leave application feature makes it easier for an organization to track overall employee attendance.
Features
Say goodbye to leave requests scattered across emails
Direct requests to the right people for digital approval
Configure your leave policies in minutes
Automated accrual and carryover
Fully integrated with Payroll
4. Samplex24
Samplex24's flexible and customizable leave management system possesses a two level approach in terms of handling employee leave requests. Its cloud based solutions allows HR or managers to accept or reject leave requests online, making the whole process hassle-free and helps organizations in advance planning. The system is fully integrated with payroll and caters to user's needs with its features like customize leave types, set up a leave policy, and provides complete leave summary.
Features
Leave requests
Leave summary and history
Configure leave policies
List of holidays
Tracking employees leaves
Leave reports

5. TrickyHR
TrickyHR possesses an easy and no-hassle leave management system that manages employees' absence data flawlessly without any human errors or miscalculations. It comes with various functionalities like setting leave policies with rules, defining leave types (sick leave, privilege leave, etc) and configuring the leave types based on department, category and designations. It also has advanced features like leave surrender, leave calendar and many more. Its ESS portal enables employees to request a leave, check their past leave requests, save it in draft mode, regularize/cancel leave applied any time and access multiple leave reports.
Features
Applicability of Leave type
No of leaves eligible
Leave rule during probation period
Leave to be applied by no of days in advance
Leave encashment & carry forward policy
Leaves applied from ESS portal
Email alerts
6. EmployeeVibes
EmployeeVibes is a cloud based leave management system in India which provides real time data from anywhere. It optimizes the leave process and enables you to create leave policies from scratch, making sure it benefits both the employer and employee. It possesses various features like leave entitlement, leave encashment, carry forward leaves, leave lapsation and much more. Apart from these, it allows you to define workflows (single or multiple) for leave approvals, shaping the leave management as per your business needs.
Features
Leave policy configuration
Leave entitlements
Leave encashment/carry forward/ lapsation
Leave escalation workflows
Deduction leave automation
Overtime management
7. PionHR
PionHR provides a leave management software in india that is designed to automate the leave process. It allows you to put a leave requisition that is fully customisable and possess various leave types like compensation off, maternity leave, casual leaves etc. Its integration with payroll software makes payroll processing streamlined and easy. Moreover, it gives multi level approval workflows as well as dynamic mapping. Its intuitive dashboard contains leave graphs and balance, setting a transparent culture within the organization.
Features
Leave requisition
Automated leave
Fully customizable policy
Leave balance
Multi Level approvals
Dynamic mapping
Leave reports
Muster roll

8. EnspireHR
EnspireHR offers a full fledged customized leave management system that tracks leaves based on multiple locations. It provides a rich set of features like configuring a flexible leave policy including gender specific, paid, unpaid, types of leaves, etc. it also provides automation in calculating leave accrual and defining a workflow for leave encashment. By providing such flexibility and adaptability, it makes the whole process streamlined and accurate.
Features
Public holiday or leave calendar
Configure leave policies
Unlimited leave definitions or timeoffs
Flexible regular or service accruals
Hassle free year closure process
Bulk leave booking or cancellation
Leave encashment
9. PulseHRM
PulseHRM provides an effortless and convenient leave management system with a user friendly interface and easy to use system. Its smart technology provides seamless integration with other modules like attendance, leave, payroll and expense to get the accurate data needed while calculating payroll. Further, it enables employees to apply for a leave and check its approval. Its analytical leave reports and customized policy leave records provides automation to human intervention of managing leaves.
Features
Configure leave settings
Track Leaves
Customize & Automate Leave Records
Self Service
Manage holidays
Reports
10. EliteHRMS
EliteHRMS possesses highly customized and advanced features for leave management. It is a platform where you can create leave policies, define types of leaves as per your needs. It enables employees to manage their leave from multiple locations, providing a predefined template which saves employees time. It provides custom dashboards and notification alerts for easy tracking of leave applications and its approvals. Moreover, its dynamic reporting abilities allows managers to focus more on financial planning.
Features
Leave applications
Approve or Reject a request
Custom notifications
Power upload
Reports about leave types, policies, employees etc
Adjusting the leave days
Current Leave balance
Past leave history
List of holidays for the current financial year

Summing Up
In India, the leave management system plays a vital role in optimizing and automating the leave management, helping organizations to take important strategic decisions. These list of India's best leave management software systems provide a state of the art feature like managing employees leaves, framing leave policies as per the needs, leave entitlements, etc which benefits both employers and employees, contributing to increased productivity and success of an organization.