Different Types of Leave in India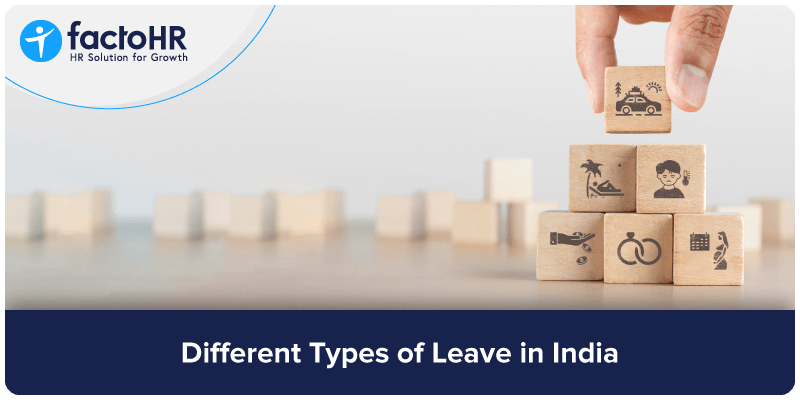 In India, employees are entitled to get different types of leave depending on their employment status, tenure, and company policies. The entitlement of these leaves is regulated by Indian labour laws, which issue guidelines to provide minimum leave allocations to employees. For employers to comply with the law, they must understand the various rules related to paid leaves in india. In this blog, we will deep dive into the various types of leaves offered to employees in India, along with their specific details.

Types of Leave
Employers in India must adhere to minimum leave requirements set by national and state laws, but the exact rules regarding leave can differ significantly between employers. The nature of the business is also a crucial factor since distinct labour laws apply to various sectors. For example, the Factories Act, 1948, applies to only the manufacturing units in India, while the Shops & Commercial Establishments Act is applied for establishments such as shops, banks, financial institutes, insurance companies, IT companies and service sector units etc. In addition to mandatory leave types in India, companies are also offering other types of leave to their employees.​
Here are some of the Leaves offered by companies in India:​
1. Privilege Leave
​Privilege leave is also known as earned leave, as it is earned based on the number of days the employee worked. This type of leave is generally used for personal reasons like taking a vacation or enjoying festivals that are not declared holidays. Providing earned leaves to employees is mandatory as per labour laws in India, but the number of leaves may vary from state to state. This type of leave needs prior approval from the employer except in cases of an emergency. The employees are usually allowed to accumulate their privilege leaves and even encash them if they are not availed.
2. Casual Leave
​Casual leave refers to a type of leave granted to employees for personal reasons such as illness, family events, or emergencies. It is usually a short-term leave granted for a few days, and it is not deducted from the employee's annual leave balance. Casual leave policies and entitlements vary depending on the organization and the state it's located in. In some organizations, employees may be entitled to a certain number of casual leaves per year or per month, while in others, the leave may be granted on an as-needed basis. The duration for this type of leave depends on the urgency and nature of the situation.
​Medical Leaves, also known as sick leave, are provided to employees in case of sickness or accidents. Due to their susceptibility to misuse, employers may require a medical certificate if the leave exceeds two or three days at a time. In some states like Delhi, there is a combined entitlement for both casual leave and sick leave. However, in states like Tripura, employees may only receive 50% of salary payment for sick leave instead of full pay.
4. Marriage Leave
​Marriage Leave is a special type of leave provided by some companies to employees who are getting married. While it is mandatory in a few countries like Malta and Vietnam, it is not a legal entitlement in most countries, including India. The duration of the leave can range from 1 to 15 days, but most companies grant around three days. The HR department may require an invitation card or a marriage certificate as proof to approve the leave. Eligibility for marriage leave is limited to once during the employee's entire employment period in the organization. In cases of remarriage or multiple marriages, employees will have to use their annual leave balances or take leave without pay.
5. Maternity Leave
The Maternity Benefit Act of 1961 is a central government act that mandates employers to provide 26 weeks of paid leave to women who have worked for at least 80 days in the 12 months before their expected delivery date. This type of leave is applicable for the first two children only, and in case of a third child, 12 weeks of leave can be availed. Additionally, the Act provides for mandated leave in case of miscarriage, adoption, surrogacy, and tubectomy. While state laws govern other types of leave such as Annual Leave, Casual Leave, and Sick Leave, the Maternity Benefit Act falls under the central government.​
6. Paternity Leave
​Paternity Leave, also known as New Parent Leave offered to expectant fathers after a child is born. The purpose of this leave is to enable the father to take care of the newborn and the mother. In India, labour laws do not mandate Paternity Leave. However, many progressive companies offer this type of leave to their employees, with entitlements ranging from 2 days to 4 weeks, depending on the employer's policies. If the company grants Paternity Leave, it must be availed within a specific time frame, such as within eight weeks from the baby's birth.
​Sabbatical leave, also known as a career break or sabbatical, is a type of leave that allows an employee to take time off from work for a specific purpose, such as personal development, education, travel, or to pursue a passion project. Unlike other types of leave, sabbatical leave is usually unpaid, although some employers may choose to offer partial pay or other benefits. Sabbaticals can range from a few months to a year or more, depending on the employer's leave policy and the employee's needs. Academics, researchers, and other professionals often use sabbaticals to pursue advanced studies or research projects. Still, they are increasingly being offered by companies as a way to retain and motivate employees.
8. Bereavement Leave
​Bereavement Leave is a type of leave granted to employees in the event of a death in the family or the loss of a loved one. This leave allows the employee to participate in the last rites or funeral services, attend to any personal matters, and, most importantly, grieve. This type of leave may also be referred to as compassionate leave, which is not only extended in the case of a loved one's death but also to care for a dependent or sick relative. While Indian labour laws do not mandate offering this type of leave to employees, many progressive companies provide bereavement leave ranging from 2 to 20 days.
9. Compensatory Off (comp-off)
​In cases where an employee must work on a weekend or holiday to prioritize project deliverables, they may be offered a compensatory day off on another workday. As these leaves are based on business requirements, their approval occurs on a case-by-case basis. To claim and avail of a compensatory day off, the employee must request it after working on a non-working day. The immediate manager reviews and approves the request before forwarding it to HR. Once it gets approved, the employee receives the compensatory day off. Unlike other types of leave that expire at the end of the leave year, compensatory days off have an expiration period of four to eight weeks. Employees must utilize their compensatory days off within this period.
10. Loss Of Pay Leave (LOP/LWP)
​In certain situations, an employee may have exhausted their leave balance but still require time off for an emergency. In such cases, companies may allow them to take leave without pay (LWP), also known as loss of pay (LOP) leave, as there is a loss of income associated with this type of leave. Employers may consider any leave taken in violation of leave policies as LOP leave, such as an employee taking a vacation without prior approval or not providing medical certificates for sick leave as per policy. Unlike other types of leave, there is no concept of a leave balance for LOP leave. However, the salary for the number of days of LOP leave during the month is deducted during payroll processing.

Frequently Asked Questions
1. What is the Difference between Paid and Unpaid Leaves?
​Paid leaves are those where an employee is entitled to receive their regular pay or salary for the duration of their absence from work. On the other hand, unpaid leaves are those where an employee does not receive their regular pay or salary during their absence from work.
2. Can an Employee Accumulate Unused Leaves and Carry them forward to the Next Year?
​Yes, an employee can accumulate unused leaves and carry them forward to the next year, depending on their organization's leave policy. This is known as leave encashment.
3. Is there any Limit on the Number of Consecutive Days an Employee can Take Leave?
​Yes, there may be a limit on the number of consecutive days an employee can take leave, depending on the types of leave and the organization's policy.
4. Can an Employer Deny an Employee's Leave Request?
​Yes, an employer may deny an employee's request for leave under certain circumstances. The reasons for denying leave may vary depending on the type of leave, the organization's policies, and the specific circumstances of the employee's request.
5. What Happens if an Employee Utilizes all their Leaves?
​If employees utilize all their leaves and still require time off work, they may have to take unpaid leave or face the possibility of having their absence treated as unauthorized or absent.