Graphic Designer Job Description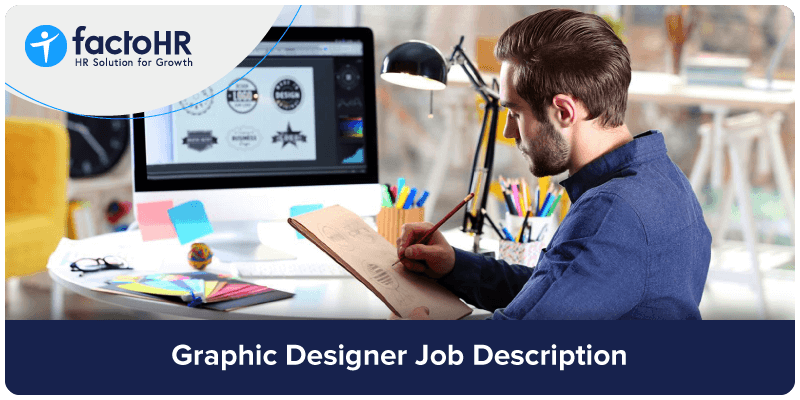 A graphic designer is a professional who creates images and visualizes concepts to communicate information. They generally create images, posters, logos, brochures, videos, and marketing material and are also known as graphic artists.
Graphic Designer Job Description Template
We are looking for a graphic designer to join our creative team. The designer will have to design a wide variety of items for both digital and offline media. To be a successful graphic designer, you should be proficient in delivering creative design ideas. You should be a self-starter and must pay attention to details.
Graphic Designer Role and Responsibilities
Observing and studying the relevant data, information, and material for planning different concepts.
Demonstrating different concepts by designing various art arrangements in different sizes, types, and styles and submitting them for approval.
Using and operating required equipment and software to provide finished art.
As per the requirement, coordinate with different outside agencies, web designers, art services, and colleagues.
Accomplishing the tasks as per the standards and contributing to the team.
Communicating with clients to understand the layout and design requirements.
Building and creating a wide range of graphics for illustrating products, company logos, and websites with the help of software such as Photoshop.
Evaluating and reviewing the final layout and recommending improvement if necessary.
Graphic Designer Requirements
Bachelor's degree in graphic designing or a relevant field.
Experience working as a graphic designer or in a relevant field.
Providing a strong portfolio, demonstrating graphic designing skills.
Proficiency with the required tools like photoshop, illustrator and InDesign Quark.
A strong eye for visual composition.
Time management skills and capability to meet deadlines.
Able to provide and receive criticism.
Need to have understanding of website designing, marketing, product packaging, advertisements, and corporate identity.
Having experience with computer-aided design.

Graphic Designer Job Description Sample
FinoX is looking for a graphic designer that has 2+ years of experience in delivering exceptional visuals which help us promote our clients' brands and products. Having a vision of growing big and having the ability to grow faster is a must to be a part of our organization.
Responsibilities
Study design brief, and determine the requirements.
Compose rough drafts and present the ideas.
Using photoshop and illustrator, develop logos, illustrations, and website designs.
For each graphic use appropriate colors and layouts.
Review and test the graphics across various media.
Make sure that the final designs are visually appealing and as per the brand.
Requirements
Proven experience in graphic designing.
A strong portfolio, demonstrating graphic designing skills.
Ability to present ideas, communicate well and interact with the team.
High proficiency in every design aspect.
Maintaining professionalism in terms of time and deadlines.
Adaptable and flexible to face challenging situations.
Awareness of digital branding and smart technologies.

Frequently Asked Questions
What makes a graphic designer superior?
A good graphic designer should have a neutral eye for design and imagination for color and design that effectively resonate with the audience. As per the customers' needs, they should be able to provide creative work using different marketing tools.
With whom do the graphic designers work with?
Typically graphic designers work with other graphic designers and marketing professionals to complete a particular project. Most of the time senior designers manage and oversee the work of individuals and the team to complete the final project.