Table of Contents

Performance management plays a pivotal role in any organization's success. It includes the planning, monitoring and improvements in employee productivity and efficiency to achieve the company's objectives. In today's fast-paced business world, relying exclusively on manual methodologies for performance management proves to be not enough. This is where the performance management software comes into play. In this article, we will explore the best 10 performance management software in India, each designed to streamline and optimize the performance management process.

How to Choose the Best Performance Management System As Indian Organization?
Selecting the most suitable performance management system in india for your organization is a critical decision. Here are key factors to consider.
1. Business Goals and Objectives
Business goals and objectives serve as the foundation for software. Begin by thoroughly understanding what specific outcomes you want to achieve through performance management. For example, do you aim to increase overall productivity, boost employee engagement, or focus on talent development? Each of these objectives may require a slightly different set of features from your chosen system.
2. Scalability
Scalability is crucial, especially if your organization plans to grow or undergo significant changes. Ensure that the system you select can adapt and expand alongside your company. A system that accommodates your needs as your company evolves is essential for long-term success, preventing the need for frequent system replacements.
3. User-Friendly Interface
An intuitive and user-friendly interface is essential for user adoption and satisfaction. When evaluating potential systems, consider conducting user testing to gauge how easily employees and managers can navigate and use the system. A user-friendly interface reduces the learning curve and encourages regular system use.
4. Customization Options
Every organization has unique processes and workflows. Look for a system offering customization options to tailor the software to your needs. Customization can include adjusting terminology, creating custom fields, or modifying workflows to align with your unique performance management processes.
5. Performance Metrics
Performance metrics are at the core of effective performance management. Assess the system's capabilities for tracking these metrics. It should allow you to set and monitor individual and team goals, provide real-time insights into performance, and generate reports that help in decision-making.
6. Feedback Mechanisms
Effective performance management includes regular feedback. Ensure the system facilitates ongoing communication between managers and employees. This can involve features like real-time feedback, regular check-ins, and performance review cycles. A robust feedback mechanism fosters a culture of improvement and supports employee growth.
7. Integration with Existing Software
Consider how well the performance management system integrates with your existing Payroll software. Seamless integration can save time, reduce data duplication, and minimize errors. Ensure that the chosen system can exchange data with other critical tools your organization relies on.
8. Support and Training
Support and training are vital aspects of a successful implementation. Evaluate the level of support and training offered by the software provider. Adequate training ensures that your team can effectively use the system, and reliable customer support is essential for addressing any issues that may arise during usage.
9. Cost
Budget considerations are a significant factor in choosing the right software. Evaluate the cost structure of different systems, considering the initial implementation costs and ongoing expenses such as subscription fees, maintenance, and potential customization costs. Ensure that the chosen system offers value for your investment and aligns with your budgetary constraints.
10. User Feedback and Reviews
User feedback and reviews can provide valuable insights into the actual performance of a system. Research user experiences and read reviews of the platform you are considering. Real-world feedback from other organizations can provide valuable guidance and help you identify any potential issues or strengths that may not be immediately apparent from vendor materials.

List of Best 10 Performance Management Software in India
Now that we have understood the software, let's look into the best performance management software system available in India.
1. factoHR
factoHR is a The best performance management software in India with robust features. It enables effortless goal setting, performance reviews, and progress tracking for companies. With its intuitive interface and OKR-based goal-setting capabilities, factoHR empowers organizations in India to establish clear expectations. It streamlines performance reviews with a 360-degree review process, facilitating feedback and improvement discussions. What truly sets factoHR apart is its real-time performance monitoring, accessible through an informative dashboard. It empowers managers to make informed decisions and offer timely feedback, ultimately enhancing productivity and fostering a culture of growth and development among employees.
Features
| | |
| --- | --- |
| Goal Management lets you create and track goals and tasks with different measurement parameters. | Flexible Review Cycle allows you to set up and conduct various reviews like continuous feedback, 360-degree feedback, and one-to-one meetings. |
| With factoHR's Mobile Application, you can create goals or OKRs for your employees and review them all using your mobile device only. | Performance-linked Payroll allows you to configure the formulas for incentives and bonuses against the set goals. |
| Multi-level Reviews enable you to set upto a four-level review workflow through which managers, subordinates, and HR can hierarchically submit reviews. | Informative Dashboard helps you to get an overall view of the entire performance management process. |
| Performance Review Report gives you detailed analytics of employees' goals and their completion based on predefined parameters. | The Bell Curve shows employees' performance ratings and weights with the normalization curve assessment framework. |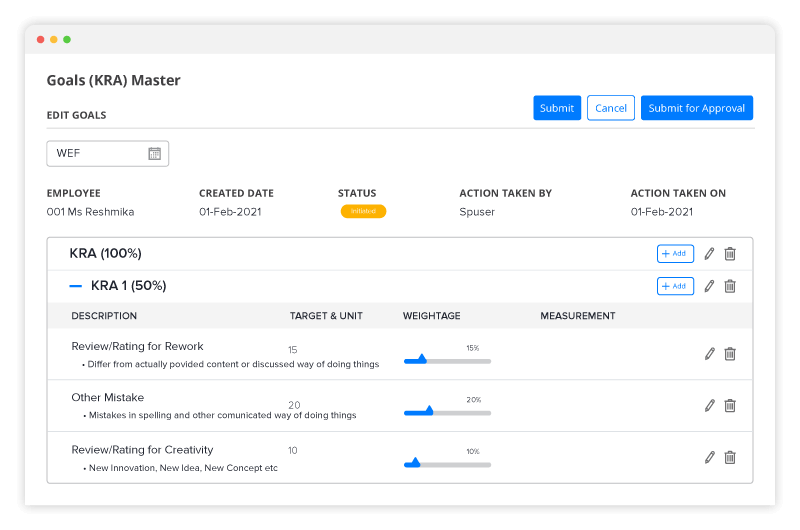 Benefits
Create a performance-driven culture where each task assigned to the employees can be easily measured, and feedback can be given on a continuous basis.
Improve the everyday performances of employees and make it more effective by aligning the organizational goal with the employee goal.
The built-in integration with HR software will make both the processes of performance and payroll smoother.
With factoHR's mobile app, the performance management process is available in your pocket so that you can be well aware of your employees' performance anytime anywhere.
What People Say About Us


2. Humi
Humi is a comprehensive software that places a robust emphasis on performance management. It distinguishes itself by offering 360-degree feedback, enabling employees to receive insights from both peers and managers. Humi's sophisticated goal-setting capabilities empower organizations to set ambitious yet achievable objectives. Furthermore, its analytics tools provide valuable performance insights, facilitating data-driven decision-making. This multifaceted approach makes Humi an indispensable asset for Indian companies looking to enhance employee performance and engagement, fostering a culture of continuous improvement and success within their organizations.
Features
Performance Review Templates
Schedules Performance Review
Automated Email Reminders
Anonymous Surveys
Goal Setting and Tracking
3. EmployeeVibes
EmployeeVibes stands out as a comprehensive software with a strong focus on performance management. It excels in facilitating continuous feedback, empowering managers to provide real-time guidance and recognition to employees, thus cultivating a culture of ongoing improvement. Additionally, the platform simplifies performance appraisals with customizable templates and evaluation forms, ensuring that employee achievements are acknowledged and areas for development are identified promptly. EmployeeVibes goes further by enabling organizations to track skill development, ensuring that employees are continually enhancing their abilities to meet evolving organizational needs.
Features
Flexible Rating Tables
Goals, Competencies & Development
Evaluation, Increment & Promotions
Auto-Normalization & Bell Curve
Employee Goal Setting
Daily Review Forms
Integrated with Learning Management
4. Officenet
Officenet offers a contemporary system enriched with performance management modules, emphasizing real-time feedback, goal alignment, and holistic employee development. This forward-thinking platform encourages ongoing conversations between employees and managers, enhancing motivation and productivity. Officenet's unique feature is its seamless alignment of individual goals with organizational objectives, fostering unity within the organization. Additionally, it prioritizes employee development, ensuring skill enhancement and personalized learning opportunities, resulting in a continually evolving and highly productive workforce.
Features
Performance Monitoring
Competencies
Performance Review
Performance Reports
Goal Setting

5. Samplex24
Samplex24 is a one of the best cloud-based performance management solution in india that excels in simplifying the often complex performance appraisal process. Its ease of use and the ability to customize performance evaluation criteria make it a suitable choice for Indian companies of varying sizes and industries. Organizations in India appreciate Samplex24's straightforward approach to goal cascading and competency assessments, helping them drive employee performance in a more structured manner.
Features
3D Dashboards
Quick Analysis and Report Generation
Create Organizational Goals
User-defined Parameters
Performance Appraisals
6. EnspireHR
EnspireHR stands out for its adaptability. It allows HR teams in India to design custom performance workflows tailored to their specific needs. The flexibility to adapt the software to unique organizational structures and cultures makes it a preferred choice. EnspireHR is favored by organizations that want a system that aligns seamlessly with their existing processes and requirements.
Features
Performance Reviews Using KPIs
Team Goal Creation
Performance Appraisals
Continuos feedback
Rich GUI
7. Possibleworks
Possibleworks is valued for providing a holistic performance management experience. In a diverse Indian business landscape, where companies have varying HR priorities, Possibleworks shines in offering a comprehensive solution. Its emphasis on continuous feedback, development plans, and engagement analytics caters to organizations of all sizes and industries. This adaptability makes it a top choice for businesses in India seeking an all-encompassing performance management solution.
Features
Goal Management
360-degree Feedback
People Analytics
Frequent Performance Reviews
Comprehensive Performance Snapshots

8. Rippling
Rippling is known for integrating performance management seamlessly with other HR functions. This feature-rich solution is ideal for large organizations in India looking for an enterprise-grade performance management system. What sets Rippling apart is its advanced reporting and analytics, providing extensive insights that help organizations make data-driven decisions.
Features
Goals & OKRs Setting
Review Cycle
Calibration Performance Rating
Merit Cycles
Custom Reports
End to End Performance Management
9. Personio
Personio is praised for its user-friendliness and 360-degree feedback capabilities. It is a versatile performance management system that suits a wide range of organizations in India. Its simplicity in goal setting and performance appraisals makes it an accessible choice for businesses looking to adopt performance management software with minimal training and implementation challenges.
Features
Performance Review Cycle
360-degree Feedback
Digital Employee Performance File
Goals Management
Performance Appraisals
10. Infotrack
Infotrack has gained a well-deserved reputation for being a trusted choice among organizations in India that prioritize long-term talent development and seamless succession planning. The software offers a comprehensive suite of tools and features designed to assess and evaluate the competencies of your workforce. What sets Infotrack apart is its exceptional ability to address crucial aspects of workforce management with precision and efficiency.
Features
Competency Management
Promotions
Increments
Review Cycle
Performance Reports

Conclusion
Performance management software plays a pivotal role in driving employee engagement, improving productivity, and aligning individual goals with organizational objectives. By choosing the right software and addressing implementation challenges effectively, Indian businesses can unlock their full potential.