Top 10 Attendance Management Software and System in India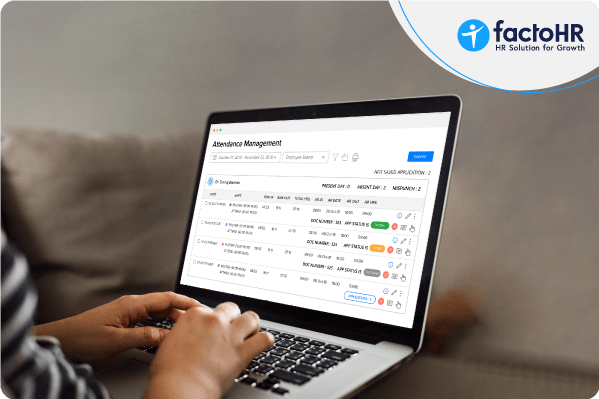 Table of Contents

India is one of the fastest-growing economies in the world, fueling this growth, many new organiztaion are established every day. All these organisations hire a multitude of employees, so efficiently managing their attendance becomes a crucial task for them. But, managing attendance manually is tiresome, time-consuming and error-prone activity. It also creates a roadblock at the time of the payroll process. So it's essential to use an attendance management system that can reduce time, effort and money so that HR or managers can spend more time on core activities like talent acquisition, talent nurturing and talent management.

What is Attendance Management Software?
The attendance management software is a tool that streamlines the process of recording, tracking, and managing the attendance of employees within an organisation. The company nowadays uses software to automate and simplify traditional manual ways of tracking employee attendance tracking, which can be time-consuming, laborious and have chances for errors.
Organisations can easily record daily in and out activity or track absences and leaves using employee attendance software. One of the main features of the modern cloud-based attendance system is its ability to integrate with various modules, such as HR, payroll, performance and leave.
How to Choose the Attendance Management Software System
Selecting the right system to keep track of attendance requires considering a few special factors.
1. Identify Your Needs
Determine the specific business tasks or needs of your organisation. Consider factors like the size of your organization, the number of employees, reporting needs, and any integration requirements with other HR or payroll software.
2. Scalability
The system should be able to manage a growing employee count and increase in data volume effectively as your organization undergoes expansion.
3. Features and Functionality
Find a platform that provides all the basic features like policy configuration, attendance tracking, attendance regularization, shift management and employee self-service. You should also look for advanced features like a mobile app, a punch with selfie and location, punch within a geofence, AI-based face recognition, etc. as per your requirement.
4. Tightly Integrated
Select software that has the capability to seamlessly integrate with internal modules like payroll and leave management to reduce manual intervention streamline and simplify end-to-end processing.
5. Configurable Policy
Different organizations have different attendance policies. High-quality staff attendance management allows HR professionals or managers to adopt policies to align with organizational goals.

List of Top 10 Attendance Management Software in India
As we understand attendance management system is a crucial part of any growing organization, we have curated a comprehensive list of best attendance management software available in India. From policy configuration to advanced AI-powered features, we have evaluated each system for flexibility, scalability, security and integration capabilities. Whether you are a small startup or a large enterprise, this will give you insights to make informed decisions.
1. factoHR
factoHR is one of the top attendance management software providers for businesses of all sizes in India. This solution is beneficial for HR as it provides common features like real-time data on clock-in/out, overtime calculation, comp-off, and leave management, as well as it also provides advanced features like punch with selfie and location, punch within a geofence, AI-powered face recognition etc. It also allows you to configure shift attendance policies to the minute level. Through factoHR powerful analytics and reporting, you can get a bird's view of employees' attendance and leave data, facilitating informed workforce management decisions.
Features
| | |
| --- | --- |
| Employees can mark their attendance with a selfie and location using their mobile devices. | Set up attendance policies like overtime, comp off, break time, late arrival, and early departure. |
| Create virtual boundaries around a particular location using geo-fencing and allow employees to mark their punches using a mobile app. | Leverage the power of AI and allow employees to mark punches and verify their identity through facial recognition. |
| Mark attendance correction requests, change shifts requests, regularize missed punches, and approvals using ESS and mobile app. | Setup multi-level workflow for attendance correction and change shift request approval. |
| Leverage factoHR's multiple time zone capability and keep track of employees' attendance. | Define and manage roster patterns based on days, weeks, bi-weeks, or months |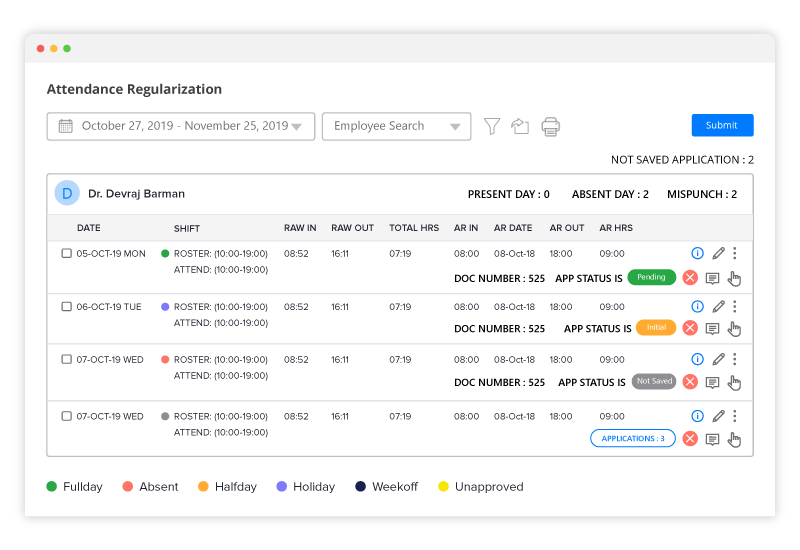 Advantages
factoHR's attendance management system software automatically synchronises attendance data from different sources such as biometric devices, web, mobile apps etc, without human intervention. This automated process ensures accurate and real-time updates of attendance records, saving time and effort for HR teams. By terminating manual data entry and human errors, factoHR enhances efficiency and streamlines the attendance process of business.
Organizations can collect attendance data in a hygienic and touchless way by using a punch with a selfie, geo-tagging, geo-fencing and AI-powered face verification.
The extensive policy configuration option allows you to implement your existing policies and empower you to tackle any future changes.
Integrating attendance data seamlessly into internal modules such as payroll and leave management software, enhancing efficiency and simplifying end-to-end processing.
Employee self-service empowers employees to manage HR tasks independently, such as tracking and regularizing attendance data and releases the administrative burden on HR and empowers employees to take ownership of their activities.
What People Say About Us


2. Timecheck
Timecheck is an attendance management software system that operates in the cloud, streamlining the attendance processes of businesses through automation. It offers many features, including shift management, multiple organisation attendance, overtime management and geo-tracking etc. It provides the flexibility to establish customised policies and intricate shift rules while seamlessly integrating with your payroll system.
Features
Multi-level Approval Hierarchy
Real-Time Visibility
Extensive Report Generation
Mobile App
Manage Any Type of Shift
Geo Attendance Tracking
Integration with Payroll
Microsoft Certified Product
3. TrickyHR
The time and attendance module of TrickyHR incorporates a comprehensive shift management system. It defines shifts, constructs shift patterns and assigns patterns to one or more employees. It allows HR or administration to define rules like employee schedules, grace time, overtime and holidays. The Indian organisation can use this software while recording data, generating attendance and analysing.
Features
Flexible Shift Management
Business Rules
Rewards
Convenience
4. Spica
Spica's All Hours is a user-friendly software designed to track employee attendance, whether they are working on-site or remotely. In addition to monitoring employees' presence, the software enables managers to handle and approve time-off requests and overtime hours. It generates comprehensive reports that aid in accurate payroll processing. The software also features a user-friendly mobile and web app, providing convenience for both managers and employees to stay updated on attendance and working hours.
Features
Staff Scheduling
Clocking
Time and Attendance
Absence Management
Overtime Tracking
Payroll Integration

5. eFacility
This software improves employee attendance and work efficiency by simplifying tracking. It enhances accuracy in resource use, combines schedules and access, and offers insights for HR and payroll. With customization, it centralizes attendance data, allowing HR and managers to focus on essential business tasks.
Features
Shift management
Track Time
Leave
Overtime Calculation
Reports
Employee / Department shift calendar
6. Personio
With Personio's employee attendance tracking system, keeping track of work hours is simple. Managers or HR can effortlessly track employees' work hours, which supervisors then verify. You can also pre-set designated break times, ensuring that all work hours align with legal requirements and regulations. This way, you create a secure and compliant framework for managing working hours.
Features
Record working hours
Legal Compliance
Reports
7. Asanify
Asanify offers seamless real-time access via its Website, Mobile app, and WhatsApp integration while also providing compatibility with Biometric devices. Its comprehensive feature set includes Geo-tagging, Geo-fence, and Real-time reporting, empowering managers to monitor employee attendance effortlessly. Additionally, the option for selfie-based attendance further enhances its functionality for employee tracking.
Features
Capture attendance from WhatsApp
Real-time attendance
Customizable attendance policies
Geo-fence / Geo-Based tracking
Automated system for attendance

8. BrightHR
Trusting your team is crucial, but compliance matters. UK's Working Time Regulations require accurate records of staff hours, breaks, and overtime. Blip's clocking-in app helps you meet these regulations, ensuring fairness, transparency, and legal compliance. Protect your team and your business effortlessly with Blip.
Features
Core Working hours
Setup Geolocation
Simply scan a QR code
Export and save work history for employees
9. AddettoHR
AddettoHR optimizes an organization's leave and attendance management processes. Its real-time processing and tracking capabilities enhance coordination, simplify leave planning, and streamline payroll operations. The software effortlessly handles attendance, reduces errors, and enhances employee focus on core responsibilities. The comprehensive solution provided by AddettoHR contributes to improved workforce management.
Features
Real-time attendance
Access attendance data
Track attendance
Helps in payroll processing
10. Gizmosys Solutions
Gizmosys stands as an indispensable tool for any organization. It offers comprehensive access to employee shifts and production plan creation, seamlessly integrated with the attendance machine.
Features
Employee Shift
Attendance Override
Late Rules
Attendance Reports

Conclusion
In summary, implementing software for managing attendance, offers numerous advantages, including cost-effectiveness, precise payroll management, advanced data analytics, adaptability and real-time tracking. Every organisation in India should revolutionise their attendance management processes and utilise technology to get higher levels of productivity and effectiveness. Investing in a best system solution for managing attendance can produce prominent returns by optimising workforce management and contributing to overall organisational success.