10 Essential HR Policies Every Organization Must Implement
HR policies are an asset in creating a harmonious environment in the workplace. They are the guiding factors for employees on how things work in an organization and what code of conduct they need to follow. These policies create a foundation of equally applicable rules for each employee. As a result, the employees recognize a sense of security and equality among themselves.
Also, to put your workforce in an organized manner, it is essential to form a set of rules which everyone should follow. HR policies are framed for each HR function, such as recruitment, salary, leave, attendance, employee wellness, and career management.
The workplace environment is one of the biggest reasons for increasing employee turnover in organizations. Thus, it is essential to imply unbiased and flexible policies irrespective of the employee's position.

10 Essential HR Policies
Recruitment
A recruitment policy is a set of rules on how your organization wants to hire new talents. The policy's purpose is always to represent the transparency and consistency of an organization. While hiring a candidate, it is essential to be consistent with the rules and regulations of your workplace because this represents your organization in front of the candidate.
A good recruitment policy forms a clear set of expectations for the candidates, improves the employee's experience, and makes hiring candidates easier. Always be clear about the expectations from the candidates and your requirements for the particular job role. By being specific and straightforward about your needs, you can hire the right candidate for your workforce.
Employee Non-Discrimination and Anti-Harassment
Workplace discrimination is one of the most prominent issues employees face. Unfortunately, these practices often go unnoticed as many employees do not speak up about it and directly leave the organization. Workplace discrimination includes bullying, discrimination regarding sex and race, victimization, harassment, and personal involvement in the workplace for professional favors.
An employer is fully responsible for any bullying or discrimination going on in an organization. To minimize the risk of employee turnover due to workplace discrimination, an organization must implement an anti-discrimination policy specifying the actions to be taken in case of discrimination.
Leave
A leave policy is an essential aspect to consider in any organization. This policy lays down the rules regarding the different kinds of leaves an employee can avail. In addition, for each type of leave, such as medical leave, casual leave, maternity, and grief, the policy must define the process of applying for a leave, its eligibility, and the approval method. It should be tailored so that each and every employee is benefited from it. These policies should be unbiased and should not affect the workplace.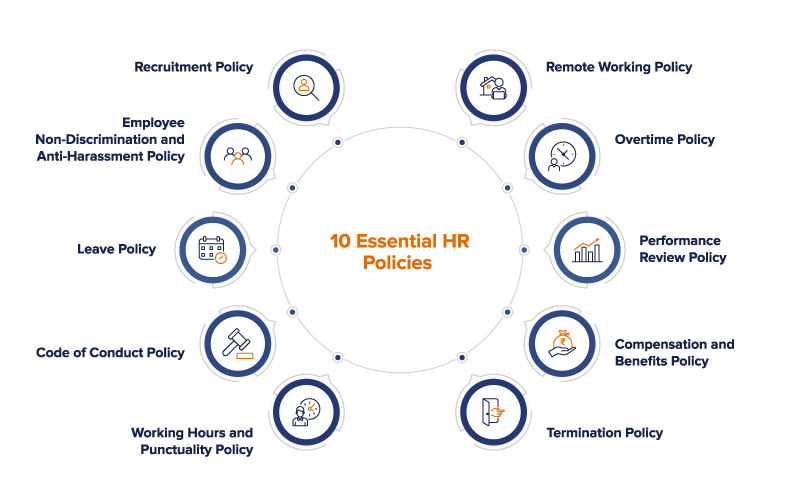 Code of Conduct
A code of conduct policy is a rulebook about how employees should behave and follow up on workplace premises. The employees should be given a proper code of conduct to follow up, and the hostile conduct must face the consequences. Adequate conduct in the workplace gives clarity to the organization's mission and even decreases the chances of workplace discrimination.
Working Hours and Punctuality
The working hours policy includes flexibility and the total hours the employees should work on a particular day and consist of an employee's break hours timings and the compensation related to the number of hours worked. Many organizations implement flexible hours for employees, in which the number of hours to be worked is mentioned.
The punctuality policy sets a clear path of expectations for the employee's arrival to the workplace daily. Therefore, the punctuality policy must be a strict set of rules for the employees to imply daily. While forming a policy, different aspects should be kept in mind as it directly affects the employees and their co-workers.
Remote Working
Remote working has become the new normal for many organizations. This policy specifies the rules for an employee who works from home. An efficient work from home policy should include guidelines for the employees, data confidentiality norms, and the criteria for the possible situations an employee can face during remote working.
Remote working policies should be more specific as the employees cannot be under supervision while working from home and data security concerns increases. Thus, it is essential to form a work from home policy for remote-working employees.

Overtime
The overtime policy is a formal document that contains the guidelines on the overtime of an employee. Overtime policy is a formal document that contains the guidelines on the OT of an employee. The organization should specify the amount of overtime to be done in a month and the employee's eligibility. This dictates the eligibility and rights to get paid for the extra hours worked. To avoid confusion, the policy must clearly state the reporting time and the employees' working hours.
Performance Review
The performance review policy is a must to make your work culture performance-driven and to make sure that the performance of employees is evaluated fairly. Being a major part of the talent management process, it aids managers in setting standards, how to evaluate performances, and deciding the appraisals based on them. Even when the performance review rules and regulations are communicated to employees, they can execute their tasks better. The policy should clearly define the performance standards, managers' responsibilities, rules regarding the review cycles, and training needs.
Compensation and Benefits
Compensation is an essential part of the employee lifecycle. Well crafted compensation and benefits policy can provide you competitive advantage over your competitors. The policy should include how much monetary and non-monetary benefits employees will receive as a part of their compensation.
Monetary benefits includes salary, variable pay, bonus, incentive, etc. While, the non monetary benefits are paid time off, insurance, retirement plans, etc. These policies should provide the employees with a detailed overview of how they will get benefits and their eligibility criteria.
Termination
Termination can sometimes be tiring and should be as smooth as possible so, the termination policy should be formed in such a way that it guides the employees and their employers through a procedure to leave the organization. A termination policy should include how to apply for resignation, criteria of termination, hand-over and exit clearance procedure.

Conclusion
To be compliant and unbiased towards your employees, it is essential to create and implement policies right from inception of the company. This makes your organization a better place to work. A well intended HR policies and other guidelines leads to a transparent, trusted and unbiased workplace.