Talent Management Process: Step By Step Guide On How The Process, Strategies And Model Works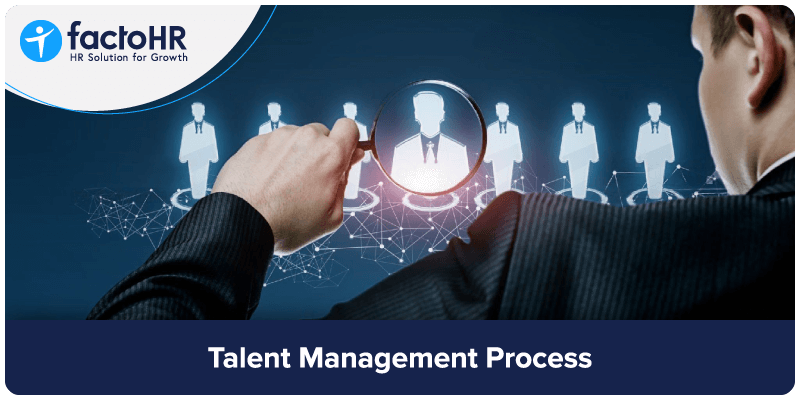 Recruiting and retaining talent has become the primary job of HR. Of course, the right candidate always finds the perfect place, but you may need to strive hard to find and attract them. Talent Management strategies are necessary for the fast-changing work environment to keep the employee motivated and make sure they don't feel left out. In these modern times, it's important to modernize your HR process through HR software that has online talent management functions to strengthen your talent management process.
What is Talent Management?
Developing strategies to simplify the recruitment, increase productivity and retention of employees is called Talent Management. It involves identifying vacant positions, searching for candidates, and hiring worthy candidates. The process doesn't end here, They also have to train and improve their knowledge to improve their productivity and help them stay directed towards the organization's goals.
Various strategies are applied to help employees and organizations to reach their goals. The talent management process helps to empower employees to retain them for a longer time in the organization. These processes constantly change from organization to organization.
Advantages of Talent Management
1. Increases Employee Engagement
Different methods are used to increase employees' engagement and in turn their productivity. One of them is employee engagement, through which regular communication, feedback, and coordination can be improved.
2. Reduction in cost
Retaining experienced and well-known employees can be cost-efficient as it would eliminate the heavy cost of sourcing and hiring new employees.
3. On-Time Recruitment
Whenever any vacant position arises in the organization, the talent management team gets behind it and tries to fill the position as soon as possible.
4. Increases employees retention rate
Talent management helps to attract and retain the most valuable asset, the employees. Different means are used to retain employees to avoid unnecessary recruitment costs and increase employees' trust.
5. Increase in Skills of Employees
Talent management also includes training and development programs on a regular basis to increase the skills of the employees.

Please select from below options to help us improve our content :
The Talent Management Process
Talent Management is not a simple and single-day work. Instead, it is a process that highlights the path to maintaining employee productivity throughout employment right from the moment of the planning to hire a candidate.
All these steps add up to develop a culture of well-being. Let's see how these steps are a significant part of the Talent Management Process.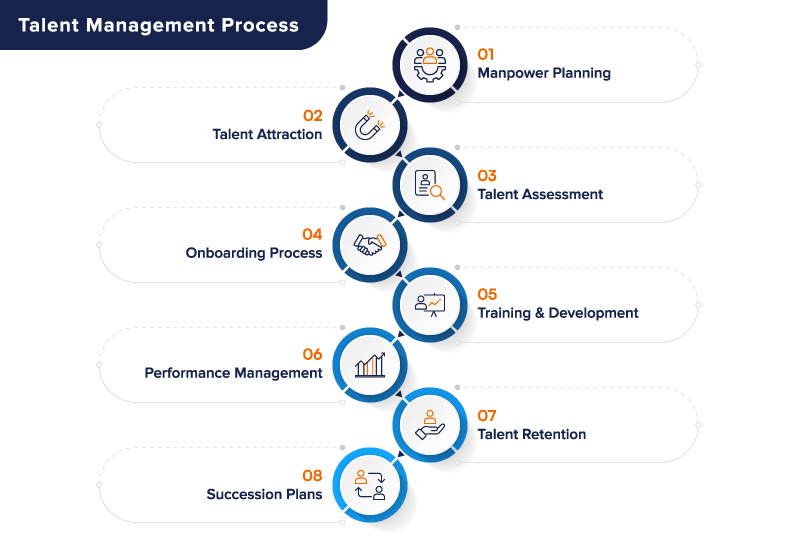 1. Manpower Planning
Like every theory and process, the first step is to plan out how the whole process will move further. As soon as any vacant position pops up in the organization, the first step is to create a detailed job description, including the roles, rights, responsibilities, and eligibility criteria. It also states the initiatives taken for engaging and influencing the recruitment and interview process.
2. Talent Attraction
The next step is to discover the ways to reach the right candidate. The vacancy description made during the first step must be informative and engaging to attract and coordinate with candidates who have the right skills that match your vacant position. Candidate sourcing could be from social media sites like LinkedIn, external job portals, internal employee referrals, and external agents.
The employer brand and the culture of your organization expressed during the process help in attracting candidates. The accurate recruitment method and the possible reach to candidates using all the sourcing methods will define how and what candidates will approach you.
3. Talent Assessment
When candidates start to approach you, you must be well-prepared for assessing and checking the candidates' knowledge that will suit vacant job responsibilities and organizational culture. Therefore, it is unnecessary to keep a single assessment; try checking the employees' informative skills and personal and professional behavior through two or three rounds of logical thinking, technical aspects, and personal interview.
4. Onboarding Process
Once you have assessed the candidates thoroughly, the most relevant person is selected for the job. The acquisition is limited to the selection of the candidates; they also need to be informed about the organization's culture and practices through an effective onboarding process. However, these are now shifted from manual to automated onboarding solutions that suit businesses of all sizes. Many organizations have made onboarding easier for the management to hire fresh talents and implement newer ways of creativity in the workplace.
5. Training & Development
Employees you hire might be experienced or fresher. Expecting them to follow the work without any training is not appealing to your culture. Developing the candidates for job roles by promoting learning management, providing appropriate sources, and training them to upgrade their skills, improves capacity building and engagement. Regular training programs must be planned to keep up with newer technologies. It helps the employees to get in touch with new technologies, upgrade their skills and improve their thinking capability. It is, in fact, helpful in staying focused on organizational goals.
6. Performance Management
When the organization invests in training and development programs, it becomes essential to track if the skills are improved. Without the improvement in employee performance, the training provided to them is of no use. So it would be wise for an organization to use software for performance measurement when they provide training to make sure that employees' skills are improving.
7. Talent Retention
Along with recruiting, talent retention is also an important area to look after. The people you have provided training and professional development also need to be retained through the proper use of benefits. The potential benefits and resources provided to them should be attractive to retain them for a longer time. Also, benefits are not the only thing, Better engagement practices also help to keep the working environment positive to retain employees.
8. Succession Plans
Hiring and retention are not the only things in talent management. A good talent management process includes succession planning too. It also recommends improving the growth of individual employees. The talent management process includes retirement benefits, exit interviews, and succession planning. For a better transition, the employees are promoted based on their skill level, and their roles and rights are modified according to the management.

What Are The Strategies Of Talent Management?
The talent management strategies are not just some points and checklists to follow. They must be followed along with every process, from planning to implementation. To implement these strategies, you need regular checks and surveys to ensure they are working correctly.
Here are the strategies to ensure your talent management process generates desired results.
1. Provide A Detailed Job Description
Whether it's internal or external recruiting, you cannot attract any good candidate without an accurate description of what you, as an employer, seek for a particular job position. It will create confusion and drive away a bunch of candidates if your job description is not detailed enough, and you may end up giving considerably more time to search for the candidate.
But this is easily avoidable if you know the right tricks to formulate a job description that attracts suitable candidates.
The information essential to the job description must include
Job Title
Location
Job Responsibilities
Eligibility criteria
Salary and benefits
2. Friendly Culture
If the organization's culture is not engaging, interactive, and lively, then the employees will feel diverted from their path and target. The culture of any organization is challenging to implement just by making policies. It is the actions and personalities of employees that make up the organization's culture. The new employees must fit into the organization comfortably to ensure good productivity. A friendly culture also represents the power of your organizational goals and missions.
3. Developments Opportunities
Employees always seek to grow professionally, and by doing that, they intend to give their 100% to the organization. But for that, the organization must have regular training and career development opportunities to help employees achieve higher targets. In addition, the employees must be provided and taught the right and advanced tools to improve their skills and knowledge, which they can use to create a substantial positive impact on the organization.
4. Reward And Recognize
While you invest in your employees' training and development, you must implement ideas to appreciate them for outstanding achievements. The appreciation provided to worthy employees keeps them motivated and triggers them to strive more to achieve the organizational goals. When rewarded, employees give their best results and help cultivate a culture of growth. It will eventually help you in retaining your best people.
5. Be in Constant Touch with Every Employee
Make sure that you are aware about your employees all activities, if any employee is lacking somewhere in work, help them. Ensure that your employees are working at their full strength.

Ending Notes
Talent management is not simple and is neither a single-day process to implement. As soon as your hiring requirement appears, talent management gets to work. One always wants to implement new ideas to recruit and retain new employees. If you have a culture that actually appeals, it will help to hire and represent a positive identity. And the same culture will also help employees stay productive and updated, and it will eventually help you to retain them.