Data Analyst Job Description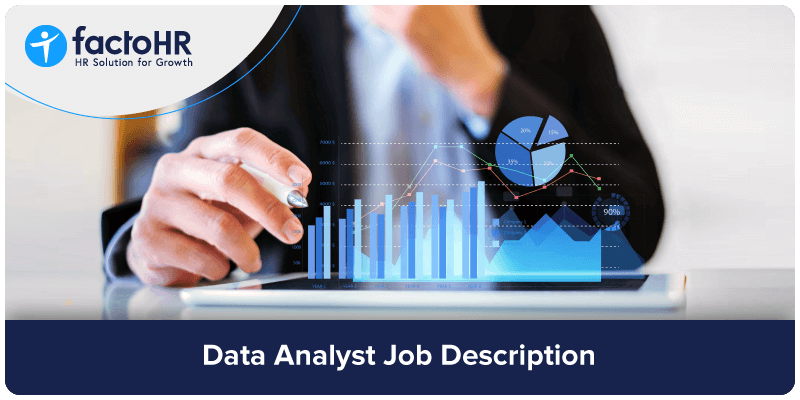 A data analyst gathers and stores data on market research, sales numbers, logistics, linguistics, or other benefits. They bring technical expertise to maintain the data's quality and accuracy. Then, they have to gather, process, and present it in ways to businesses and people to help them make better decisions.
Data Analyst Job Description Template
We are hiring a data analyst to join our data team. You will take responsibility for developing reports, managing our master data set, and troubleshooting data issues. To do well in this role, you will need experience as a data analyst, a fine eye for detail, and an extensive understanding of famous data analysis tools and databases.
Data Analyst Responsibilities
Handling users and user roles.
Managing master data set.
Providing quality assurance data.
Commissioning & decommissioning data sets.
Processing confidential information and data.
Helping create reports and analysis.
Designing and managing reporting environment including data sources and security.
Supporting ideas for data integration.
Conducting tests and making strategic decisions to implement the use of new software.
Generating reports from multiple systems.
Identifying changes and updates of production systems.
Training users for new reports and dashboards.
Providing technical expertise in data mining and data cleansing.
Data Analyst Requirements
Bachelor's degree in computer science from any recognized university or college.
Work experience as a data analyst
Ability to work closely with stakeholders to evaluate possible risks.
Ability to identify tools and databases to provide software solution recommendations.
Ability to convert business requirements into non-technical, lay terms.
High amount of experience in processes and methodologies for managing large-scale databases.
Proven experience in managing large data sets and rational databases.
Understanding and addressing metadata standards.
Possessing a high amount of verbal and written communication.

Data Analyst Job Description Sample
About Us
VARS Marketing is a high-tech marketing company established in 2015 and has our headquarters in Delhi, India. Our main business is providing media buying platforms to Fortune 500 companies. The data analyst function is a key position in our company and is a client-facing role that provides business consulting services.
Roles and Responsibilities
This position requires enthusiasm and aptitude to execute these critical functions.
Deep understanding of business processes and associated datasets.
Understanding of database designs that support tough business processes and related applications.
Training and providing technical support to junior analysts.
Cooperating with project teams, other data analysts, and technical leads to provide insights on processes.
Working closely with technical teams and client executives to evaluate big data relevant to their business and help in decision-making.
Data Analyst Requirements
Bachelor's degree in computer science.
2+ years of experience in data analysis or data science.
Management experience.
Strong written and verbal communication skills.
Advanced analytical knowledge of data.
Experience of working with designers, engineers, and line staff.
Experience in managing reporting packages.
Strong grip on statistics and statistical software like Excel, SAS, and SPSS to be used for data set analysis.
Certified Analytics Professional (preferred).

FAQs
1. What Does a Data Analyst do?
A data analyst's role and responsibilities depend on the industry, such as digital marketing, social media, business intelligence, finance, etc. Generally, they gather, process, and analyze huge amounts of data. They also develop systems and databases to help them perform these processes.
2. What Makes a Data Analyst a Good one?
A good data analyst is always an extremely detail oriented person and can explain a huge amount of complex information in a simple, organized manner. They have strong math skills, can interpret data, and be curious.
3. Who does a Data Analyst Work with?
Who a data analyst works with depends on the company and industry in which they work in. Generally, they work with VPs, COOS, directors, and managers.