Marketing Executive Job Description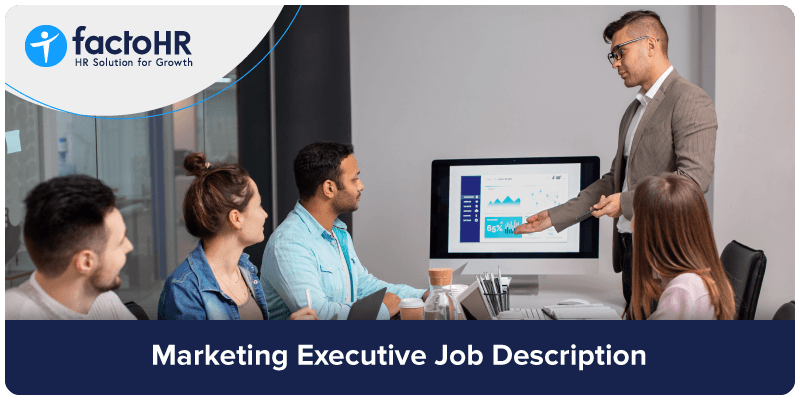 Marketing executives oversee and handle various marketing campaigns aimed at promoting products, services, and initiatives. They are adapted to work on platforms, both printed and social media, and are likely to have a lot of responsibilities and priorities to juggle with.
What Does a Marketing Executive do?
The roles and responsibilities of Marketing Executives depend upon the size of the company they work for and their marketing needs. However, some of their common roles are:
Research a market by surveys, groups or study analytics to identify the latest trends, customer preferences, and strategies by the competitors.
Perform a SWOT (strengths, weaknesses, opportunities, threats) analysis to understand the landscape of a market and how the company fits into it.
Creating a comprehensive and unique market plan that outlines the strategies to achieve the company's sales and branding goals.
Improve the existing marketing plans and strategies.
Focuses, develops and maintains a brand image in the market.
Looks for the price strategy to gain maximum profit out of the sales while maintaining customer satisfaction.
Enhance digital marketing techniques such as SEO, advertising, blogs, social media and email letters by creating unique content.
Collect and analyse customer feedback to improve the product and services.
Analyze data to understand customer behaviour, campaign effectiveness, and ROI (Return on Investment).
Collaborate with other teams like Business developers and customer service to achieve company goals effectively.
Support sales team to provide them customers by implementing lead generation strategies.
Use various metrics to KPIs to evaluate the effectiveness of marketing campaigns.

Skills of a Marketing Executive
To work as a marketing executive, you must acquired these skills to master your role.
1. Analytical
Usually, marketing executives excel in crafting and executing advertising and promotional campaigns. They also actively conduct field research to gather valuable insights into the products or services they're promoting. This role demands a keen analytical ability. Additionally, these professionals employ their analytical skills to evaluate the effectiveness of ongoing marketing initiatives. They leverage their expertise to scrutinise consumer behaviour, assess competitor strategies, perform financial evaluations, and keep abreast of emerging trends in marketing.
2. Technical
The marketing industry necessitates a foundational set of technical abilities for crafting campaigns and monitoring their success. Being skilled in various marketing technologies and software platforms is highly advantageous for this role. Utilizing a range of software solutions, from project management and analytics tools to communication and presentation software, can significantly enhance your job performance.
3. Creativity
Fostering novel marketing approaches and enhancing current ones demands a high degree of creativity. The ability to create new and innovative ideas that convince customers to invest in your product or service is vital for a fulfilling role as a marketing executive. These experts can employ their creativity to brainstorm concepts for advertising or promotional initiatives.
4. Communication
Marketing executives interact with diverse individuals, ranging from team members and colleagues to managers and customers. They employ communication skills throughout various tasks, whether it's crafting social media content or designing marketing materials. Proficiency in both verbal and written communication and the ability to engage with different audiences is pivotal in realising organisational objectives.
5. Organizational
Given their responsibility for overseeing numerous projects concurrently, marketing executives must possess exceptional organisational skills. They should adeptly manage their schedules, pre-plan marketing campaigns, and monitor performance metrics. A well-organized approach in the workplace not only minimizes stress for these professionals but also enhances their efficiency in fulfilling their responsibilities.
6. Copywriting
Throughout a marketing campaign, executives skillfully compose website content, press releases, social media posts, and print ad copy, showcasing their adept copywriting abilities. They might also craft engaging topics for TV interviews to raise product or service awareness. Proficiency in copywriting skill and the art of concise writing captivates readers which stands as a pivotal skill for achieving success in the marketing field.
7. Teamwork
Marketing executives thrive on collaboration, as their role necessitates continuous interaction with various departments to formulate effective marketing strategies. They often seek insights from teams like finance or technical, aligning campaigns with budgetary and functional needs. Embracing teamwork, engaging across departments, and attentively considering diverse perspectives are integral to proficiently fulfilling the spectrum of their job responsibilities.

Marketing Executive Job Description Template
We are looking for an enthusiastic marketing executive to lead our marketing campaigns. They will be required to coordinate with other departments and ensure that each marketing operation is running smoothly. They need to be up-to-date with regular social media trends. To be a successful marketing executive, you should be able to identify the change's within each target audience.
Marketing Executive Responsibilities
Researching and developing each stage of the project.
Allocating tasks to the members of the advertising and graphics department.
Monitoring employees' work, providing guidance as indeed.
Catering to clients' demands.
Making efforts to that projects are completed properly.
Working within time and financial restrictions.
Being updated with marketing campaign outputs.
Preparing detailed reports of the projects and presenting them to their superiors.
Marketing Executive Requirements
Degree in sales, marketing, or any other similar field.
Previous experience as a marketing executive.
Knowledge of using tools for marketing.
Understanding of consumerism and contemporary trends.
Great research and writing skills.
Strong leadership, coordination, and communication skills.
Detail oriented and highly organized.
Respect for people and ideas.

Marketing Executive Job Description Sample
We are looking for an ambitious marketing executive to join our company and undertake our marketing projects for the success of our company. You will organize promotional events and innovative campaigns according to trends and customer requirements that can help our company to achieve goals and move towards the success.
Marketing Executive Responsibilities
Research to develop efficient and intuitive marketing strategies
Organize and monitor advertising campaigns, promotional events, and exhibitions.
Perform market research to analyze and evaluate trends, brand awareness and competitive advantages.
Create and implement surveys to know customer requirements.
Write copies for various marketing platforms such as, press releases, brochures, website material, etc.
Maintain relationships with publishers and media vendors to ensure collaboration in promotional activities.
Monitor progress of campaigns and submit reports of performance.
Coordinate with managers in preparing budgets and monitoring expenses.
Marketing Executive Requirements
Proven experience as marketing executive.
Understanding of market research techniques, statistics methods, and data analysis.
Knowledge of strategic planning principles and marketing strategies.
Proficient in CRM and MS Office.
Familiarity with web analytics and social media.
Excellent coordination and communication skills.
Strong time-management and organizational abilities.
Commercial awareness.
BSc/BA in marketing, business administration or similar field.

FAQs
1. Who Does Marketing Executive Report to?
It depends on the organization's structure but generally a marketing executive reports to a marketing director or a marketing manager. However in a traditional organization structure, marketing manager are directly responsible for supervising marketing executives. although , in a larger organization having several departments, marketing director generally oversees the marketing executives. The relationship between an executive and the supervisor be it a manager or a director, should be collaborative in order to achieve higher company goals.
2. What is a Marketing Campaign?
A marketing campaign is a set of specific activities designed to promote a product, service or a business through different advertising media. These activity are specially designed to promote brand awareness, create interest of the target audience for achieving marketing objectives. Marketing campaigns include wide range of activities like social media, press releases, television, etc however, choosing the right one for your campaign needs will be beneficial to you. In short, a successful campaign must have a creativity, proper strategic planning and decision.
3. Which Industries Require a Marketing Executive?
Marketing Executives can work in a wide range of industries like customer service, technology, healthcare, finance, banking and many more. Other sectors such as eduction, entertainment, and non profitable businesses also depends on marketing executive to target their audience and fulfil their needs. The role of the executive is versatile and extends beyond any industries, ranging from creating a comprehensive marketing plan to a better communication with the clients, it contributes to overall success of the company.
4. Which Degree in Education is Required to Become a Marketing Executive?
There is no such strict requirement, although you must have the domain knowledge. Like having a bachelor's degree in marketing, business administration, or any related domain is commonly favoured. A modern marketing practices involves a certification in digital marketing, content creation, or social media management. Additionally, a practical experience also becomes a prominent advantage for this role. A successful marketing executive should thoroughly understand client's needs or behaviour, making effective marketing strategies, crafting a compelling message, and navigate the marketing landscape with confidence.
5. What are the Career Paths for Marketing Executives?
The career path for a Marketing Executive is dynamic and offers avenues for growth and specialization. As they accumulate experience and skills, Marketing Executives have the opportunity to advance within the field. Progression often leads to roles such as Marketing Manager, where they oversee broader strategies, manage teams, and drive high-level decision-making.