Marketing Executive Job Description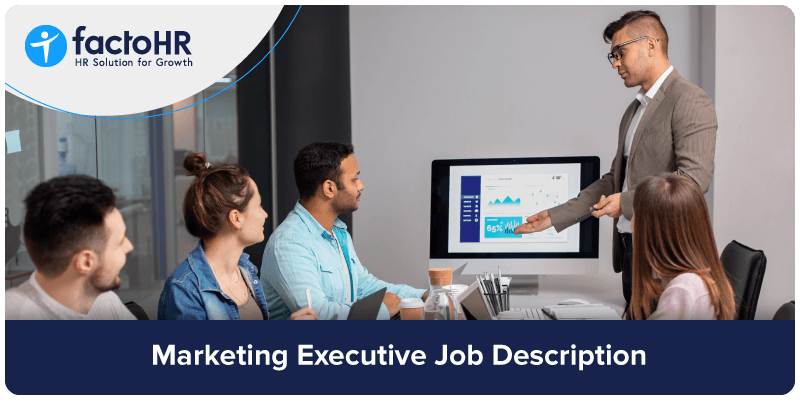 Marketing executives oversee and handle various marketing campaigns aimed at promoting products, services, and initiatives. They are adapted to work on platforms, both printed and social media, and are likely to have a lot of responsibilities and priorities to juggle with.
Marketing Executive Job Description Template
We are looking for an enthusiastic marketing executive to lead our marketing campaigns. They will be required to coordinate with other departments and ensure that each marketing operation is running smoothly. They need to be up-to-date with regular social media trends. To be a successful marketing executive, you should be able to identify the change's within each target audience.
Marketing Executive Responsibilities:
Researching and developing each stage of the project.
Allocating tasks to the members of the advertising and graphics department.
Monitoring employees' work, providing guidance as indeed.
Catering to clients' demands.
Making efforts to that projects are completed properly.
Working within time and financial restrictions.
Being updated with marketing campaign outputs.
Preparing detailed reports of the projects and presenting them to their superiors.
Marketing Executive Requirements:
Degree in sales, marketing, or any other similar field.
Previous experience as a marketing executive.
Knowledge of using tools for marketing.
Understanding of consumerism and contemporary trends.
Great research and writing skills.
Strong leadership, coordination, and communication skills.
Detail oriented and highly organized.
Respect for people and ideas.

Marketing Executive Job Description Sample
We are looking for an ambitious marketing executive to join our company and undertake our marketing projects for the success of our company. You will organize promotional events and innovative campaigns according to trends and customer requirements that can help our company to achieve goals and move towards the success.
Marketing Executive Responsibilities:
Research to develop efficient and intuitive marketing strategies
Organize and monitor advertising campaigns, promotional events, and exhibitions.
Perform market research to analyze and evaluate trends, brand awareness and competitive advantages.
Create and implement surveys to know customer requirements.
Write copies for various marketing platforms such as, press releases, brochures, website material, etc.
Maintain relationships with publishers and media vendors to ensure collaboration in promotional activities.
Monitor progress of campaigns and submit reports of performance.
Coordinate with managers in preparing budgets and monitoring expenses.
Marketing Executive Requirements:
Proven experience as marketing executive.
Understanding of market research techniques, statistics methods, and data analysis.
Knowledge of strategic planning principles and marketing strategies.
Proficient in CRM and MS Office.
Familiarity with web analytics and social media.
Excellent coordination and communication skills.
Strong time-management and organizational abilities.
Commercial awareness.
BSc/BA in marketing, business administration or similar field.

FAQs
1. Who Does Marketing Executive Report to?
It depends on the organization's structure but generally, a marketing executive reports to a marketing director or a marketing manager.
2. What is a Marketing Campaign?
A marketing campaign is a set of specific activities designed to promote a product, service, or business through different advertising media.