Marketing Manager Job Description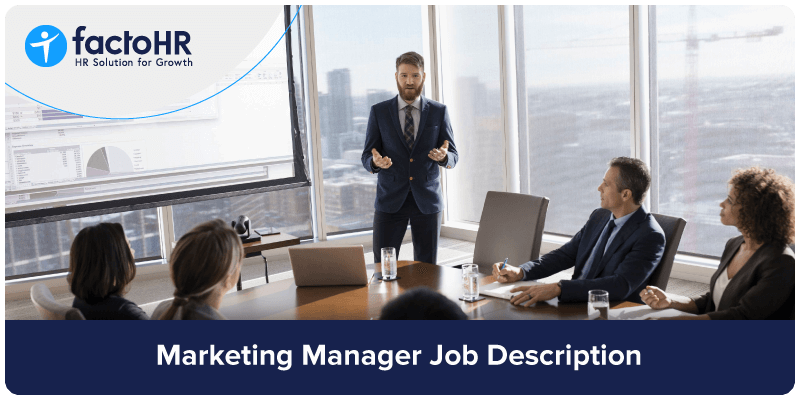 A marketing manager plays an essential role in enhancing, shaping and implementing a company's marketing strategy, which is aimed at boosting its brand recognition, products and services offerings. The marketing manager is responsible for creating comprehensive marketing plans, carrying out in-depth market analysis and overseeing the organization's public relations campaigns.
The responsibility of the marketing manager is to formulate marketing strategies that clearly align with the company's business goals. This just doesn't involve traditional marketing but also digital marketing by proactively engaging in social media and content creation. By this marketing or campaign, they promote products, services, or brand value of the company. This develops the need to develop the price of the product, manage department staff and generate new business leads. Marketing managers often work collaboratively with various departments like sales and product development to set marketing goals that are integrated with the overall company strategy.
This multiple role showcases the development of strategic marketing plans, the execution of market research, and the management of public relations activities, all aimed at achieving the company's long-term business goals.

Tips for Writing a Job Description as a Marketing Manager
When writing a Marketing Manager job description, focus on clarity and specificity to attract the right candidates.
1. Clear Job Title
A primary thing anyone finding a job is to see available job openings. A potential candidate always looks for an accurate and descriptive job title. If you are looking for a specialized role, such as a content editor or a product manager, make sure you specify it in the title. This will help candidates quickly grasp the nature of the position and ensure that their skills are aligned with it.
2. Company Overview
You must provide a brief yet comprehensive description of your company, its target, mission and culture. This helps candidates to determine whether the company is suitable for them. The overview gives a snapshot of what the company does, its values and the working environment. This will attract candidates who are not only interested in showcasing their skills but also find the company cultural fit.
3. Role Summary
Provide a concise summary of roles, their main purpose, and significance for the company to set the stage for the rest of the job description. The overview should be a high-level summary that outlines the responsibilities of Marketing Manager and how they will contribute to the company's success.
4. Key Responsibilities
Listing the primary duties and tasks gives candidates a clear idea of what will be expected of them. Be specific but concise, and try to prioritize the responsibilities in order of importance or time spent. This section should cover everything from strategic planning to execution and analysis.
5. Qualifications
It is very important to state the educational background, experience, skills, or any certifications required to filter candidates who are unqualified for the position in the early process. The degree required for a marketing manager includes a bachelor's degree in the relevant field, years of experience, or specific training certifications like Google Analytics or HubSpot.
6. Skills and Competencies
This section should highlight both hard skills, like proficiency in marketing software, and soft skills, like leadership and communication abilities. These are the traits that will help the Marketing Manager succeed in both the technical and interpersonal aspects of the role.
7. Performance Metrics
If possible, outline how the success of the role will be measured. This could be done through key performance indicators (KPIs) like lead generation, conversion rates, or return on investment for marketing campaigns. This not only sets expectations but also attracts candidates who are result-oriented.
8. Opportunities for Growth
Mentioning potential career progression or learning opportunities can make the role more attractive. Whether it's the possibility of moving into a more senior role or the availability of professional development in a relevant field, this can set your company apart from others.
9. Salary and Benefits
While it's optional to include a salary range, doing so can help attract candidates who are within your budget. If you prefer not to disclose salary, consider highlighting other perks like flexible working conditions, health benefits, or retirement plans.
10. Application Process
Clearly outline how candidates should apply for the role. Should they email a resume or send a cover letter? Is there an online application form? Providing this information streamlines the application process for candidates and ensures you receive the necessary materials for evaluation.
11. Equal Opportunity Statement
Include one statement about providing an equal opportunity to the candidate. This positive approach will help you set the company's commitment to diversity and inclusion, which is important to many job seekers nowadays.
Careful attention to the above-mentioned skills will help you find a way to post a compelling, informative and effective job opening description for a marketing manager.

Marketing Manager Job Description Template
We are looking for a creative marketing manager to promote our company's services and brand. In this role, you will be developing and executing marketing strategies to promote our company's products and services.
To ensure success in this role, you will need to have extensive knowledge of marketing strategies and the ability to generate new business leads. We are looking for someone whose expertise can be utilized to increase our brand awareness.
Marketing Manager Responsibilities
Developing and optimizing pricing and marketing strategies.
Analyzing current market trends and making forecasts.
Generating new business leads.
Explaining marketing strategies to the financial, sales, production, and public relations departments.
Forming and managing the marketing department budget.
Managing advertising, branding, and promotional campaigns.
Preparing and presenting quarterly and annual reports to the top-level management.
Being aware of new trends and marketing strategies.
Promoting our brand at different industry-level events.
Marketing Manager Requirements
Bachelor's degree in business administration, marketing, finance, or any similar field.
Proven experience as a marketing manager.
Proficiency in marketing automation software such as Bitrix24, and Hubspot marketing.
Deep knowledge of marketing strategies, branding, and channels.
Excellent communication, collaboration, and leadership abilities.
Strong organizational and time management skills.
Analytical and problem-solving skills.

Marketing Manager Job Description Sample
At GOP Marketing.co, marketing is all about understanding people and building awareness of how our products & services can satisfy their needs. We're looking for an experienced and dedicated marketing manager who's eager to do this and more. The candidate needs to have experience in developing and executing marketing campaigns while managing their team. The manager should be proficient with day-to-day marketing activities, and strive under tight deadlines to meet the company's constantly changing needs.
Marketing Manager Responsibilities
Gathering and analyzing information to identify new market opportunities and customers, demand for products and services, and effectiveness of existing marketing strategies and campaigns.
Conducting market research, sales forecasting, and strategic planning to assess and ensure the sale and profitability of products.
Conducting pricing research and analysis to ensure competitive product and service pricing.
Updating knowledge of trends and developments in the market; identifying needs for new products and services and making recommendations to leadership.
Analyzing and evaluating financial aspects of product development.
Collaborating in the development of new products.
Developing, evaluating, and conducting training on marketing activities, strategies, and policies.
Collaborating, participating in, and coordinating promotional activities or trade shows.
Negotiating contracts for services needed to execute a marketing strategy.
Performing other duties as assigned.
Marketing Manager Requirements
Bachelor's degree in business administration, marketing, finance, or any similar field.
2+ years of experience as a marketing manager.
Proven experience in identifying the target audience.
Knowledge of the latest trends and best practices used in online marketing.
Budget-management skills and proficiency.
Ability to think innovatively and creatively.
Experience with marketing automation and CRM tools.

FAQs
1. Who does a Marketing Manager work with?
A Marketing Manager operates at the intersection of various departments and roles, making collaboration a key aspect of their job. They frequently work closely with Marketing Directors, who often provide the overarching vision and strategy for the marketing department. The Marketing Director usually serves as the immediate supervisor for the Marketing Manager, offering guidance, setting performance metrics, and approving budgets and campaigns. The role of a Marketing Manager is highly collaborative, requiring them to work with a diverse range of internal and external stakeholders. From shaping strategy with Marketing Directors to executing plans with Marketing Assistants, and from aligning client expectations with Account Directors to ensuring timely delivery with Project Managers, a Marketing Manager is a central figure for the organization.
2. What does a Marketing Manager do?
Starting with the financial aspects, Marketing Managers are instrumental in preparing estimates and budgets for marketing campaigns. This involves a deep understanding of the costs associated with different marketing activities. They need to ensure that the marketing budget is allocated effectively to maximize return on investment. Drafting messages is another critical aspect of their role. Moreover, they are responsible for selecting the most appropriate channels to disseminate these messages. They often oversee market research to understand consumer behavior, preferences, and emerging trends. In short, a Marketing Manager acts as an essential person for the company's marketing efforts. They try to create an unique strategy and execute it, ensuring that thecopany's message is effectively communicated to the right audience, at the right time, and through the right channels.