Content Writer Job Description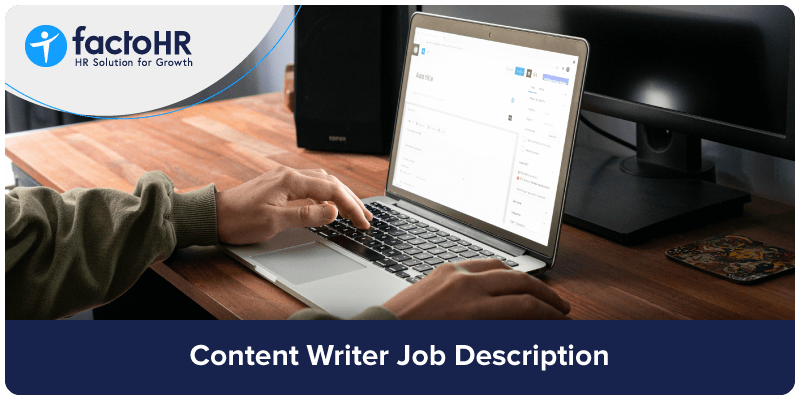 A content writer is a professional who writes engaging and informative articles to help companies showcase their products. From blog posts to press releases, they write on a range of subjects and are responsible for producing the best-written content.
Content Writer Job Description Template
We are searching for a skilled content writer to create content for articles, blogs, product descriptions, social media, and company websites. Their responsibilities include researching information to produce content as needed, promoting company products by writing blogs on numerous third-party platforms, and updating the company website's content. You should be aware of the company's writing guidelines while writing content.
Content Writer Responsibilities:
Conducting deep research on industry-related topics to develop authentic content.
Creating content for articles, blogs, social media, product descriptions, and the company website.
Helping the marketing team in making content for advertising campaigns.
Proofreading content for mistakes.
Doing keyword research and using SEO techniques to increase traffic to the company website.
Editing and optimizing existing content to improve readability.
Writing compelling headlines and body copy to capture the attention of the targeted audience.
Identifying customers' needs and suggesting new content to fill gaps in the company's current content.
Content Writer Requirements:
Bachelor's degree in any business-related field.
Proven content writing experience.
Knowledge of content management systems.
Proficiency in Microsoft office tools.
A portfolio of published articles.
Great writing and editing skills.
Ability to work in a quick-paced environment.
Ability to work simultaneously on multiple projects.
Efficient communication skills.

Content Writer Job Description Sample
About Us
Qeqa is founded by Shaman Sharma and Baman Verma. Shama has also been the Founder of Tiqa and Ziqa. These businesses comprise 1200+ people, 6+ offices, 2+ million customers, revenues over USD 100+ million, and a group enterprise value of over USD 1.2 billion.
Qeqa is on a mission to make online payments easy, inclusive, valuable, and secure for corporations, merchants, and employees everywhere. Its businesses work around the key idea that receiving and spending money should be trouble-free and fast. Qeqa is currently amongst the fastest-growing B2B companies worldwide.
Content Writer Responsibilities:
Develop and draft content for Qeqa's content platforms such as blogs, websites, social media, e-books, etc.
Select and draft content for sales materials such as handouts, brochures, leaflets, etc.
Contribute towards making and implementing the monthly content calendar.
Update and maintain website content regularly.
Support the public relations team in drafting articles for publishing in the media, drafting press releases, press announcements, etc
Draft content to make product demo videos.
Follow and implement best techniques for content optimization such as using highly relevant keywords, etc.
Draft copy for user engagement, communication, and education.
Work with the relevant concerned people across departments to collect needed information.
Work with the concerned teams to make content marketing ideas to promote content.
Content Writer Requirements:
Great overall skills in writing content in different styles.
Creative thinking, should be able to write creative content.
2-4 years of writing experience.
Experience in copywriting.
Experience working on a CMS tool.
Excellent verbal and written communication skills.
Critical thinking and detail-Oriented.
Comfortable writing on B2B segment.
Ability to work well with individuals and teams.
Familiarity with keyword placement and other SEO techniques.

FAQs
1. What are the Skills Required to be a Content Writer?
The following skills are needed to be a content writer:
Research
Reading
Editing
Content creation
Written communication
Verbal communication
SEO knowledge
2. What are the Rules of Content Writing?
The following are the 4 simple rules of content writing:
Understand your audience
Don't show off
Be focused and consistent
Active voice
3. What Makes a Good Content?
A good content is actionable, original, and answers the question. It is nicely sourced, concise, unique, grammatically correct, properly formatted, and most importantly SEO friendly.