Content Writer Job Description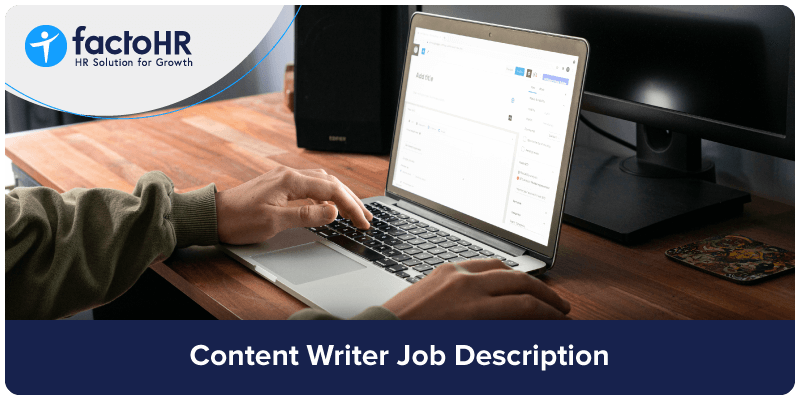 A content writer is a professional who writes engaging and informative articles to help companies showcase their products. From blog posts to press releases, they write on a range of subjects and are responsible for producing the best-written content. Content writers often collaborate with marketing teams, subject matter experts, and SEO specialists to produce content that aligns with the company's goals.
How to Write Content Writer Job Description
Follow these comprehensive steps to create a job description that stands out and brings the best candidates to your organization.
Clear and Specific Job Title
Begin your content writer job description with a clear and specific job title that accurately represents the role of a content writer. Avoid vague or generic titles that might confuse potential candidates. Instead, opt for titles like "Creative Content Writer" or "SEO Content Writer" to emphasize the focus of the role.
Overview of Responsibilities
Provide a concise and informative overview of the content writer's main responsibilities and objectives. This section serves as a sneak peek into what the role entails and helps candidates understand the primary focus of the position. It should capture the essence of the content writer's contributions to the company's success.
Key Responsibilities
List the key responsibilities of the content writer in bullet points or short paragraphs. This section should be detailed and cover the diverse range of tasks that content writers are expected to perform.
Required Skills and Qualifications
Specify the essential skills and qualifications candidates need to succeed in the role of a content writer. This section serves as a guide for potential applicants to assess whether they possess the necessary expertise and attributes.
Company Culture and Values
Briefly describe your company's culture, values, and mission. This section aims to give candidates insights into your organization's ethos and working environment. Highlight any unique aspects of your company that set it apart from others in the industry. By providing a glimpse into your company's values, you can attract candidates who align with your vision and are enthusiastic about contributing to your organization's growth.
Compensation and Benefits
While salary information may be provided in more detail during the interview stage, it is essential to mention the compensation package and any additional benefits offered. This section can include details such as competitive salary ranges, performance-based incentives, health benefits, retirement plans, and professional development opportunities, flexible working arrangements, and any other perks that your company provides. Offering attractive compensation and benefits can significantly enhance the appeal of the job and entice top talent to apply.
Application Instructions
Clearly outline the application process and provide instructions for candidates to apply for the content writer position. Include information on the format and required documents, such as resumes, cover letters, writing samples, or portfolios. Specify the preferred method of application, whether through email, an online application portal, or by mail.
Equal Opportunity Employer Statement
To promote diversity and inclusivity within your organization, include an Equal Opportunity Employer statement. This statement reinforces your company's commitment to providing an equal and unbiased opportunity for all candidates, regardless of their race, ethnicity, gender, age, religion, disability, or any other characteristic protected by law.
Content Writer Job Description Template
We are searching for a skilled content writer to create content for articles, blogs, product descriptions, social media, and company websites. Their responsibilities include researching information to produce content as needed, promoting company products by writing blogs on numerous third-party platforms and updating the company website's content. You should be aware of the company's writing guidelines while writing content.
Content Writer Responsibilities:
Conducting deep research on industry-related topics to develop authentic content.
Creating content for articles, blogs, social media, product descriptions, and the company website.
Helping the marketing team in making content for advertising campaigns.
Proofreading content for mistakes.
Doing keyword research and using SEO techniques to increase traffic to the company website.
Editing and optimizing existing content to improve readability.
Writing compelling headlines and body copy to capture the attention of the targeted audience.
Identifying customers' needs and suggesting new content to fill gaps in the company's current content.
Content Writer Requirements:
Bachelor's degree in any business-related field.
Proven content writing experience.
Knowledge of content management systems.
Proficiency in Microsoft Office tools.
A portfolio of published articles.
Great writing and editing skills.
Ability to work in a quick-paced environment.
Ability to work simultaneously on multiple projects.
Efficient communication skills.

Content Writer Job Description Sample
About Us
Qeqa is founded by Shaman Sharma and Baman Verma. Sharma has also been the Founder of Tiqa and Ziqa. These businesses comprise 1200+ people, 6+ offices, 2+ million customers, revenues over USD 100+ million, and a group enterprise value of over USD 1.2 billion.
Qeqa is on a mission to make online payments easy, inclusive, valuable, and secure for corporations, merchants, and employees everywhere. Its businesses work around the key idea that receiving and spending money should be trouble-free and fast. Qeqa is currently amongst the fastest-growing B2B companies worldwide.
Content Writer Responsibilities:
Develop and draft content for Qeqa's content platforms such as blogs, websites, social media, e-books, etc.
Select and draft content for sales materials such as handouts, brochures, leaflets, etc.
Contribute towards making and implementing the monthly content calendar.
Update and maintain website content regularly.
Support the public relations team in drafting articles for publishing in the media, drafting press releases, press announcements, etc
Draft content to make product demo videos.
Follow and implement best techniques for content optimization such as using highly relevant keywords, etc.
Draft copy for user engagement, communication, and education.
Work with the relevant concerned people across departments to collect needed information.
Work with the concerned teams to make content marketing ideas to promote content.
Content Writer Requirements:
Great overall skills in writing content in different styles.
Creative thinking, should be able to write creative content.
2-4 years of writing experience.
Experience in copywriting.
Experience working on a CMS tool.
Excellent verbal and written communication skills.
Critical thinking and detail-Oriented.
Comfortable writing on B2B segment.
Ability to work well with individuals and teams.
Familiarity with keyword placement and other SEO techniques.

FAQs
1. What are the Skills Required to be a Content Writer?
To be a successful content writer, you need to possess a diverse set of skills that enable you to create engaging and informative content. Some of the key skills required for content writing are:
Research Skills: Content writers should be adept at conducting thorough research to gather accurate and credible information for their content.
Writing Proficiency: Strong writing skills are essential, including proper grammar, punctuation, and a clear writing style.
Creativity: Content writers need to think creatively to come up with fresh and captivating content ideas.
SEO Knowledge: Understanding SEO principles helps in optimizing content for better search engine visibility.
Adaptability: Content writers must be adaptable to write on diverse topics and tailor their content to different audiences.
Time Management: Meeting deadlines is crucial in the fast-paced world of content writing.
Editing and Proofreading: Meticulous editing and proofreading ensure high-quality content.
Communication Skills: Effective communication, both written and verbal, is necessary for collaborating with teams and clients.
Attention to Detail: Content writers should pay close attention to details to ensure accuracy and coherence in their content.
2. Is SEO knowledge mandatory for content writers?
While SEO knowledge is not always mandatory for content writers, it is highly beneficial and increasingly valuable in the digital landscape. Understanding SEO principles allows content writers to create content that not only appeals to readers but also ranks well in search engine results. While not a strict requirement, SEO knowledge enhances a content writer's value and impact in the digital realm, making their content more effective in reaching the target audience.
3. What Makes a Good Content?
Good content possesses several key attributes that make it effective and impactful. It is relevant to its target audience, engaging and captivating their attention. The content is clear and coherent, conveying its message concisely and logically. It is original and unique, backed by credible sources, and offers real value to the readers. Good content triggers emotions, builds trust, and considers SEO principles for better visibility. It is easily shareable, consistent in tone and style, and audience-centric. With a clear call-to-action and evergreen quality, good content effectively connects with readers, drives engagement, and delivers meaningful results for businesses.
4. How does content writing impact businesses?
Content writing has a significant impact on businesses by enhancing brand visibility and awareness, improving search engine rankings, establishing authority and credibility, fostering customer engagement and loyalty, generating leads and conversions, contributing to an effective marketing strategy, providing efficient customer support, enabling differentiation from competitors, and creating a long-term impact through evergreen content. With its power to attract, inform, and connect with audiences, content writing serves as a vital tool for businesses to succeed in the digital landscape and drive growth in a competitive market.