Appraisal Letter | Meaning, Format, and Sample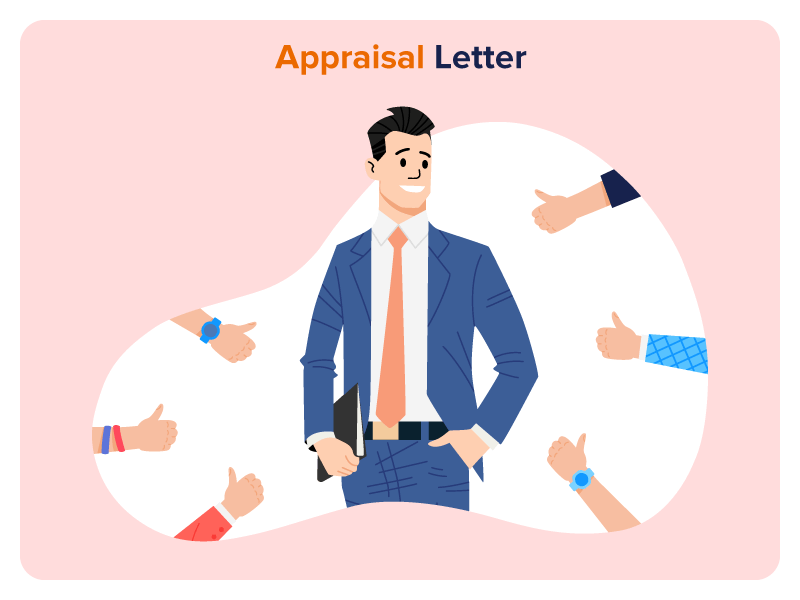 What is an Appraisal Letter?
Appraisal letter is a document that states an employee's significant contributions, percentage of increment, and revised salary break up. It is given to the employees after the organization's predefined performance appraisal process.
It is written by the HR managers specifically to praise the employees for their performance during the appraisal cycle. The letter signifies that the employer recognizes and encourages the employees' efforts and motivates them for even better performance. The letter also describes the employee's strengths, weaknesses, and areas of improvement.
What is the objective of an Appraisal Letter?
The main objective of this letter is to reward employees for their work. The HR department of a company approves and implements the appraisal process, which includes employee feedback forms.
The organization can mention their expectations from employee for the next year. It also aims to increase the overall performance of the organization.

How to write an Appraisal Letter?
The appraisal can be given every year or every six months after the complete performance analysis of an employee. To inform the employee about an appraisal, you can write a letter. While giving these letters to the employee, consider the points mentioned below:
The letter should always be formal, professional, and polite.
Always be precise about the employee's designation and give a brief description of the employees' achievements.
As per the company standards, the employee should also be informed about the possible rewards regarding the appraisal of their achievements.
Mention the organization's expectations from the employee for the future.
If you think that there is still room for improvement in employees' performance then mention it and give tips about the same. Highlight what the organization expects from the employee in the future.
Things to Include:
Employee's old salary
Amount of increment
Employee's new salary
Effective date from which salary change will take place
Employee's strengths or weaknesses
Appreciation for the work they have done.
Appraisal Letter Format
We are providing you with a ready-to-use appraisal letter format along with an appraisal letter sample below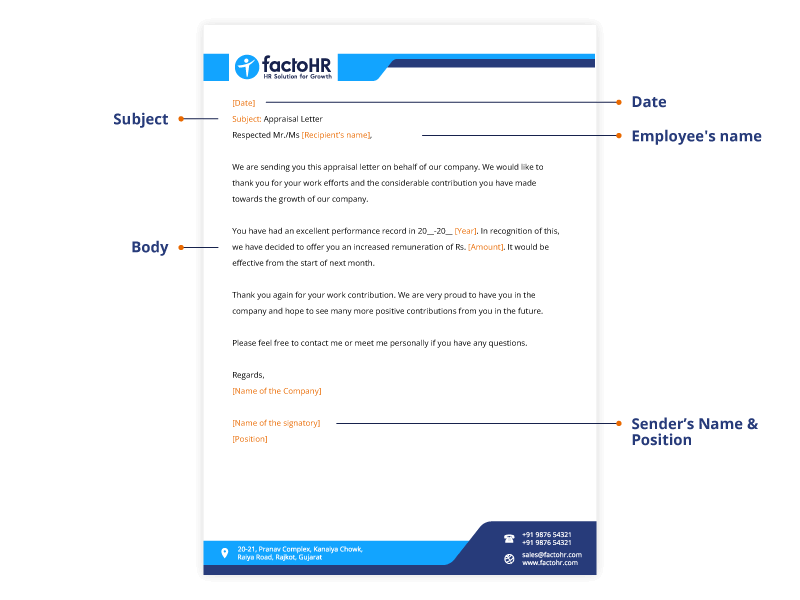 Appraisal Letter Sample
Mr. Kamlesh Desai has been working in Weonly software as an Android Developer since the year 2018. Weonly software does performance appraisals of all their employee once in a year. In the year 2021-2022, they did a performance appraisal of Mr. Kamlesh and decided to give him an appraisal of 10% of their salary. Here is how Mr. Kamlesh's letter for appraisal would look like:
Date: 20 July, 2022

To,
Kamlesh Shah
Android Developer
Weonly software
Rajkot
Subject – Performance appraisal
Dear Mr. Kamlesh
We are sending you this letter on behalf of our company. We would like to thank you for your work efforts and the considerable contribution you have made towards the growth of our company.
You have had an excellent performance record in the year 2021-2022. In recognition of this, we have decided to offer you an increased remuneration of Rs. 4000. It would be effective from the start of next month. With this effect in your salary it will change from Rs. 40,000 to 44,000 per month, making it a 10% increase in your current salary.
Thank you again for your work contribution. We are very proud to have you in the company and hope to see many more positive contributions from you in the future.
Please feel free to contact me or meet me personally if you have any questions.
Regards,
Praful Desai
Project Manager
Weonly software

Conclusion
This letter is very important for the organization, It has the ability to boost your employees' confidence and increase their productivity which is why your priority should be to frame a proper appraisal letter format and provide your employees a good and effective performance appraisal letter.

Frequently Asked Questions
What are the Different Kinds of Appraisals?
The different kinds of appraisals are:
General performance appraisal
Employee self-assessment
Project evaluation appraisal
Sales performance appraisal
Technological performance appraisal
Manager performance appraisal
360-degree appraisal
Self Appraisal
Why Performance Appraisals are Important for Organizations?
Performance appraisal is an opportunity for the organization to show employees that the organization also care's for employees' growth. Not only that, performance appraisal is the best tool to motivate the employees. It has the ability to boost employees' confidence and increase their productivity.
How do Appreciation Letters and Appraisal Letters Differ?
An appreciation letter is written on a personal level. It may not contain any monetary benefits and can be used as a non-monetary motivation tool. On the other hand, appraisal letters are formal and written in descriptive forms, which does not only include monetary benefits but sometimes it also includes possible promotions and achievements of an employee.
What is a Self-appraisal?
Self-appraisal is a process done by employees self-evaluating their own performance, setting expectations for appraisal, and mentioning their achievements. It gives them ownership of their work and motivates them to do better.
Can you negotiate appraisal value?
Yes, you can, an appraisal is a two-way communication channel, so if you think that the appraisal value does not justify the amount of hard work you have done throughout the year, then you can try to negotiate the appraisal value.