Appreciation Letter | Meaning, Format and Sample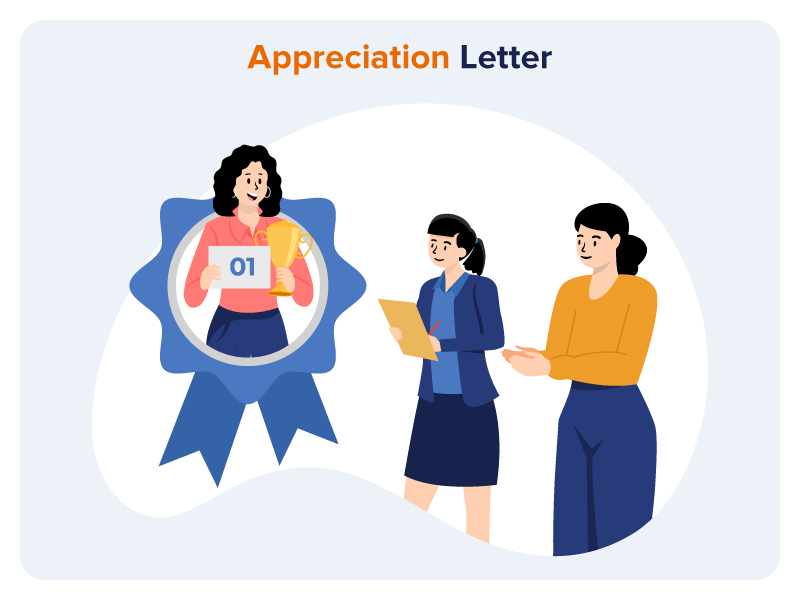 Appreciating employees for their exceptional work and achievements builds the relationship between the employee and the employer. The people who receive recognition for their efforts are inspired to work harder and are more likely to stay in your organization.
There are many ways to show your employees that you value and respect their work, but the most common way is to provide them with an appreciation letter for all their contributions towards the company's growth. Keep reading this blog to learn more about appreciation letter, along with its format and sample.
What is an Appreciation Letter?
An appreciation letter, also known as thank you letter or recognition letter is a formal letter that an employer gives to their employee to express gratitude for their hard work. It is written and sent to any employee who has performed exceptionally well in their work.
Why are Appreciation Letters Important?
Providing honest appreciation to the employees is important because it show how organization value them. When employees feel noticed and respected, then they will be happier and motivated to work harder towards achievieing the organization's goals. Showing employees appreciation also creates a healthier company culture and stronger team bond, which reduces employee turnover rates.

How to Write an Appreciation Letter?
Here are a few steps to write this kind of letter.
1. Format your Letter
Your letter's format depends on the reason why you are thanking the employee. If you are thanking an employee for any small help, then a casually formatted letter will do the work, but if you are appreciating the employee for any significant contribution, such as the employee completing a tough project that led to helping the organization in large amount, then a formal hand-written letter will be more appropriate.
2. Include Specific Details
The main purpose of this letter is to let the employee know that their performance on any specific task is appreciated and to encourage them to keep up the good work. That is why you should begin your letter by recognizing the employee and explaining them in detail why they are being appreciated by the company. Additionally, explain to them how their contribution has positively affected the team and organization.
3. Mention Their Unique Skills
While explaining the details about their work and contribution, mention how their skills and positive qualities have impacted their success. This will lead them to make feel good about themself and helps them to identify the strengths they should keep working on.
4. Be Excited about their Future
In addition to mentioning their contributions and achievements, add a sentence conveying your excitement for their bright future in the organization. When the employees are encouraged, they will be more like to be connected with the company.
5. Be Naturally Sincere and Personal
Addressing the receiver by their name and hand-signing the letter are two basic ways to give a personal touch to your letter. End the letter with "Thank You" or "Thanks Again" to give an additional sincerity to the letter.
Appreciation Letter Format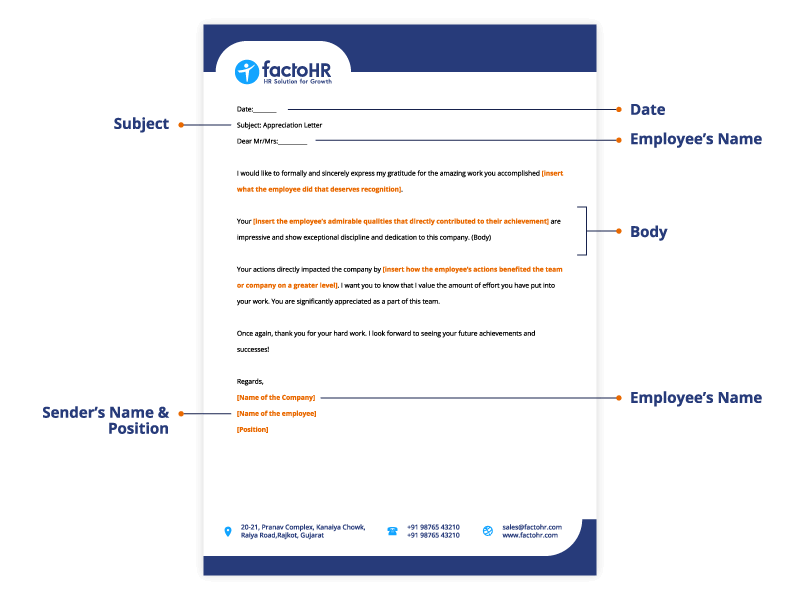 Appreciation Letter Sample
23 May 2022
Subject – Employee Appreciation Letter
Dear Mantra,
I would like to sincerely and formally express my gratitude for the tremendous work that you have accomplished this week after taking over as the team lead for the digital marketing project. This was a new level of leadership and responsibility for you, and you performed exceptionally well organizing the team, delegating tasks, and overseeing the entire project to successful completion.
Your ability to work through tough challenges and collaborate so well with the rest of the team is impressive, It shows exceptional critical thinking skills and a true dedication to this company.
Your production of a well-executed digital marketing campaign has directly impacted our metrics by growing our online presence by 30% in the last two months. I want you to know that we value the amount of effort you have put into your work and see great potential in you.
Once again, thank you for working so diligently and helping lead your team to success! we look forward to see your future achievements at our company.
Sincerely,
Jasmine Shah
Marketing Director
PIPE Marketing, Inc.

Conclusion
An appreciation letter is the best and the simplest way to boost the morale and the confidence of your employees, and now that you know everything about this letter, you should create a formal process to appreciate employees on a regular basis.
FAQs
1. What are some Common Mistakes People Make While Writing and Sending the Appreciation Letter?
Not being specific, not proofreading the letter, and not sending the letter on time are some of the common mistakes people make while presenting this letter to the employees.
2. Should Appreciation Letters be Stored?
Appreciation letters should be stored as a performance note, so they can be used to evaluate employees' overall performance.