Interview Call Letter (With Meaning, Format, and Sample)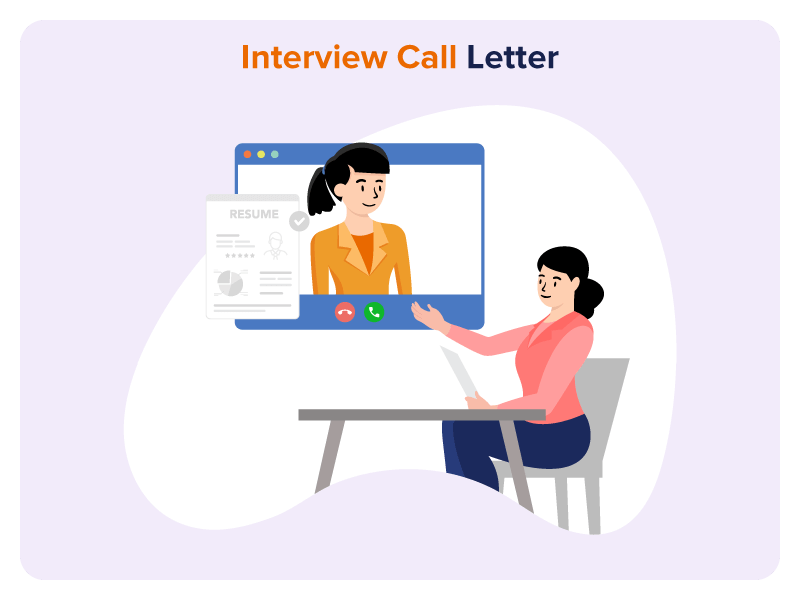 During the recruitment process, the recruiting manager screens the application and shortlists candidates who match with job requirements, and an interview call letter is used to invite those candidates for a face-to-face interview. In this article, we will explain the meaning of an interview call letter, its importance, how to write one, along with its format and sample.
What is an Interview Call Letter?
An interview call letter, also known as an Interview letter, is an official letter sent by the organization to the candidate asking them to be present in their interview for the role they applied for earlier. It is only sent to those candidates who have been shortlisted for the one-on-one interview. The candidate must bring this letter with them on the day of the interview as it acts as an interview pass for them. It contains all important information regarding their interview, like date, time, location, and instructions on bringing any documents.

How to Write an Interview Call Letter?
Consider the below-mentioned steps to write an interview letter:
1. Start with the Date and Recipient's Name
mention the date on which you are drafting this letter, also include the subject, and recipient's name with a formal salutation such as "Dear" or "Respected".
2. Add your Greetings
This is where you greet your candidate for the first time. Congratulate them for clearing the screening round and mention the reason behind clearing the previous rounds.
3. Write the Body of the Letter
The body of this letter should be two to three paragraphs long. The first paragraph should include a reference to the candidate's application and the job role. Follow it with an invite to the interview, and other important details regarding the interview in the second paragraph. In the last section, you should ask for the confirmation of their availability or share your contact details.
4. Sign-off the Letter
In this section, you should include a closing words like Yours Sincerely, Yours Faithfully, or Best Wishes, followed by your name and signature. If you wish, then you can also include your title and contact details after your name. If you have attached any other documents with the letter, then write "Enclosure" below and mention the name of the documents.
5. Check the Letter for Mistakes
It goes without saying that you should proofread any document before sending it, as it is going from your company's behalf, there should be no error in it. Read it load to check for any grammatical mistakes or misspellings. Ensure that the letter includes all the essential information that the candidate requires.

Interview Call Letter Format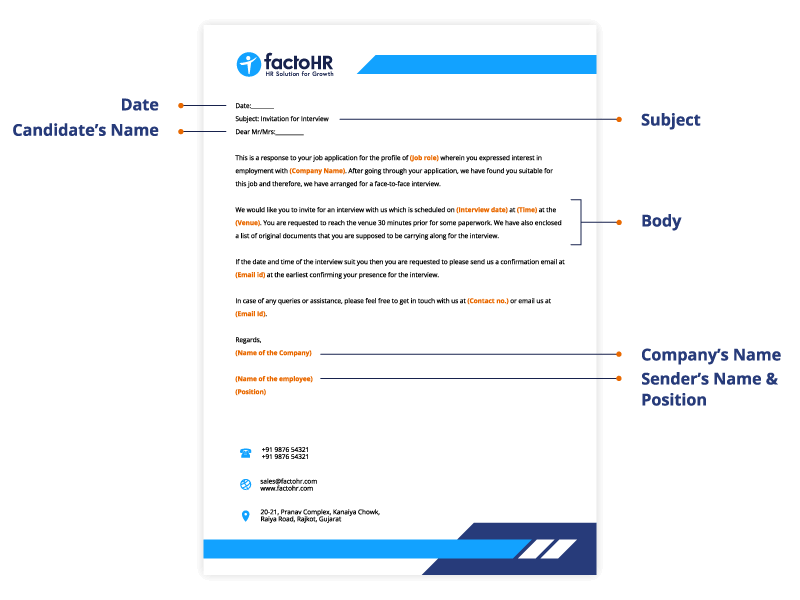 Interview Call Letter Sample
17 July 2022
Subject – Invitation for interview
Dear Mayank Tejpal,
This is a response to your job application for the profile of Web Developer wherein you expressed your interest in employment with BDI Technologies. After going through your application, we have found you suitable for the job, and therefore, we have arranged a face-to-face interview.
We would like to invite you for an interview with us which is scheduled for 20 July 2022 at 10 am at office number 508, RK World, JK circle, Surat. You are requested to reach the venue 30 minutes prior for some important paperwork. We have enclosed a list of original documents that you are supposed to carry with you for the interview.
If the date and time of the interview suit you, then you are requested to send us a confirmation email at recruitatbdi@hotmail.in at the earliest confirming your presence for the interview.
In case of any queries or assistance, please feel free to get in touch with us at +919965343194 or email us at recruitatbdi@hotmail.in.
Regards,
Bipin Sharma,
HR Manager
BDI Technologies
Conclusion
In most cases, an interview letter is the point of contact with the candidates, therefore, it's crucial to have an ideal interview letter to make a good impression on the employees, and now that you have learned everything about this letter, you should try to create one for your organization.

FAQs
1. Is it Mandatory to Send an Interview Call Letter to the Candidates?
It is not mandatory to send this letter to any candidates for an interview, the company can send a job invitation email to the candidate or directly call them to inform them about the interview.
2. How to Respond to an Interview Call Letter?
You can respond to this letter by sending your confirmation of availability for the interview through an email or call.
3. What are the Other Letters Related to a Candidate's Interview?
The other letters related to a candidate's interview are a thank you letter, interview request letter, cover letter, follow-up letter, etc.