Internship Offer Letter | Format and Sample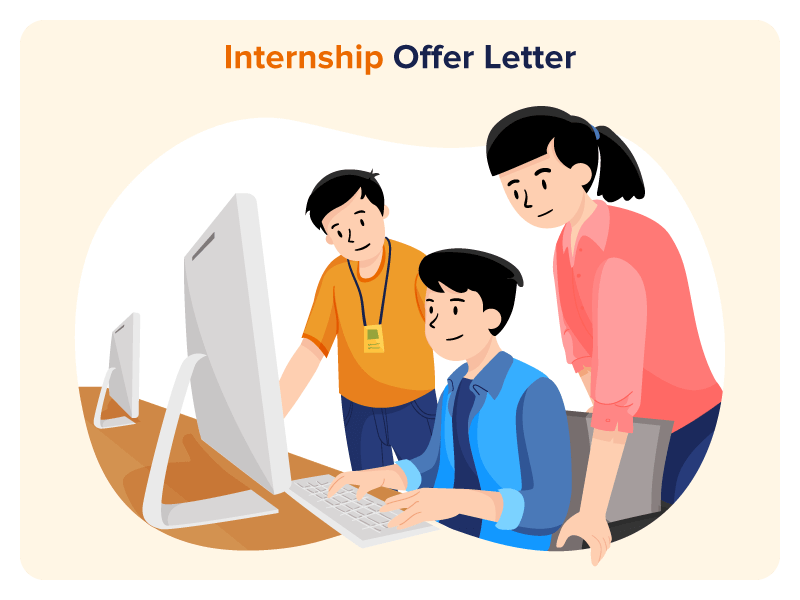 Download Internship Offer Letter Word Format For Free
What is an Internship Offer Letter?
An internship offer letter is a letter that informs the candidate that they have been selected for the mentioned internship position at your organization. It includes all essential details like the length of the internship period, starting date, and stipend (if any). It is a formal way of inviting the candidate to explore and develop their career in the organization.
For any new graduate or a person seeking an opportunity in a new field of work, an internship is that opportunity to gain real-time experience and develop skills in their desired field of work. That's why it is much more significant for the candidate than it is for an organization.
If you are looking to learn about an Internship offer letter, then you have come to the right place. This article will help you to learn how to write it, the essential details to include in it, along with internship offer letter format, internship offer letter sample, and much more.
Details to Include
Following are the key elements that must be included in the internship offer letter template to get the candidates' better understanding of the letter:
Basic information like the name & location of the company
Candidate's total Internship period
Candidate's joining date
Candidate's Job position & job description
Name and designation of the person who will supervise the candidate.
Internship's compensation details
Deadline for accepting the offer
Other terms & conditions of the internship

How to Write an Internship Offer Letter
As we mentioned earlier, an offer letter for internship is very significant for the candidate. Hence the internship offer letter format should be as perfect as possible, and to help you with that we have some points that you should understand and consider while writing it:
Be Precise and Clear About the Details
Internships are mostly offered to students, and students haven't worked in any organization before, so they do not have much information or experience about an organization's structure, it's functions, it's policies, and it's expectations from new interns. So sometimes it's difficult for the candidate to process all this information without having any confusion or doubts, and that's why it's important to note that it should be clear and precise so that there is no confusion in the mind of the candidates when they read it.
The Tone of the Letter Should be Happy and Excited
Getting an internship is not an easy task, candidates have to give and pass different kinds of tests and interviews to get selected. And more importantly, they will have a lot of competition. That is why receiving this letter is a special movement for any candidate, so the tone of the letter should be happy and excited.
Provide a Mode of Communication for Feedback
As we mentioned earlier, this letter includes so many details in brief, and sometimes candidates can have a hard time understanding everything. To help them in this situation, provide a mode of communication so that they can reach you and ask you questions to get their doubts cleared the doubts of candidates.
Mention the Benefits they will be Eligible to get
Organizations provide many benefits to their employees, but the benefits may differ for the employees working on internships, so mention the benefits they will be eligible to get once they join the company.
Show Gratitude
Show gratitude towards the candidate for their interest and efforts made for joining the company. That's not just for an internship offer letter, you should show gratitude towards the candidates who failed to get an internship in your organization.
Internship Offer Letter Format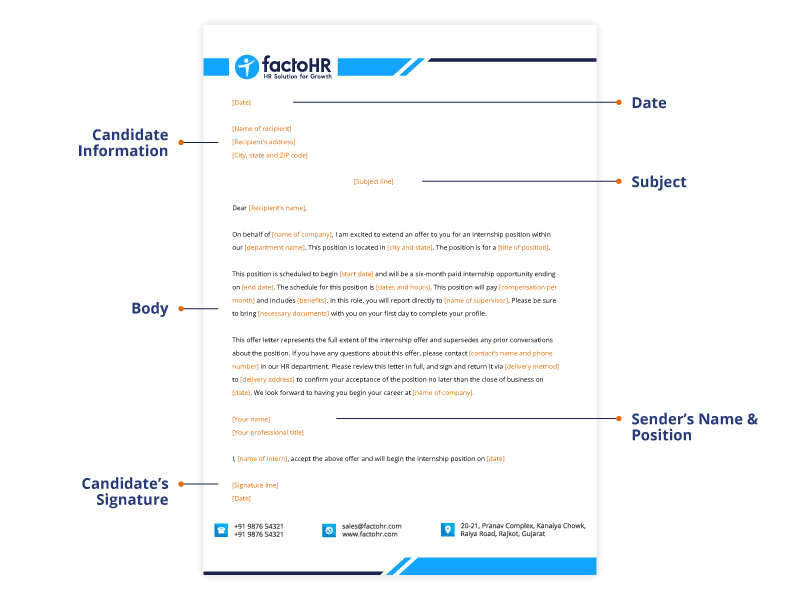 Generate any Letter in just a Click with factoHR's HR Software
With the HR software's letter generation feature, you can generate multiple letters like the letter mentioned above in just a click. You can create multiple employee letters in bulk. Not just that, you can also customize or edit letters in any way you want.
Conclusion
This is the first letter any intern would get from the organization, which is why it should be solid and impressive at the same time. We have mentioned everything there is about this letter and we hope that this will help you to make the best internship offer letter to attract your intern candidates.

Frequently Asked Questions
Is it Mandatory for the Organization to Provide an Internship Offer Letter to Their Interns?
Legally, it is not mandatory for organizations to provide this letter to their interns. However, most organizations still choose to provide these letters to their interns because they like to keep everything on record.
What is the use of an Internship Offer Letter?
It's one of the most useful letters for Interns, it's formal & legal proof of their working in the organization, it can be used to get academic credits for undergraduate interns, and it can be used as an experience certificate to show it to other organizations when the candidate applies there.
What is the Deadline for Accepting an Internship Offer?
There is no fixed deadline for organizations, they can put the deadline according to their convenience. But it should be enough for the candidate to decide on the offer. Generally, the deadline for giving the internship acceptance letter ranges from 2-3 weeks.
Is the Internship Offer Negotiable?
Some candidates see an internship offer as an opportunity to develop their skills and don't look at the amount of money they will get. But still, if you think that it's not worth your time and efforts for that amount of money, then you can contact the concerned authority at the organization and try to negotiate the offer.
What is the Minimum Length of an Internship?
The least possible length of an internship is 1 month, but it's too less for interns to learn and showcase their skills; that's why organizations prefer to have a minimum of 3 months of internship. But it can be shorter or longer depending on the organization.