Warning Letter to Employee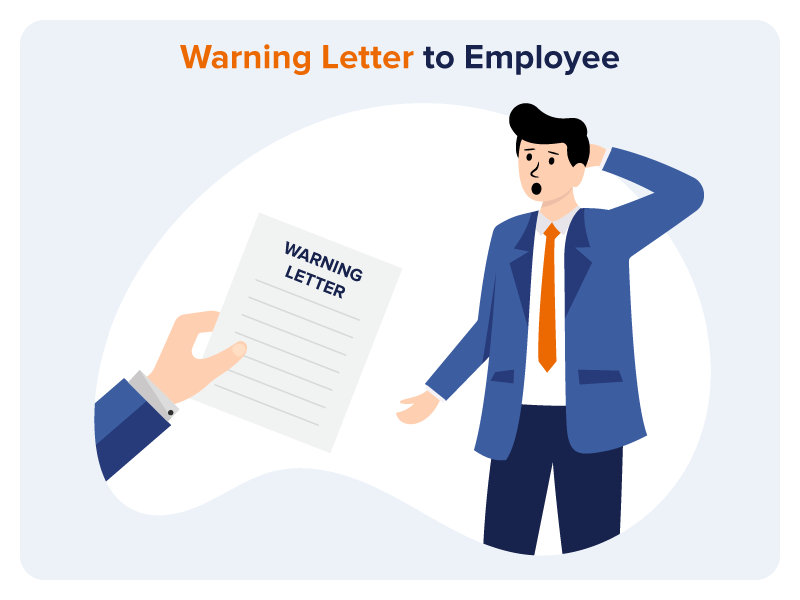 Download Warning Letter Word Format For Free
Disobey, misconduct, and violation of the work protocols are rare, but every organization comes across them at some or the other time. Such incidents need to be immediately addressed so that the gravity of the situation is not neglected. Commonly it is advisable to provide verbal warnings to employees before the written letter, as it will avoid escalation if the matter is minor and solvable.
The purpose of issuing a warning letter is to encourage employees to follow the code of conduct and not to discourage them from working for your organization. You want your employees to be in discipline and know what impact their misconduct can have on their work and company culture. Let's understand what exactly warning letters are, along with warning letter samples and format.
Meaning of Warning Letter
A warning letter is a formal letter issued by the authorities in the organization to the employees for their inappropriate behaviour, disciplinary issue, or any misconduct. A warning letter acts as a tool to notify and alert employees regarding their wrongdoings and their impact on the organization. Some of the incidents in which this letter can be issued are breaking the code of conduct, dishonesty, poor performance, and many more, which are considered as unacceptable by the organization.

Things to Consider While Writing a Warning Letter to Employees
Here are the things you need to consider while writing a warning letter to employees:
Language and Tone
Always write the letter using a formal and professional tone that emphasizes the gravity of the situation. However, ensure that the words used do not threaten, and discourage employees, as the end goal is only to change the employees' behaviour.
Structure
Having a warning letter format and structure is essential. The way it should be created is as follows:
Mention the date of warning
Write the company name with the name of the person issuing the letter
Include the subject
Write the name of the employees
Mention the details of the violation
Reasons why the situation is considered as violating the company policies
Mention the actions that the organization will take
Include signature
Content
Content should be to the point. Unnecessary long sentences without any purpose or repeating the things already mentioned is not the correct way. Short letters are always more impactful. Include the details, without putting forward more emotions. To add credibility, include the date.
Proofread
To avoid any issues and conflicts later due to minor errors, proofread the letter before handing it over to the employees. Make sure the letter is sent to the right person, including the right details.
Acknowledgment
Once the letter is given, confirm it with the employees that they have received it. For that, you can ask employees to sign the letter and, in case of email ask them to send a follow-up email.

Types of Warning Letters
There can be various reasons for issuing a warning letter to an employee, and the purpose of writing them can differ. Here are some types of warning letters given to employees:
Warning Letter for Poor Performance
A warning letter to an employee for poor performance is commonly given when the employee is underperforming, not performing their duties and responsibilities, or not being able to achieve their goals consistently. Generally, employees are given a warning letter when they are not able to perform well during the probation period and fail to meet the minimum job standards. To ensure that performance-related issues do not create circumstances that would lead to the issuance of a warning letter, implement factoHRs performance management software and never go wrong with performance evaluation.
Warning Letter for Attendance
A warning letter for attendance is given to an employee when their tardiness and absenteeism increase to a great extent. When an employee will frequently stay absent and doesn't show up to work, productivity is affected, and negatively impact the morale of other employees in the organization.
Warning Letter for Behaviour
A warning letter for behaviour is given to the employees when they show up with unacceptable behaviour and cause disruption in the organization. Usually, when employees behave inappropriately and unprofessionally towards managers, coworkers, and customers, a warning letter regarding their behaviour is issued.

Warning Letter Format
Here, we have given a general warning letter format that could be used in different situations.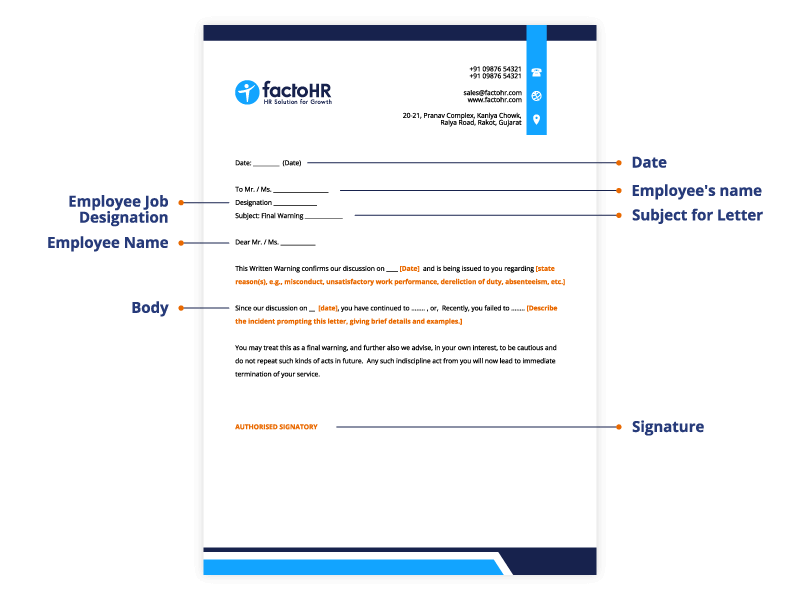 Frequently Asked Questions
1. In what ways can a warning letter be delivered to an employee?
Employers can deliver the letter to employees in two ways. Either they can send it through email with a subject that clearly indicates the purpose, or another way is by conducting a meeting and providing a written letter, and discussing the plan for improvement.
2. What should you do after issuing a warning letter to an employee?
After issuing a warning letter to an employee, the next step is to arrange a meeting with their manager. Listen to the concerns of the employee and try to improve the situation. To maintain a positive outlook, praise the employee for improvement.
3. How many times do you give warnings to an employee?
Every company can set its own rules set for no.of warnings to be given to an employee for any misconduct before their termination. Most companies usually prefer to give at least one verbal warning before issuing the letter. In contradiction, some companies take certain kinds of instances seriously, and directly warn the employee.
Final Thoughts
Remember when writing a warning letter, always include a statement that offers employees support and assistance so that they can reach out to you in case of any queries or confusion. Also, don't jump to a conclusion, and don't get personal without listening to them. The end goal is to improve the employees' behaviour, performance or regularize their attendance.