Table of Contents

Hyderabad is a fast-growing city with many IT, manufacturing and biotech companies setting their shop. Access to top talent that can be readily deployed is making Hyderabad a must-have location for major MNCs as well as Indian corporations. Managing the workforce is a challenge if specialist software is not utilised. From improved employee retention and decision-making to simplified monitoring and administration of benefits, efficiency, and attendance, HR software are a benchmark in reaching optimised growth for both employees and the organisation as a whole. These HR system boost employees' productivity, which ultimately reflects in the company's turnover! So, it has become mandatory to use these HR software to impart high strategic value to the organization.
In this exclusive guide, we will share some of the top-notch HR software in Hyderabad that enhance productivity and take it to the next level.

12 Best HR Software in Hyderabad That Augment Productivity
Following are some of the excellent HR software that have gained considerable market share.
1. factoHR
FactoHR is an outstanding on-cloud HR software designed to help any organisation's growth strategy. It automates the entire HR operations and streamlines the workforce management processes. Being a reliable mobile-first HCM platform, it handles everything from hiring to retirement and is trusted by many companies across the industry spectrum.
From employee onboarding to getting instant feedback via surveys, factoHR enables companies to perform their HR functions with ease and accuracy. Automation helps HR staff to repurpose their free time in more strategic and value-added tasks.
Features
| | |
| --- | --- |
| Dashboards provide better analytics and help you make data-driven decisions. | Centralised employee database management with appropriate access control lends itself to your entire HR operations. |
| factoHR's onboarding software helps automate your onboarding process and helps provide a memorable experience for the new hires. | factoHR's business process automation allows you to create multilevel workflows to automate lower-level repetitive tasks. |
| Auto-generate various letters and directly share them with employees by using our pre-defined templates. | Manage and resolve queries from employees using a chatbot. |
| Effortlessly share crucial documents via the plug-me feature in the mobile app. | Inform employees about events using push notifications. |
| Provides an organisational tree that will help you create a clear reporting structure and define career paths. | factoHR's offboarding module streamlines the employee exit process and generates full and final settlement. |
| With factoHR's payroll software, you manage timely payments and be 100% compliant with local tax laws. | The acknowledgement module helps you reach out to employees even on their mobiles to get quick responses. |
| The survey module enables the collection of relevant and real-time feedback. | Quickly integrate other factoHR modules like attendance management or timesheet software when you acquire them. |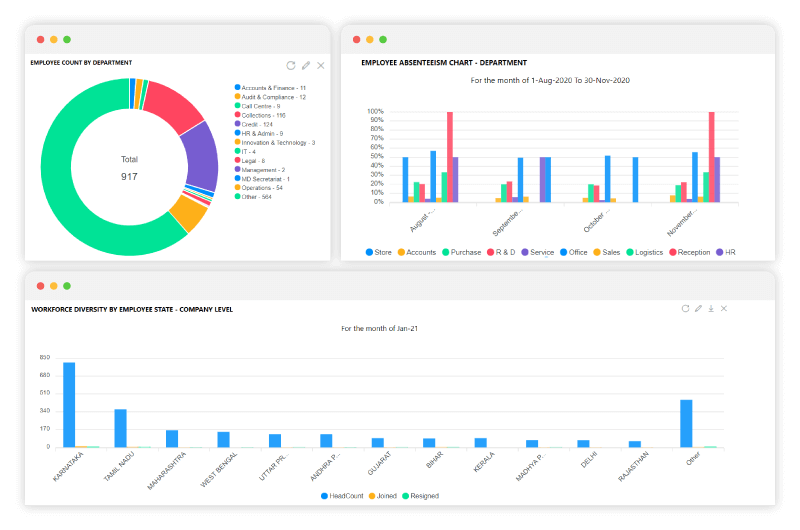 Major advantages of using factoHR's HR system are
Ensures watertight security through encryption at rest and SOC Type 2 certified cloud data centres.
Offers an integrated HR platform that centralises all HR data and processes into a single, cohesive system.
Whether you are a startup, an enterprise or an organisation of any size in Chennai, you can take advantage of the offering as it is scalable to meet your specific needs and requirements.
Provides a clean and intuitive interface that enhances user experience.
As for the pricing, there are four plans that you can check out – Essential, Advance Velocity, Bolster, and Performer. What's more, you can also add multiple add-ons to your plan, including Face Recognition, Self Onboarding, and an efficient Ticketing System.
What People Say About Us


2. Enspire HR Payroll Software
Enspire HR software comes with time, leave, asset, and organisational management modules that help you manage all the vital details of the personnel and resources in your company properly. Moreover, it features a payroll processing facility that allows you to automate the payroll process and keep track of all future adjustments.
Moreover, you can manage all the requests for travel expenses and ODs through the software. Besides this, you can create KPIs for the employees and track all the stats in a single place.
Features
Payroll Processing
Time Management
Leave Management
Organisational Management
Projects & Timesheet
Asset Management
Travel & Expenses
Performance Management
3. PulseHRM
Elevate the performance of your whole HR department with the help of the PulseHRM system. The software takes care of all the details of the whole journey for all the personnel in your company. You can conduct project and performance management through the system facilities.
Besides this, you can track the activities of the employees through the workforce management module and manage all the eaves with the leave management module. On top of all this, you get support from the mobile app so that you can access the features anytime, anywhere.
Features
Payroll
Project Management
Employee Monitoring Software
Performance Management
Visitor Management
Onboarding & Offboarding
Leave Management
Assorted Documents
Workforce Management
4. 247HRM
Next on the list is 247HRM. The system comes with an interactive dashboard to manage all the HR tasks. Moreover, it offers an employee self-service portal that allows all the personnel to make changes in their details and track their metrics anytime they want.
Besides being a complete HRMS solution for companies, it automates the payroll process, tax planning, and savings processes for employees. Moreover, it integrates with tax portals to offer easy access to the personnel in your company.
Features
HR Automation
Employee Self-Service Portal
Income Tax
Leave Management
Attendance Management
Payroll
Performance Management
Expense Management
Timesheets
Talent Management

5. ZerocodeHR
ZerocodeHR leverages the power of the no-code class that simplifies software development and allows companies to enjoy high-class software at affordable prices. Moreover, the software comes with fewer bugs as compared to the traditional code-based system.
The ZerocodeHR offers bespoke solutions to companies that can handle compensation processes and performance management tasks. Moreover, it offers a simple solution to conduct pay equity and come up with proper measures to fill the pay gaps, if there are any.
Features
Compensation
Performance management solutions
Panning, modelling, and calibration tool
Pay equity
6. Possibleworks
Looking to elevate the overall productivity level of your workforce? Stop searching here and there and opt for PossibleWorks. The software aids you in aligning the individual goals of the personnel with the end goals of your company and improves the overall productivity level.
Besides this, the system comes with a transparent feedback portal that aims to build trust between the employees and the top management of the company. Moreover, it promotes social recognition of employees, which makes it a complete performance management software.
Features
Performance Management
360 Degree Feedback
Appraisal History
Feedback Management
Goal Management
Ad Hoc Reports
Key Performance Indicators
Employee Awards
Rewards Program
Social Recognition
Talent Management
7. OpportuneHR
OppertuenHR offers you a smart and easy way to handle all the core HR tasks smoothly. You can automate some tasks and manage everything to streamline all the processes. You can oversee and manage the complete lifecycle of all your employees in the company. Moreover, you can use its payroll module to handle payroll generation and tax support without going through any unnecessary hassle.
The PMS model allows you to analyse the performance level so that you can deploy suitable strategies to improve the overall output level of the company.
Features
HR Experience Management
Talent Management
Employee Life Cycle
Payroll Software
Manpower Planning
Application Tracking System
Onboarding
HR Processes
Training Management
Performance Management
Rewards & Recognition
Attendance System
Leave Management
Travel and expense management
Exit Management

8. Savvy HRMS
Streamline your in-house HR task with the leading Savvy HRMS and save a lot of time and resources for your company. The system manages the employee details and tracks everything from the on-boarding and off-boarding timeline. Moreover, it is capable of handling all the core HR tasks with payroll, resources, and project management.
Features
Attendance management
Loan & Advances Management
Document Management
Email Integration
Employee Self-Service Management
Exit Management & Separation Management
Expense Management
Help Desk
Payroll Management
Performance Management
Recruitment Management
9. Decision Plus HRMS
Are you looking for an all-in-one HRMS for your company? Don't worry. Decision Plus HRMS will cater to all your needs. The flexible system comes with all the facilities to manage HR tasks efficiently.
It features several modules like administration, performance management, attendance and leave management, payroll portal, employee management helpdesk, HRIS, recruitment, and budget planning and management. Moreover, the secure system is in compliance with all the labour laws.
Features
Comprehensive solution for managing the workforce.
Strengthened HR processes within the organization.
Better Employee Connect through Self Service Portal.
Powerful querying and reporting features.
Robust but easy-to-use Payroll package.
Labour law compliant.
10. Tech Cloud ERP
No matter the size of the company, Tech Cloud ERP will offer you an excellent solution to reduce the stress on HR. The solutions offered by the company are robust, reliable, flexible, adaptive, and budget-friendly.
Sales and marketing, HR management, asset management, inventory management, quality control, and finance are some of the essential modules offered by the company. You will get auto-backup support with zero renewal cost on the solutions with Tech Cloud ERP.
Features
Recruitment
On-boarding
Leave and Time Management
Welfare Management
Payroll Management
Dynamic Dashboard
Versatile Calendar
Real-time Collaboration

11. Perk Payroll
Perk Payroll offers a smart and reliable cloud solution for companies to streamline their HR tasks and use automation for smoother functioning. The solution can help you to optimise the resources and tackle the challenging task with ease.
The solution comes with an employee self-service portal which is a delight for all the personnel to mark their attendance, payroll, and other performance metrics. HR can use modules like leave management, payroll portal, tax management, loan management, and employee management to automate and manage several processes and elevate the overall performance of the department.
Features
Attendance management
Bonus
Loan & Advances Management
Document Management
Employee Self-Service Management
Exit Management & Separation Management
HR & Payroll
Mobile Support
Multiuser Login and role-based access control
Payroll Management
Reimbursement Management
Taxation Management
Time & Attendance Management
Employee Data Base
Pay Slip
12. Digiclove
Get ready to harness the power of digital technologies to manage and empower your business with Digiclove's smart ERP solutions. You can manage the inventory, oversee the HR tasks, manage payroll, and streamline the accounting processes through the custom solutions offered by the company.
Moreover, the solutions come with budget-friendly price tags, so they will not add a high burden to your pockets. On top of this, you will enjoy 24/7 customer support from the in-house team of the company for all your issues and queries.
Features
Employee data management
Recruitment and onboarding process
Attendance and leaves management with customized policies
Claims and Advance management
Multiple salary structures with formulas
Statutory compliance like EPF, ESI, Professional Tax
Tax Declaration and Tax Calculations
Multi-Location support
The Bank mandates export as per the given format
ESS (Employee Self Service) portal

FAQs
1. How do HR software affect employee performance?
An HR software keeps track of 360-degree details regarding an employee's work hours, performance, leaves, and benefits. All these metrics play a crucial role in performance evaluations, and all employees know this. Thus, with HR software providing accurate details about employee hours and other substantial details, the employees can get their hands on their grey areas, which enables them to strive hard and aim for optimal productivity results.
2. How is HR software helping organisational performance?
HR software ideally works in streamlining and optimising different HR functions, be it performance processes or management. With HR automation, the efficiency of the HR department increases manifolds which further leads to elevating the strategies as well as competitive advantages of the organisation. They also offer analytical insights about different employees, their retention rate, etc., which determines further workforce planning and talent acquisition so that you can make informed decisions.
3. How can HR software improve your company's productivity?
HR software is integrated with different ERP platforms to ensure increased company productivity in five ways:
Automating Different Administrative Tasks
Efficient Recruitment Management
Tracking Employee Productivity and Performance
Improving Regulatory Compliance
Boost Employee Retention and Engagement

Conclusion
We believe every enterprise should make use of an HR software system to take control of different metrics and strategise desired growth. Now that you are aware of all the brilliant HR software systems in Hyderabad, it is time to select the one that matches your organisation's needs and make optimum use of it. Believe us, these software systems will motivate employees to work more productively and result in maximising the company's growth tremendously.