Top 20 Common Interview Questions And Answers For Freshers
Statistics show that there is an increase in the number of candidates who appear for job interviews every year. In addition, and more importantly, there is a significant rise in freshers or entry-level candidates appearing for the interviews due to availability for top job portals in India , which has accelerated the need to figure out the top interview questions and answers for freshers. For instance, the image below shows the percentage of freshers in one particular field.
Please select from below options to help us improve our content: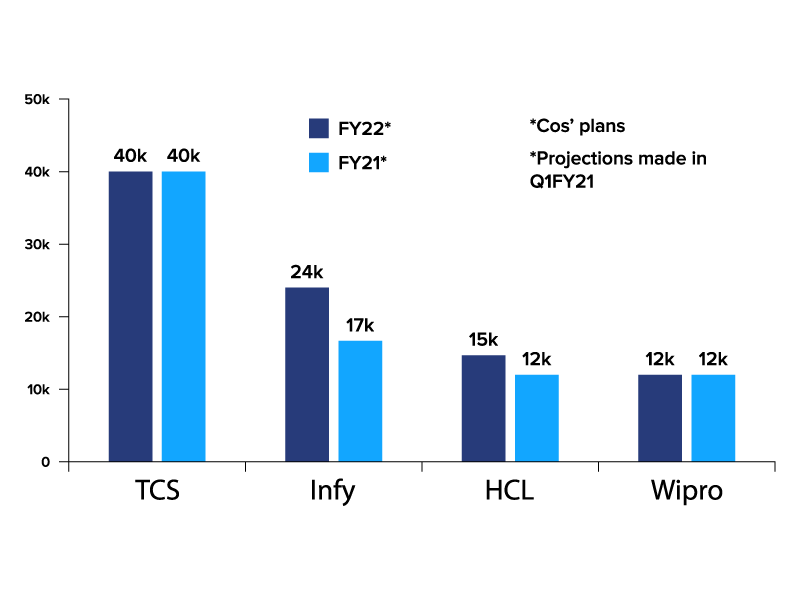 Source
If just one particular field's result is this, can we not imagine, on the whole, the percentage of freshers who are struggling to find the right place to develop their career. It is also observed that the fear of facing the interviews is the first cause that leads to unemployment, despite holding degrees with valuable scores.
There is a need for the candidates to prepare well in advance to face the interviews fearlessly. In this blog, let us discuss some common interview questions for the freshers to help the candidate successfully meet the interview process.

Is Anticipating Interview Questions Really Important?
The motive of anticipating and getting prepared for the personal interview questions is not and will never have to be to memorize the answers. Instead, feel comfortable and relaxed while facing the interviewer and responding to the questions asked. Thus, advanced preparation helps make the interviewee feel confident and prepared to accomplish the interview.
Question 1 – Tell Me About Yourself
Purpose
Being asked to talk about oneself is one of the first topics that the interview begins with immediately after greeting each other. Firstly, it's asked as an icebreaker just to make sure that the candidate feels a little at ease. But then, when not prepared, this itself is looked upon as entering a big grave by most of the candidates.
Factually speaking, there need not be any major worry regarding talking about oneself. All that you need to keep in mind is that your answer should be based on a professional front. Generally, the interviewer puts forth this question intending to know the candidate beyond what's mentioned in the resume and the way the interviewee perceives himself/ herself.
However, being prepared to answer rightly is quite essential. Because the answer to this interview question is what sets the mood for the entire interview session, failing it may risk the rest of the interview process. You can include a little about your educational background, family and focus on your career. Keep it simple and to the point.
Tips: The answer to this question could be in three forms. Namely,
Experienced-First Approach
Skill-First Approach
Result-First Approach
As a fresher, you can go with the second approach, wherein the answer is based on the skills possessed.
Sample Answer
I completed my graduation degree in Engineering a month ago. I opted for engineering as I've always been interested in physics and math, and some of my family members also suggested that it leads to great career opportunities.
One of my crucial accomplishments was speaking at a conference on – energy-efficient window design, based on research done for my higher-level classes. It further led me to an internship that I recently completed. And here I am looking for an opportunity to build my career.'
Question 2 – Why Should We Hire You?
Purpose
The interviewer asks this question in order to understand the candidate's perception of job and maturity level, along with the intention to know how interested the candidate is in that particular role and the company. It's a need for the interviewee to understand that he/ she has already been shortlisted by the firm in the earlier screening processes.
Therefore, the interviewer shouldn't answer casually or generalize the job's interest. Specifically, mention the job qualifications and the way they align with his skills. Briefly demonstrating the passion for the job and the company as well will help you convey that you genuinely are the best suit for the position.
Sample Answer
I'm glad you asked. As a fresher, I am very much aware that experience is one aspect that I lack in my career. Nevertheless, the qualifications, along with the skills that I carry with me, cannot be measured by the traditional experience.
Having handled various events and programs during my graduation, I have learnt to prioritize, multitask, and how to keep up to the responsibilities. Thus, if chosen, I have all the skills required, and I'm confident enough to make a positive impact on the company by making sure to deliver high-quality work.'
Question 3 – What Do You Know About Our Company?
Purpose
From the company's point of view, there undoubtedly are a couple of specific reasons to ask this question. It can be to understand the interest you show in not just the company but also how keen you are in your job search. How prepared are you to face the interview, or are you the kind of person who applies to the companies randomly without even realizing which industry?
Therefore, it is better to spend at least a little time trying to research about the company. Though not the organization's entire history, even two or three pointers can make a big difference. It's sure to give you an added advantage.
Sample Answer
I read on the company's website that you are one of the leading HR Tech companies, with 1000+ customers, including BSE, L&T constructions, Ambuja Cement Foundation, GHCL, TATA Steel, etc. I also read that you're planning to expand your business globally. Is it right? Can you tell me more about it?
Question 4 – What Do You Consider As Your Strengths?
Purpose
This is yet another key question asked in the interviews. This interview question's motive is to understand how well the candidate knows himself and how confident he/ she is regarding the skills possessed. In spite of this being one of the familiar fresher interview questions, many still couldn't get it right and are messing it up.
The best tip is to make sure that you do not use too many adjectives or even a big list of your strengths. Instead, sit relaxed and analyze your particular strengths regarding those that the company is looking for and add value to the applied position. Stay positive as your answer and be honest.
Sample Answer
My exceptional strength is the interest and ability to learn fast. For instance, during my graduation, I was asked to represent my college for an inter-college exhibition. Although I was introduced to the team at the last minute, I was able to learn and understand our model, artifacts, and exhibits, and presented the same that turned out to be successful.'

Question 5 – What Do You Consider As Your Weaknesses?
Purpose
Many candidates do not get the right cue to the interview question that is asked about their weaknesses. This truly is a tricky question. The trick behind it is not that the interviewer is curious to know your weakness, but also to see how well the candidate can bring about a positive twist to the negative trait.
Therefore, conveying a relevant aspect as well as how you are working on it to overcome the weakness is all that matters. Remember that the flaws or weaknesses aren't permanent. It doesn't mean you are doomed just because you have a few. Honesty is what matters the most.
Sample Answer
I am not very familiar with the latest software version that's used. Recently, I've spent my time focused on generating a positive user experience since I've always been willing and interested in learning new things. I've realized that software has always been improvising, and I've understood the need to adapt to the changes. In all the way possible, I'm trying to do all that it takes to learn the new software.'
Question 6 – What Has Led You To This Specific Profession?
Purpose
The candidate needs to understand that the interviewer asks this question for two specific reasons. One is to make sure that the candidate has done enough research regarding the job post and is aware of what their job involves.
Secondly, to see that the candidate has given enough thought about career growth and what he's looking for, other than randomly applying for any. Ultimately, the interviewer wants to hire a candidate who cares about their career and the future.
Sample Answer
I'm looking forward to developing my skills related to project management and leadership. As I reviewed the job description, I realized the emphasis on both these aspects, and thus I felt this to be a great fit. Right through my graduate courses, I've always enjoyed leading a team for projects and handling events. Therefore, I'm quite confident about contributing the best I can for better results in this role.'
Question 7 – How Do You Propose To Cover Up For Your Lack Of Experience?
Purpose
Most of the time, the fresher has faced this interview question as a direct challenge. But then, there's a common misconception as to immediate disqualification due to the lack of experience. The applicant must rely on his key strengths and knowledge to impress the interviewer.
Ultimately, this fresher interview question is posed to identify the way the candidate tackles the direct challenge. Therefore, this question's answers should reflect resiliency and ideology based on the candidate's related skills and proficiencies. Exhibiting the affinity for learning and responding positively according to the challenges might add value to your answer.
Sample Answer
I'm glad you asked this question, and you are very much aware that I lack experience. But, the experience is gained as a result of being exposed to a particular and interesting field. I'm sure if given a chance, with my ability to learn new things quickly, I can contribute to mutual success in this field, for my career growth as well as the company's growth.'
Question 8 – What Are The Things That Are Most Important For You In A Job?
Purpose
This interview question asked to freshers to know what actually motivates them in regard to the job. The best possible answer is to relate an example to the interviewer to get an idea of your preferences. Hence, keep it simple and yet to the point.
Sample Answer
Basically, I'm a result-oriented person, and achieving the desired results on time motivates me the most. While I enjoy working on my own, I'm also motivated by the shared spirit of working in a team. This gives me a feeling of achievement and encourages me to put in more effort and take up more challenging tasks.'
Question 9 – What Are Your Long-term As Well As Short-term Goals?
Purpose
The employer asks this interview question for the fresher to know how focused the candidate is regarding career growth. While there may be plenty of goals in the candidate's mind, it is better to choose the one that's relevant to the job carefully.
An excellent way to approach this interview question is to structure the answer according to the organization's needs. All that you have to do is just be positive and determined. Your determination shows your confidence in moving ahead in your career. And make sure you avoid exaggerating your answer unnecessarily.
Sample Answer
To join one of the reputed companies like yours, whereby I could allow myself to apply my key skills and knowledge in paid ads management, email marketing, social media marketing, is my short-term goal. Whereas, being recognized for my contribution to the company and see myself as a Digital Marketing Strategist is my long-term goal.

Question 10 – How Well Do You Handle Stress/Pressure?
Purpose
Feeling stressed is natural and nothing wrong. But then, letting your stress affect your work is not accepted by any managers. Therefore, many interviewers ask this question to know if you are capable of handling your own anxiety. Obviously, the manager doesn't want to hear that you'll never feel stressed.
Everyone at some point or another does go through the feeling of being stressed. To ease the former's roles in performance management, managers look for those candidates who can deal with a wide range of stressful situations without their productivity being affected.
Sample Answer
Most of the time, I prefer reacting to situations than to feel stressed out. Thus, I can tackle myself without becoming too stressed. For instance, when I had to deal with an annoying teammate for a project during my PG. Instead of focussing on the teammates' nuances, I tried to focus more on the project at hand and preparing the presentation. I believe that my ability to concentrate on the end of success helps me reduce my stress.'
Question 11 – What Are Your Hobbies?
Purpose
This is becoming one of the trending interview questions for the freshers. Many candidates do not understand the reason behind this question and hence do not respond appropriately. Generally, questions related to hobbies are asked to examine the way the candidate responds to the unforeseen and casual scenarios, which are not directly connected to your job profile.
But then, indirectly, the question is connected to the job from the interviewer's perspective. For example, if you mention that you are interested in playing cricket, then it is understood that you can get along with a team very well.
Therefore, whatever you want to specify, just make sure that the answer aligns your interests and skills with the job. Try to explain why you like it and the way it improves your ability in any field.
Sample Answer
I'm one of those who believe in holistic development. According to me, not just the mind but also our body needs exercise. This thought led me to schedule, and I started working out every day. As it is said, In a healthy body dwells the healthy mind. I experience being more energetic, imaginative, and creative after using my time in exercise sessions.'
Question 12 – Where Do You See Yourself In 3/5/10 Years?
Purpose
Many people take this interview question very lightly and wrongly too. When many of us can't even see far enough to say what the next meal is, then why would the manager ask you for what you'll be doing after 5 years. Indeed the future is unpredictable. Then what's the purpose of the question?
The interviewer asks this question to the interviewee to know if the candidate will stay in the position offered currently and have a clear cut idea of the candidates' goals aligning with the company. Also, to understand how focused you are towards your goals and how you look at this position to achieve your goals.
The candidates should understand that the recruiter's motive isn't just to fill the vacant chairs. Because doing so will only pose an extra cost and wastage of time to the company. Therefore, make sure your answer wins the interviewer's trust and is willing to offer you the job.
Sample Answer
5 years down the lane, I would like to be seen as someone who has gained expertise in the field of Digital Marketing, for which I believe this company will provide me an opportunity. Along with this, I would like to see myself as a project head with challenging responsibilities.'
Question 13 – What's Your Biggest Accomplishment?
Purpose
It is a known fact that the interviewer deals with numerous resumes. And the love to ask you challenging behavioural questions. But then, when asked about the one's most significant achievement, it's important to answer with discernment. Firstly, it's essential to understand the purpose of this question for a fresher.
The important reason to ask this question is to identify the specific aspect that helps you stand out from the crowd. Meaning, as mentioned earlier, from the numerous candidates waiting for the same position, how would the candidate influence the interviewer to select him. Therefore, prepare the answer in alignment with the company's expectations or the job profile as to what your response should be.
Sample Answer
I consider completing my Graduation degree with a 7.76 SPA is my greatest achievement. This is not just concerning the score, but then, I had to complete my graduation with no financial support from my family.
I undertook a part-time job to help myself with the college fee. This factor has taught me to manage my time and how to prioritize, and also how to focus on my goals. And I'm sure that these habits that I've learnt will serve as an advantage for my career growth.'
Question 14 – How Do You Evaluate Success?
Purpose
Basically, this interview question to the fresher is asked to identify the candidate's ethics and career goals. There is a need to tailor your answer to rightly fit so as to achieve if you are selected. This answer also helps the employer see how you prioritize your work, individual goals, or team goals.
Sample Answer
For me, success is not dependent on job requirements. I can say I've succeeded when I've achieved my target, even if I end up doing more than what's expected. Basically, I'm open to comments and corrections that help me develop and improve my career growth, and thus, I'm very open to learning new things. According to me, constant passion for acquiring knowledge and improvising self is the path to success.'

Question 15 – Are You Willing To Change Your Role And Profile When Required For A Project?
Purpose
Quick tricky as the question might be, as a fresher, you must also be able to reveal your ability to be flexible. This also shows the employer your readiness to learn. Remember that when you mean flexible, it doesn't mean you are forced into doing something you are not happy about.
Instead, it just reveals the candidates' positive attitude to learn new things. But then, in case if you do not want to accept, it would be much better to be honest, and politely give a reason for the same.
Sample Answer
Definitely, I will. As a beginner, I'll be more than happy to learn as many things as possible and make the best out of the opportunity put forth in front of me. Because, the opportunity to take up different roles itself, will help in my career growth of which I'm sure.'
Question 16 – Are You Willing To Work Overtime? And Are You Prepared For Night Shifts And Work On Weekends?
Purpose
The employer is undoubtedly well aware of the challenges when it comes to shifts and overtime work. But still, this question is asked to the fresher to see if they understand the reality and are willing to adapt to the same.
Generally, the managers look for candidates who are flexible and can handle the shift work. They prefer so because those who can handle this are sure to have developed a good balance between work and family life.
Again, as discussed in the previous answer, it is better to be honest, and say no politely during the interview to avoid the complications that may arise later in this regard.
Sample Answer
I surely wouldn't mind working overtime or change shifts as long as I'm made aware in advance. I am willing to work any shift. However, if possible, I would still prefer to fix one shift throughout my tenure, unless there's an urgency.
Question 17 – Are You Ready To Relocate Or Travel If Necessary?
Purpose
Similar to the previous two questions, the answer to this too may vary and might seem complicated. Yet, these have a significant influence on the selection process. Because of the flexibility involved and the willingness shown.
Therefore, the candidate needs to think well before answering if he is willing or not, as the relocation involves a major shift in the way of life itself. As freshers, most of the candidates are observed to be enthusiastic about the whole new job and the place. Hence, to convey your acceptance, you can refer to the sample mentioned here.
Sample Answer
I'm very delighted as well as excited about this opportunity. I truly feel that I could do my best to add value to this role. Therefore, I'm open to relocating, and if you could explain, I'm looking forward to learning a little more details concerning this.'
Question 18 – What Are Your Salary Expectations?
Purpose
As a fresher, the candidate can be quite sure that the recruiter asks this question for the fresher to understand the candidates' perception apart from his ability to contribute. The fact is that, during the first year of the job, the new hire is still considered as a trainee. So the payment made will be only with the motive of retaining the candidate.
Therefore, it would be wise to research the current value and the salary offered for the position. However, the candidate's ultimate motive should be to grab the opportunity as there's a long way to go.
If you find any small difference between the market value and the offered amount, then it shouldn't be a big deal unless the difference is really vast. There is nothing wrong with inquiring the same to the interviewer.
Sample Answer
As I'm just beginning my career, all that I'm looking forward to is my career growth. These being my initial days, I want to improve my knowledge and polish my skills. And I'm sure your company has a platform for the same.
Hence, I'm unable to figure out the right package. I'm sure that you must have a few new hires already. So may I know what you pay them? However, in the end, what I learn is what matters to me.'
Question 19 – When Can You Start?
Purpose
It is commonly mistaken that when the employer asks this question, the candidate is all excited with the thought that he's already selected. But it may necessarily not be so. The interviewer's decision may change with the answer to this question.
The interviewer generally asks this to judge the candidates' position. Suppose the candidate is eager to join or not. Apart from this, a quick yes from the candidate's side can give an upper hand to the interviewer in terms of negotiation. Therefore, think and answer wisely.
Sample Answer
While I'm willing to join soon, my decision also depends on your need as to when you want me to join. May I know your opinion on the starting date for whomsoever the new hire is?'

Question 20 – Do You Have Any Questions For Me/Us?
Purpose
It is seen that this question from the interviewer lets the interviewee sigh out of relief that the interview is almost done with. And because of this sudden relief, the candidates make the mistake of saying no and leave the place. Unfortunately, this creates a bad impression showing you weren't engaged with the conversations so far.
Instead, you can ask your doubts if you have any or at least one question related to the company. Even a single question, in the end, creates a positive impression and plays a role in influencing the interviewer, which shows you are interested in the job and the company.
Sample Answer
Yes. Thanks for the opportunity. Could you please describe a little about the company's culture?'
Conclusion
Having discussed the standard questions, if the candidate is prepared to face the interview, it will help them crack the interview seamlessly. And more than that, make sure you maintain a good body posture, which adds value to your appearance.
Even if there's any question you are not prepared for, do not panic, sit up straight, and be honest and confident in your answers. These will surely lead you to create the best impression throughout the interview process.